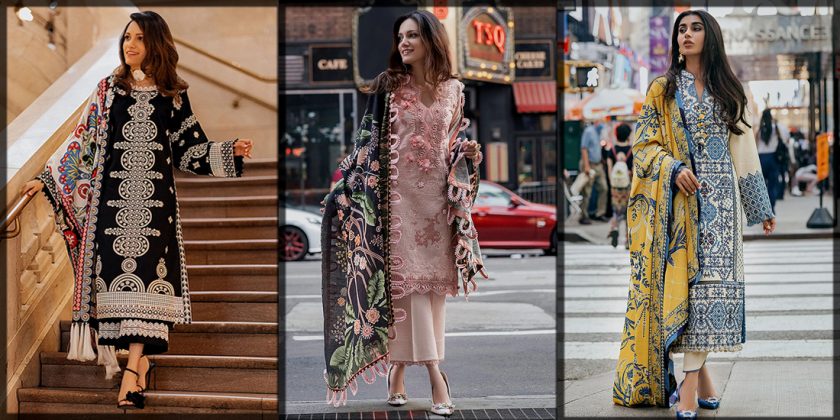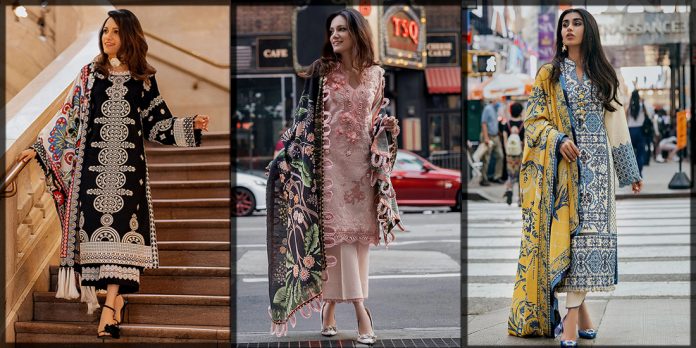 The winter season brings many celebrations and entertainment. Hence presently, winter is just around the bend, women of all ages commence to scroll many brands to get some cool outfits to welcome the season. So for your comfort, we have gathered the most anticipated Mushq winter collection and I am sure this will win your heart.
The latest winter collection of Mushq contains the classical two and three-piece dresses in the khaddar, karandi, and linen textures. Some delicate embroidery is also utilized to furnish these comfy attires. Plus the color mixture of these winter attires is just mind-blowing that indeed refreshes your winter look and makes it extra charming.
Look down and scroll the entire collection below that contains the unstitched and stitched dresses for women of all ages. So this season gets ready with the Mushq winter attires and beat the winter cold breeze with your captivating gaze.
Latest and Beautiful Mushq Winter Collection for Women and Young Girls

Mushq is a well-known designer brand that only focused on customers' demands and every year brings exquisitely crafted attires for women. In the latest Mushq winter collection you will find the perfect blend of ethnic and traditional with a reflection of allurement that indeed adds more fascination and charm to your winter look.
For girls, beauty and fashion are everything, hence they always pick the best brand to look charming. I hope after viewing this blog, you will say goodbye to your adored brand and you become a fan of Mushq because of its high quality and unique crafted attires. Furthermore, the prices of these clothing are also mentioned for your affluence.
1- Unstitched Collection
Women always want to stay sassy and classy, in this manner, stunning outfits help them to add more appeal to their style and look. So if you also want to get a timeless class in your style at that point, have a look at the unstitched portfolio below that contains the beautiful clothes in linen, khaddar, and karandi textures. All these are considered the most comfies texture for the winter season. Hence Muhsq used these fabrics to customize their apparel.
Moreover, they used thread, sequins, and adda artwork to design these attires. You can carry these engaging attires at any formal and seasonal events. All you require is to pair your splendid dress with striking makeup, contemporary footwear, and a trendy hairstyle to dazzle the season. For more comfy attires explore the Charizma winter collection.
Mostly linen attires are used for home wear, but Mushq is the only brand that prettifies the linen attires with the thread, pani embroidered, and sequins artwork. So you can wear these attires at formal and wedding events. These linen dresses are paired with digitally printed linen shawls which you can easily carry.
You can also wear these attires at any casual winter gathering to make all of your noteworthy and alluring looks. For more comfy linen attires visit the Orient winter assortments that likewise offer impressive linen attires for women of all ages.
Classical Winter Khaddar Catalog for Women

Khaddar is the most comfortable fabric that will keep you warm and safe from the cold breeze of winter. Hence all notable brands of Pakistan must use this fabric to design winter garments. Mushq likewise used this fabric. Look at the Khaddar collection of Mushq that offers stunning khaddar suits paired with the khaddar shawls, which are likewise furnished with fascinating thread artwork.
Mushq also offers some additional crochet laces to adorn these dresses more innumerable. You will not only carry these attires at any formal events, but you can also wear them on wedding occasions. Tackle pairing your khaddar suit with lightweight makeup and massive gemstones to prettify yourself adequately. Khaddi winter collection also offers stunning khaddar dresses, check it also.
Impressive Karandi Attires
Mushq brand is most suitable for those ladies who like to wear massively furnished dresses. Like khaddar and linen attires, Mushq likewise adorned the karandi clothes. Karandi is also the comfiest texture for the winter season. It is lighter than khaddar, so this fabric is best for those ladies who like to carry lightweight dresses in winter.
Take a look at the Mushq karandi collection below that delivers striking and high-quality dresses. Plus they used brilliant color combinations to enhance these dresses just like the Kayseria winter collection. You can carry these attires at any formal, wedding, and other celebrations by combing them with loose curly hair, impressive makeup, and high-heel shoes.
TEHZEEB Velvet Unstitched Luxury Collection for Women
It is always refreshing to see dynamic and versatile winter outfit designs for an astounding look. Therefore, creative designers try to bring aesthetic and artistic patterned dresses to the public. For instance, you can explore the Taana Baana winter collection for an extensive variety. Plus, we have likewise embellished and well-decorative velvet ensembles by your truly Mushq winter collection. Please have a look at the image gallery below. Indeed, happy women are the prettiest. But, you can not feel happy unless you wear your favorite dress.
So, do not think about the stereotypes around who portray that you can not wear a velvet dress at winter evening parties. The following vibrant dresses could be the best color if you want to wear a unique color at formal parties. So, do you want to bring your shoulders above the crowd? If so, then you must be in the limelight of fall gatherings. Of course, every human being has different shades, but you must possess a positive vibe. Only then will it be possible for her to turn heads on herself. Get yourself a stunning dress from the following image gallery to get a positive vibe. Combine delicate jewelry and footwear to exude grace.
Mushq Luxury Stitched Collection for Winter Parties
Are you looking for a majestic yet luxurious dress for your winter wedding event? Then you are in the correct spot. Here you will get the appealing yet elegant chiffon, net, and tulle textures attired in the most amazing shades. As you know, modern ladies prefer to wear lightly shaded attire to dazzle the evening night. Hence Mushq used all dim and bright hues to fulfill their client's needs and desires.
Look down at the beautiful image portfolio that offers stunning wedding attires for women of all ages. Naqshi, dabka, dyed pearls, Swarovski, stones, motifs, and sequins artwork, are utilized in these luxurious dresses. So bring class and fascination to your winter look by wearing any below dress. You only need to combine your royal outfit with striking jewelry, nude makeup, and curly hair to dazzle the winter night. Further, never forget to wear the high heel shoes to allure.
Ready-to-Wear Mushq Winter Collection
An easy-breezy outfit is the number one choice and priority of women. Especially, the job doing women require a ready-to-wear dress that can be utilized instantly. For the sake of saving time and cost, many people opt for a pret outfit. Certainly, there are a lot of clothing brands and fashion designers that bring appropriate ensembles. Fortunately, Mushq winter collection offers delightful ready-to-wear ensembles for teens and women. Please take a look at the image gallery below. Indeed, this investment of time will bring you a positive vibe.
The coldest and frizzy evenings require a cup of coffee with a warm and comfortable attire. Indeed, the joy of winter eves gets double if you wear a classy and elegant dress. There might be a lot of variety of for formal dresses in Maria B's evening wear that are suitable for cold parties. Still, if you are'nt satisfied, here we have another collection for you. Mushq winter collection has many satisfactory pret dresses for you to wear in night parties. Please have a quick glance at the image gallery below and share your thoughts with us.
All these dresses of Mushq are accoridng to the latest fashion, so feel cautious and take any attire from the above acquisition as per your preference. I hope this weblog will be helpful for you to get some ideas about the Mushq dresses and their costs. Moreover, it also gives online facility in all over Pakistan for the comfort of its buyers. Accordingly, you can also get your outfit at your doorstep with a single click.