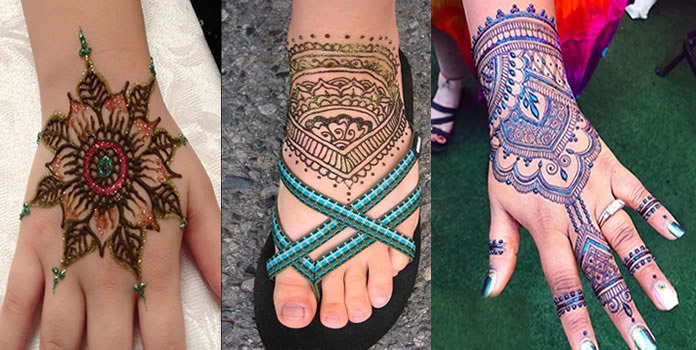 A little gleam adds beauty to your ultimate look as a bride or as an onlooker. Every young girl likes to add flickery looks on the festive occasions whether it is wedding or eid. Therefore, they apply glitter mehndi designs according to different occasions.
Moreover, with an infinite vision of captivating makeovers, even bridal mehndi designs follow glittery patterns to enhance the look and make the bride look more decorated. Glitter mehndi designs are made from fresh henna with distinctive and unique patterns.

We apply various spectrum colors to construct the ultimate glitter mehndi design. Having great diversity among shades and increasing trends of glitter henna designs, these are highly preferred. Here are some sparkly henna designs for ladies who love to look gleaming.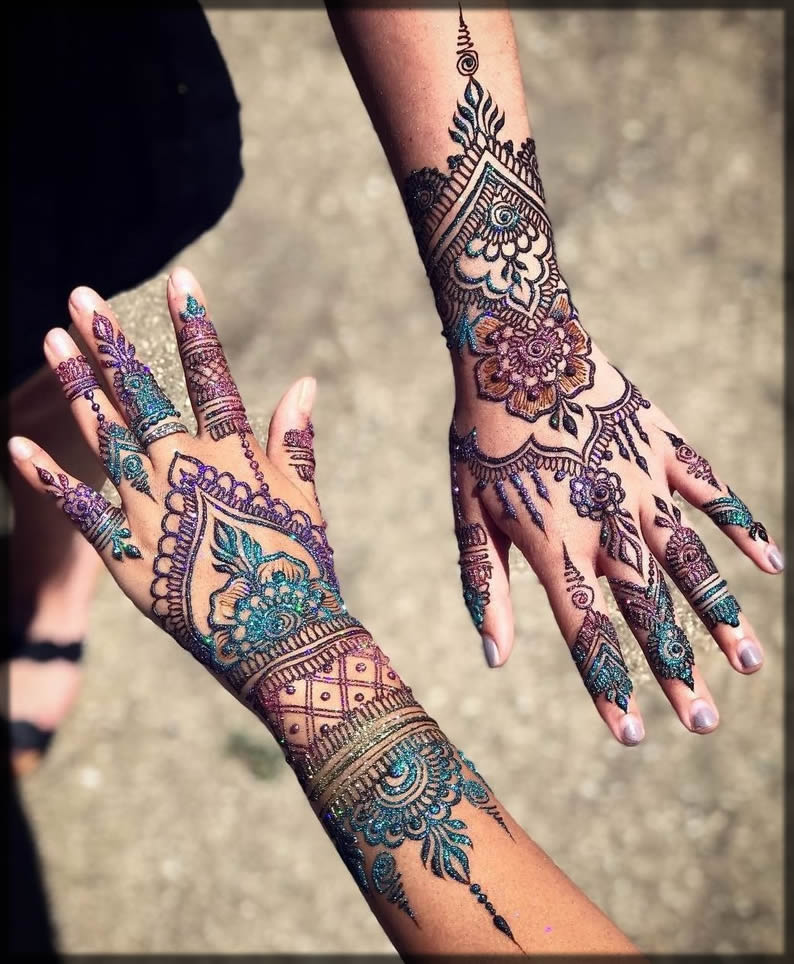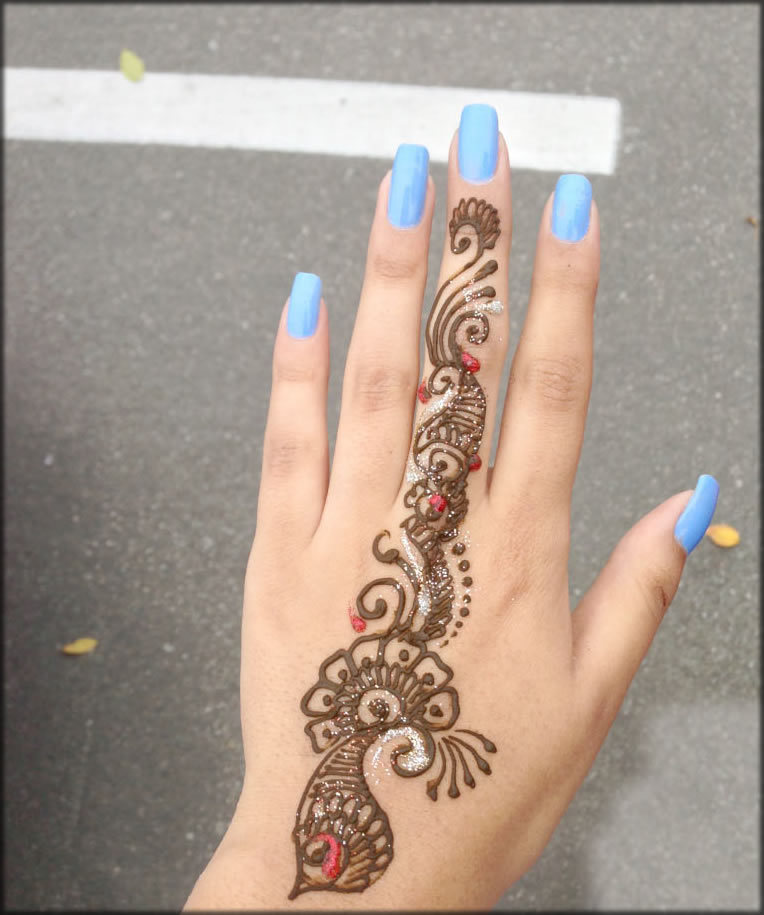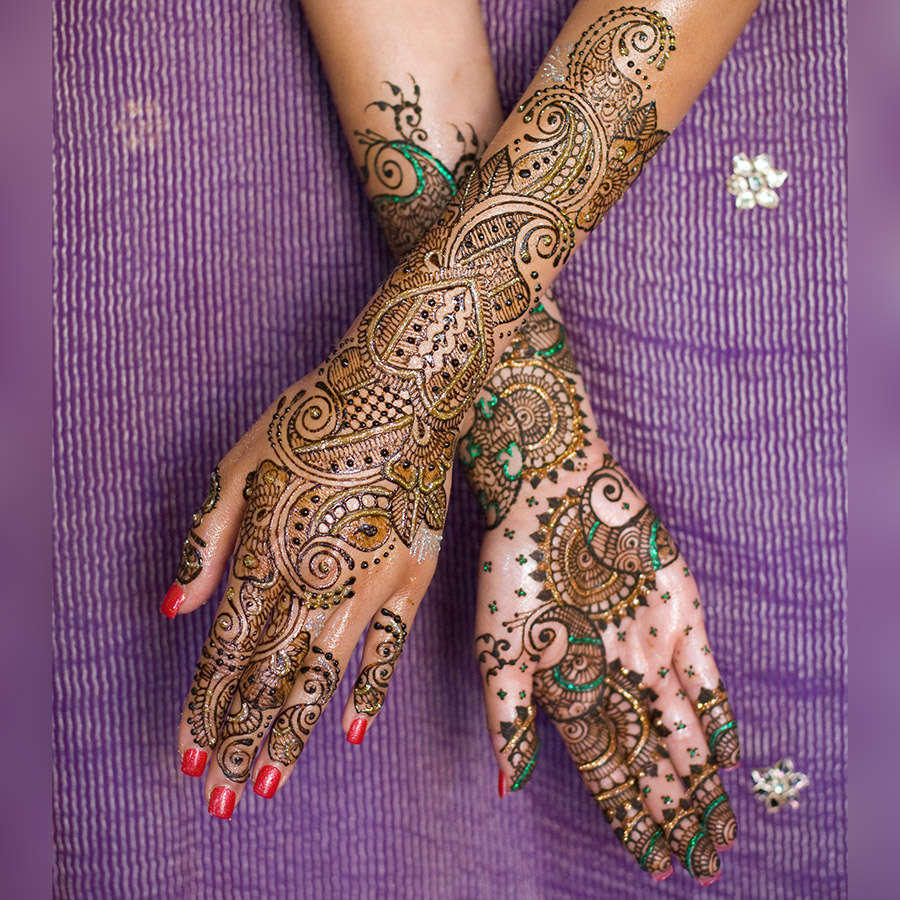 Lovely Bridal Glitter Mehndi Designs for Hands and Feet

Having a smart choice will always reflect your taste for fashion. Now selecting colors that are vibrant and attractive will emerge a classy and elegant look. Some people are more likely to draw simple floral patterns, while others prefer heavy Indian mehndi designs. Let's start scrolling stylish glitter henna designs.
Sparkly Purple Gleam Mehndi

Draw borders of dark black henna and fill the inner with a purple tincture. Fill the edges with purple shade. It will create a gleamy look. This type of shimmery design is most commonly preferred for wedding mehndi designs.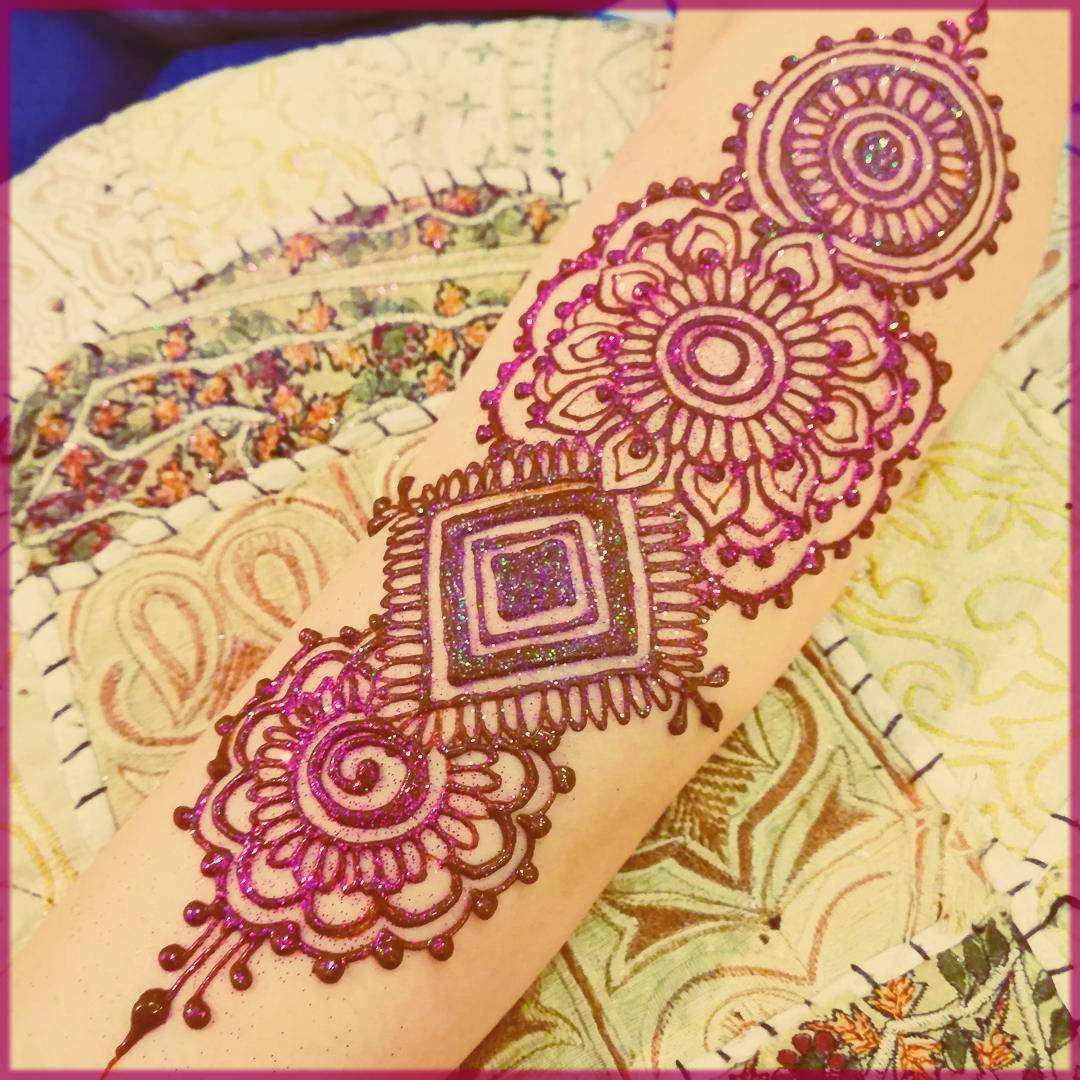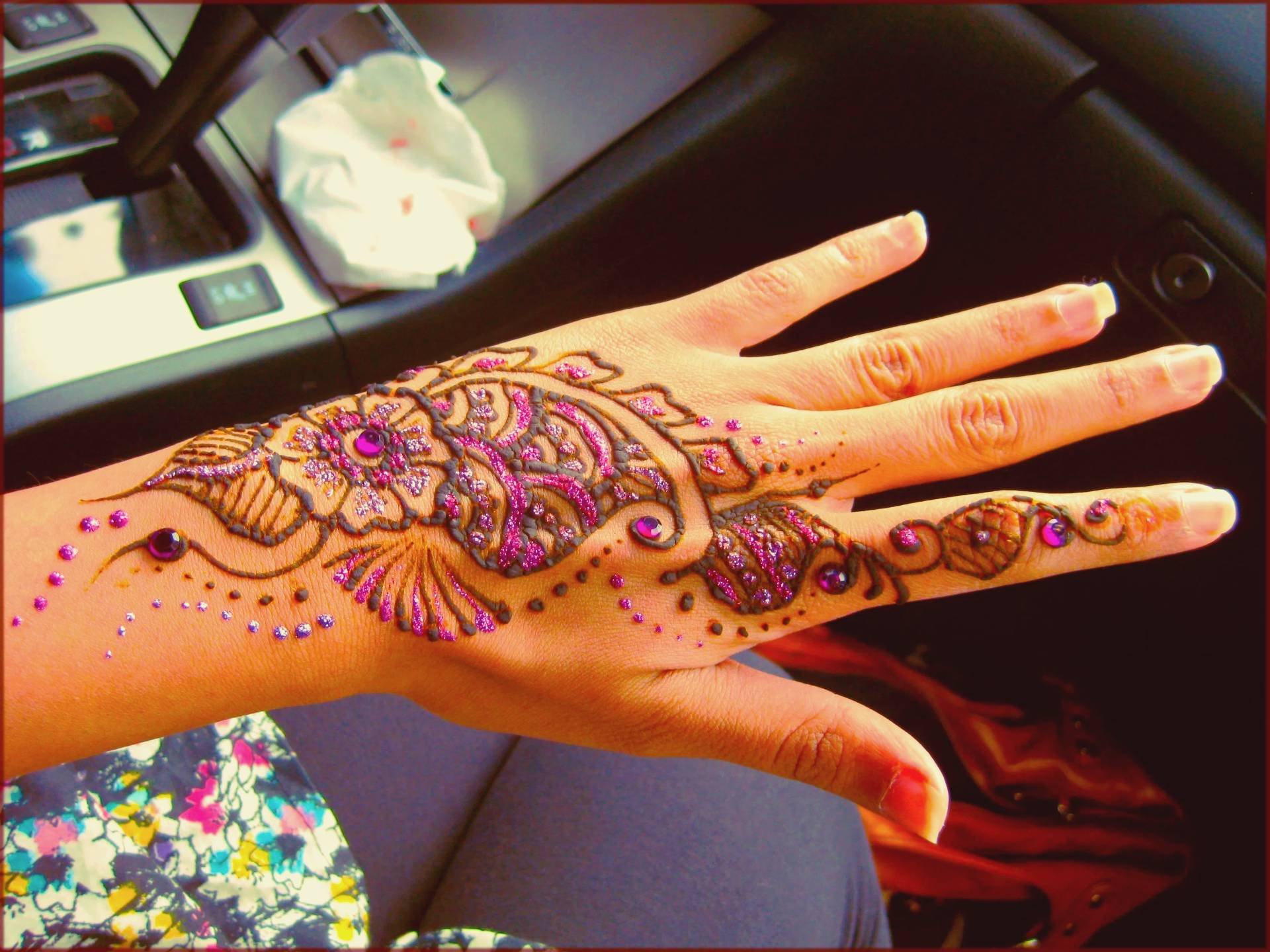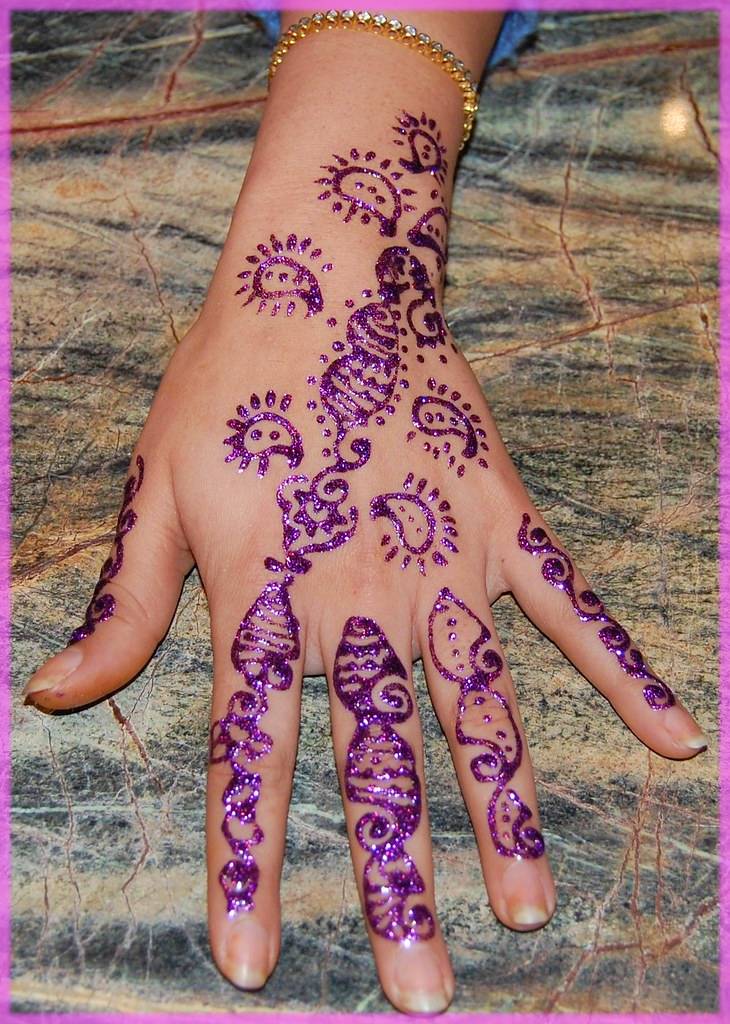 Feet Glitter Mehndi Designs for Brides

Brides are always willing to apply bridal feet mehndi with shimmer. Use bridal style patterns in a way it covers all over your feet. Then apply different glitters on the edges of your design. This will give a complete bridal look.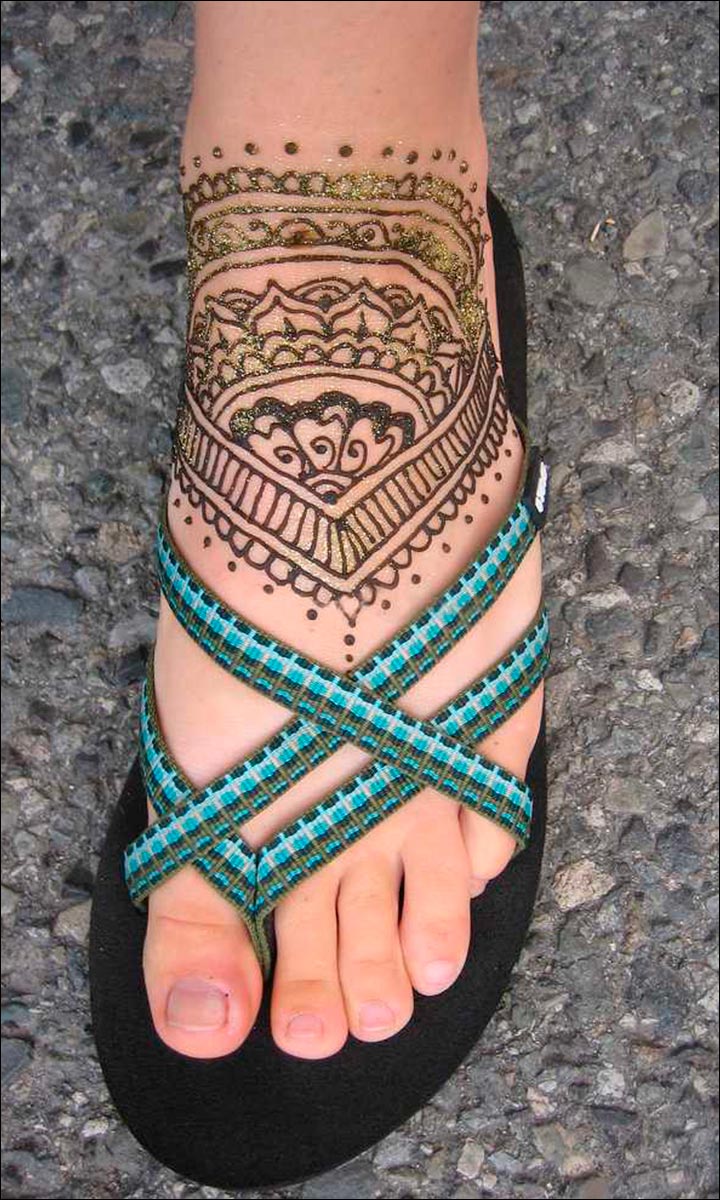 Blue Streaks with Brown Henna

The refreshing blue color is always elegant. Some girls prefer to apply this blue color on their wedding day. That is why they use blue streak glitter mehndi design to add gleam in their outfit. So, for the sake of elegant and simple look, minimal and floral designs are universal. Fill them with fresh blue color sparkles.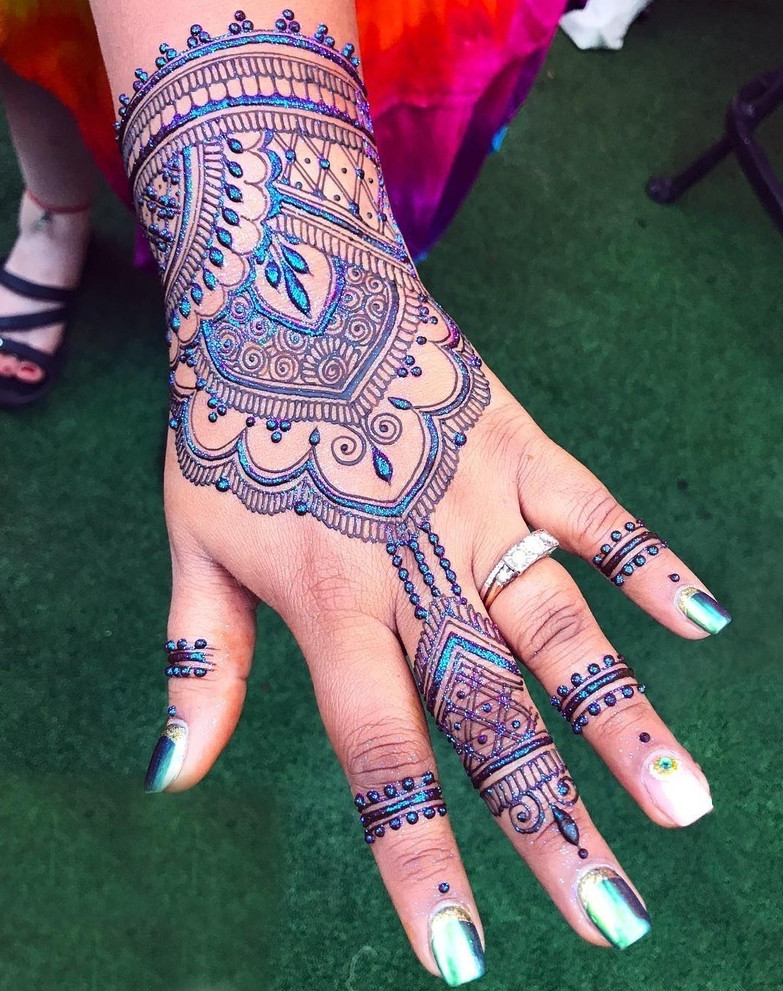 Tikki Glitter Mehndi Design



Young girls usually draw a simple tiki in the middle of their hands. To enhance its beauty, different shimmery colors are added to the Tikki mehndi design. It appears amazingly stylish. Patches of glitters focus on increasing the elegance of henna. Ultimate sophistication always ends up in more straightforward looks. Therefore, a small and considerable-sized tikiya is drawn on the palms of the hands, covered with beautiful patterns hence giving an elegant look to hands.
Filling the design with a yellow shimmer appears unique. Most of the brides follow this color and pattern. However, yellow is more nicely paired with red color and looks ravishing.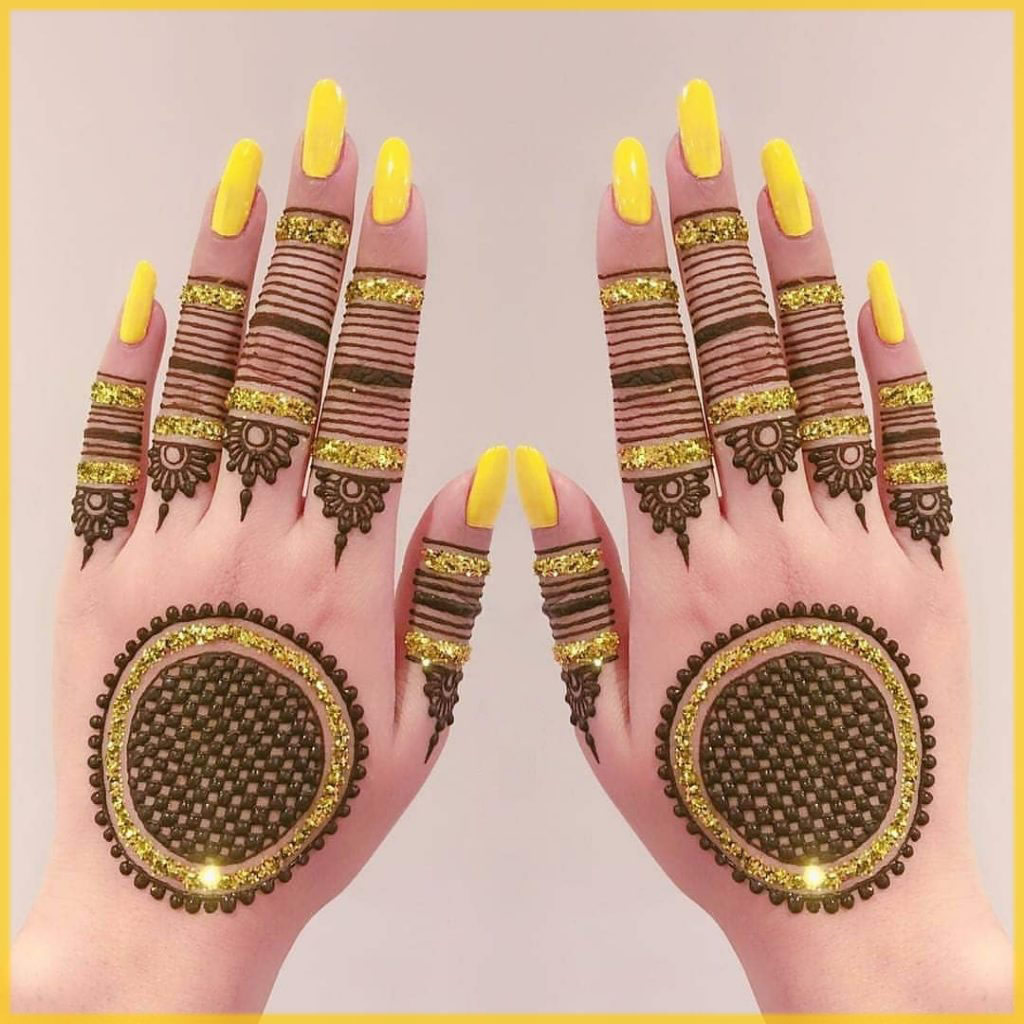 Glitter and Bead Highlights
Bail design is the most simple and common henna pattern. A variety of glittery colors are added to the design. Construct a simple bail and apply glitter to its curves hence, making a unique and elegant glitter mehndi design. Mehndi art always looks beautiful when you match it with the color of your dress.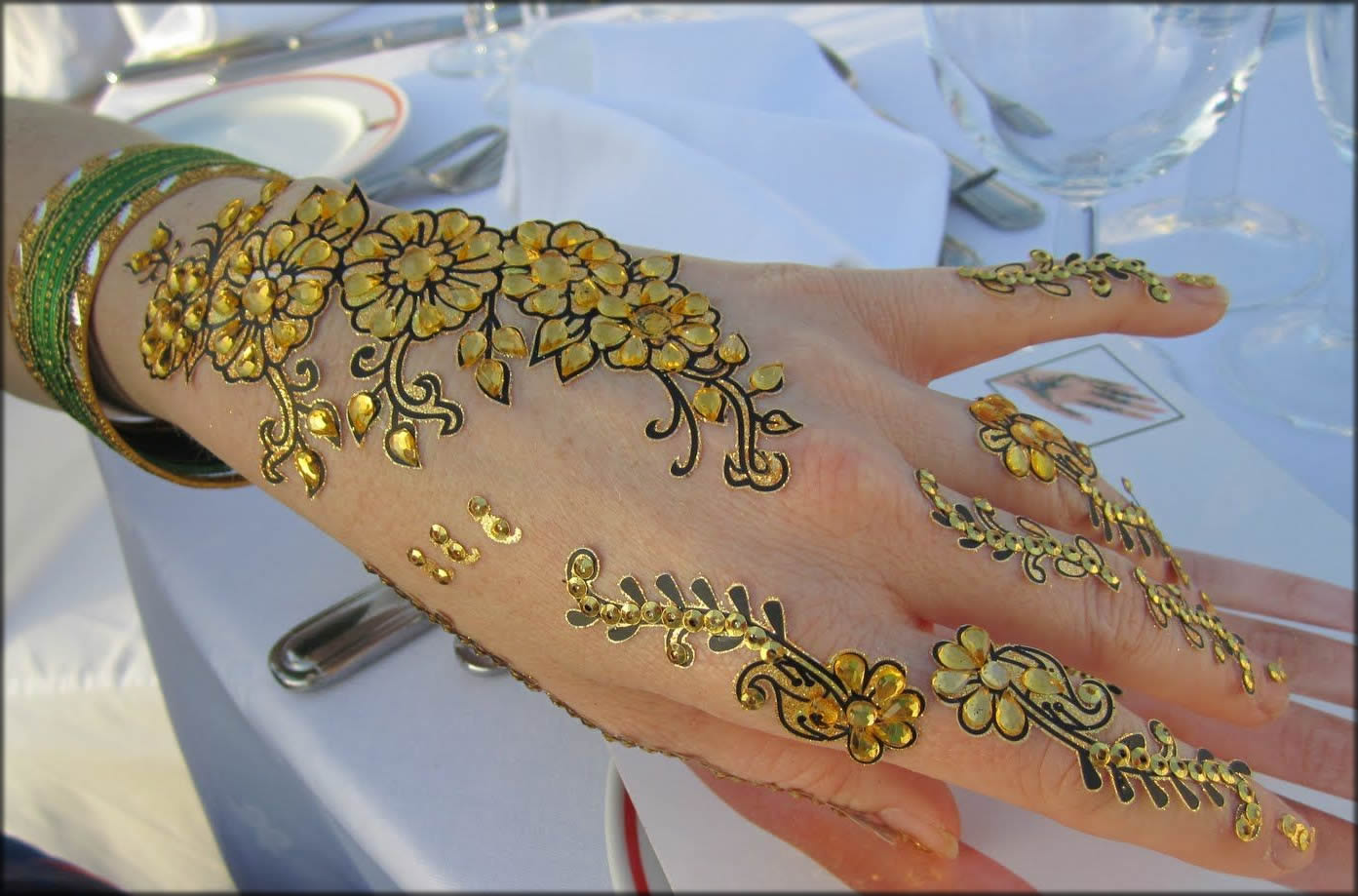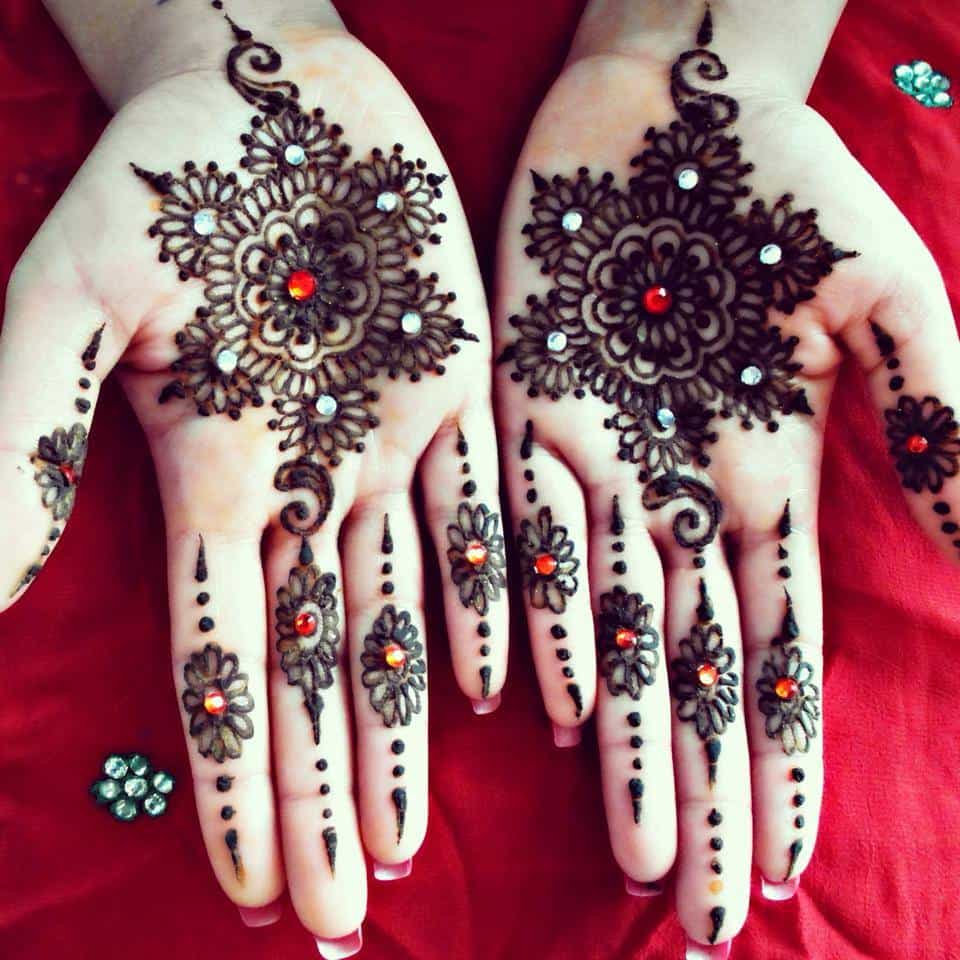 Glitter Bridal Mehndi Designs
Brides nowadays are conscious of their outfit. Applying glitter henna designs on the back of your hands adds sparkle and makes the henna more exclusive. You can match the shimmers with your dress color. It will enhance the grace of your dress and henna design. Henna color is beautifully paired with multi-colored of glitters. Also, it goes exquisitely with green and golden color as the red color always ends up in beautiful combinations with these two exceptionally.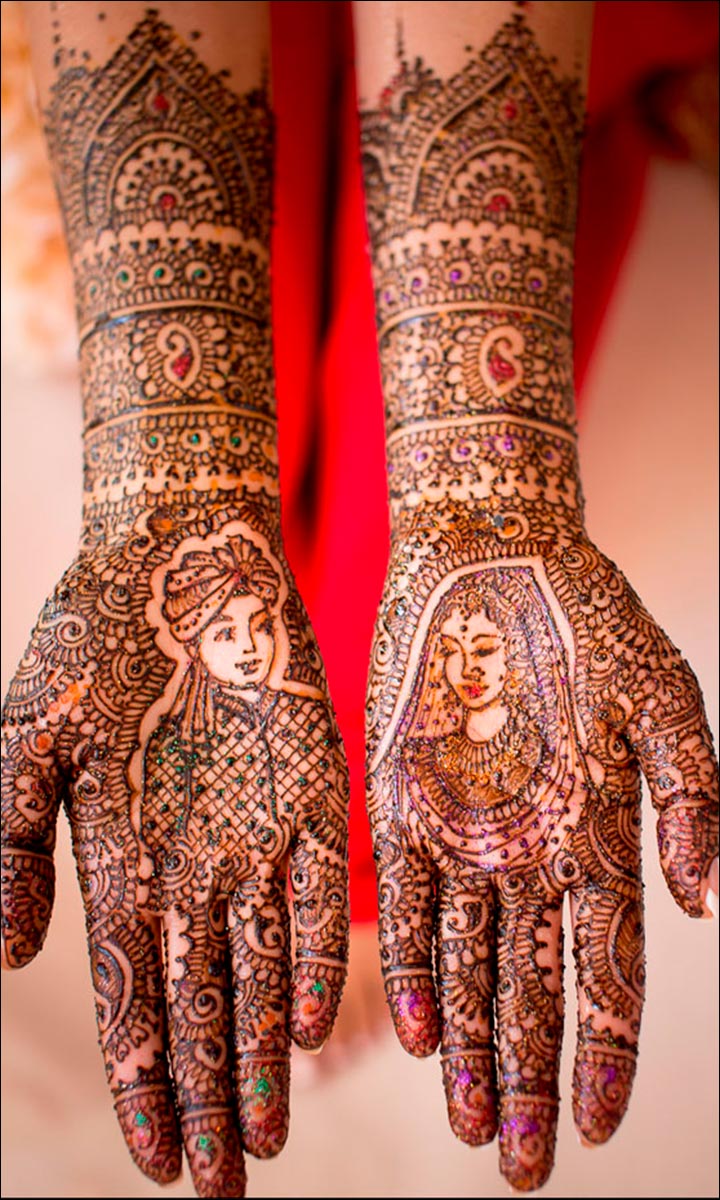 Delicate Peacock Glitter Henna Art
Peacocks are the beautiful birds of nature. So, the Peacock mehndi designs are pretty too. There are several designs of a peacock which are very common in henna art. People who love peacocks prefer to follow their design in mehndi art for the ultimate artistic look. Backhand peacock mehndi art covers your backside of the hand wholly. The sprinkled motifs on the fingers make a far-fetched yet straightforward art.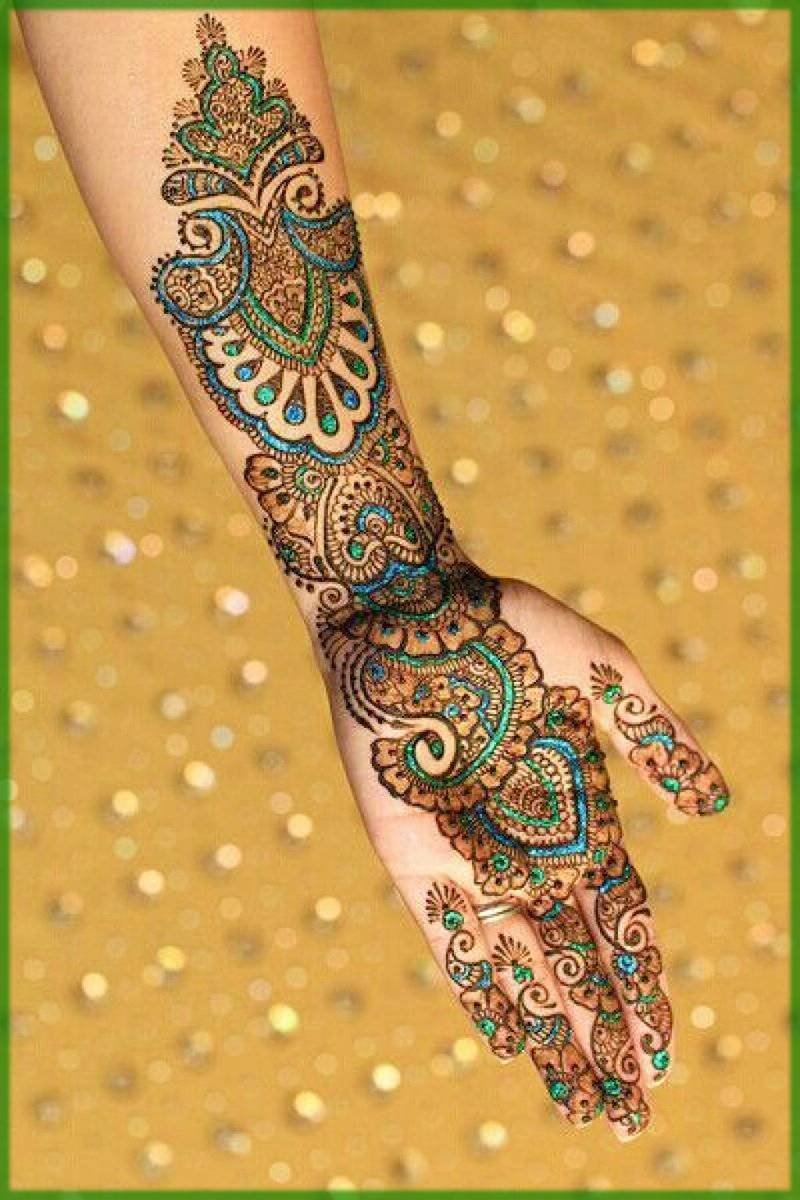 Glittery White Mehndi with Pearls
Nowadays, using a variety of sparkling colors is common. Young ladies use sparkles all over the place, as on eyes, in nail arts, in lipsticks, and mehndi as well. White mehndi with glitter design is increasingly gleaming. That is the reason young ladies use it in great variety. No matter which glitter color you use, it looks flawless with henna shading. Different shimmery colors are readily available in every color so that you can pick the best among them in contrast with your dress.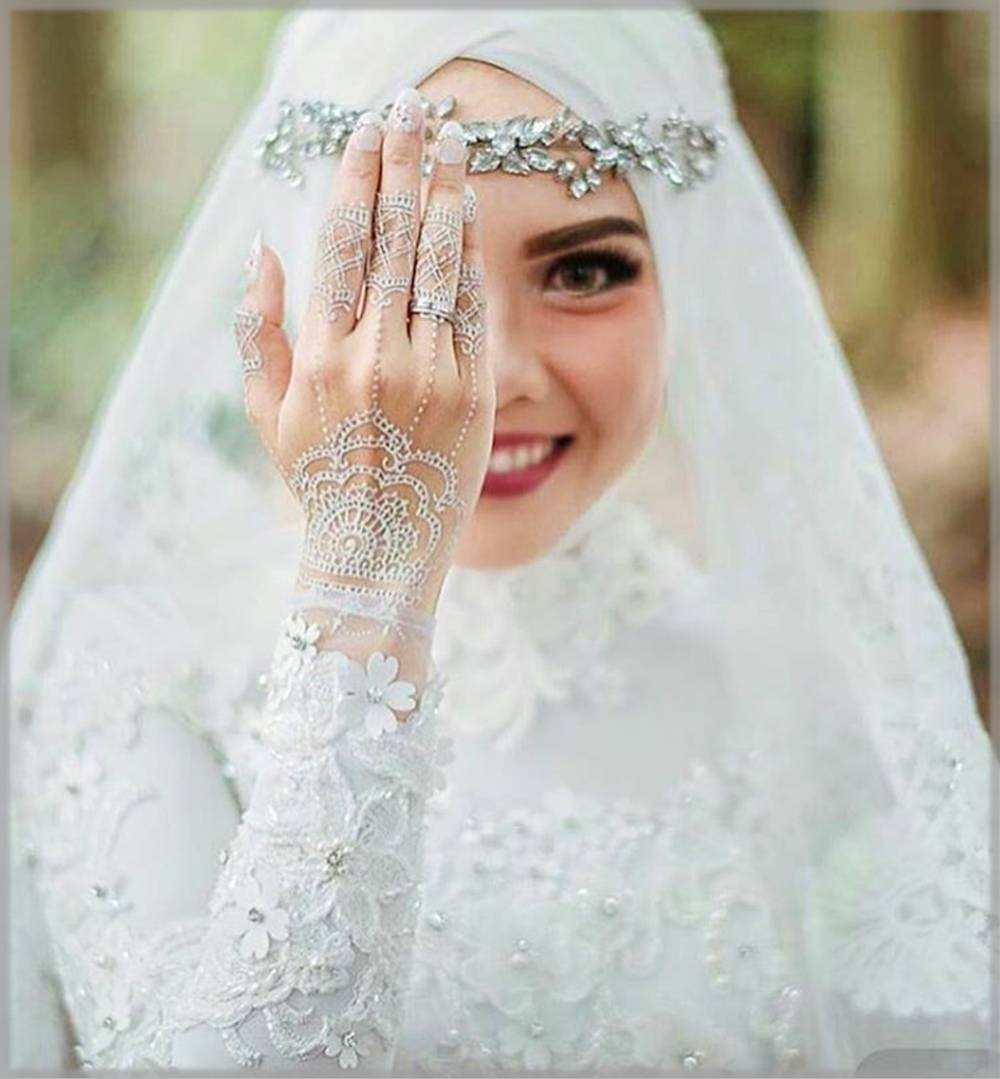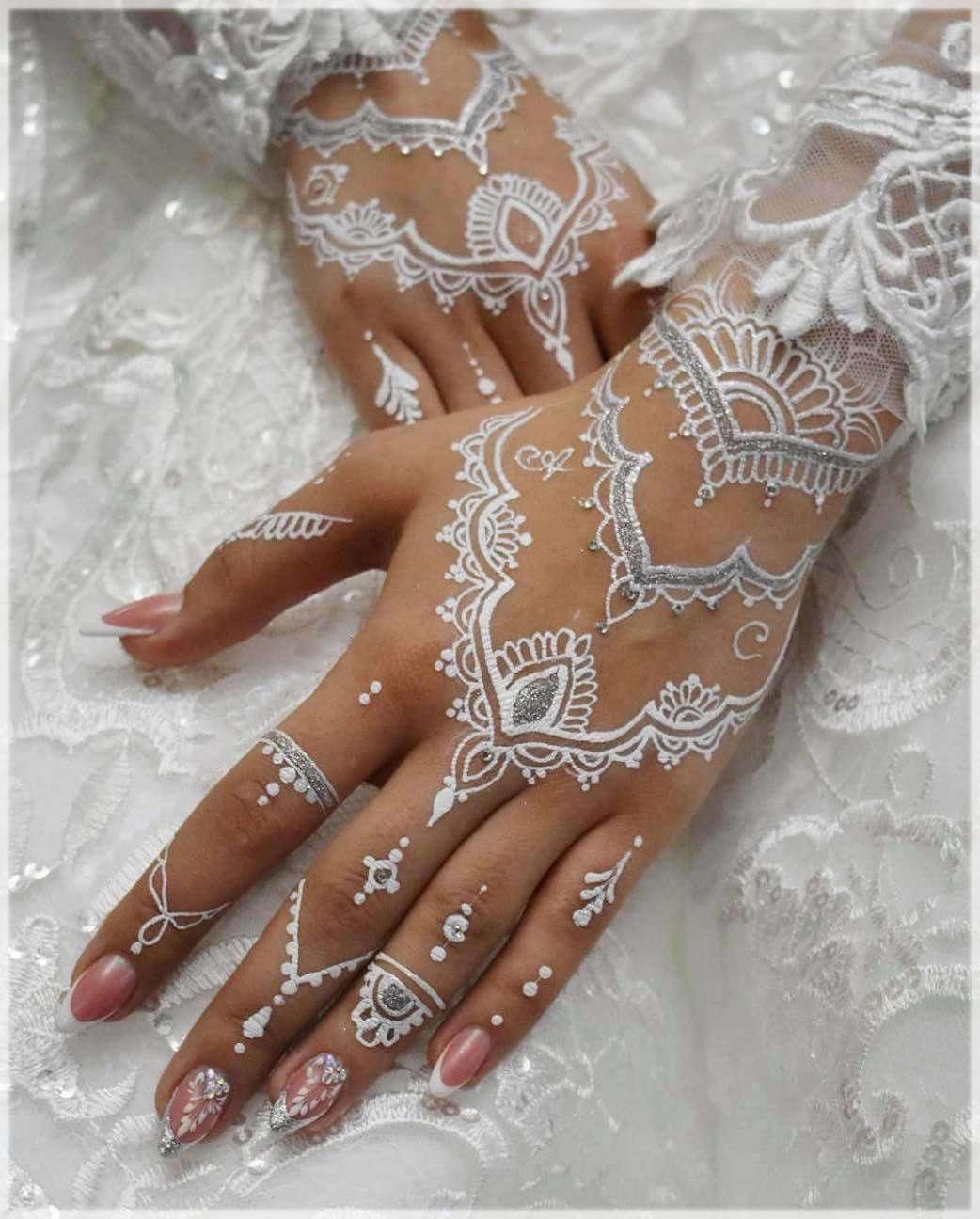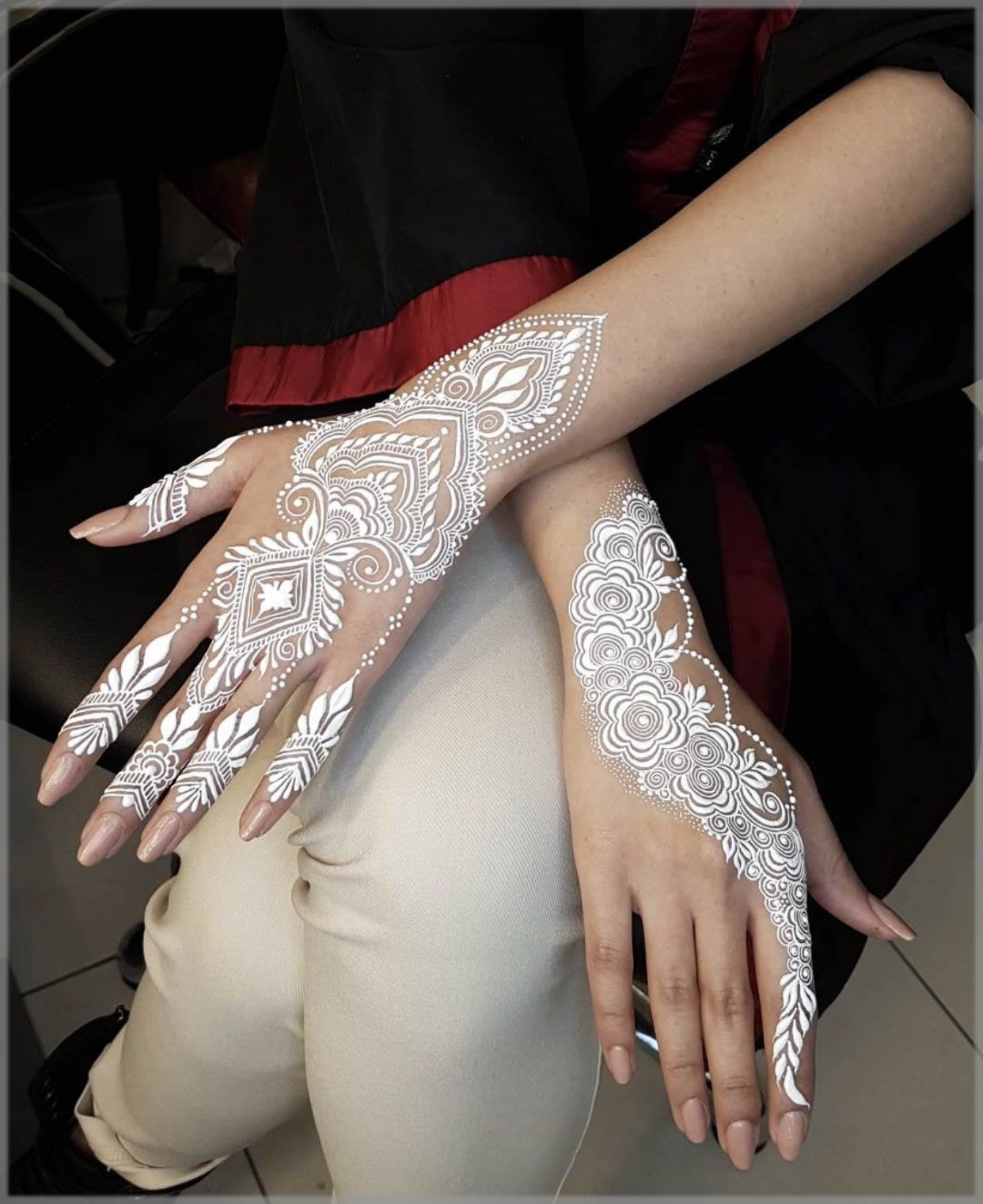 Blue Glitter Henna for Feet
Glitter mehndi designs might be a single color up to different combinations of colors. An angel look is given to some brides. The blue glitter henna ultimately helps you out in bringing such an outcome. It can be done with any pattern, most commonly a floral or spiral image. Highlight, and cover the edges of flowers with lightning blue color. If you are interested in getting more variety of glittery mehndi designs, check out Kashee's mehndi designs.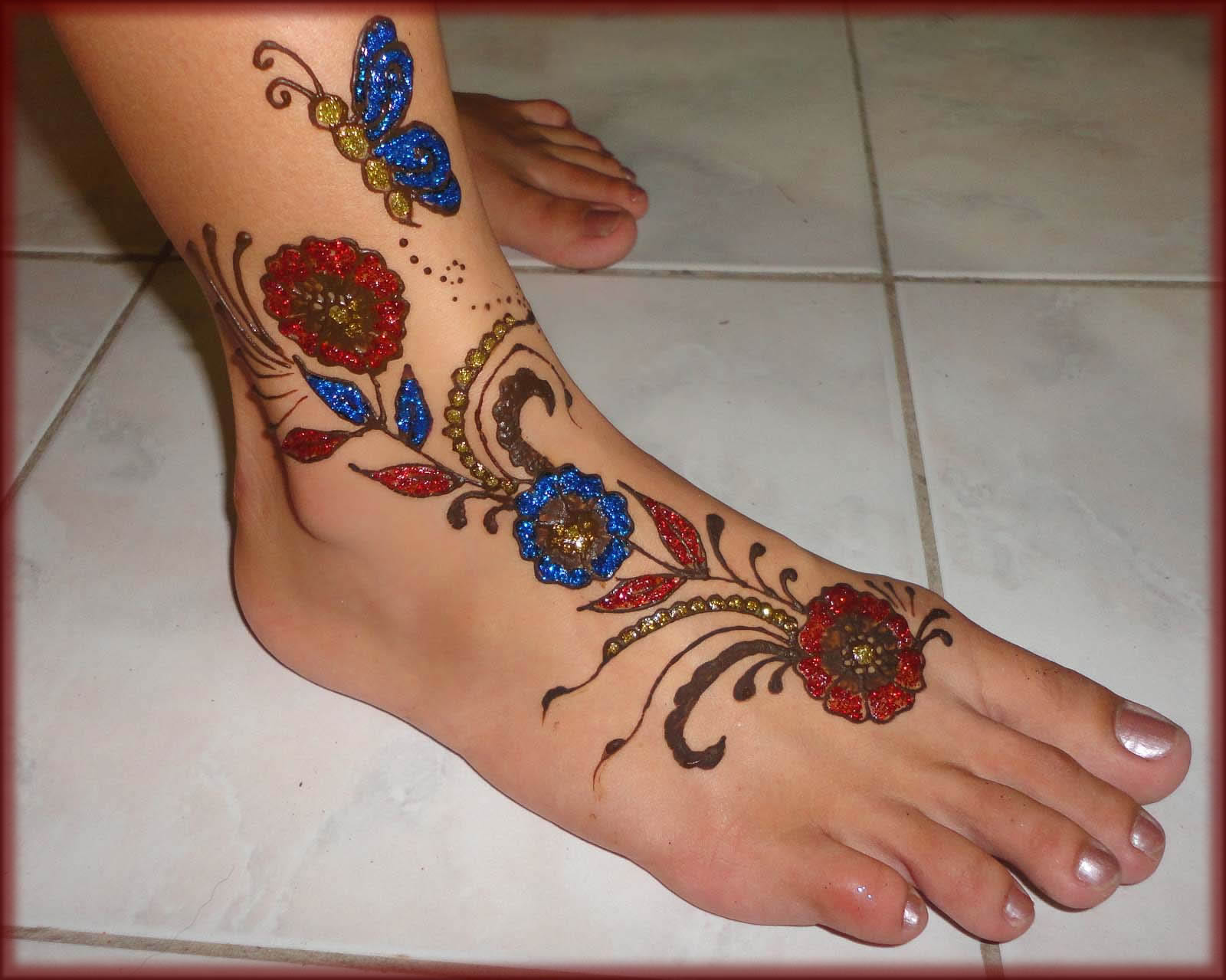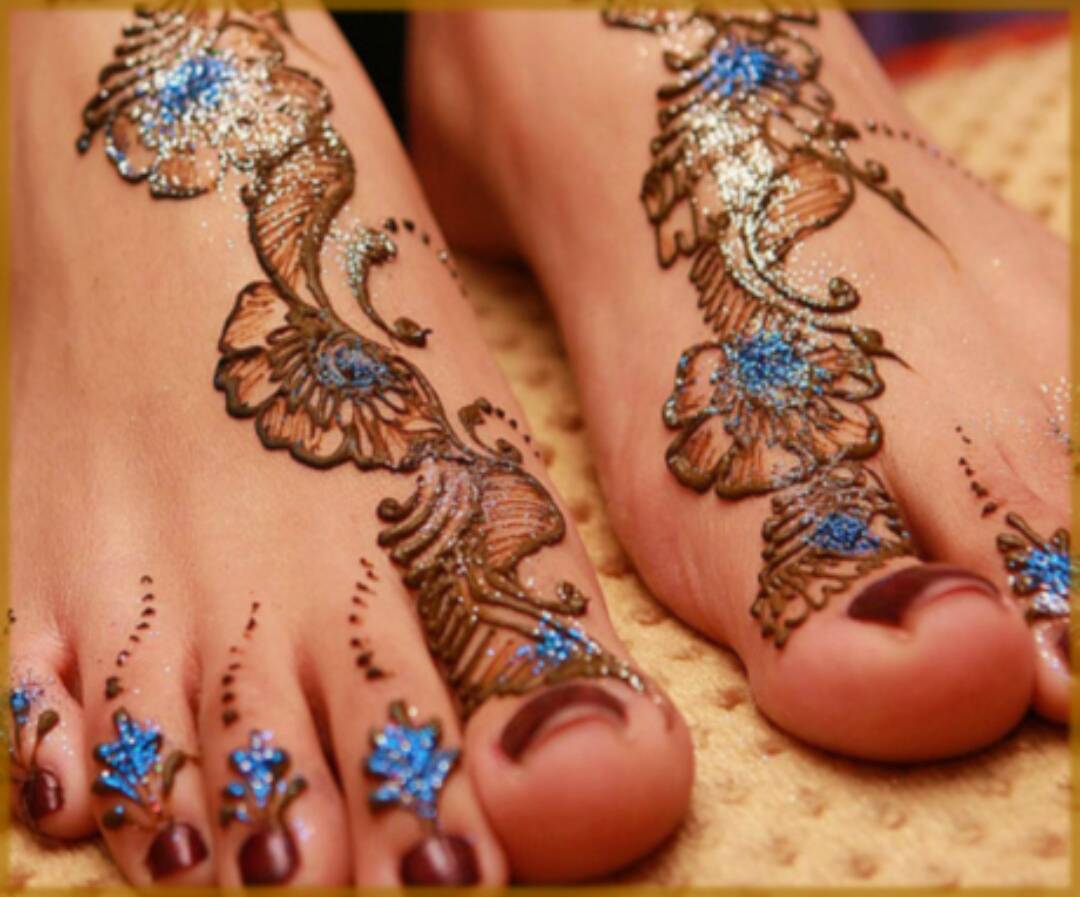 A detailed glitter design for the leg gives a significant look. A large number of flowers make the design substantial, and the glitter makes it more artistic. Girls who like to draw mehndi on their legs draw flowers and shapes which they fill with beautiful colors. Such decorative shades strengthen the beauty of the design.
Moreover, there may be various spiral and floral patterns that are more commonly observed in full leg art. Such art is unique and rarely seen. It is most common in the brides of the modern era. As the brides prefer to make their outfit perfect on their big day so, therefore, they apply henna on their full leg and fill it with different glitter colors.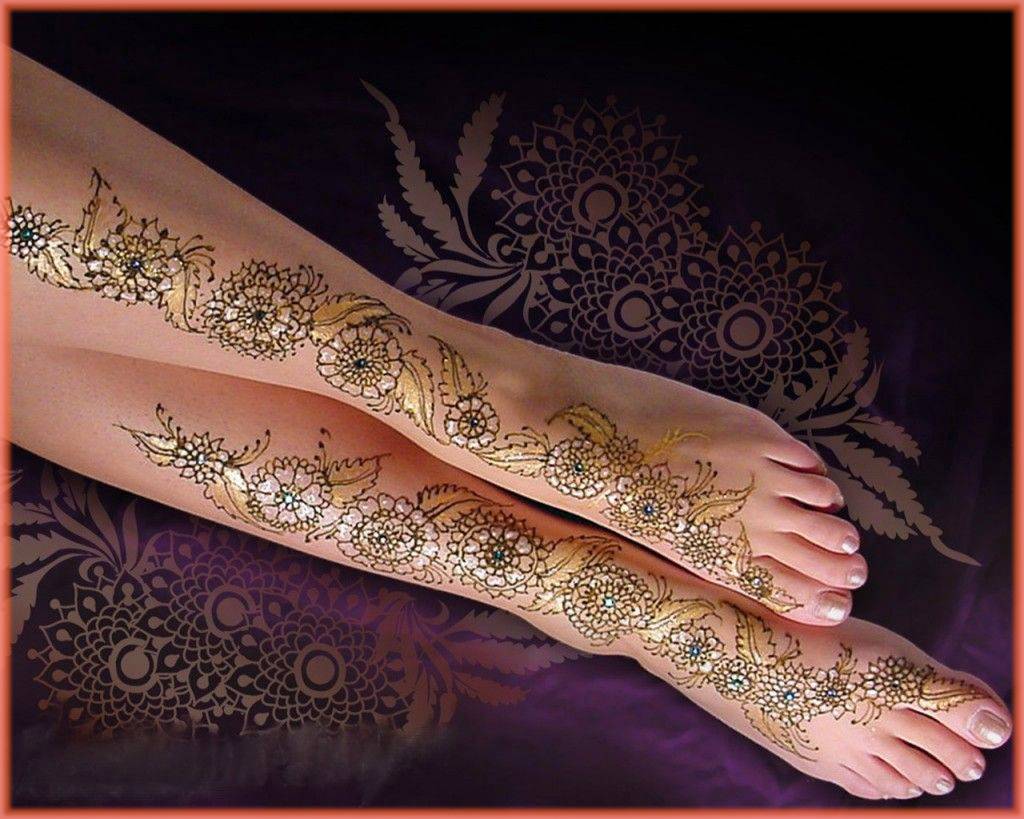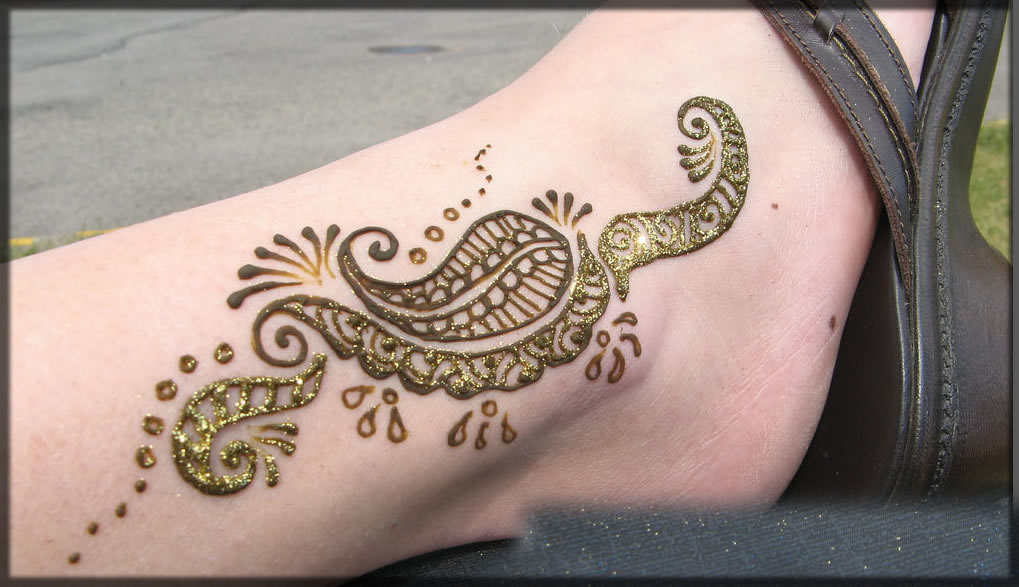 Green Glitter Henna Design
The flickering and shimmering flowers always look magnificent on hands. Green Henna with Glitter designs look more dignified and cultivated by drawing the flowers in small and sizeable shapes with specific spaces among the patterns, therefore, doing so will expose much of your skin as compared to other henna designs. Moreover, the glitter will set out as an additional element.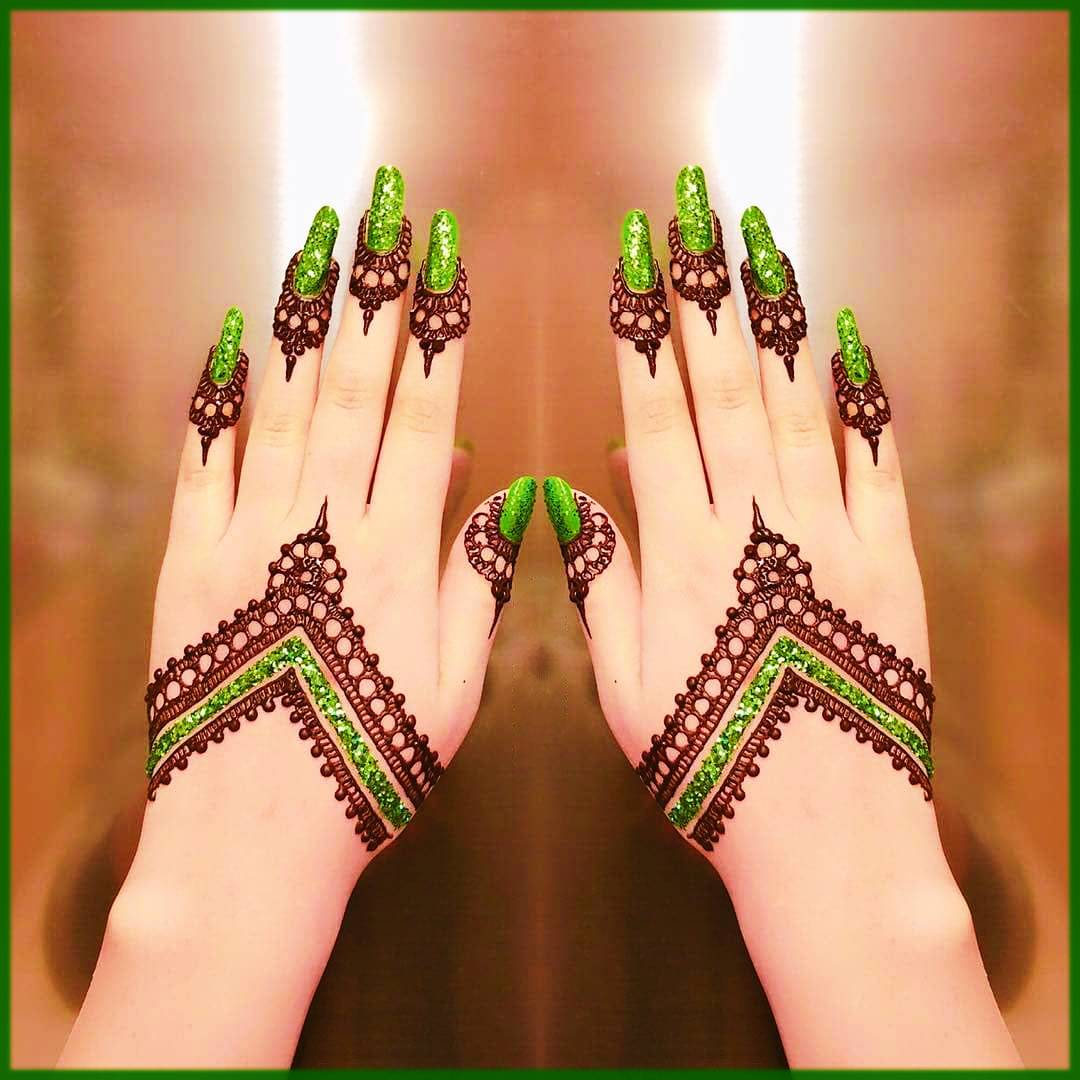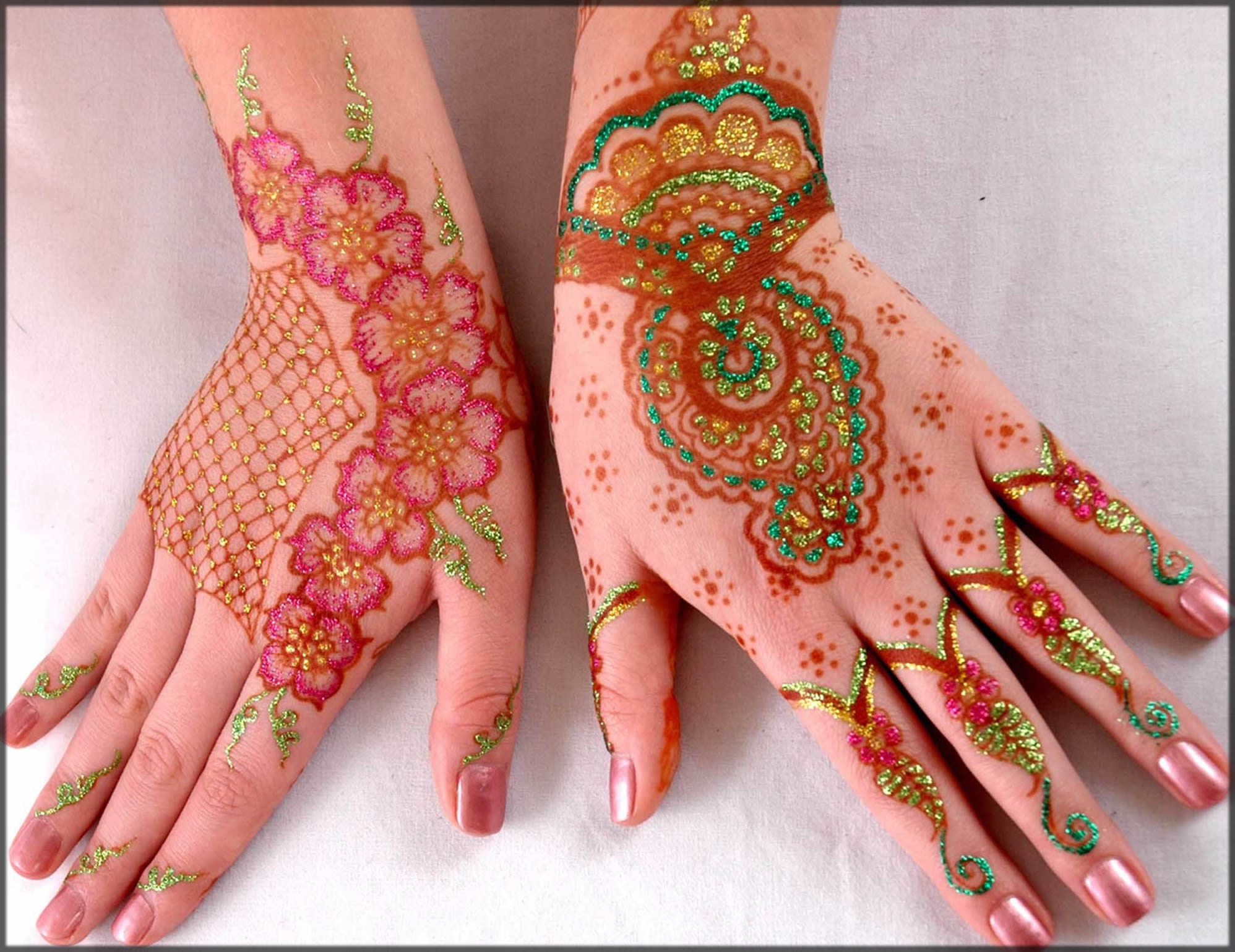 To sum it up, Glitter Mehndi designs are very enchanting and captivating. Also, the artwork of glitter mehndi designs includes several types of henna designs. Besides, henna gives you a purely feminine vibe. Therefore, your hands look lovely and excellent. The application of glitter mehndi designs gives you a shiny look and, adds glam to your outfit. Moreover, check out this article for beautiful henna art with glitters and must give feedback on it.