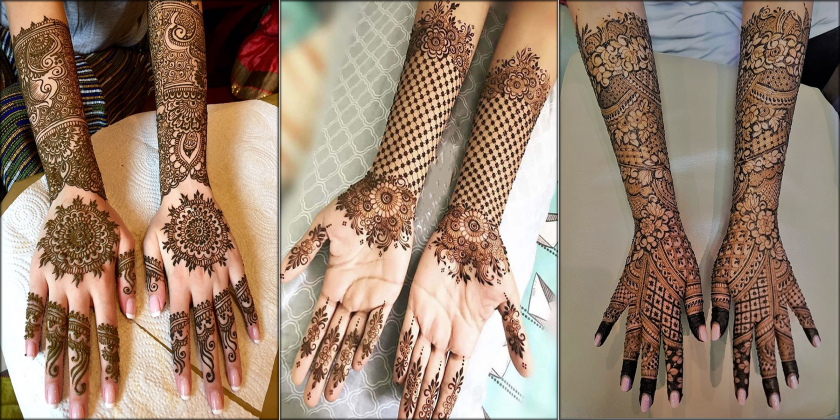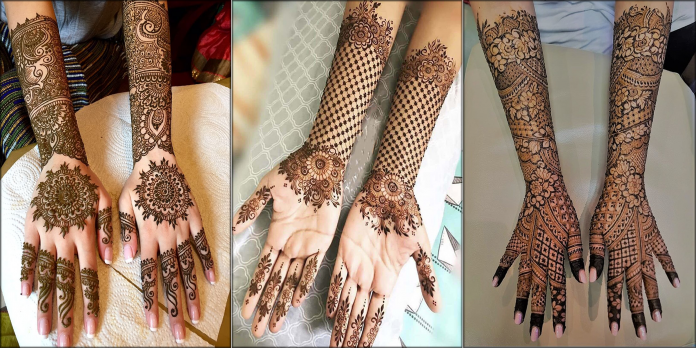 The beautiful Indian Mehndi Designs are the gifts from our ancestors. Henna is the most demanded element in Asia, especially in India. These designs are applied on hands with delicate detailing of finesse to enhance the beauty of hand and feet. The most superstitious thing about it is that the deep color of henna is the sign of a happy marriage and fortune. 
Moreover, Indian religion promotes the application of henna in the month of spring, and it is compulsory for men and women both. They believe that it brings peace in the house and it is also suitable for health. Furthermore, Islamic cultural believes are also very strong about the uses of henna. The application of mehndi is an essential part of Islamic weddings.

Mehndi used in weddings is just not a simple paste of powder and water. Besides, a few drops of lemon, olive oil, and clove oil are added that darkens the color of henna on the skin. It also enhances the benefits of Hina for the hands. Henna is the best aphrodisiac due to its medicinal benefits.
Attractive and Trendy Indian Mehndi Designs for All Events

Stunning and stylish Indian mehndi designs include peacocks, flowers, mangos, sun, and some other intricate designs. These designs are more flowy, curvy, and applied at traditional events such as a wedding, Diwali, and Karva Chauth. In Indian mehndi designs, the artist fills every gap carefully.
Indian Mehndi Designs are also used as Bridal mehndi designs because the brides mostly use flowy and curvy patterns at the wedding. These traditional patterns cover bridal hands in detail, and with fineness. Let's check out all about floral, mango, and peacock designs.

Ethnic Peacock Henna Art with Dramatic Illustrations

Henna art is an essential component of Indian weddings. There are different henna patterns in fashion, but peacock design is more popular. Peacock is the Indian national bird and the sign of beauty. In the latest trend, the peacock is used as interior design with an empowering motif around it, which brings the touch of the Arabic mehndi designs.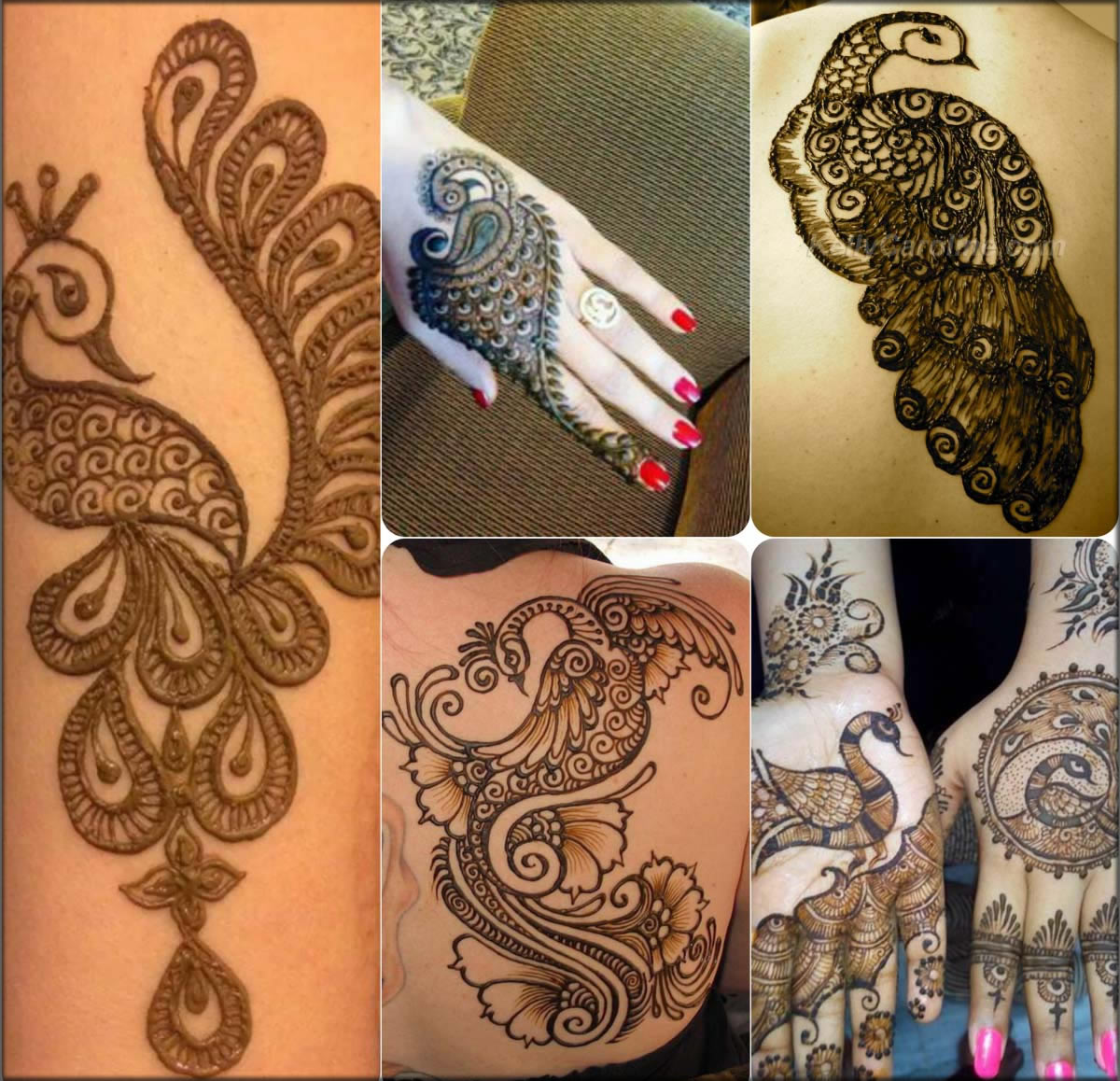 Peacock Design with Fine Detailing

Following Patterns are known as central palm peacock mehndi design because its motifs are extended to the hand and arm. The design is blended with peacock and Arabic Hina art. The peacock is drawn delicately all over the palm, which enriches the details of the pattern. Detailing and finesse makes it more attractive, and Indian brides prefer this beautiful mehndi design more nowadays.
Delicate Peacock Hina Art for Backside of Hand

Backhand peacock mehndi design covers your backside of the hand entirely. This art does not include additional elements; that is why the peacock is more highlighted and noticeable. The spreading motifs on the fingers make a simple yet incredible art. It does include more delicate art. The peacock is drawn on the wrist while its feathers flow down on fingers. To sum it up, it creates a dramatic illustration. This design resembles with attractive Moroccan mehndi very much.
Peacock Feather Mehndi Design with Curvy Strokes
Feathers are an essential and beautiful ornament of the peacock. Moreover, it is the symbol of its beauty. Simple feather designs with black or white mehndi give a fabulous look. The floral pattern can add and extend the art up to the forearm. Feathers with dots and motifs enhance the beauty of this delicate art. Tribal feather pattern can be designed at the front or backhand side.
Gujarati Peacock Mehndi Design
Gujarati peacock mehndi is mostly elaborated with flowers and leaves. These designs require more effort for fineness and excellent results. Gujarati art is more challenging to create, and it is very time-consuming also. Bangladeshi mehndi designs also resemble Gujrati style with little bit different but they both are extraordinarily pretty.
Traditional Indian Mango-Shaped Mehndi Design

Mango tree leaves are used in different ceremonies to bring in high spirits. You can create magnificent henna patterns on your palm, arm, and feet with mango leaves design. Mango mehndi design is simple and sweet for the children. You can easily and quickly apply this pattern on any occasion. You must try this design whenever you are in a hurry.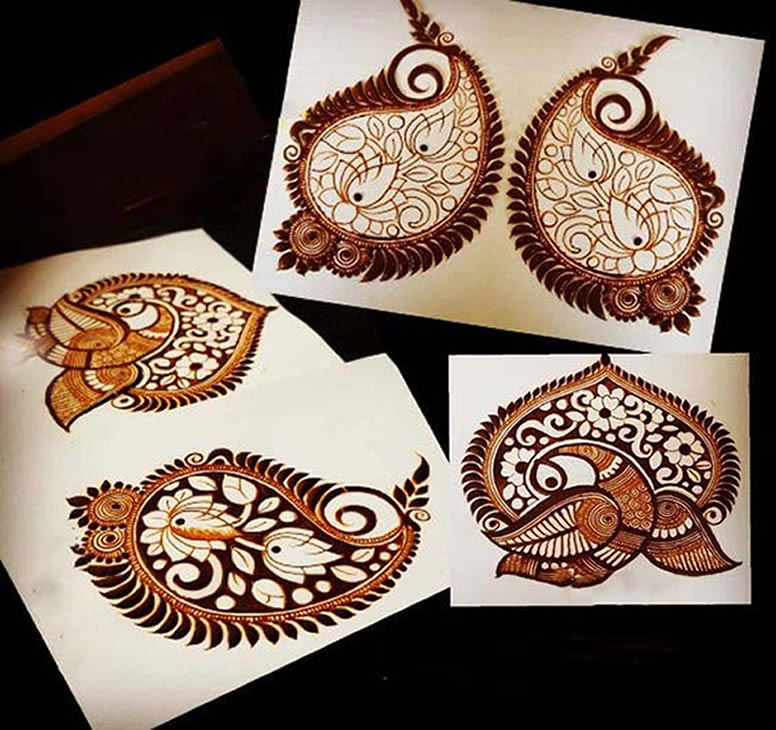 Mango-Shaped Tikki Mendi Design
The short and straightforward mango-shaped Tikki Mehndi design on the palm is very trendy in India. Mango design is mostly characterized by the paisley pattern. Surrounding loops, dots, motifs add the depth and glam in it. Girls and kids mostly like small and straightforward designs because it is very comfortable to carry.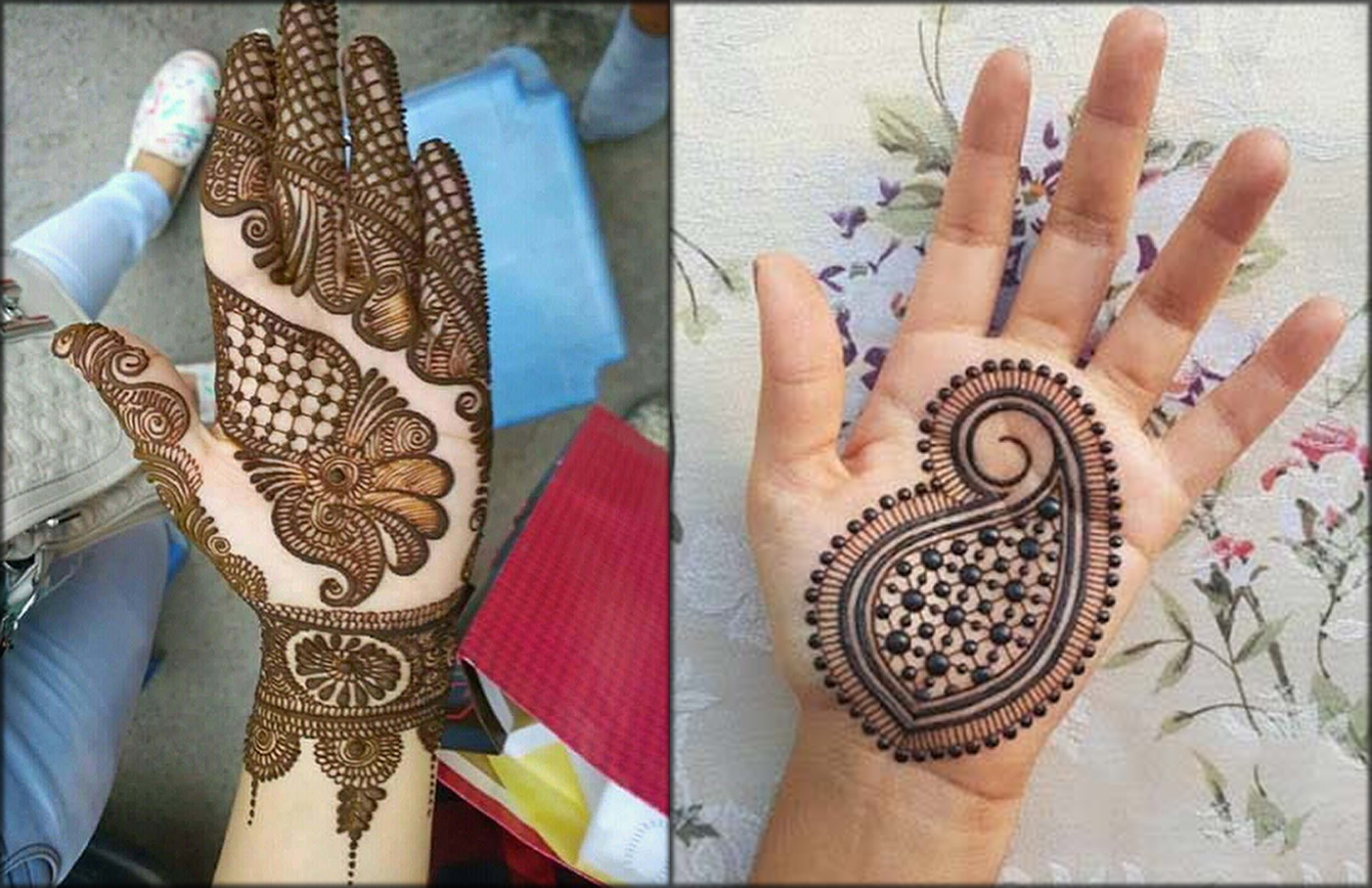 Twinning Hina Art with Mango Pattern
Mango art is the traditional art of India that is designed with motifs and spiral patterns. Brides like intricate wedding mehndi designs at the wedding to express happiness. You can copy the same design on your other hand as well so that your hands will be twinning ideally. The spreading floral and motifs on the arm give a traditional and cultured look. Brides can enjoy this aesthetic look with mango mehndi.
Feet Henna Art in Mango Style
On some occasions such as Karwa Chauth or at the wedding, women love mehndi on feet. So, you can apply mango style mehndi on your feet and leg as well. The same pattern on both feet gives a stunning look. There are many bridal mehndi designs for feet to compliment your fancy dress. The application of this pattern is effortless and straightforward, but it is still very unique and beautiful design. You can draw the mehndi art at any time and any day.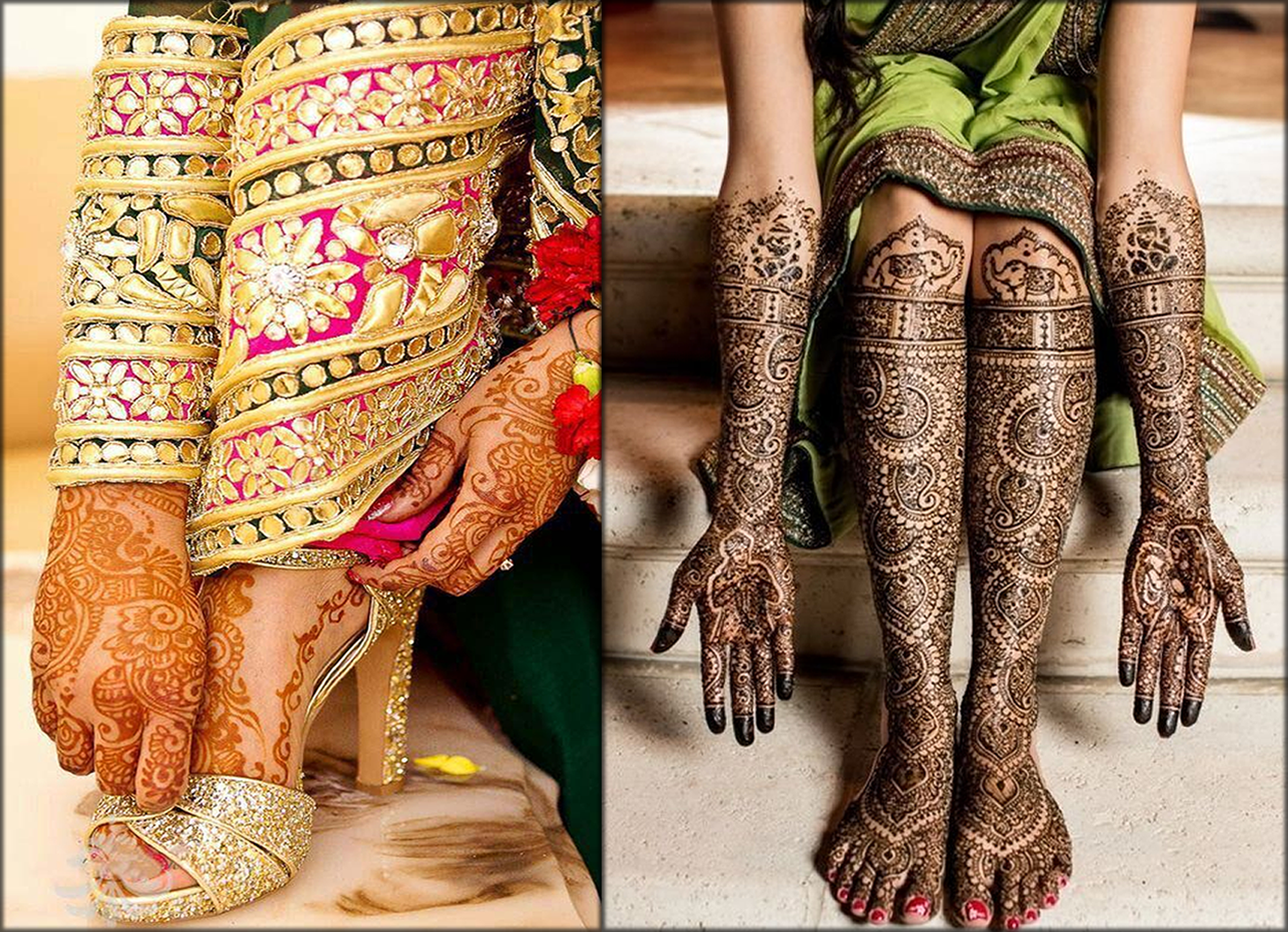 Flower Indian Mehndi Art
Traditional mehndi designs include flowers, motifs, and leaves with different formats. The stems of flowers on the backside of your hand look gorgeous. You can adorn your hands and feet with tiny motifs and flowers. Traditional designs mostly come with fabulous themes, but the latest palm designs come with small flowers and motifs. Regular henna art is better with small flowers and lotus. These little designs are suitable for your palm, backhand side, fingers, and feet.
Beautiful Lotus and Motifs in Mehndi



Lotus art is the most excellent option for beginners and also meaningful art in the Indian bridal mehndi design. Parallel lines are added on the fingers to complement the whole design. The delicacy of the design is the main element, and the design with lotus and shaded flowers enhance the beauty of your hands. In short, this design is historically perfect and an easy mehndi design for beginners.

Floral Hina Patterns with Flowers and Mesh
Flowers provide a feminine vibe to the hands. They have also concluded as basic designs that are easily adaptable. Unique flowers and mesh pattern on the backside of the hand seems so futuristic. You can highlight the lines and edges of the design to create bold patterns. It is easy to apply motifs mehndi design for any traditional occasion. Sharp and edgy flowers are distinctive art for your hands and fingers. Finger mehndi designs with flowers and motifs are an ideal choice for any event.

Astral Bodies in Henna Artistry

Sun is the primary source of energy and light. There are some other traditional arts such as sun, moon, stars in India. Many brides prefer Hina ink for sun style patterns due to its endless beauty in the sky. The combination of the moon and stars with the sun makes a striking look. That is the reason Indian art is more complex then Turkish mehndi designs.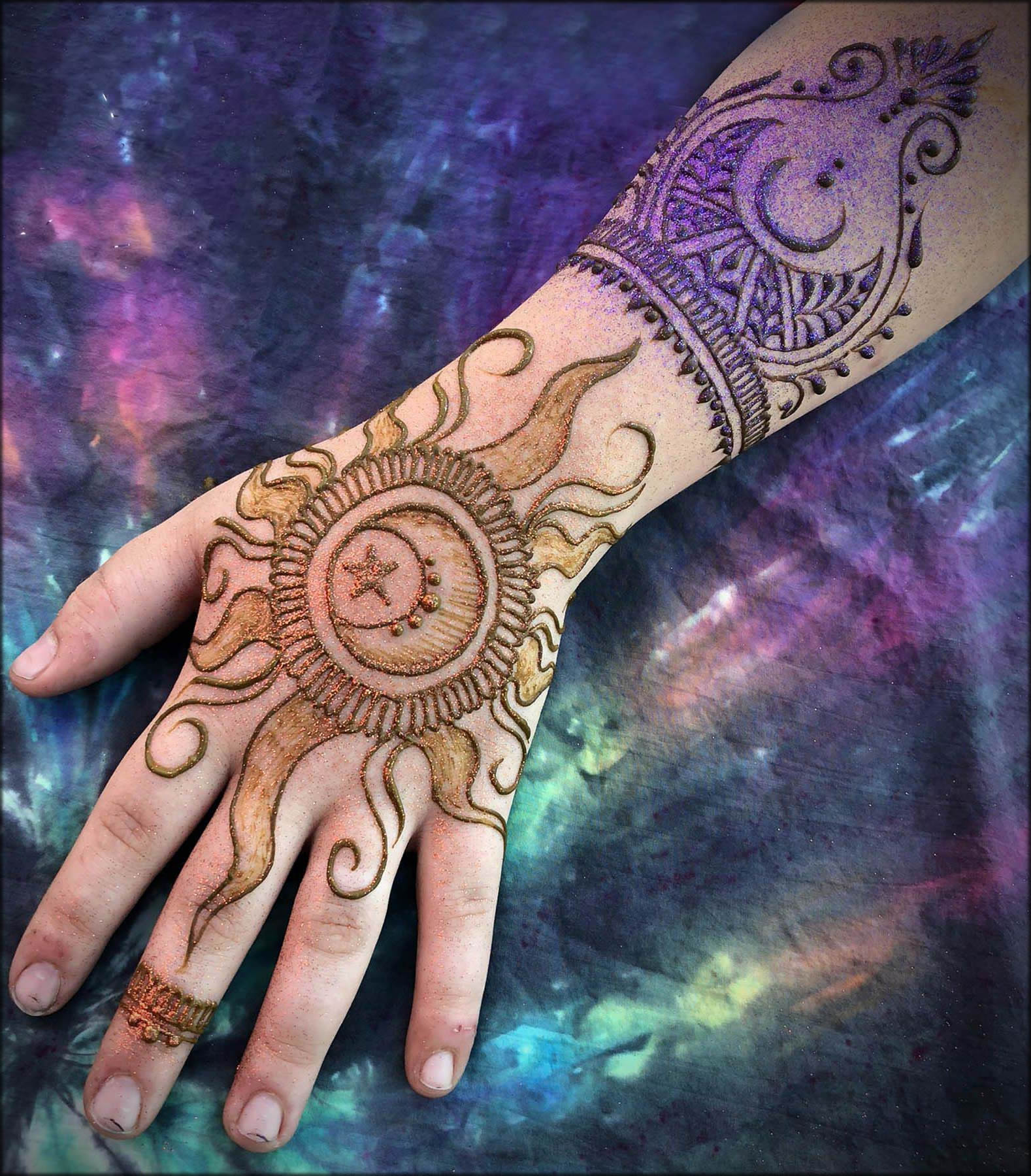 Henna is a popular body art in India. The designers and artists of India are well known in the world due to large motifs and robust patterns of mehndi. There are different Henna Patterns, but peacock, mango, and flowers are traditional and most demanded by the brides and girls. Indian Mehndi Designs are well-known art in Asia and the Western region. So, check out all the suggested designs to choose your favorite one. Do not forget to let us know about your ideal design mentioned in the article.