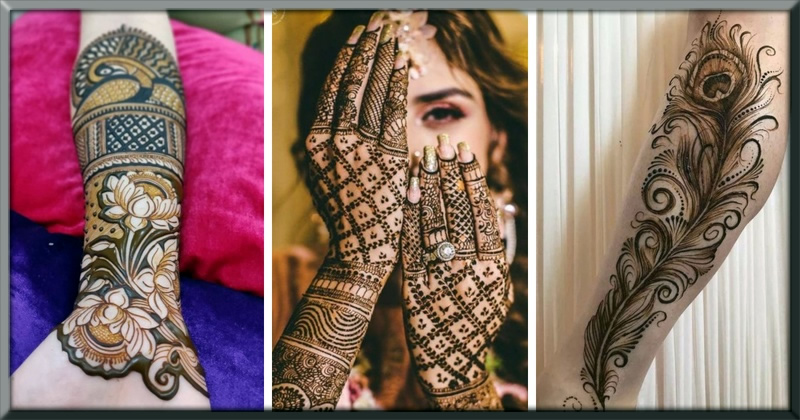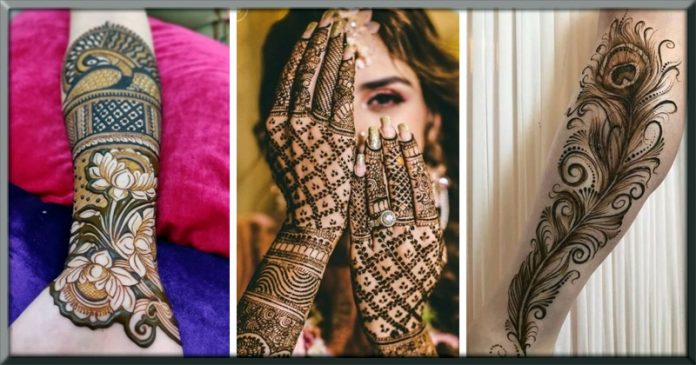 Every woman loves mehndi, no doubt. It is an art or practice of applying temporary henna tattoos on the hands, feet, and body. The Mehndi produced from the dry leaves of the henna tree, which grows in a perennial shrub. There are various wedding mehndi designs for the girls, but in this article, I will show you the best and exclusive mehndi designs for the ladies, which gives a stunning vibe to the girl's hands.
The typical color of the mehndi is brown, but it dries own to dark brown-black color. So here, we present a complete guide to knowing the different types of henna so you can easily pick the henna design according to your choice. In this collection, we have collected the most beautiful and amazing latest wedding henna designs.
Wedding events in Pakistan always begin with the mehndi ceremony. It is a fun-filled ceremony in which the bride and all girls decorate their hands with beautiful henna tattoo designs. The bride is the significant person of the henna ceremony, so the bride must prettify their hands or feet with an elegant henna design. Hence, she looks gorgeous on her significant day.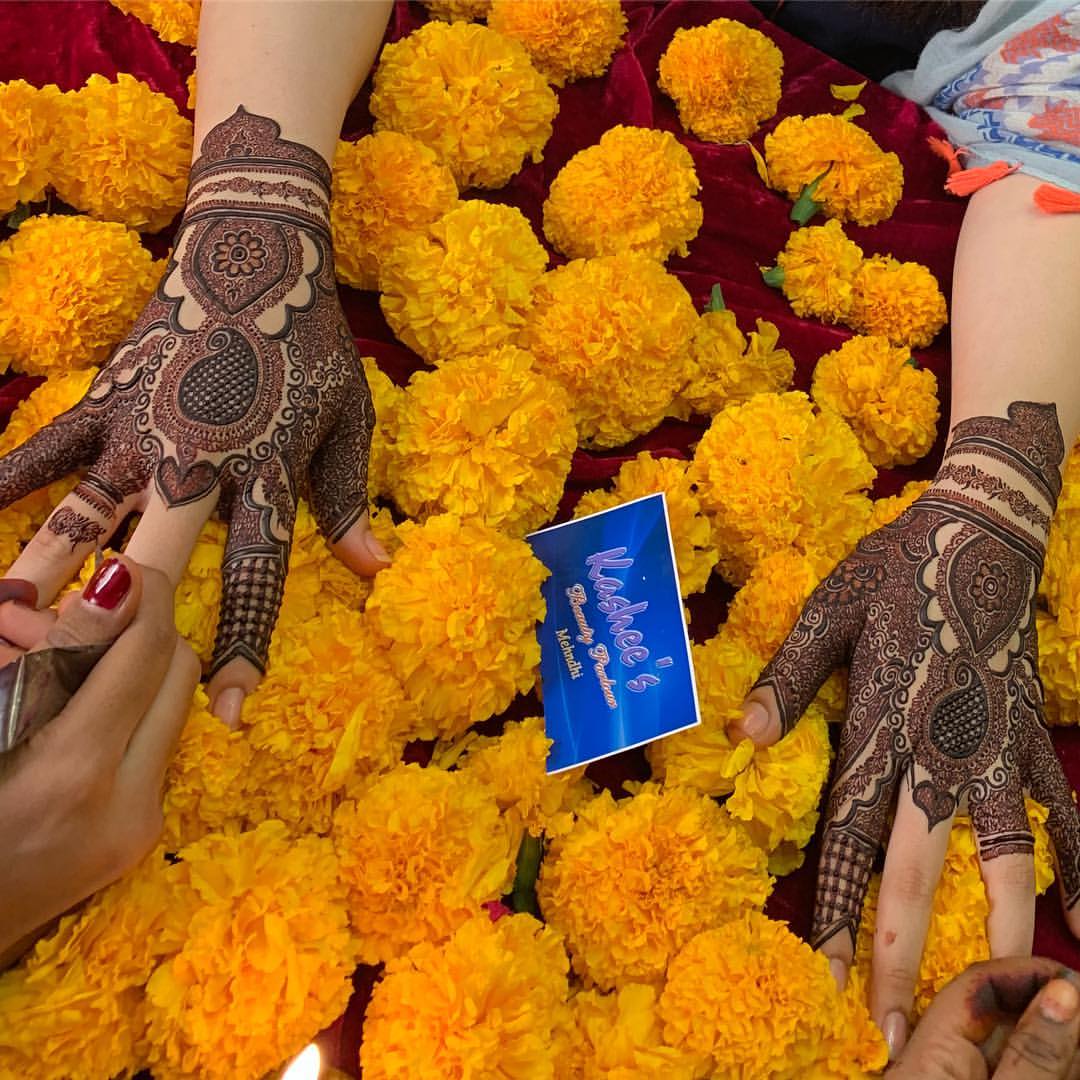 Different Types of Wedding Mehndi Designs
There are different types of mehndi designs listed below:
Raja Rani
Classic Tikiya
Moroccan
Fascinating
Fancy Glittery
Arabic Style
Wedding designs for Kids
Best peacock style
Indian best mehndi designs
Simple designs
Fingers design
Bridal designs for feet
Belly design for a bride
Necklace designs
Unique wedding henna designs
1- Raja and Rani
It's a simple henna design for those brides who are adamant about it. This design displays artwork of a debonair king and a beautiful queen from the Mughal era. In this pattern, the artist sketches the king and queen with henna on the palm, creating an ethnic style, covering the other parts of the palm with flowers, leaves, and with some peacock designs.
2- Classic Tikiya Mehndi Design
Tikiya is one of the classic design for all girls. They are always in trend and never go out of it. It's very simple or easy to draw. For any celebration or any event, this design feels perfect and proper. It will help you to beautify your hands.

3- Moroccan Wedding Mehndi Design
Nowadays, Moroccan henna design is very trendy. These designs are so simple yet eye-catching. You can easily create unique designs according to your taste and choice. If you want to try something different on your hands, this is it. It looks like a square, with boxes that covered with dotted lines.
4- Fascinating Bridal Mehndi Design
Every bride wants to look cultured and beautiful on her wedding events so that everyone looks at her in appreciation. If the bridal outfit and accessories are simple, then the fascinating henna design is enough to decorate her. Henna is weighty enough that looks best with everyday jewelry and a simple bridal dress. Some of the best bridal henna designs for full hands are given below:
5- Fancy Glittery Henna Design
Nowadays, the use of glitters is widespread. Girls use glitters everywhere, like on eye makeup, in nail art, in lipsticks, and also in henna designs. Glitters makes the thing more vibrant and gorgeous. That's why girls use it everywhere according to their choice and fashion.
Unique glitter colors look perfect with henna color. If your dress is yellow, then use yellow or green glitters for a polished look. Glitters are available in every color so you can choose the best glitter color for your henna designs according to your dress.
6- Exquisite Arabic Style Mehndi
Arabic mehndi is very well-liked in Pakistan and all around the world. It's not only for the bride but also for all bridesmaids. This Arabic style design looks so pretty with its Floral and Paisley texture. Arabic pattern is suitable for thick and chubby hands because it covers almost the whole side with flowers and Arabic design, which looks graceful on chubby hands.
7- Wedding Mehndi Designs for Kids
Minors are not behind nowadays as far as mehndi is concerned. Kids also want to decorate their hands with the best and unique henna design patterns. They are more conscious rather than teenagers. Here is the list of henna designs for their small and soft hands and feet.
8- Best Peacock Style for Girls
In this pattern, a peacock draws on the backhand with some leaves and flowers. And the fingers covered with a simple henna style. It's a unique design, and it gives a refined look to the girl's hands. If you want to try something unique, then try this design. This pattern is best for peacock lovers.

9- Best Indian Wedding Mehndi Designs
Indian henna designs are hefty designs that mix up with many kinds of styles like a peacock, Tikki, Arabic, and Moroccan. It gives a fantastic look to the bride. There are some most stunning and beautiful Indian henna designs for bride, given below:
10- Mehndi Designs with Bride Groom Names
Nowadays, it's a trendy henna pattern for the wedding, where they write the bride and groom's name on the palm with the help of flowers and leaves. Sometimes the henna artists draw a groom and bride picture on the bride's hands with henna, and then other remaining parts of hands are filled up with the beautiful floral design. Some bride likes to add their wedding date on the side with henna. It's a new trend used nowadays.

11- Simple Wedding Mehndi Designs 
Some girls don't like mehndi. They fulfill the formality for their wedding event, so they choose minimal and effortless designs according to their preferences. They draw a simple flower, leaves, or lines on their hands. When a teenager wears a heavily embroidered dress with big jewelry, then this is very suitable and a fresh style. So here are some simple mehndi designs:

12- Finger Mehndi Designs
The girls of all ages prefer simple henna styles. It's the main reason that the finger mehndi designs are most popular nowadays, even now brides apply mehndi only on their fingers and leave other parts of hands empty. Fingers mehndi design with any color of nail paint looks stunning; this will brighten your hands. I think these are the best wedding mehndi designs for a teenager.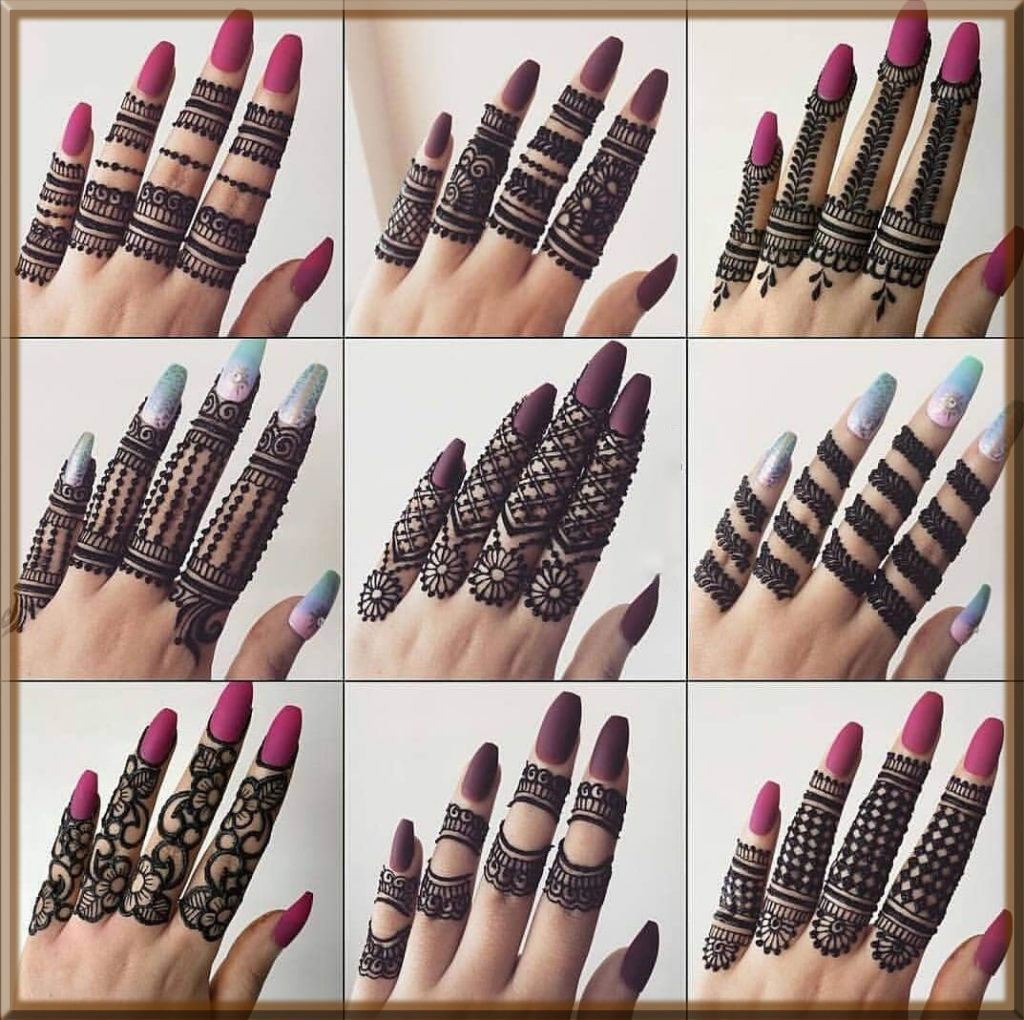 13- Bridal Wedding Mehndi Designs for Feet
Mehndi is applied not only on hands but also applied on feet and legs. In Pakistan, mehndi on hands or feet is an essential thing. In other countries, mehndi is used on the shoulders and belly too.

Mostly Pakistani bridals apply mehndi on their hands or feet, but in India or other countries, bridal applies on their hands, feet, and legs. There are some unique and fashionable designs for legs and feet.
14- Belly Design for a Bride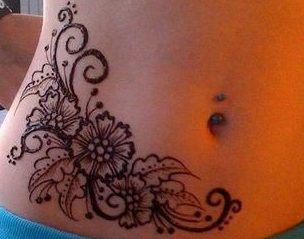 In western and eastern cultures, mehndi is applied on the belly. When they wear a sari, the drawing on the belly looks very pretty and unique. In India, it is indeed a unique way of applying mehndi.
15- Necklace Wedding Mehndi Designs
Every girl loves henna. Some girls are crazy about henna even they don't buy jewelry for their wedding event. Instead of wearing a massive set with their bridal dress, they draw a mehndi necklace. The artist who brings a mehndi draws it like a necklace, so the bride doesn't have to wear a jewelry set.
16- Unique Wedding Mehndi Designs
If you want to wear an orange outfit at your event, then this henna pattern will be perfect for you, and with this kind of design, you can also wear original flower jewelry. It will give you a gorgeous look on your wedding day.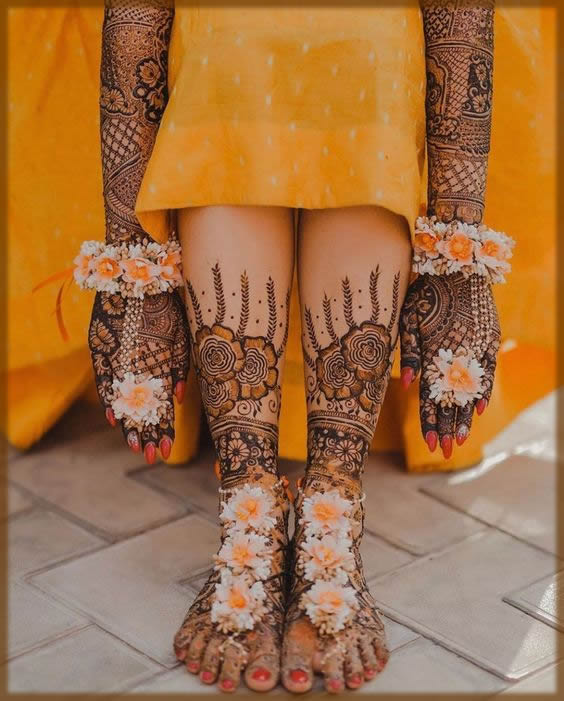 Beautiful henna designs for feet and hands will give you a royal look on your special day if you want to wear this kind of sandal on your day, then it's the best design for you.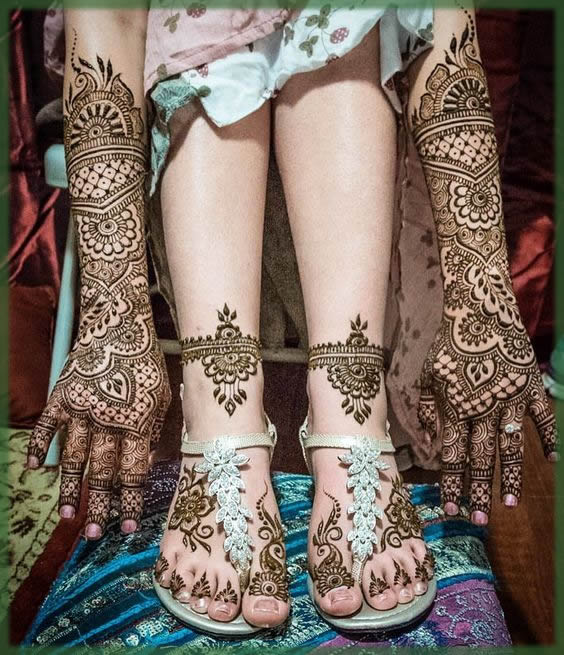 Traditional henna pattern with a maroon outfit, yellow garlands gives a breathtaking look to you. Nowadays, most girls like to draw a simple henna design; hence it's a perfect match for someone who wants to look decent.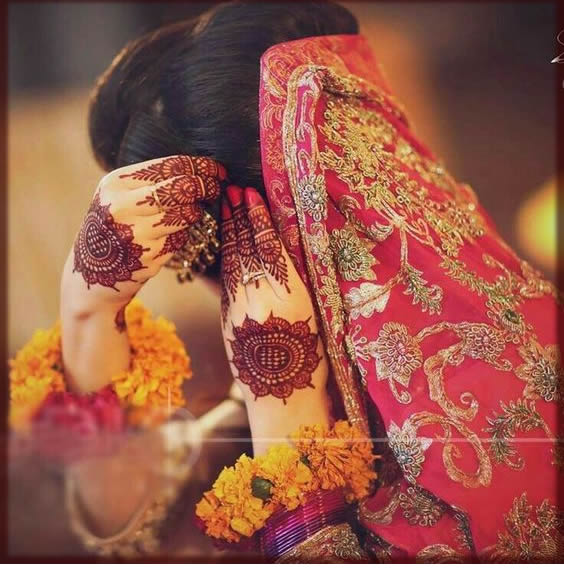 If the bride wants to wear sleeveless, then it's the best design for a bride for her grand day, which gives her a magnificent look. This mehndi design is the best combination of flowers, leaves, Arabic, and peacock style.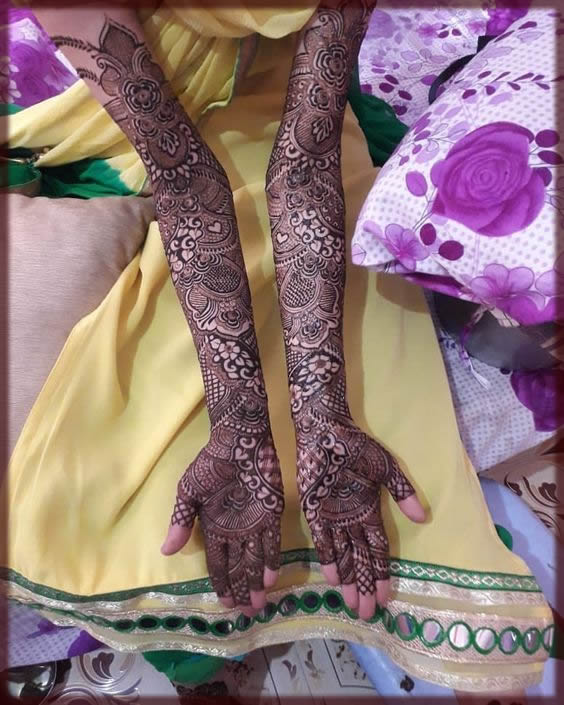 Pretty feet design with this kind of khussa will give you a stunning look. Everyone's eyes will be on your feet. It's the best combination of flowers, leaves, and peacock that will provide you with the most glam look on your special day.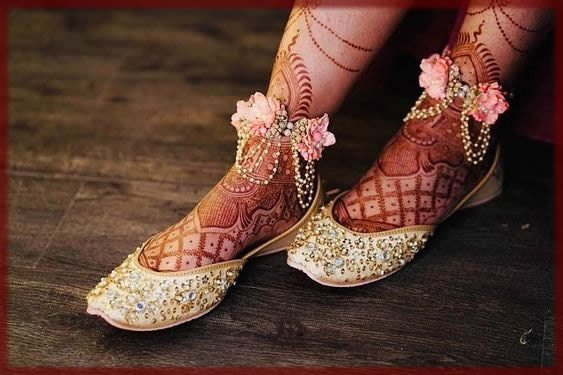 The full hands bridal henna designs will give a lovely look to the bride. This attractive design is the combination of different mehndi design patterns like Tikki, Arabic, Indian, and pure mehndi design.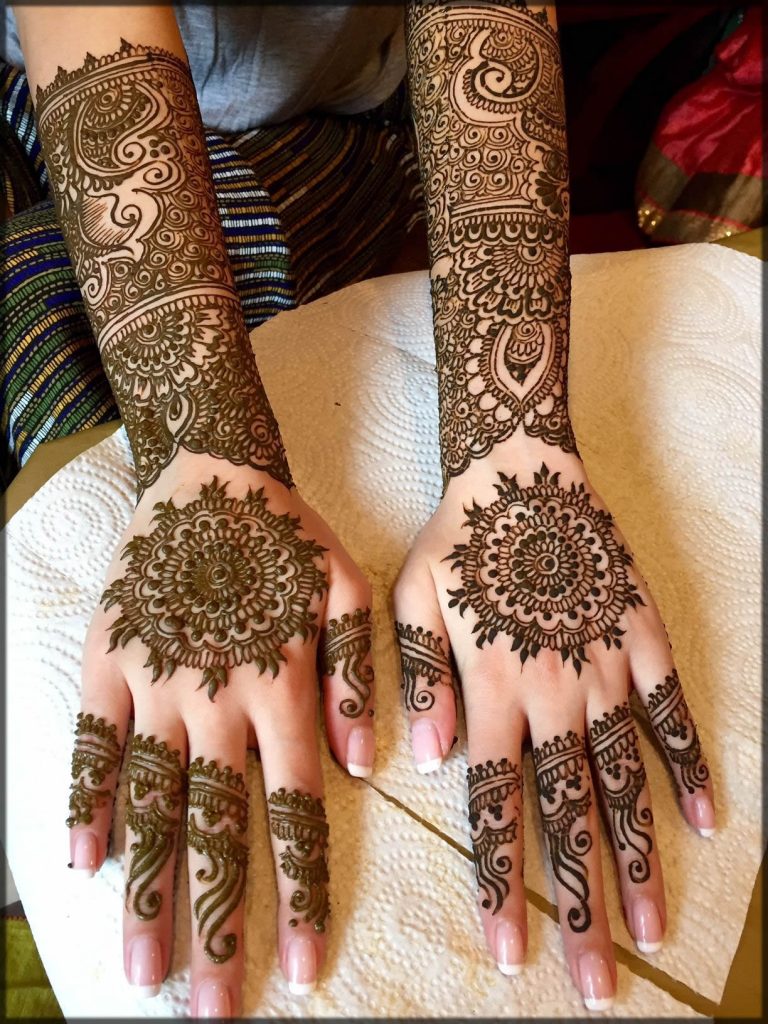 A simple and easy bridal mehndi designs, which makes the bride charming on her big day. Yellow and pink color dress with this kind of henna design is a big thumbs up. That's an ideal combination.
 
* 8 Easy Tips to Darken Your Henna *
1. Wash your hands before applying Mehndi.
2. Firstly dry your skin and then apply some moisturizer on your skin.
3. Let your Bridal Mehndi dry naturally.
4. Apply a generous amount of lemon and sugar.
5. Apply Mustard Oil for darkening your henna color.
6. Don't go for beauty treatments after you have applied mehndi.
7. Add tea or coffee mix to your mehndi.
8. Wrap up the mehndi pattern if you want to darken your henna color.
In this article, I showed you the different types of henna tattoo designs for bride, raja rani style, peacock style, Moroccan style, Arabic, glitters, and most beautiful Indian design, for instance. I hope you will appreciate it.