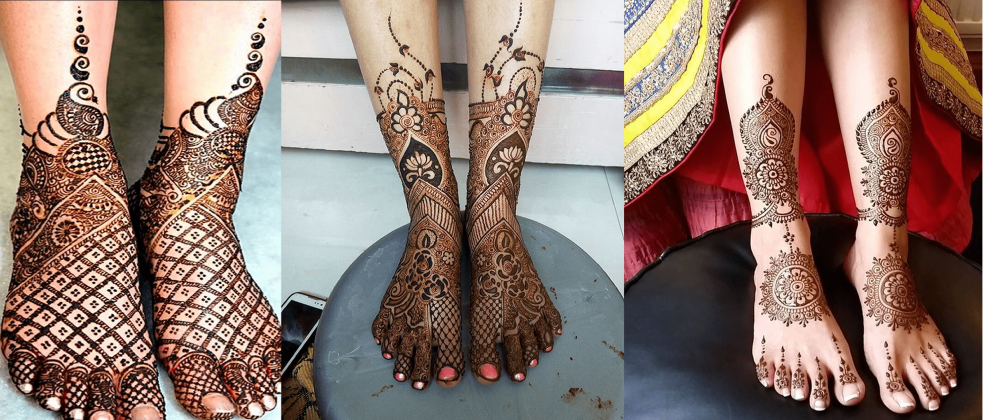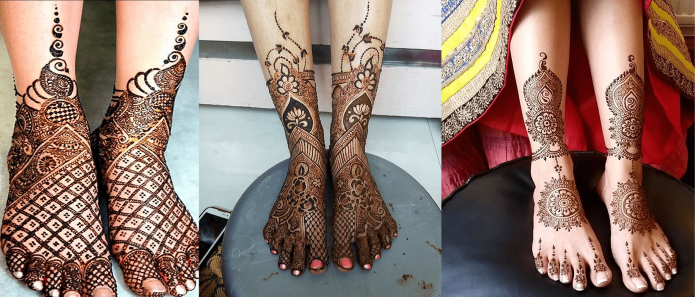 A bride is incomplete without the Mehndi. Mehndi is a temporary art that many brides use to decorate their hands or feet at their wedding. Every bride wants to make her wedding day memorable. Make your outfit attractive by applying the mehndi on feet and hands. This article contains the Alluring Bridal Mehndi Designs For Feet with fine detailing and dainty designs.
Delicate design on the feet enhances the appearance and adds beauty to the bride's getup. Just like your hands, feet can make a tidy impact on others. So, decorating your feet is also a supreme part of completing your wedding outfit but girls always have so many questions on their mind, such as:
What type of mehndi design would suit her?
What kind of design should she apply?
Which will look good on her?
How she seems significant among all?
Don't worry, check out our latest bridal mehndi design for feet collection. I hope so you can find the right match.
Stunning Bridal Mehndi Designs for Feet and Legs



In the mehndi event, the most significant thing is choosing an alluring mehndi design for your day. When it comes to mehndi designs, every bride has their preference. Some like a simple mehndi design, while others go for the massive mehndi designs. If you are searching for the stunning mehndi designs for the bride's feet, you have come to the right place.
Here we have the most attractive Arabic henna designs for the bride's feet. Mandalas and net jali make the perfect designs for the bride. Mandalas are the most commonly recognized and mostly used to draw motifs in mehndi design. The latest Arabic henna pattern is suitable for all kinds of feet. This design helps the brides to decorate their feet and makes the captivating impact.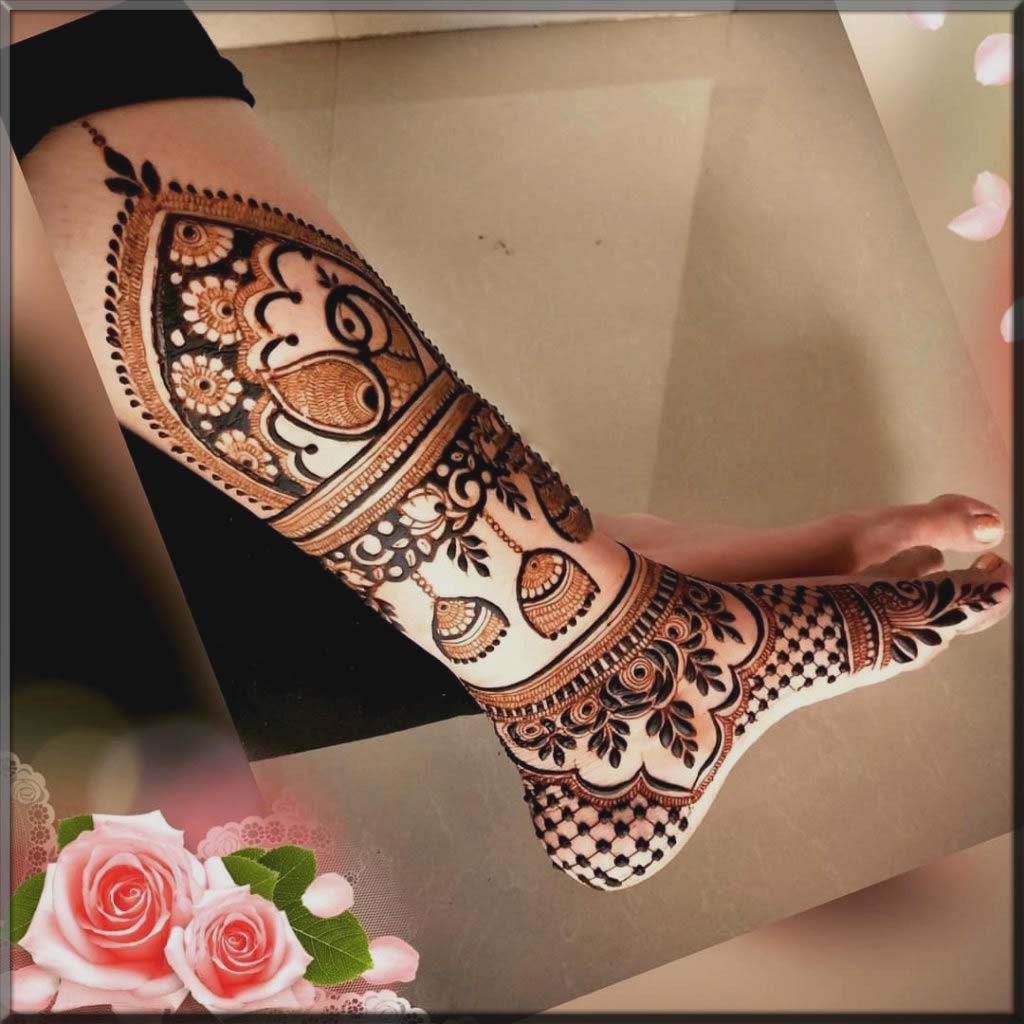 Moroccan Indian Bridal Mehndi Designs for Feet
This following henna design is for animal lovers. Many girls love animals and want to make the sketch of animals on their feet or hands. In this design, the elephant sketch is drawn on the leg, and further Indian and Moroccan mehndi styles are used to complete the design—the beautiful, and delightful henna designs for the bride's foot, which helps to look extraordinary.
Every bride wants to choose the unique henna patterns for her wedding event so that everyone appreciates her. Check out this adorable bridal mehndi design for making your feet divine. This henna pattern is perfect for brides who prefer modest designs. You can also add some more motifs and floral patterns. This design will give a new and lovely look to your feet.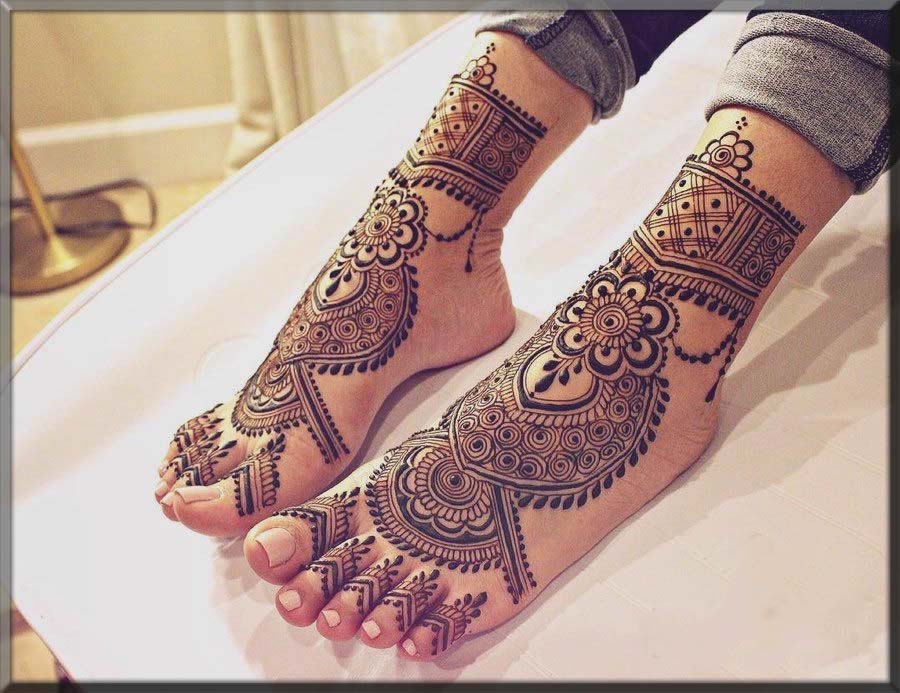 Floral

Mehndi Designs for Bride's Feet
Mehndi is a symbol of beauty, which you can use and make your hands or feet ravishing. It's the best and most dazzling henna design for the teenage brides. These designs are not mainly for the wedding event. You can use this latest design in any event, Either as Eid mehndi, or wedding functions, etc. This is the most time-consuming henna pattern, which is very easy to draw.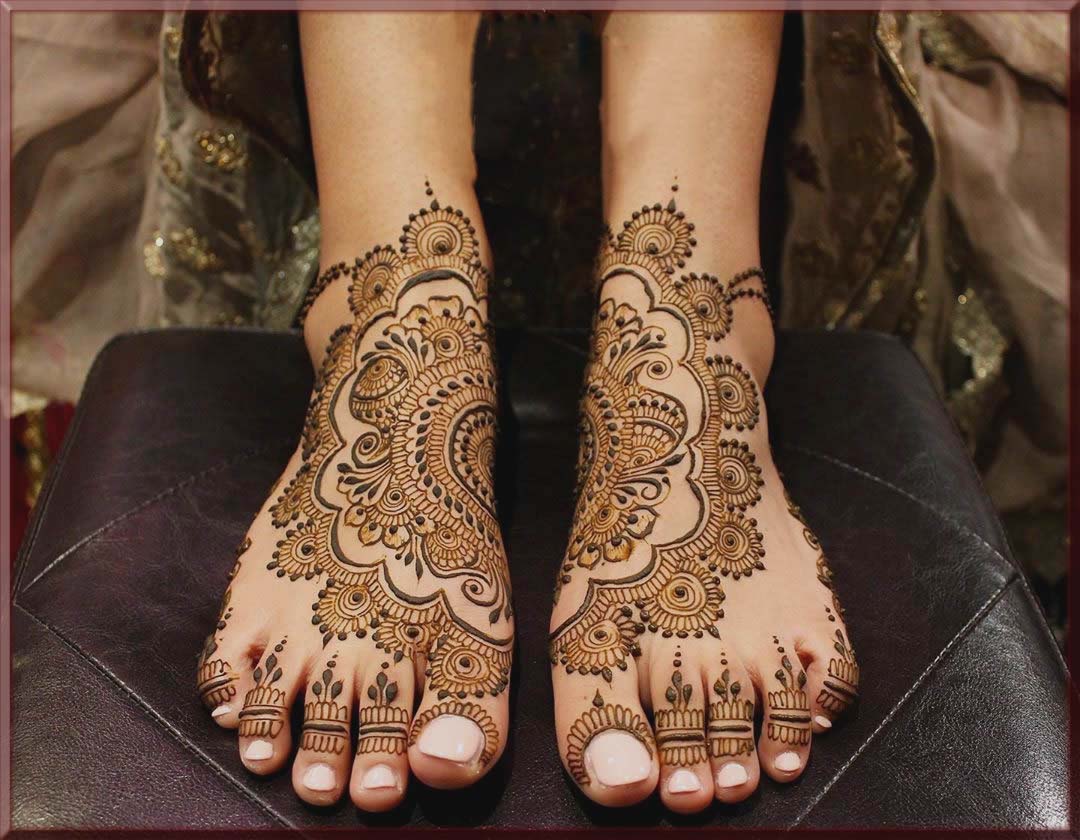 Many brides don't want to apply the massive henna designs; instead, they prefer the simple design. Below is the beautiful feet design for the bride. This ravishing design is the best combo of the mandala and floral patterns in which radiant motifs are drawn to furnish these henna patterns. Apply this beautiful design to enhance the beauty of your feet.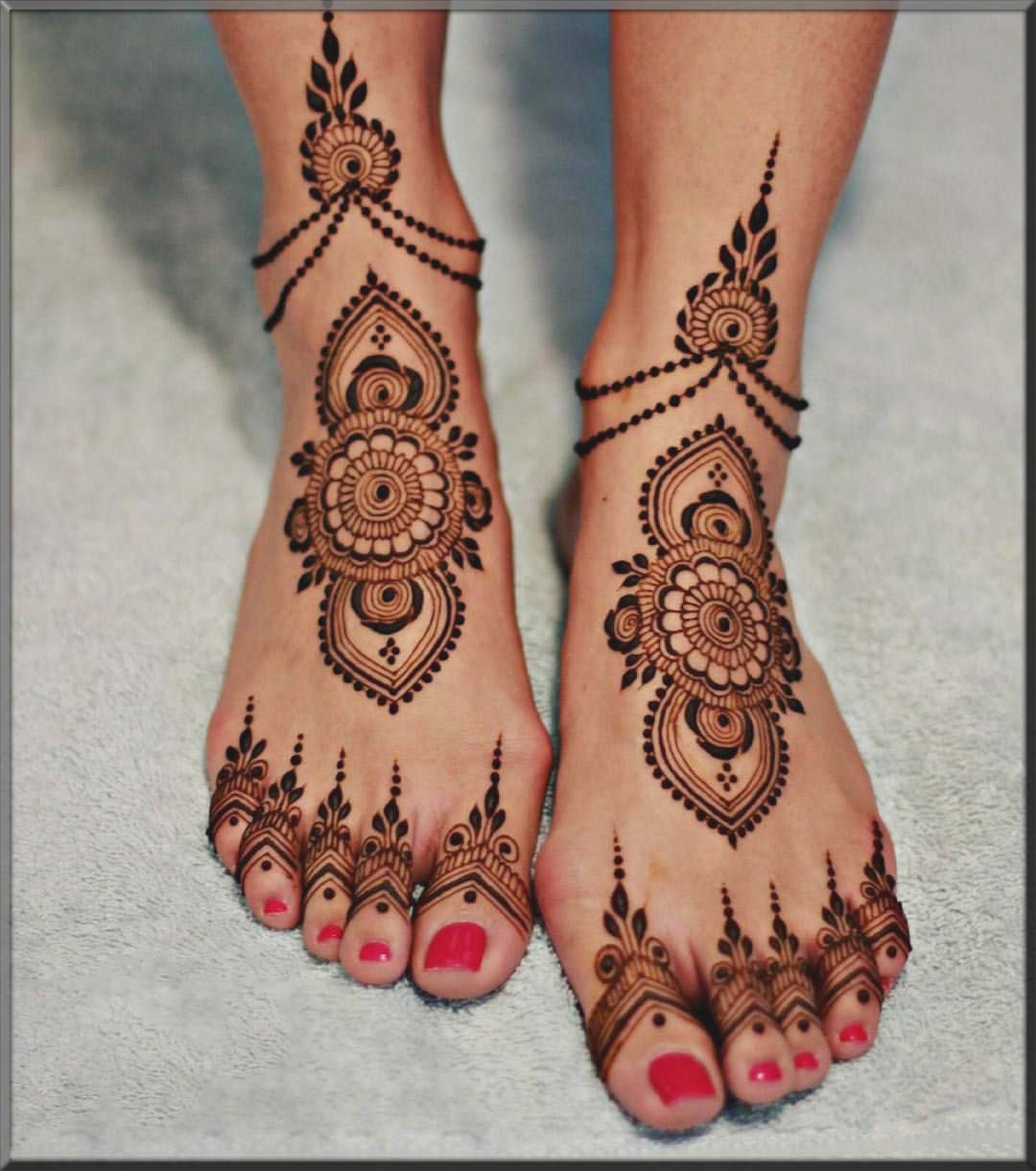 Tiki adds glamour to your bridal mehndi patterns. A tiki full of circular floral and swirl design looks excellent, especially when the bride wears a luxury outfit. For Tikki mehndi design, one thing to keep in mind is that the finer and thinner you will apply the pattern, the more adorable it will look. You can also add more henna patterns for making the styles more huge.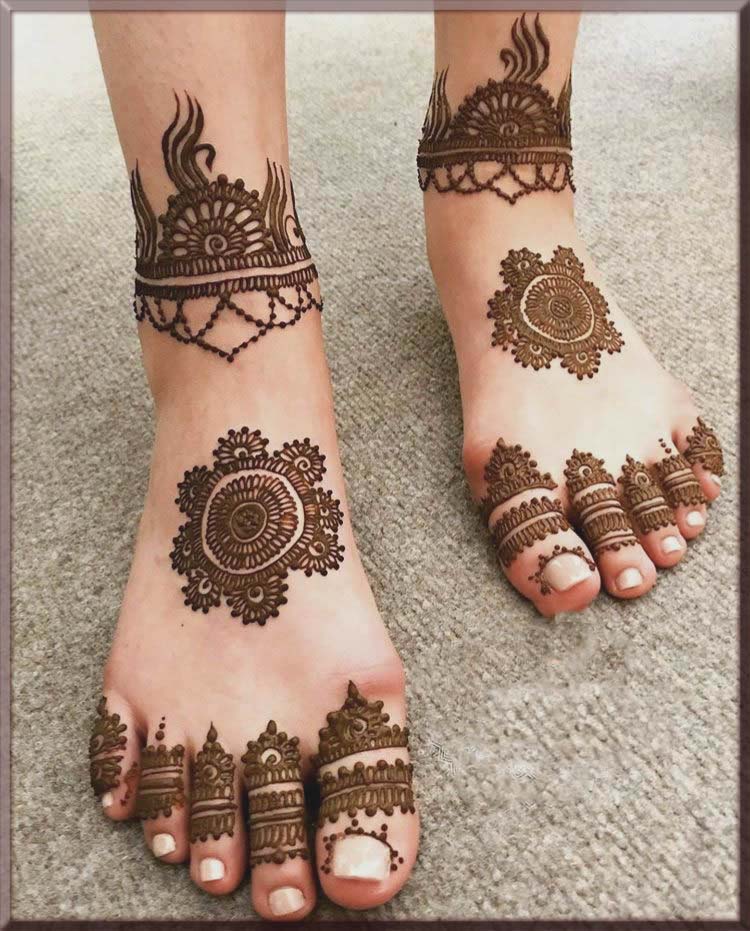 Ethnic Feet Mehndi Designs with Artistic Images



This exquisite pattern is for those brides who prefer an intricate henna pattern. In this pattern, the rani sketch is drawn from the Mughal era. The following designs are the combination of different henna styles including, Indian, Turkish, Pakistani, and little bit touch of Arabic. Net jaalis also are drawn to give a glammy look to the feet. It is an ideal and unique henna pattern for the brides. Bangladeshi bridal mehndi designs are a perfect demonstration of tradition and culture, so you can also apply your henna in Bangladeshi style.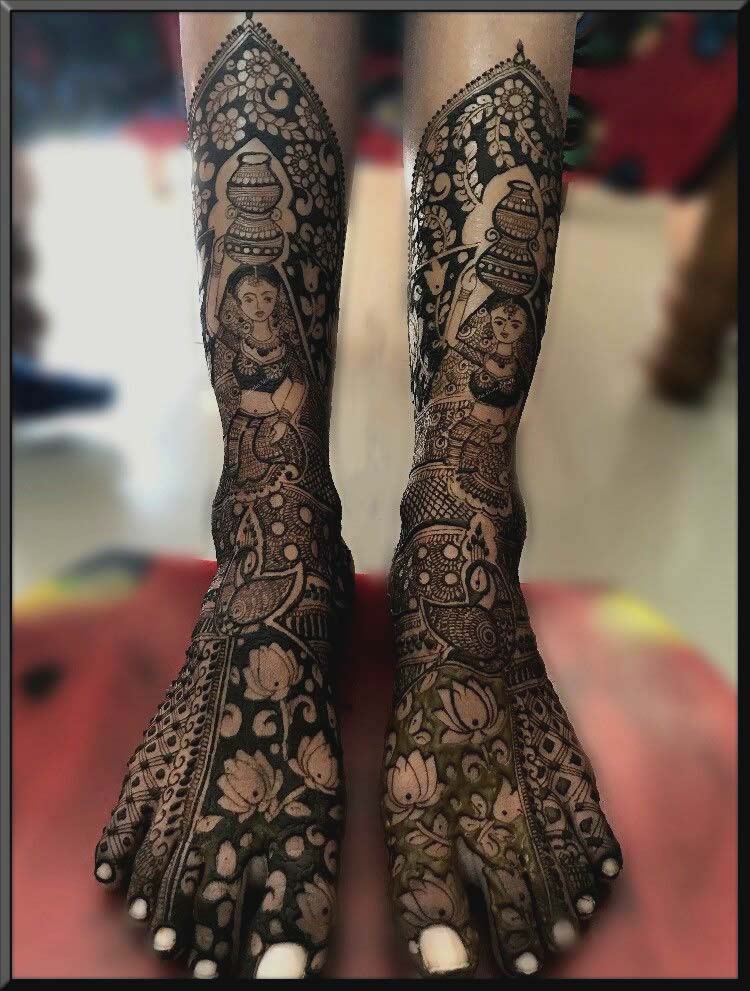 This Moroccan patterns for those girl's who wants decent and elegant henna pattern. They are always in trend and never go out of it. This design will help you to beautify your feet. Nowadays, Moroccan henna design is in-trend. These designs are so simple yet eye-catching. You can easily create unique designs according to your taste and choice. Creating an Moroccan layout is very effortless.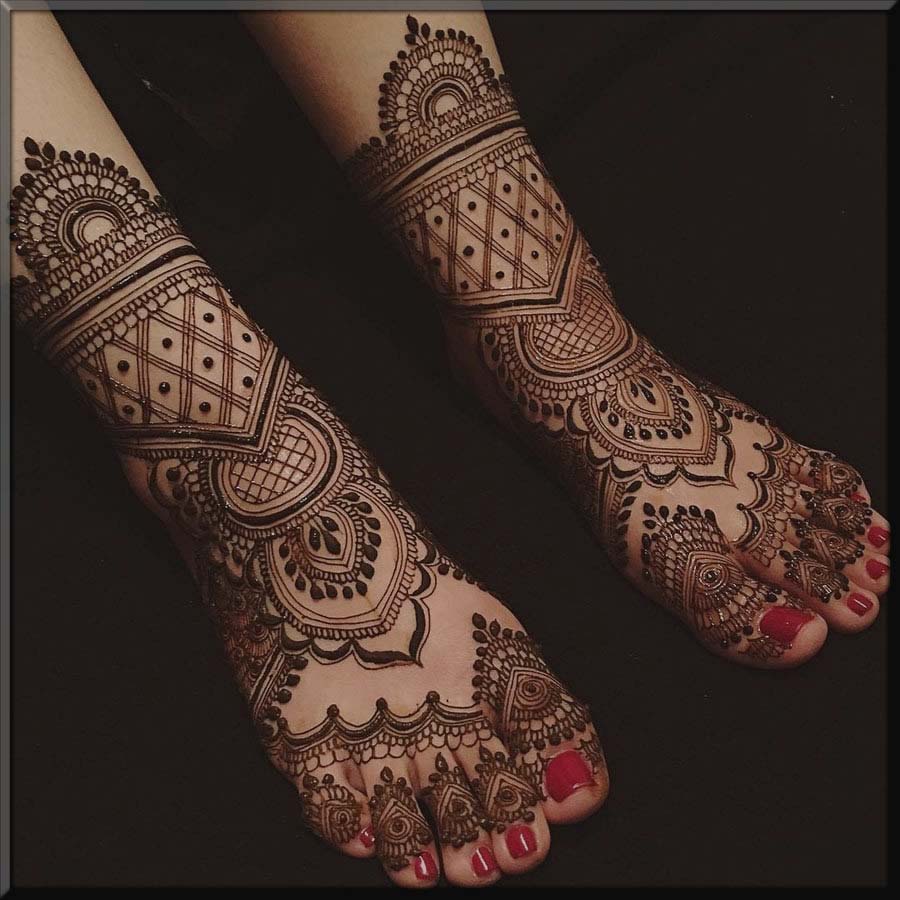 It's a unique design, and it gives a lovely look to the bride's feet. If you want to try something unique, then try this design. This latest peacock henna design blends well with the wedding mehndi design, and the fingers are covered with the dotted patterns. An ideal model for the brides who want to make their feet splendid.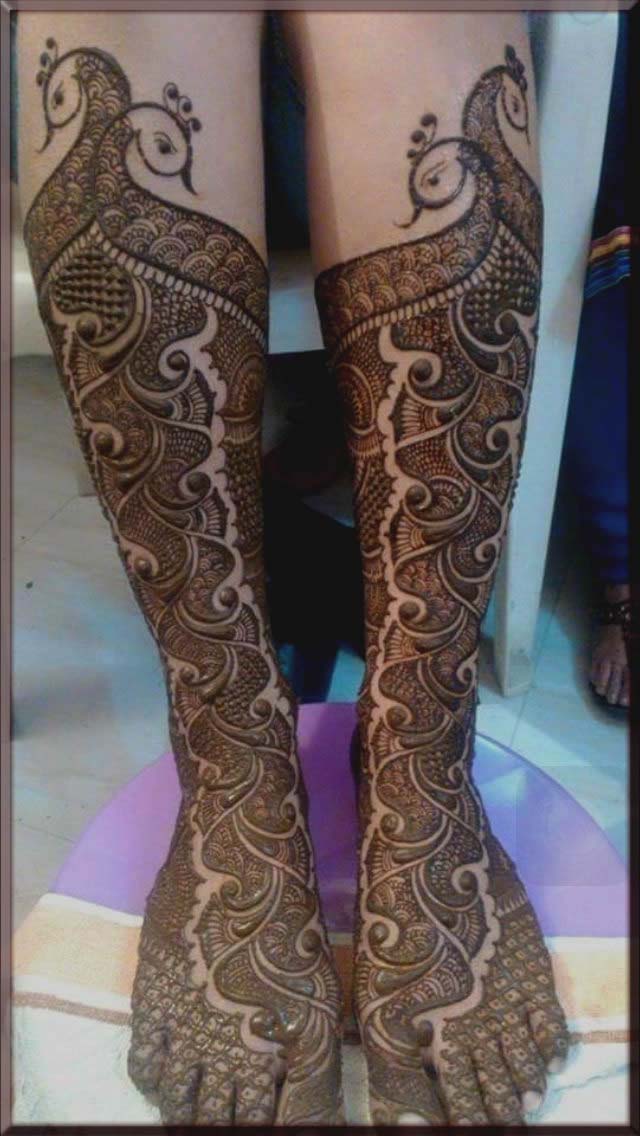 Indian Arabic Feet Henna Designs for Brides

Below are the best Indian mehndi designs for the bride's feet. Please keep it simple and elegant to balance out the heavy outfit. Indian henna designs are burly designs that mix up with many kinds of styles like a peacock, Tikki, Arabic, and Moroccan. It gives a fantastic look at the bride's feet. If you want to make your feet dazzling, then surely try this.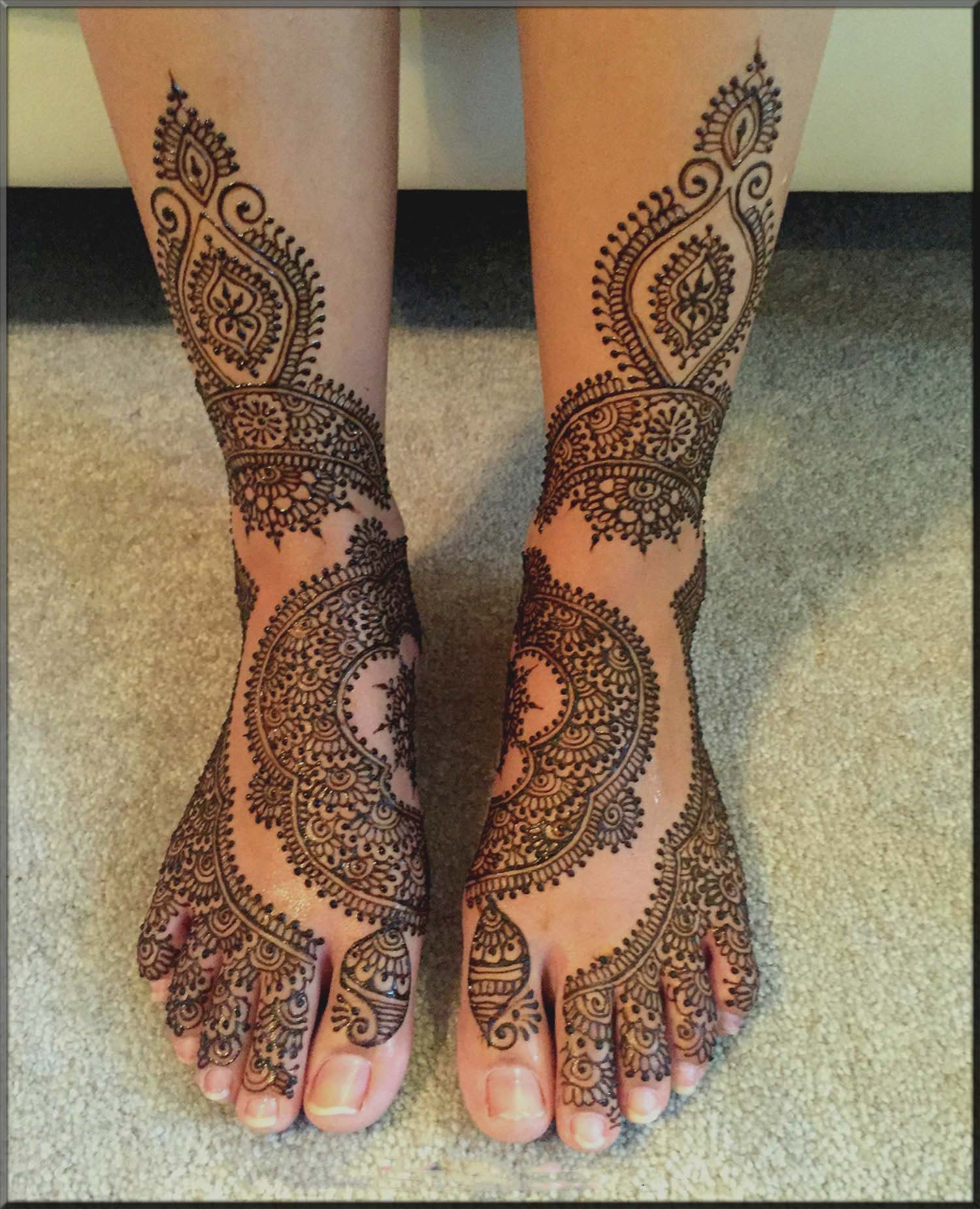 Tikki designs are one of the famous and well-known henna designs. Many girls love to apply Tikki pattern on their feet and hands. In this design, the round Tikki is drawn in the center of the feet with some heavy motifs. Fingers mehndi design, which covers the fingers with simple rose flowers and dots patterns, contribute a significant look to the bird's feet.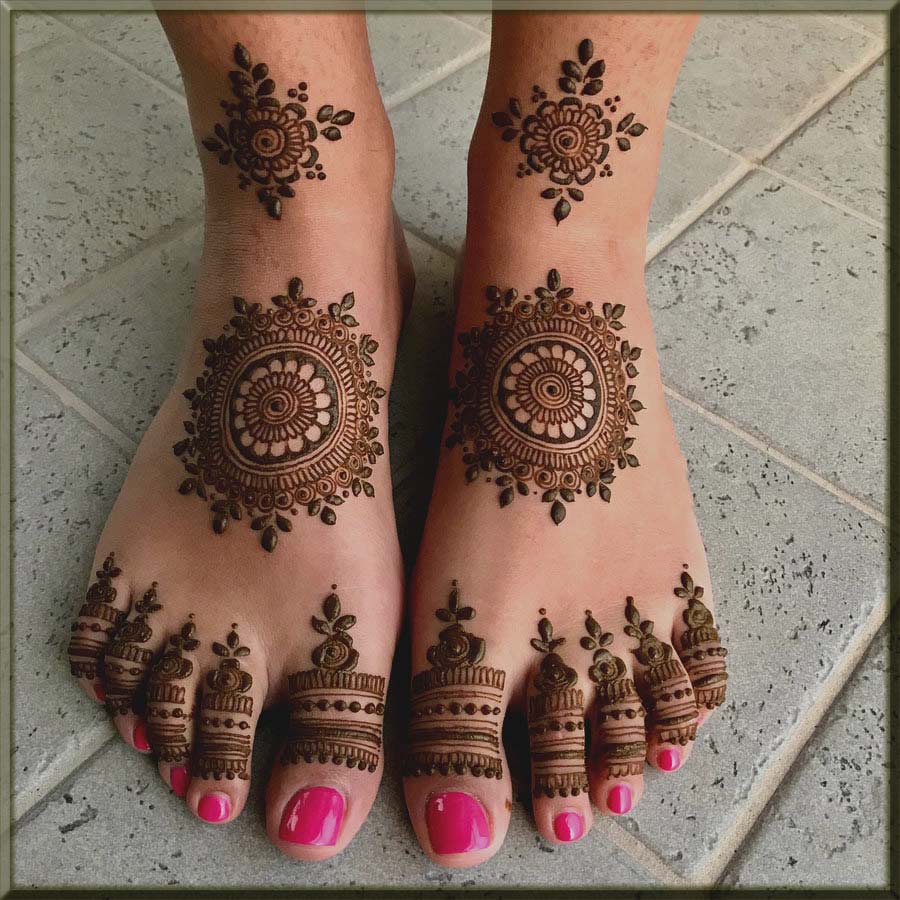 Below is a sturdy henna pattern for the brides. It is a captivating leg mehndi style with all the floral and motifs. This pattern feels suitable for the teenage bride. This henna style is for the particularly brides who like to keep it decent; this is one of the best and stunning bridal mehndi styles. Decorate your feet with this devastating henna pattern to prettify your feet at your big day.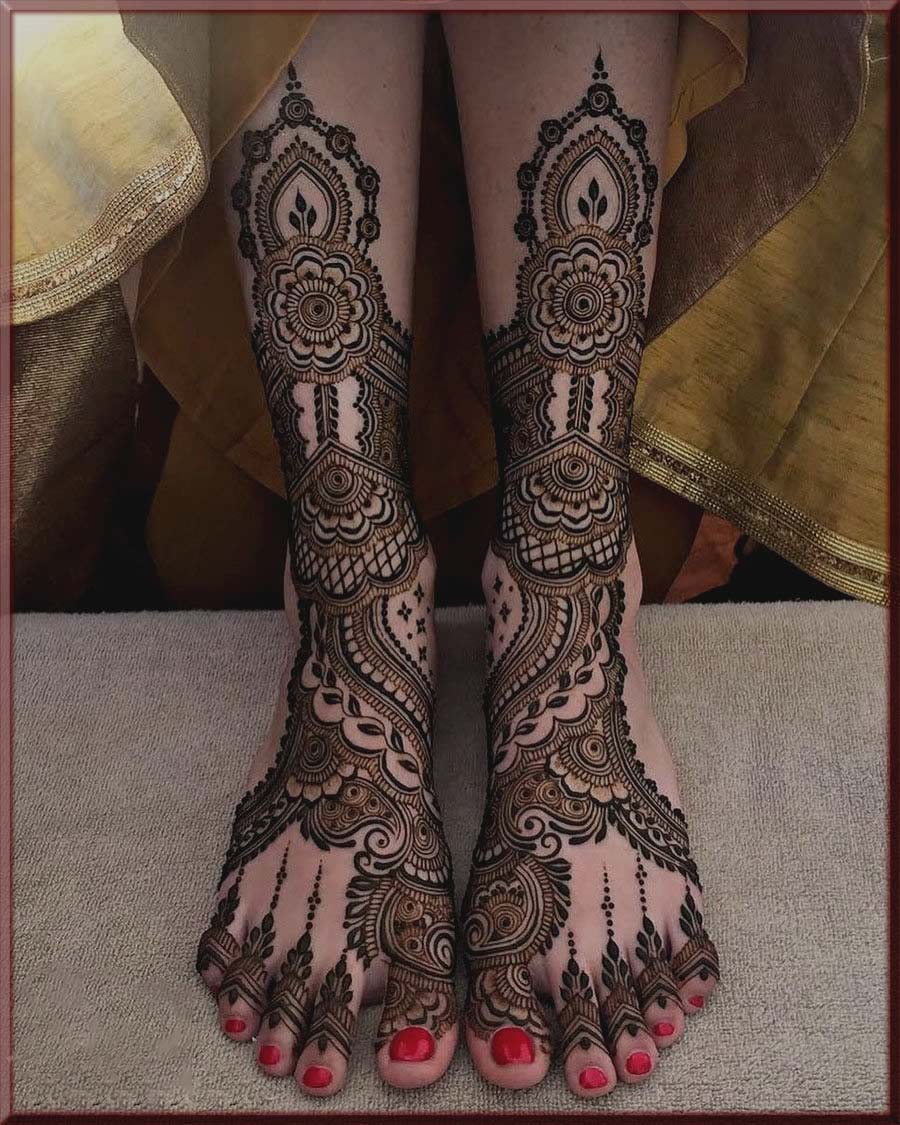 Tikki Style Henna Designs with Fine Detailing



Below is the pretty leg mehndi designs for the bride-to-be. This beautiful henna pattern looks fantastic with the red nail paint. Brides and groom are the significant people of the wedding, so both must dress well. Every girl dream of making her event unique and memorable. Then don't waste your time and apply these beautiful henna patterns at your feet so that you can look marvelous.
The following is the beautiful rose flower mehndi pattern. Dark black mehndi is in-trend these days. If you want to make your feet dazzling on your wedding, then do not forget to apply this pattern — this pattern is beautifully furnished with thick motifs. Nowadays, white mehndi designs are also very trendy in the wedding season.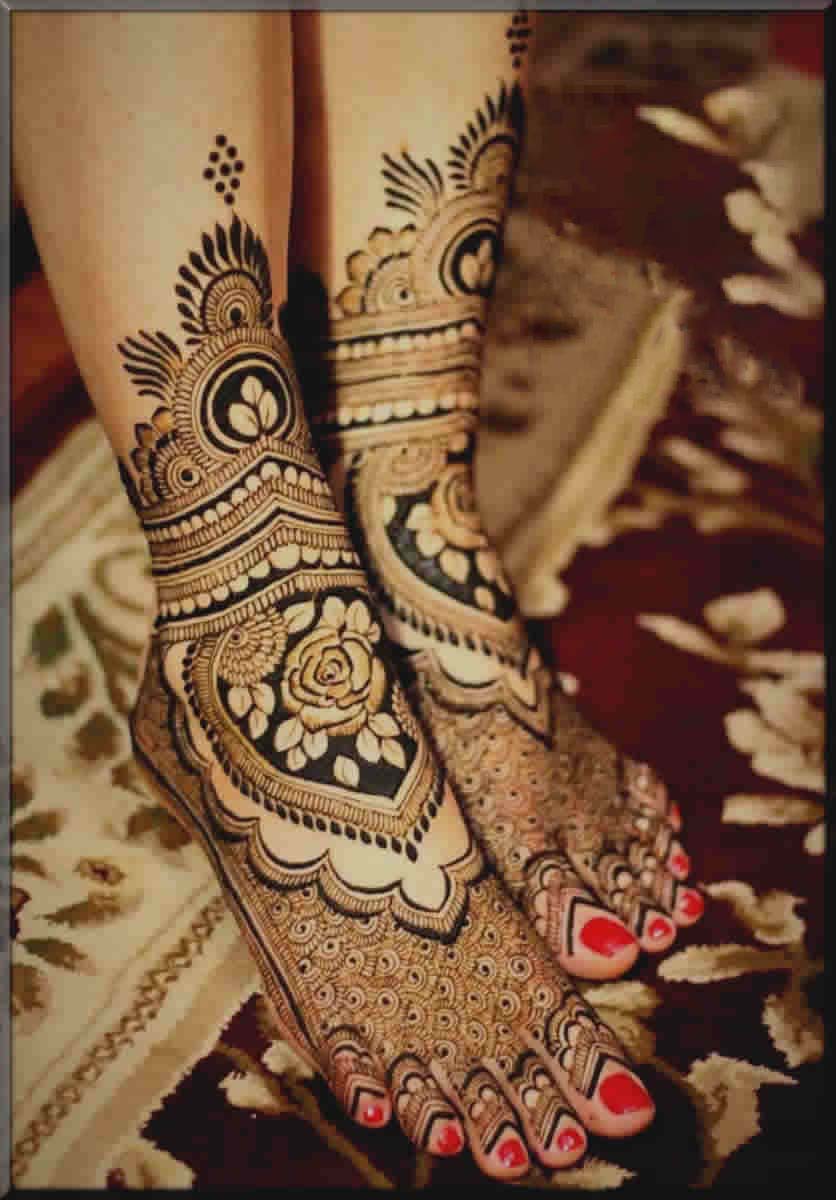 Feet and Leg

Henna Patterns for Bride-to-be [Pictures Gallery]

Every year the mehndi artists bring a new and lovely henna design for the teenagers, kids, and brides. This latest pattern is for the bride who wants to decorate her legs too. Mandala pattern combined with leaves, flowers, and peacock motifs is just the perfect combo.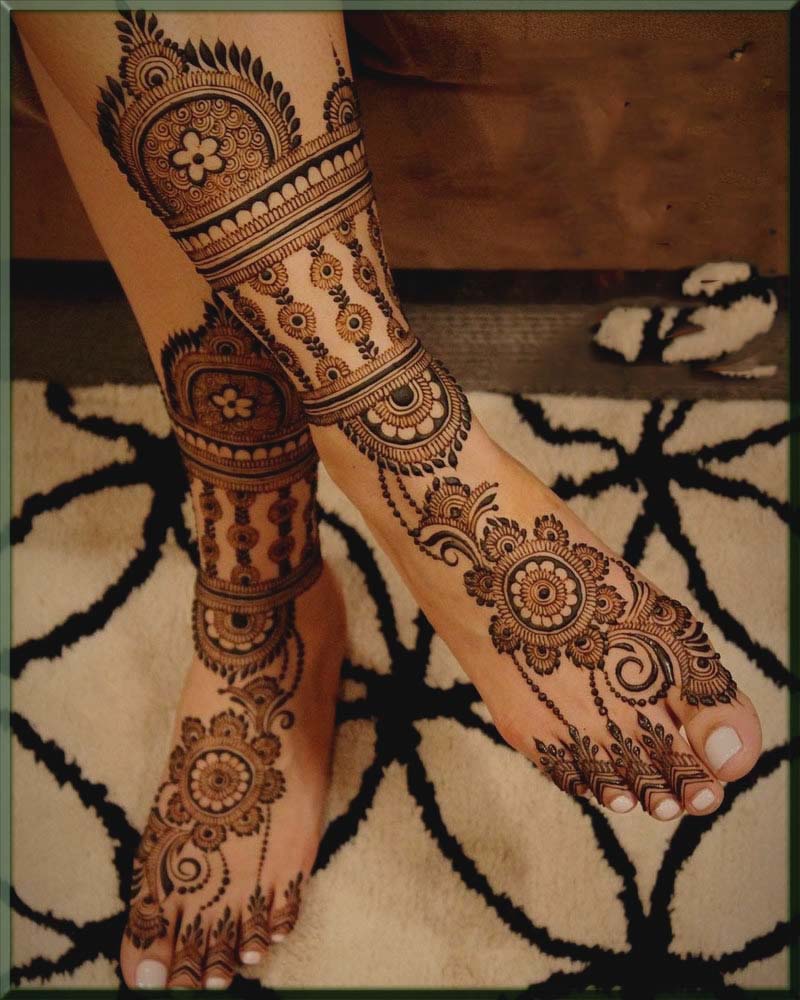 Every bride wants to draw a radiant henna pattern for making her special event amazing. The henna trend is moving towards more elegant and decent designs. Just look at this beautiful bridal mehndi for feet and legs. This following pattern consists of floral motifs, Moroccan, Arabic, and a little bit of touch of paisley flowers. On the fingers, simple doted net Jal has drawn to complete the pattern.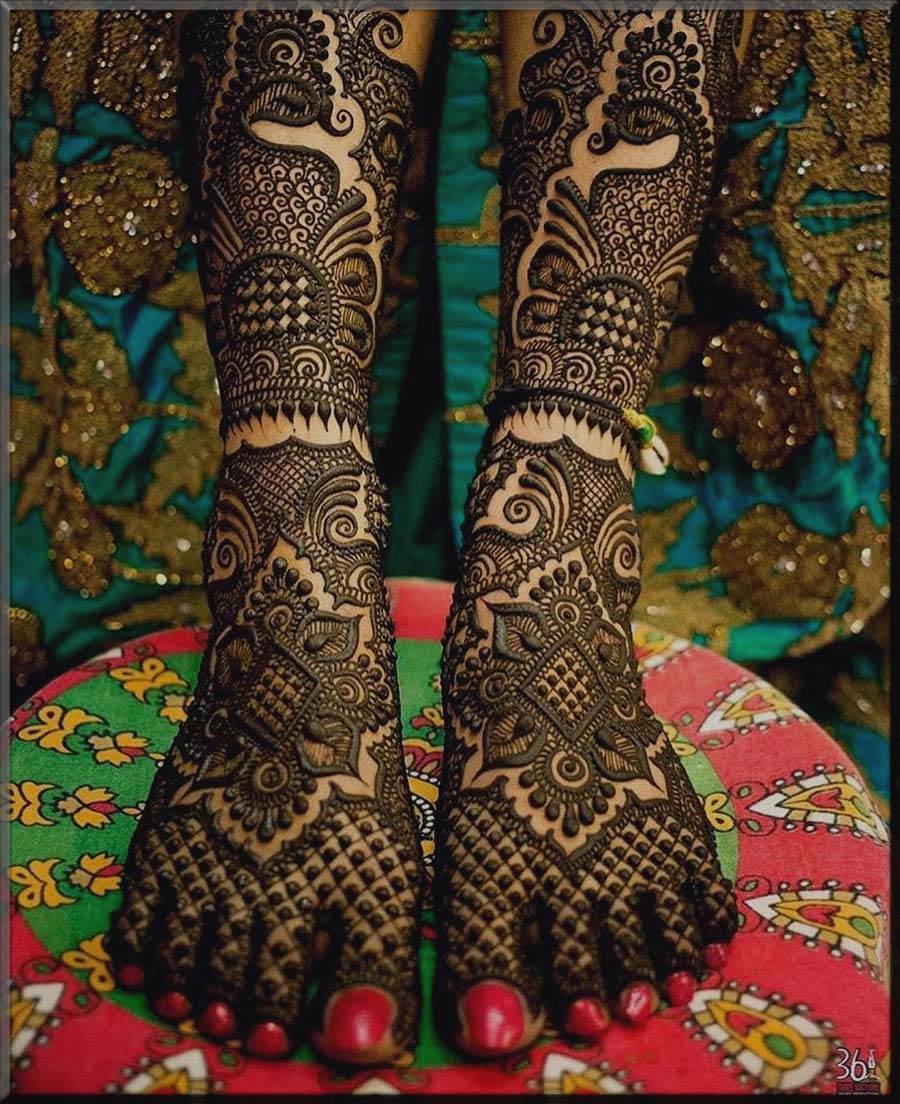 Take a look at the bridal mehndi styles in the below image gallery. These designs are very effortless and unique, which decorates the bride's feet with the best henna patterns.
I think no one on this earth is well aware of the concept of Mehndi. Mehndi plays a very significant role in our culture and wedding ceremonies. Every girl always wishes to beautify her hands and feet with the alluring Mehndi styles. Many girls get worried about their henna designs and preparations. They even don't know what kind of design will suit her; Every bride wishes to apply the eye-catching henna design. This article contains the collection of bridal mehndi designs for feet.