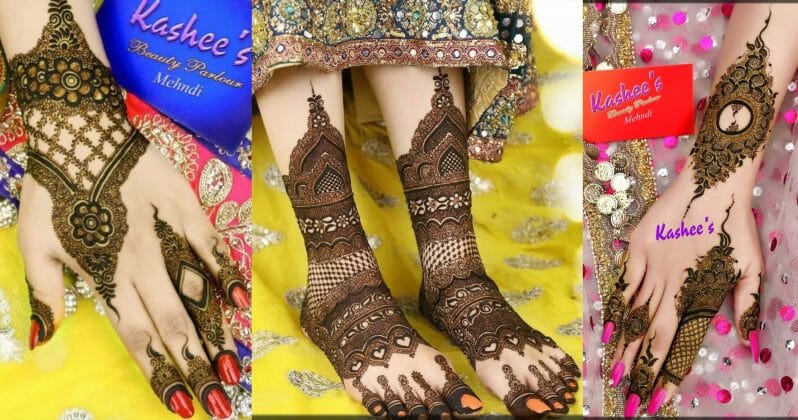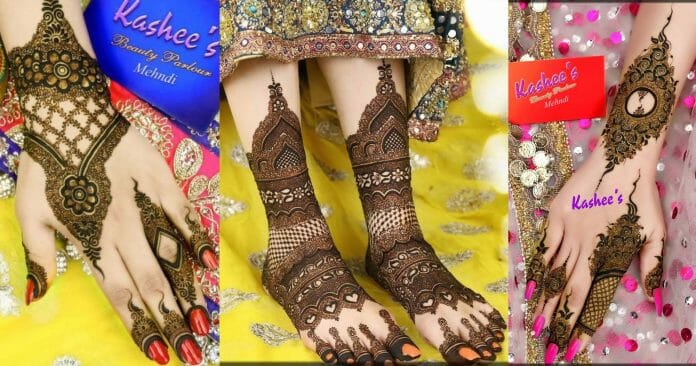 Kashee's is one of the most famous salons in Pakistan. The owner of Kashee's is Kashif Aslam, who is also a famous beautician of Pakistan. The main reason for his popularity is that he brings newness in every field. Kashee's provide different services, but in this article, we will only focus on his latest mehndi artistry. Here, I will show you the most striking and exquisite Kashee's mehndi designs collection.
A short time ago, Kashee launched the most recent Bridal Wear collection. He has gained popularity after he presented his latest bridal wear collection in an infamous morning show "Good Morning Pakistan".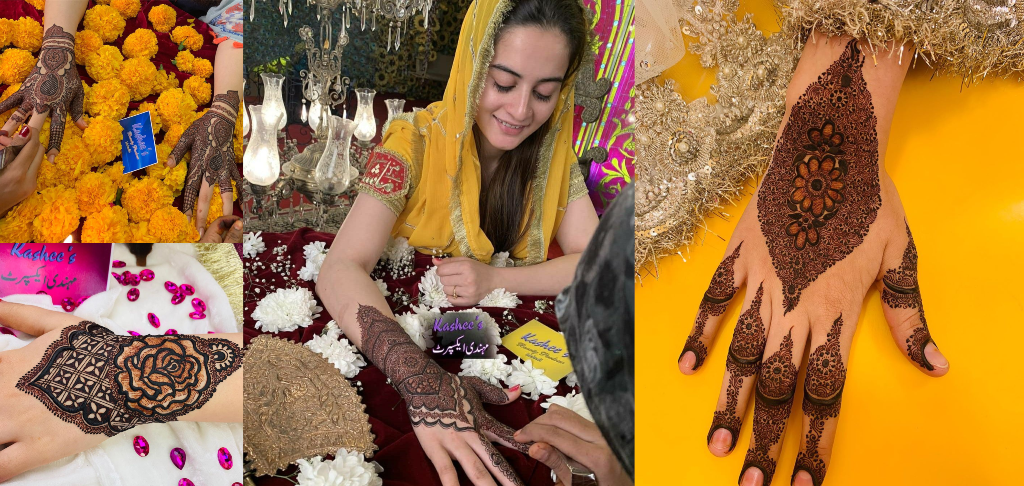 Initially, kashee's salon delivered services for men only, but then they started providing services for women as well. It provides many beauty services for women's which includes:s
| | | |
| --- | --- | --- |
| Bridal Barat & Valima Make-up | Eye Lashes Extension | Engagement & Party Make-up |
| Waxing | Waxing | Acrylic Nails |
| Hair Extensions (permanent and temporary) | Dermatological Facials | Scrubbing |
| Hair Cuts, Coloring, & Styling | Hair Straightening | Body Slimming Treatments |

Splendid Kashee's Mehndi Designs



Kashee's mehndi designs are famous in the whole world. Every girl wishes to prettify her hands with the latest kashee's mehndi design because his artists are professionals, and their work is outstanding. Kashee's mehndi designs are versatile. The kashee's mehndi artistry is the mixture of contrary patterns, including:
Floral swirls

Chevron Zig Zag

Seamless circles

Leaves

Geometric

Ethnic patterns etc.

Kashee's staff is expert and professional, not only in Pakistani mehndi designs, but they are also experts in Turkish, Indian and Arabic mehndi designs.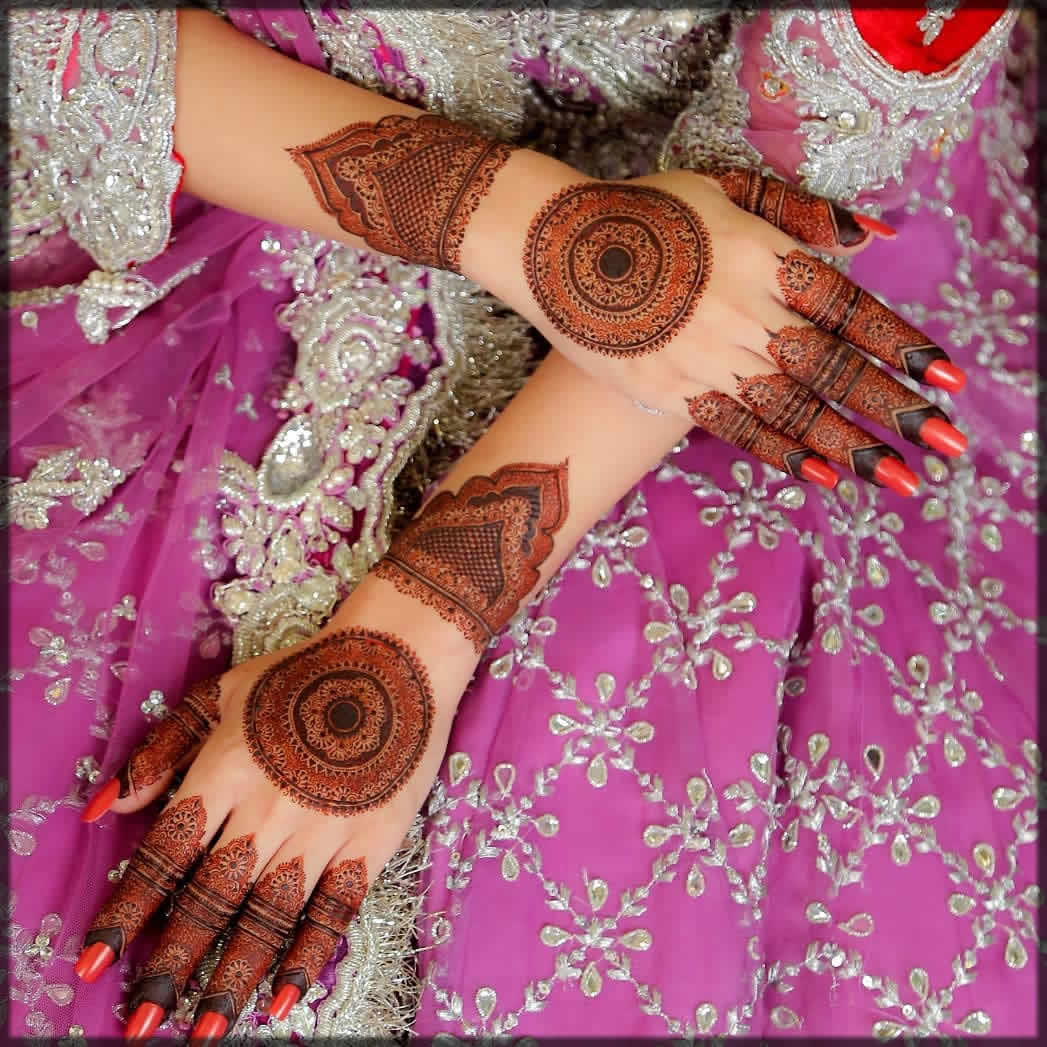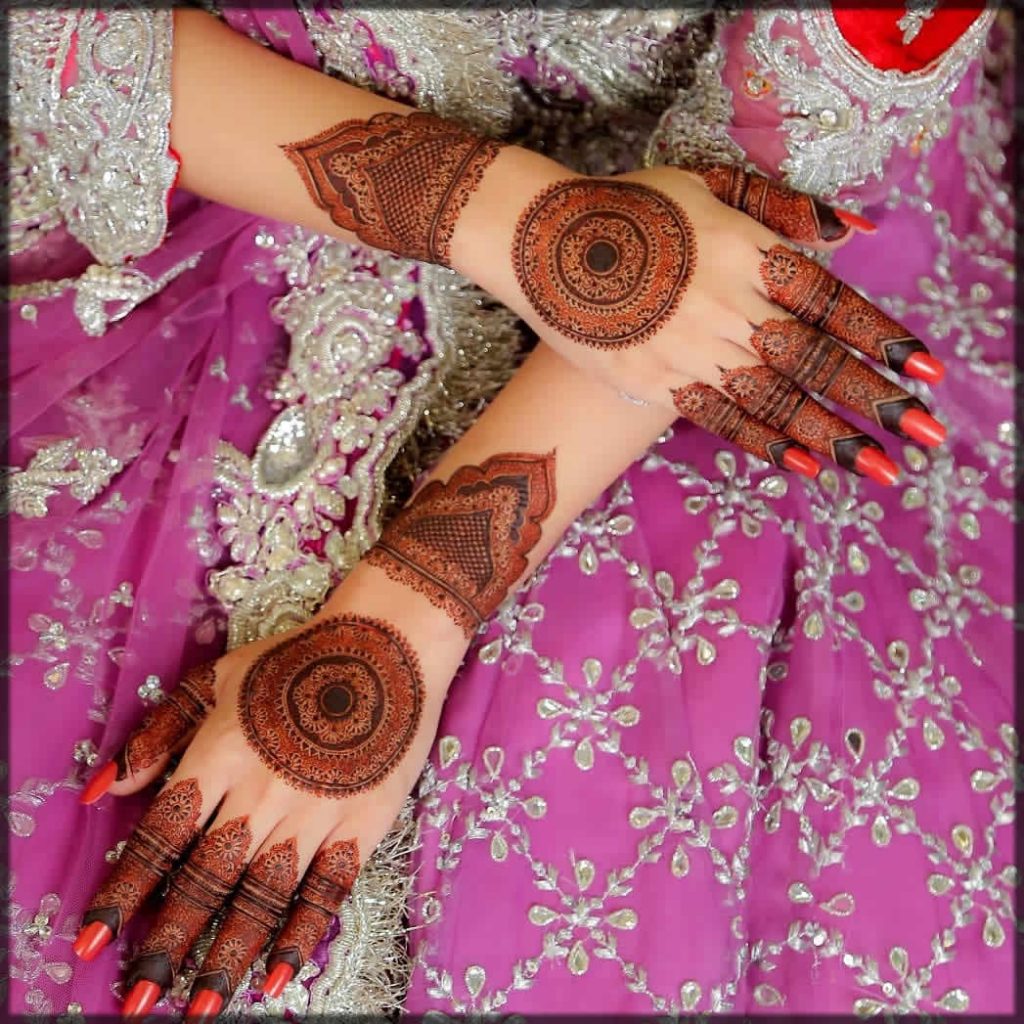 Alluring Kashee's Mehndi Designs For Girls
Kashee's mehndi is not only for the bride's but also for teenager girls. Here is the captivating collection of kashee's, which gives a stunning vibe to the teenager's hands.
Kashee's Girl and Sparrow Mehndi Design

Below is the unique henna pattern by kashee's, which helps you to adorn your hands. It is the reason that every girl wants to decorate her hands by kashee's henna patterns. Look how beautifully they sketch girl with the henna on the palm. In the art, the girl is holding the sparrow cages, and the sparrow is sitting under the cage. And the remaining side is covered by a floral swirl pattern.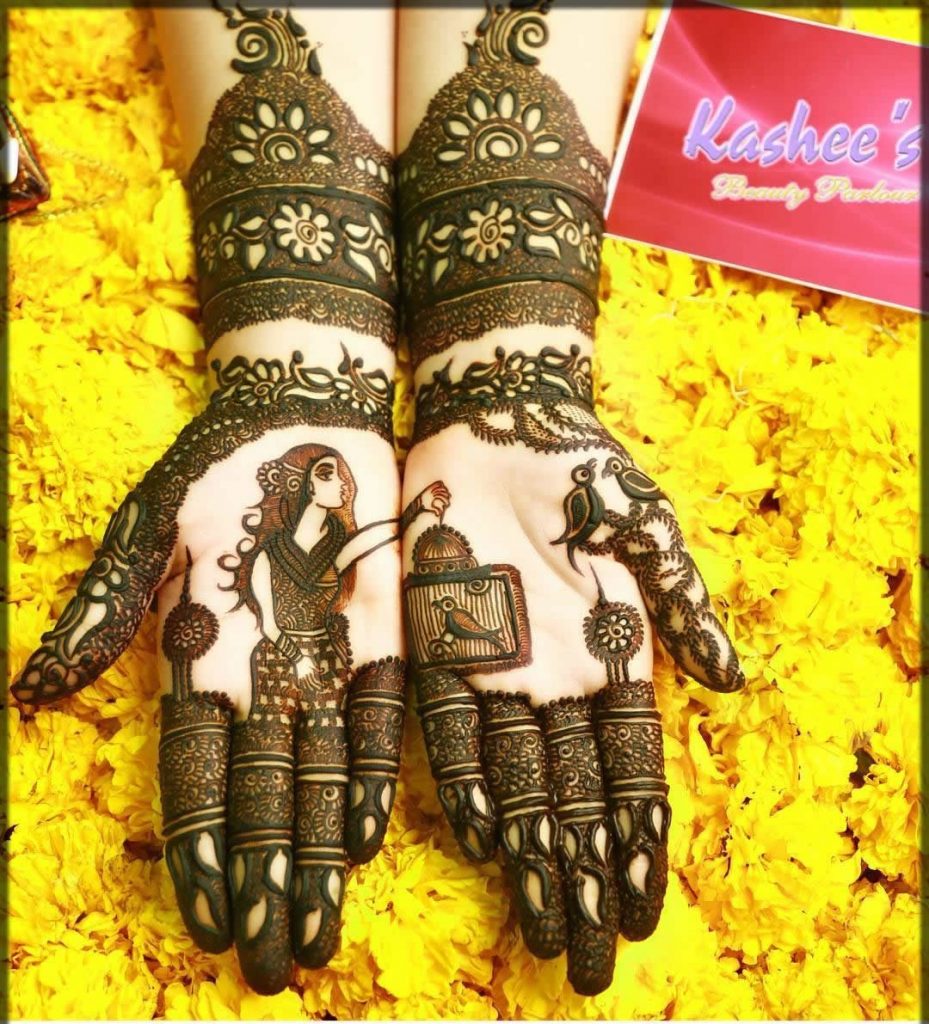 Admirable Candle Mehndi Pattern
In this magnificent design, the simple Tikki is drawn with the swirl floral pattern on the palm and covers the fingers by a floral design. While on the other hand, Geometric Ethnic patterns are applied on a palm in which the candle is drawn in the center, which is looking superb.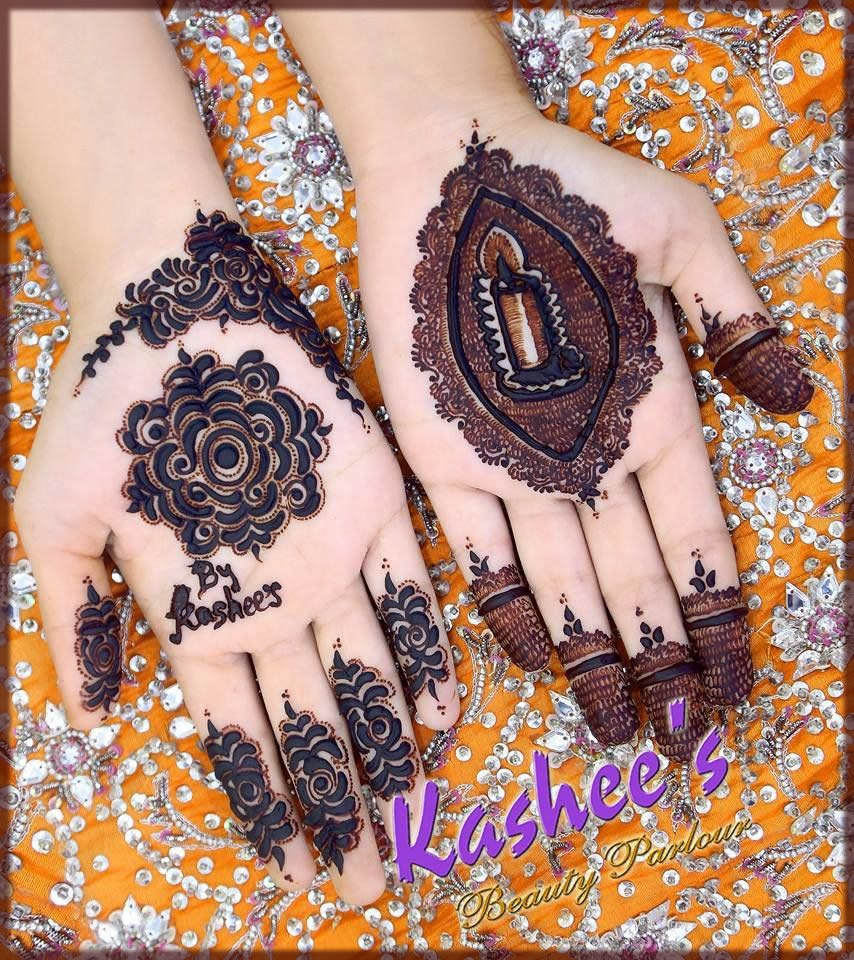 Iconic Round and Diamond Tikki

Round and Diamond Tikki mehndi designs are very much in-trend. On the front-side of the hand, the amazing round tikka with the help of floral and swirl designs is drawn beautifully. This fantastic design is finished by drawing a snake in the last, which enhances the glory of design. While in the back-side of the hand, the diamond Tikki is drawn with the pastel design. If you go to any wedding event or party, this design is perfect for you and will make your hands look splendid.
Exquisite Arabic Designs By Kashee's
Every year, kashee's staff brings out new and beautiful henna patterns for the brides, teenagers, and kids. They provide a new look to the henna designs, I mean look, how beautifully they apply Arabic mehndi by adding some extra features on it. It's the best and most dazzling wedding mehndi design for every girl. You can use this latest design in any event, either Eid, party or wedding ceremonies.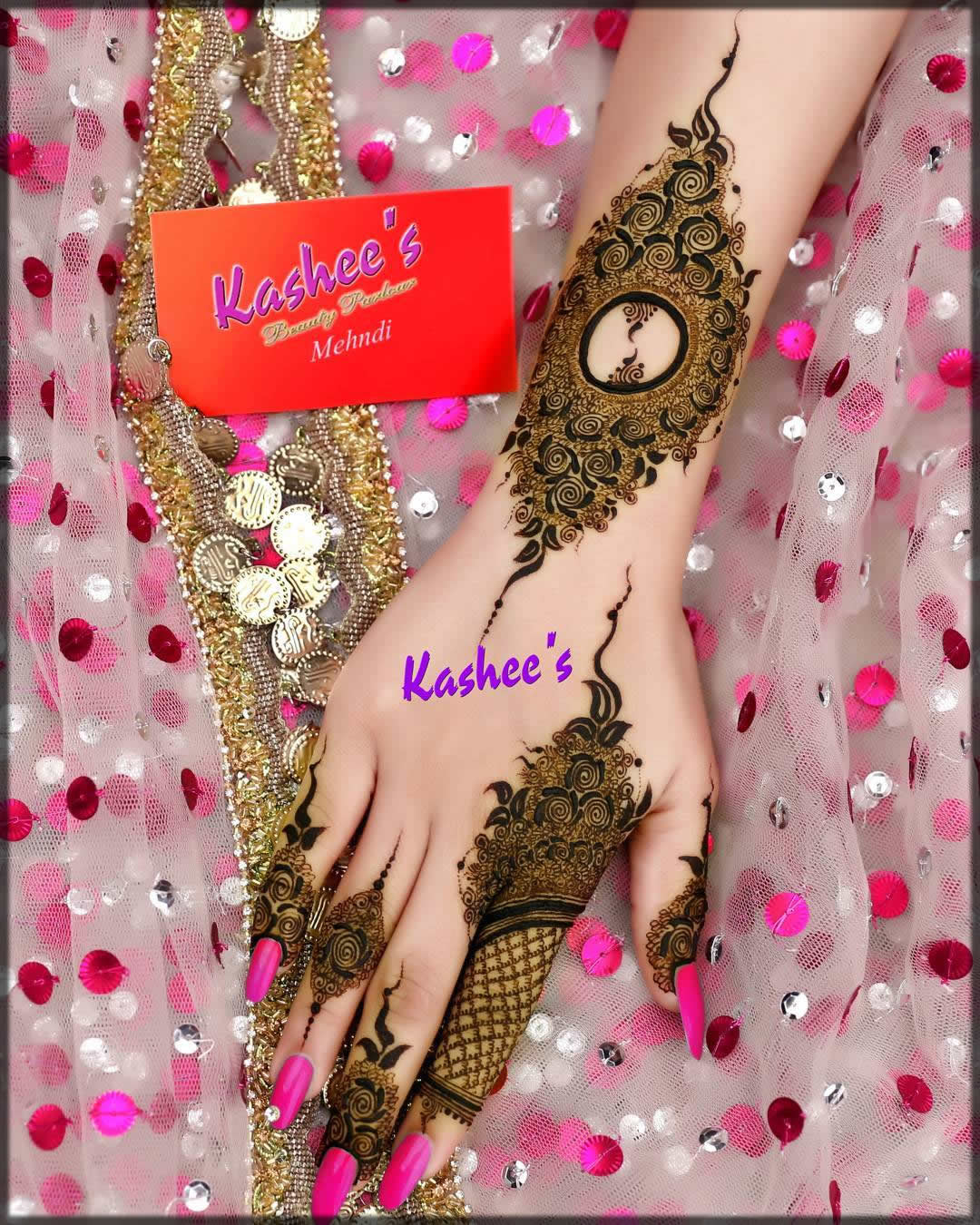 When every girl thinks about the best henna designs, then the kashee's designs come in mind. This following design consists of floral motifs, Moroccan and little bit touch of pastel. On the fingers, simple flowers and leaves are drawn to complete the pattern. Kashee's eid mehndi designs are the finest among all types of events.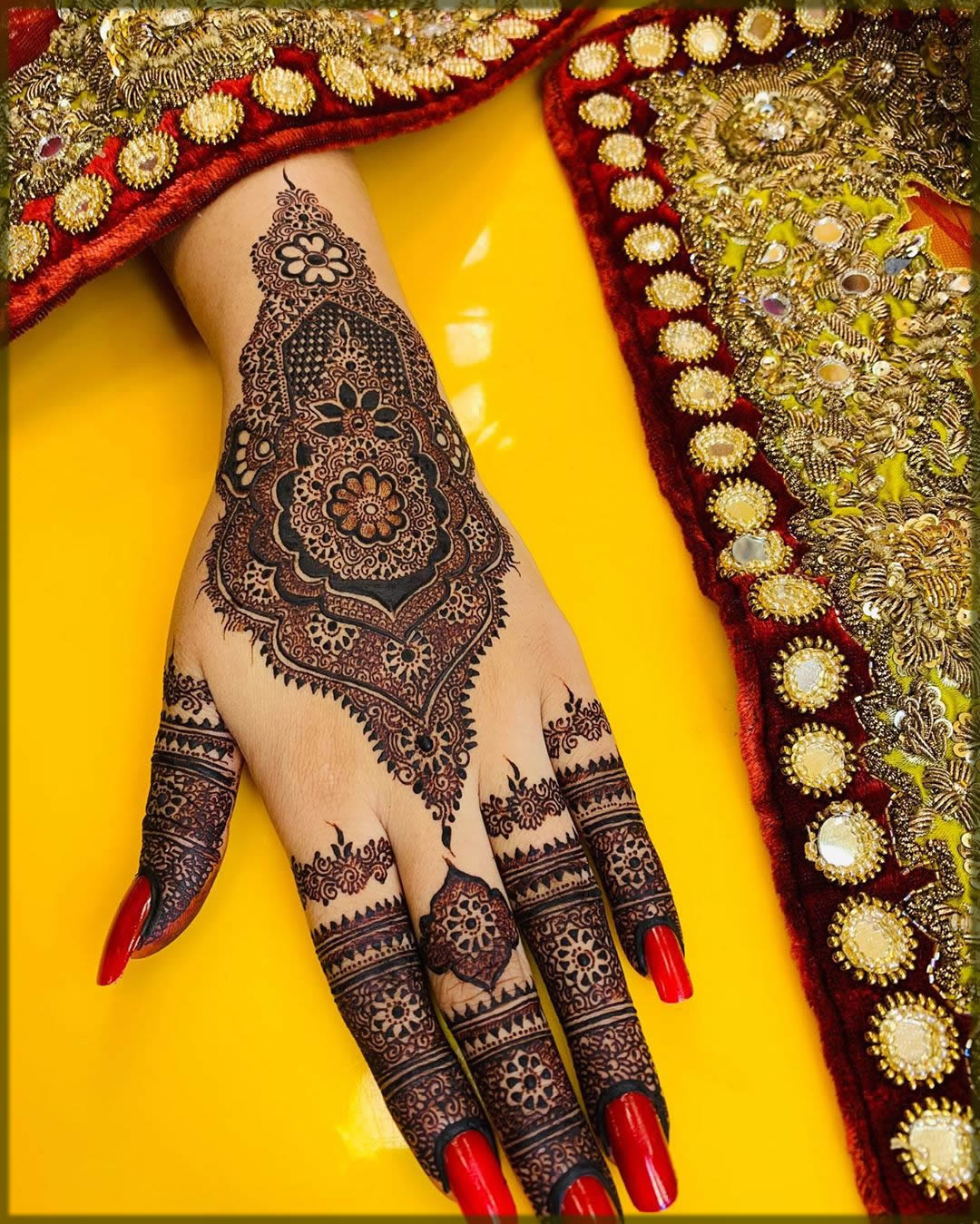 Classy Finger Henna Design

Some girls love to carry finger henna designs. The following henna design is striking and lovable. In this style, the leaves and flowers are applied to the back-side of the fingers and the pastels around it. This design is also suitable for chubby hands.
Marvelous

Kashee Henna Designs For Brides
The bride is incomplete without henna. Bridal mehndi consist of heavy designs. Heavy mehndi designs give a devastating look to the bride. It helps the bride to beautify her hands, so that she look extraordinary on her special event. Below is the following list of heavy bridal henna designs by kashee's.
Elegant Raja Rani Sketch By Kashee's
Delicate bands of flowers with minimalistic henna patterns around the motif give a stunning vibe on the bride's hands. In the following design, a sketch of raja rani from the Mughal era is drawn in the palm of both hands. And the other sides of the hands, covered by simple flowers, leaves, and motif patterns.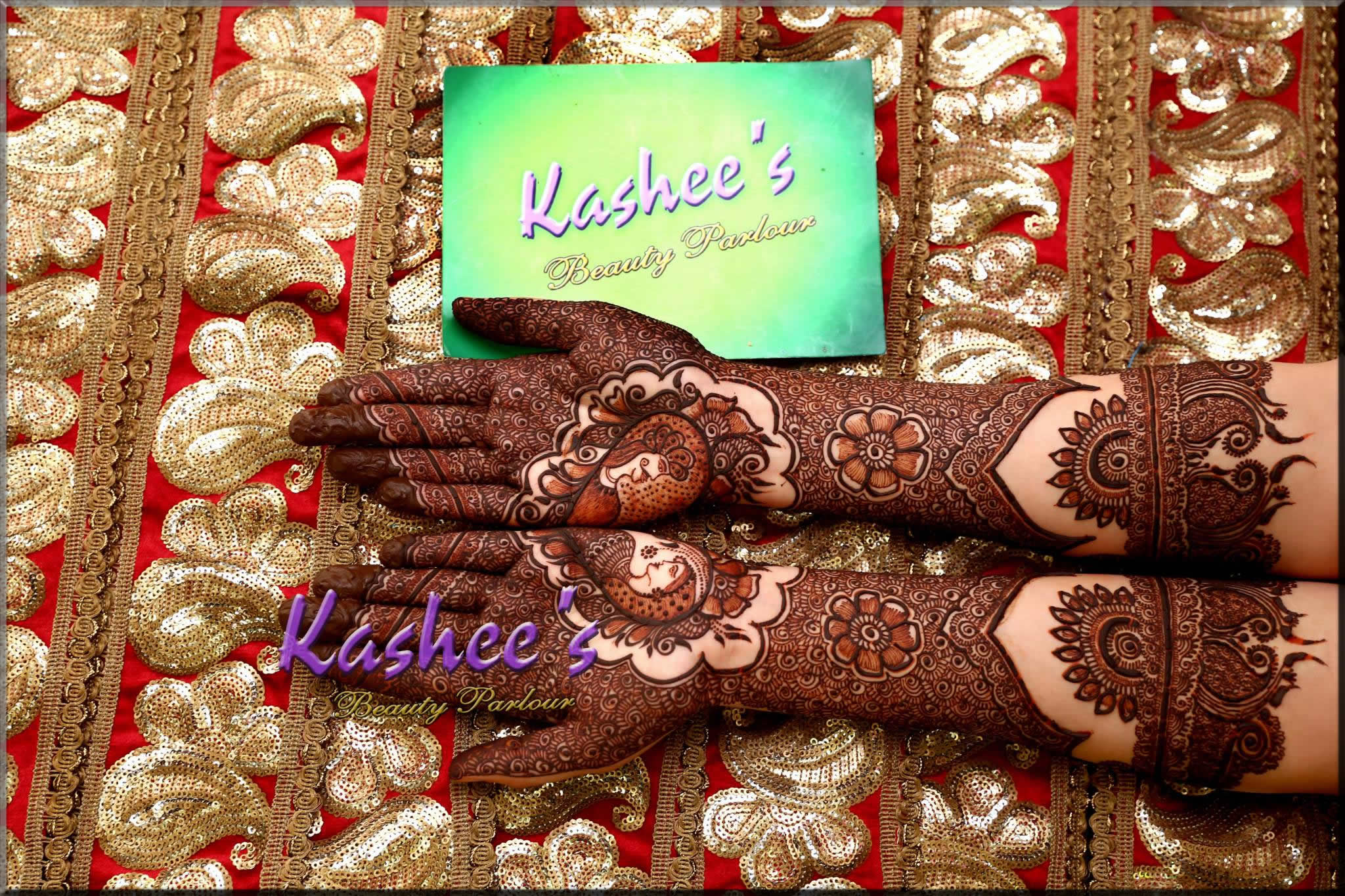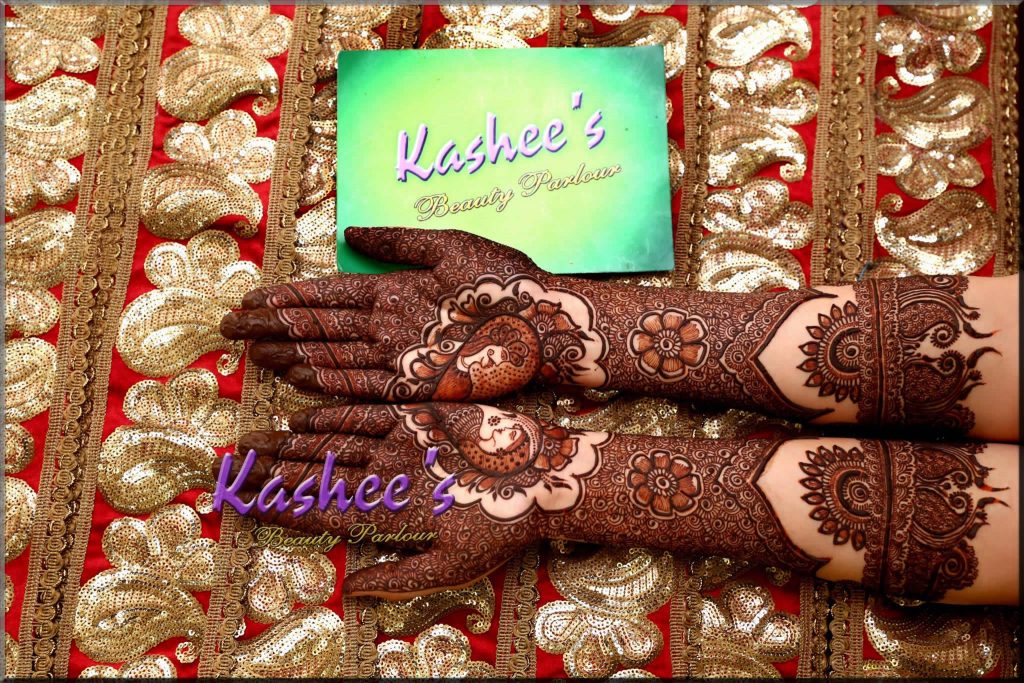 Sublime Bride Designs By Kashee's
The following henna design is for the backside of the hand, which is the combination of different patterns like Minimalistic, floral, Moroccan, Zentangle and many more. It's the best and beautiful design for the bride to outshine everyone on her big day.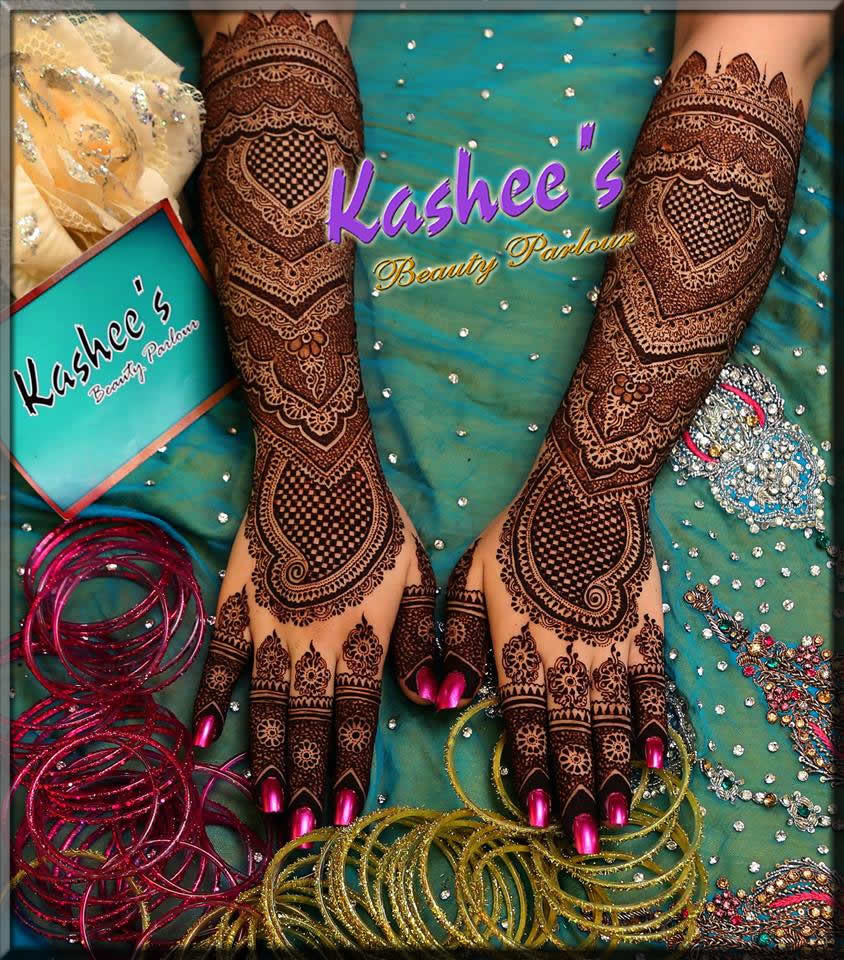 Full Arms Bridal Mehndi Design
This Angelic henna pattern is designed by kashee's. Kashee's mehndi designs are the best, and every girl wants to decorate her hands by kashee's henna patterns. The reason is that kashee's designs are adorable and alluring, which enhances the beauty of every girl's hand. The best thing about kashee's is that their designs are unique yet versatile.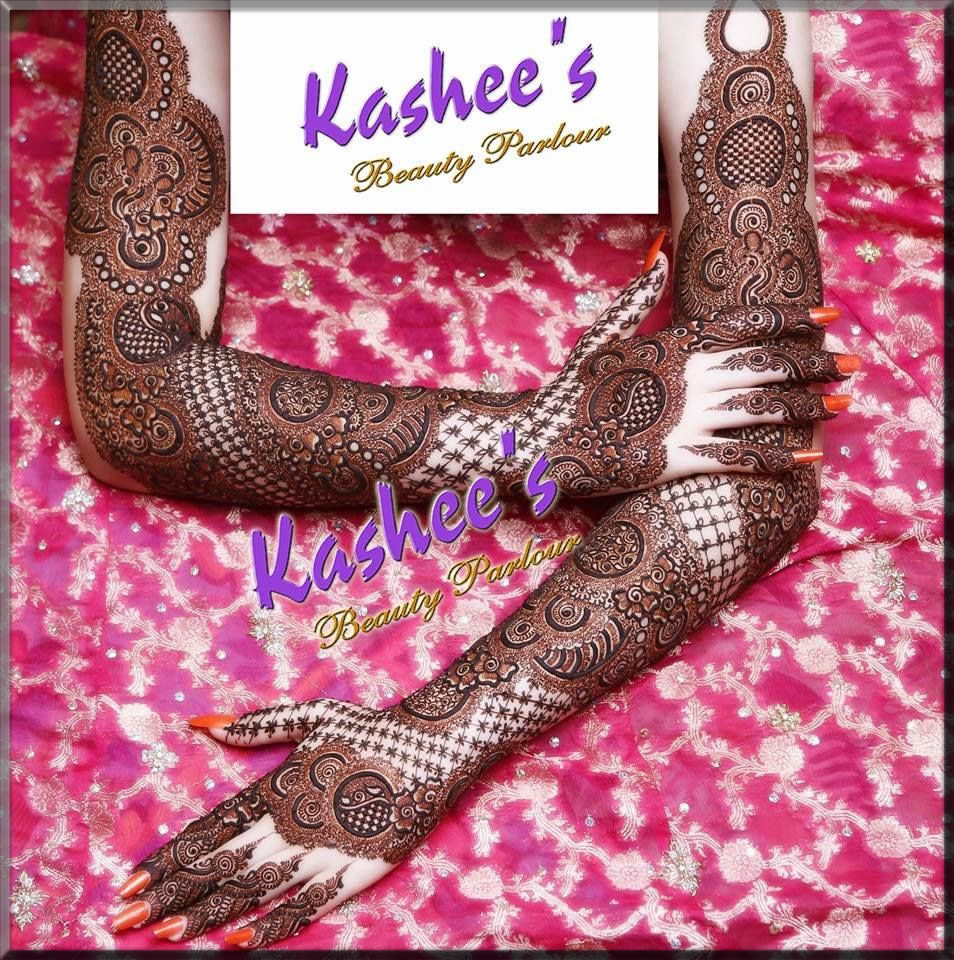 Floral Henna Pattern By Kashee
The following Mehndi seems uniquely beautiful because of the floral and swirl patterns. This latest henna pattern shows that without covering the entire area, you can even make fantastic designs.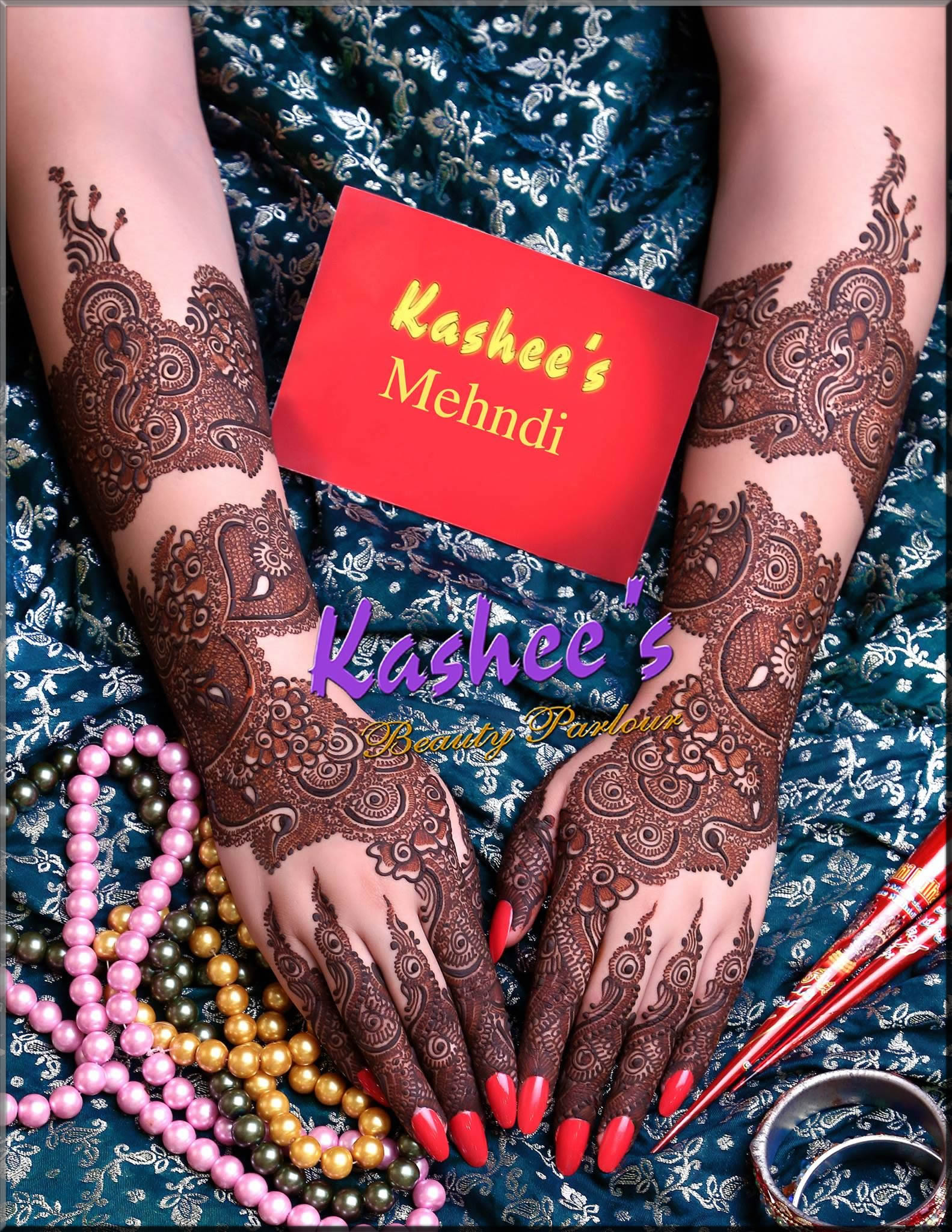 Bridal Peacock Henna Design

You can also use glitters in the henna designs to make it more fabulous. Glitter enhances mehndi more. In this design, the artist fill-up the empty places with the grey glitter, which looks dazzling. Use red nail paint to enrich your hands so that your hands look classy. The Zentangle, floral, and fluke patterns are used to make this graceful design for the bride.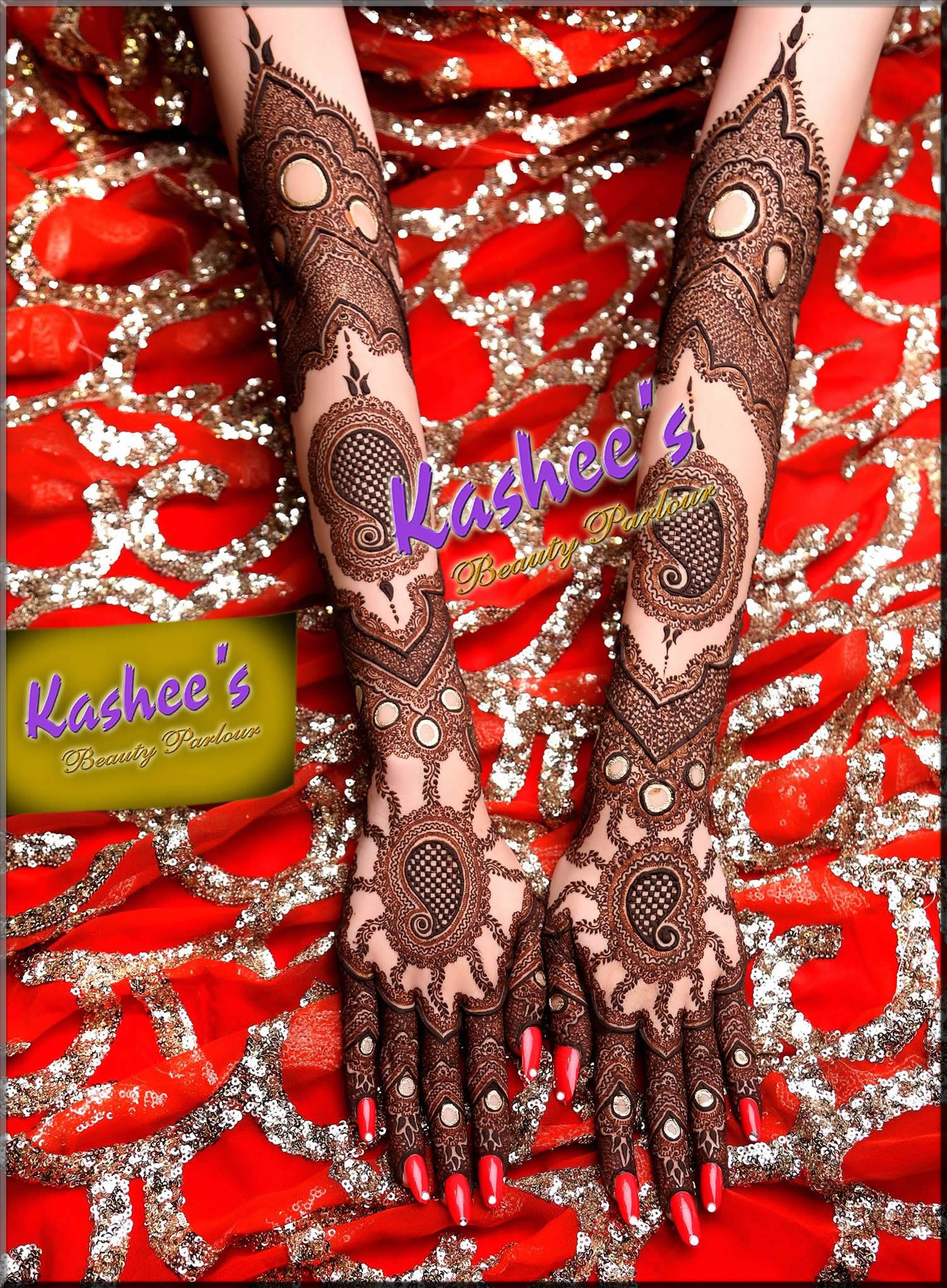 R

avishing Feet Mehndi Designs By Kashee's
A bride must decorate her hands with the best henna patterns. Feet are also essential and the center of attraction. Every year, kashee's salon brings new henna styles so that every girl will look fantastic on her event.
The feet designs are for the bride or even for the teenager girls. Feet mehndi designs are mostly applied to enhance the beauty of feet. This beautiful pattern consists of floral and swirl designs — the most gorgeous and simple style for the bride. You can make a design on foot according to your shoes.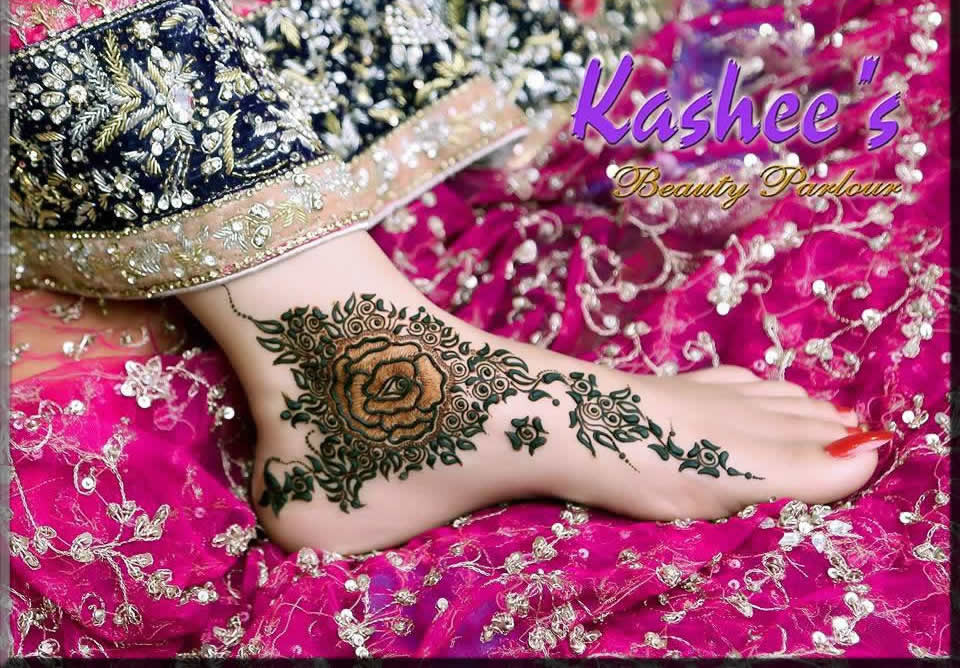 Bridal Mehndi For Chubby Feet



The following design is suitable for the bide, who has chubby feet. This design consists of small flower designs, medium-sized flowers, and paisleys. The brides can easily apply this pattern on their chubby feet to compliment their whole outfit.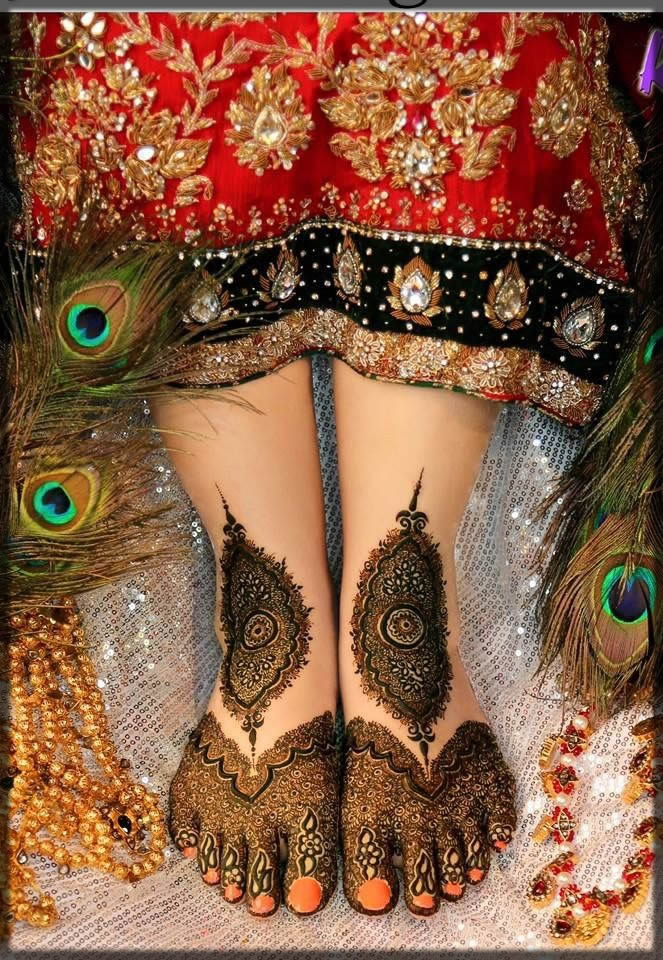 Peacock Feet Mehndi Design

Some girls love mehndi, and they want to apply heavy mehndi on their hands and even on the feet too. So, this latest design is for those girls who wish to apply heavy mehndi on their feet. This design is the best combination of peacocks, swirls, leaves, and dull flowers. It is among the latest and substantial feet designs for the bride.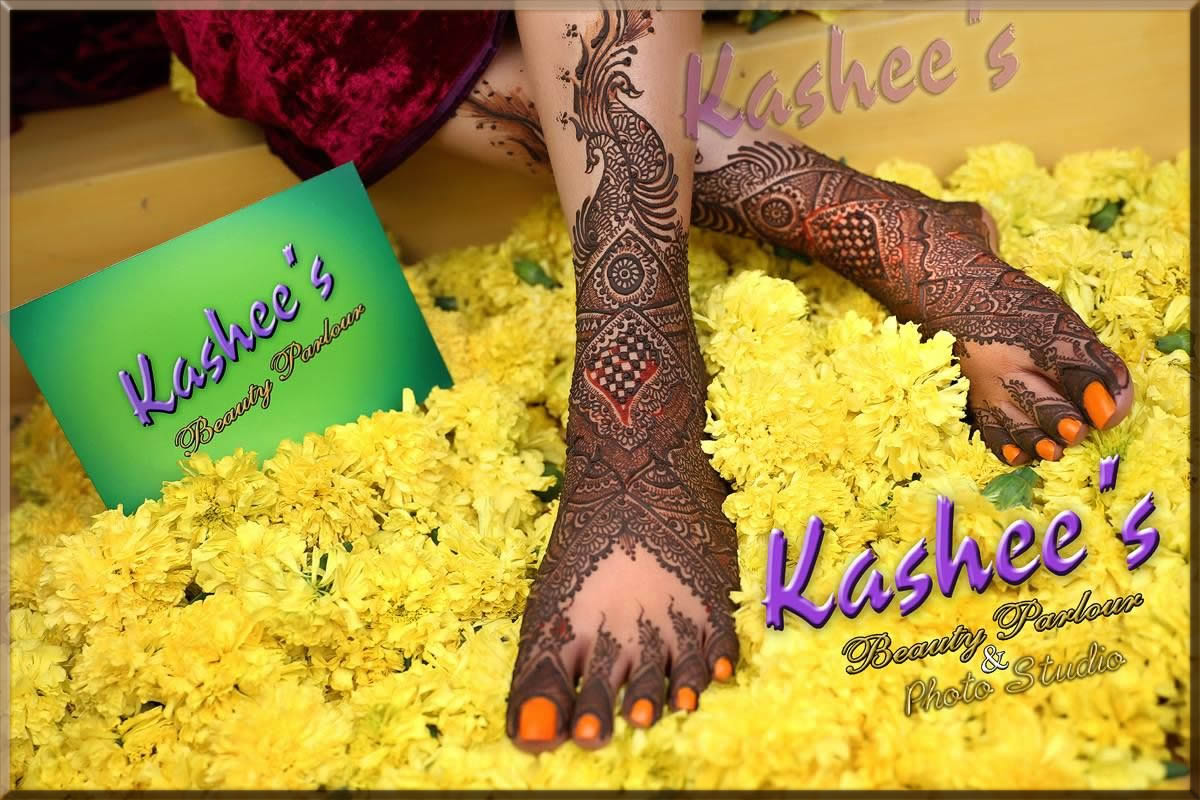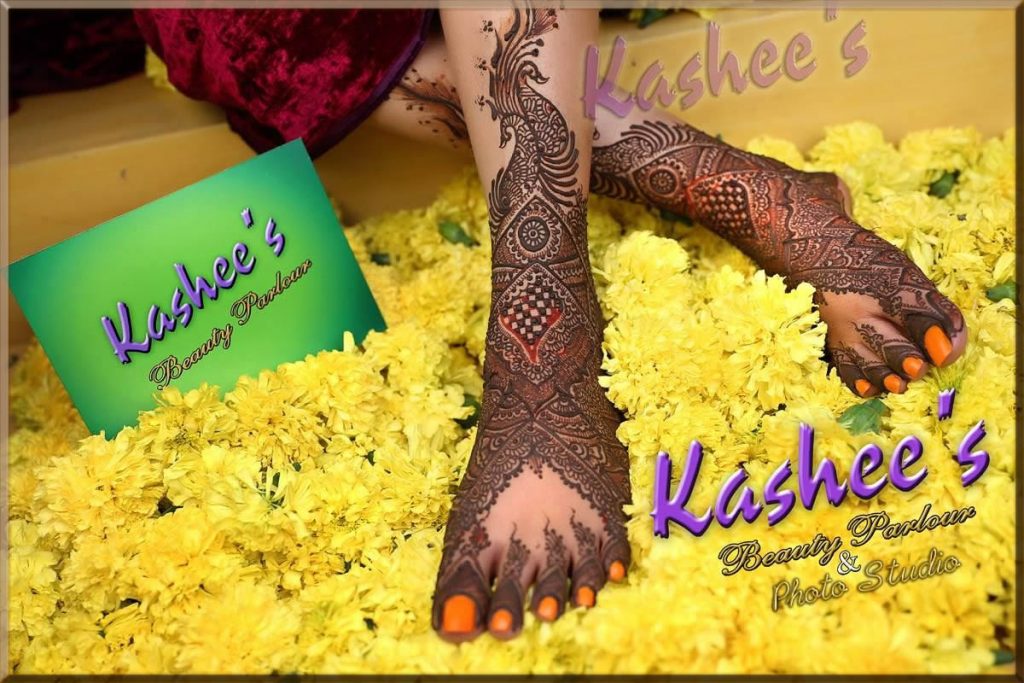 Superb Heavy Feet Henna Designs

The wedding brides usually choose kashee's foot henna designs, which prettify their legs and feet. These designs are the most excellent choice for wedding brides who want beautiful artistry for their feet. The vertical designs with circles, along with the net, all look adaptable and elegant as these Mehndi styles are modest yet modern. These designs include:
Flowers
Paisleys
Motifs
Dotted patterns
Curvy Lines
Swirl lines
Take a glance at these beautiful henna designs for feet and legs.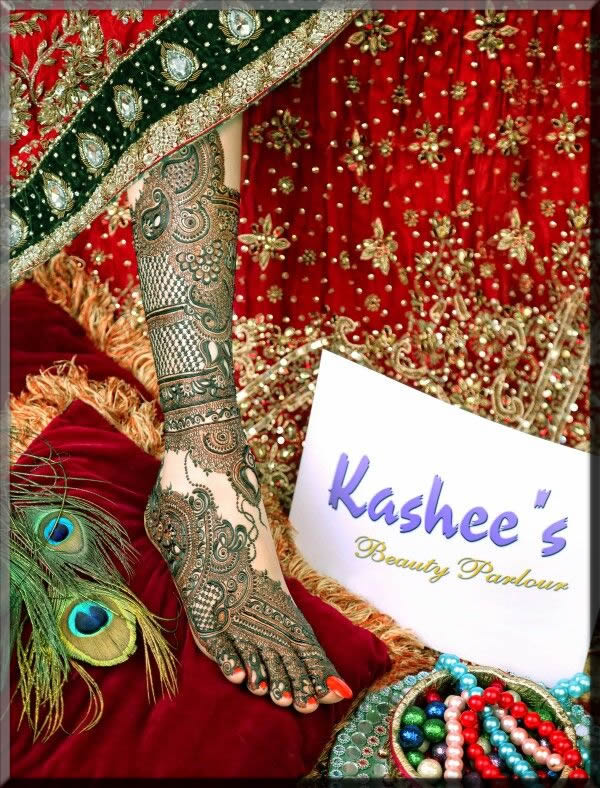 It's the perfect mehndi style for the bride, which forces everyone so that they can not take off their eyes from your feet. In the following image, the group of dots are placed all over the foot. This beautiful design consists of swirl, floral, paisleys, and heart. The heart shape pattern is also applied to give a magnificent glance at the feet. It's the most ideal and unique henna design for every bride.

Simple Feet Mehndi For Bride
These simple and easy henna designs are one of the cutest designs for brides. Including leaves, flowers, paisleys, and dots, which will give your feet an excellent look. Smaller bunches of dots are placed erratically all over the foot and it seem delicate and delightful.
Cutest Henna Designs By Kashee's
Girls!! Take a glance at this image gallery. I hope you will admire it, and get a premier design for you so that you can make your hands and feet ravishing. Best of luck!!!
Kashee's salon is one of the best and well known. Have a fantastic appearance on your feet and hands by the latest kashee's mehndi designs collection in this blog. These designs will help you to adorn your hands and feet with the fresh kashee's mehndi art.