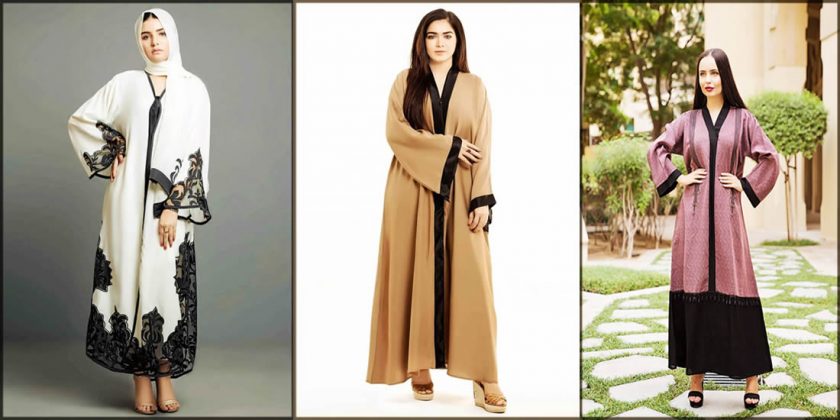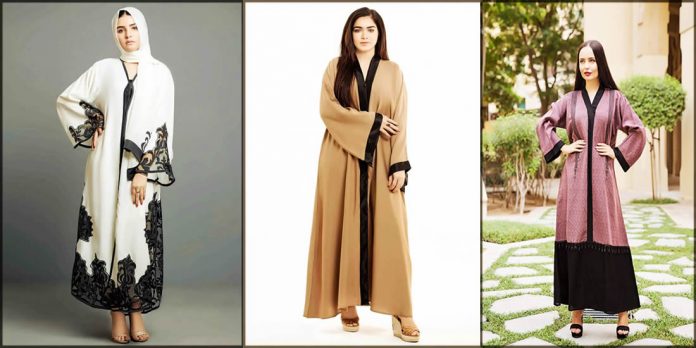 Women in Muslim countries try to conceal themselves from men. They use various techniques to obscure themselves. Some may use a long-length dupatta. However, some prefer a strict veil. Open abaya designs are comfortable and most of the girls nowadays prefer to wear them.
Apart from all these techniques, the gown is ubiquitous among young girls. It is a loose garment that you can wear on your clothes. However, in summers, you may feel hot to wear a gown. This robe-like structure of cloth stretches from your shoulder to your feet.
Some of the girls prefer to wear a gown with a veil. In such a style, only the eyes are visible to the people. However, it is not compulsory to wear Abaya with a scarf. The young generation prefers to wear stylish gowns with an incredible design. Therefore, we are presenting you with a variety of collections of these garments.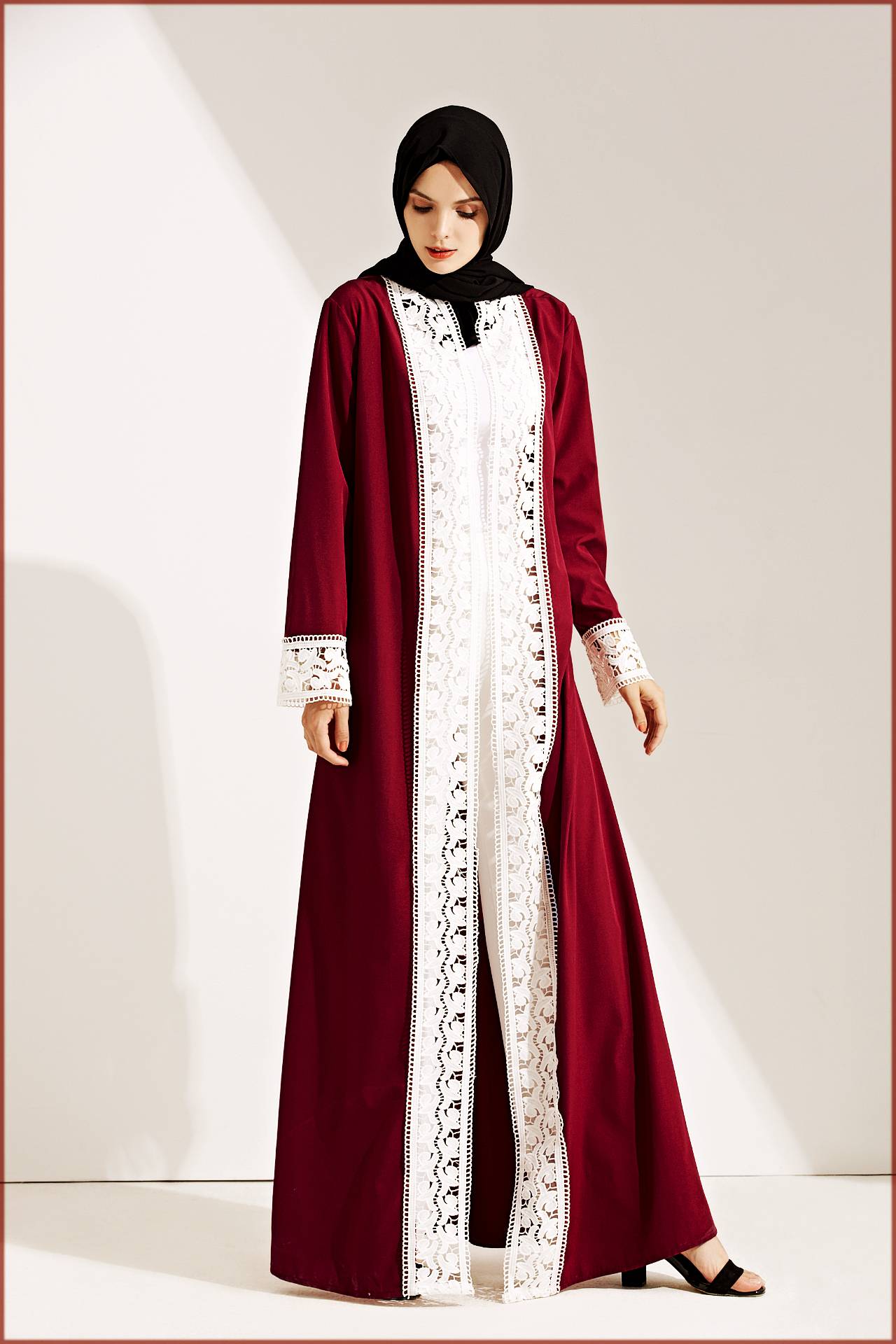 Latest Collection of Modern Open-Front Abaya Dresses

Women of the Muslim world hesitate to go in front of na-mahram without covering themselves. Therefore, they follow specific ways to cover their body. The gown is one of the clothing garments that women use to obscure. Girls always want to add some sparkle in their outfit, even in an abaya. Therefore, they use stylish abaya to wear. Here is a variety of open gowns in different designs for women of the modern world.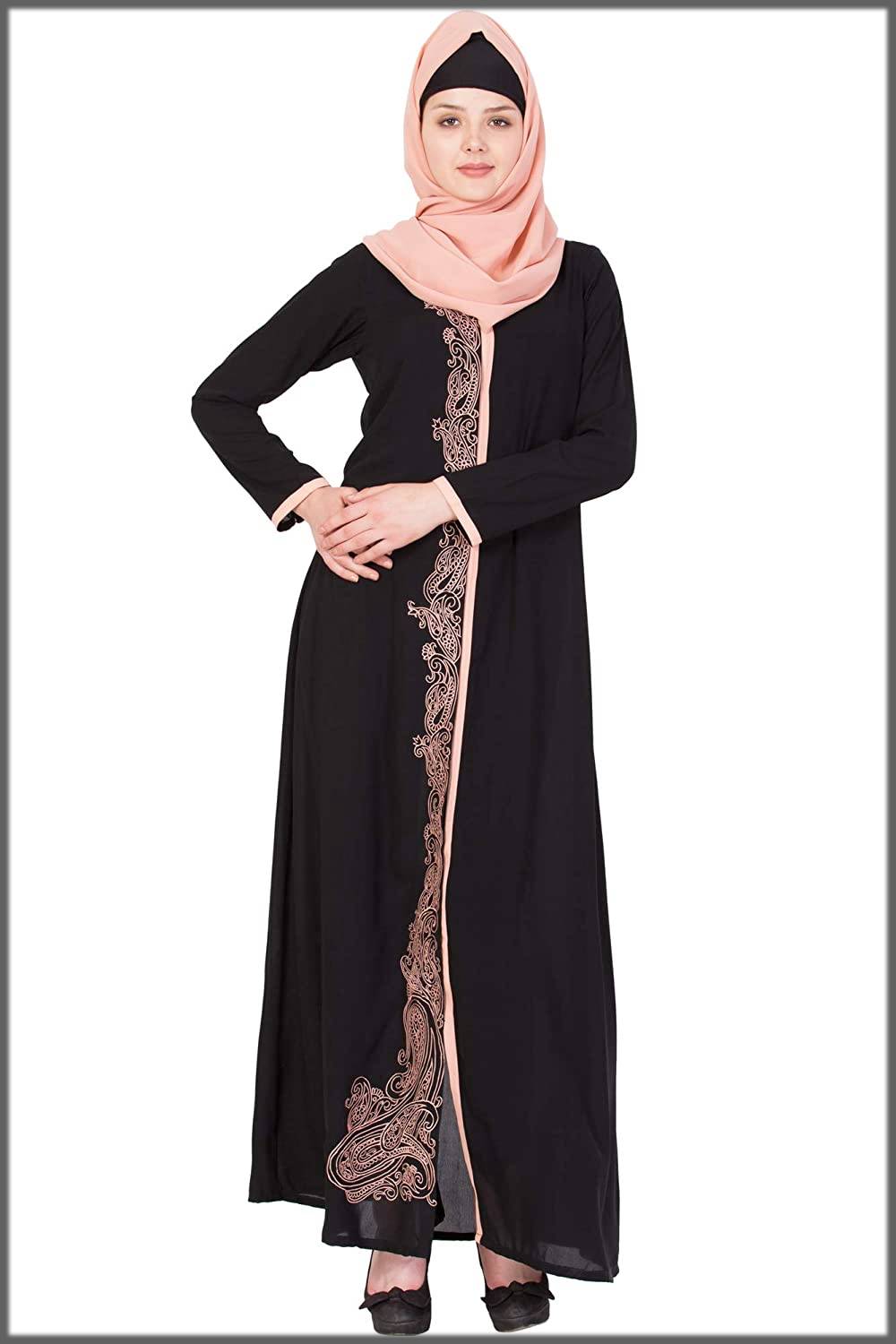 Suitable and Comfortable Fabrics for Abaya
The contemporary models of abaya are of different fabrics. Most of the women prefer commonly, silk or chiffon fabric because of their fall. However, some people prefer georgette and crepe fabric.
In summer, most of the ladies wear a cotton gown to prevent themselves from heat. Women who are likely to cover themselves prefer to wear gown casually, semi-formally, formally, and at weddings too. Therefore, they are always in search of a variety of such garments.
Check here a stunning collection of velvet abayas for all fancy gatherings.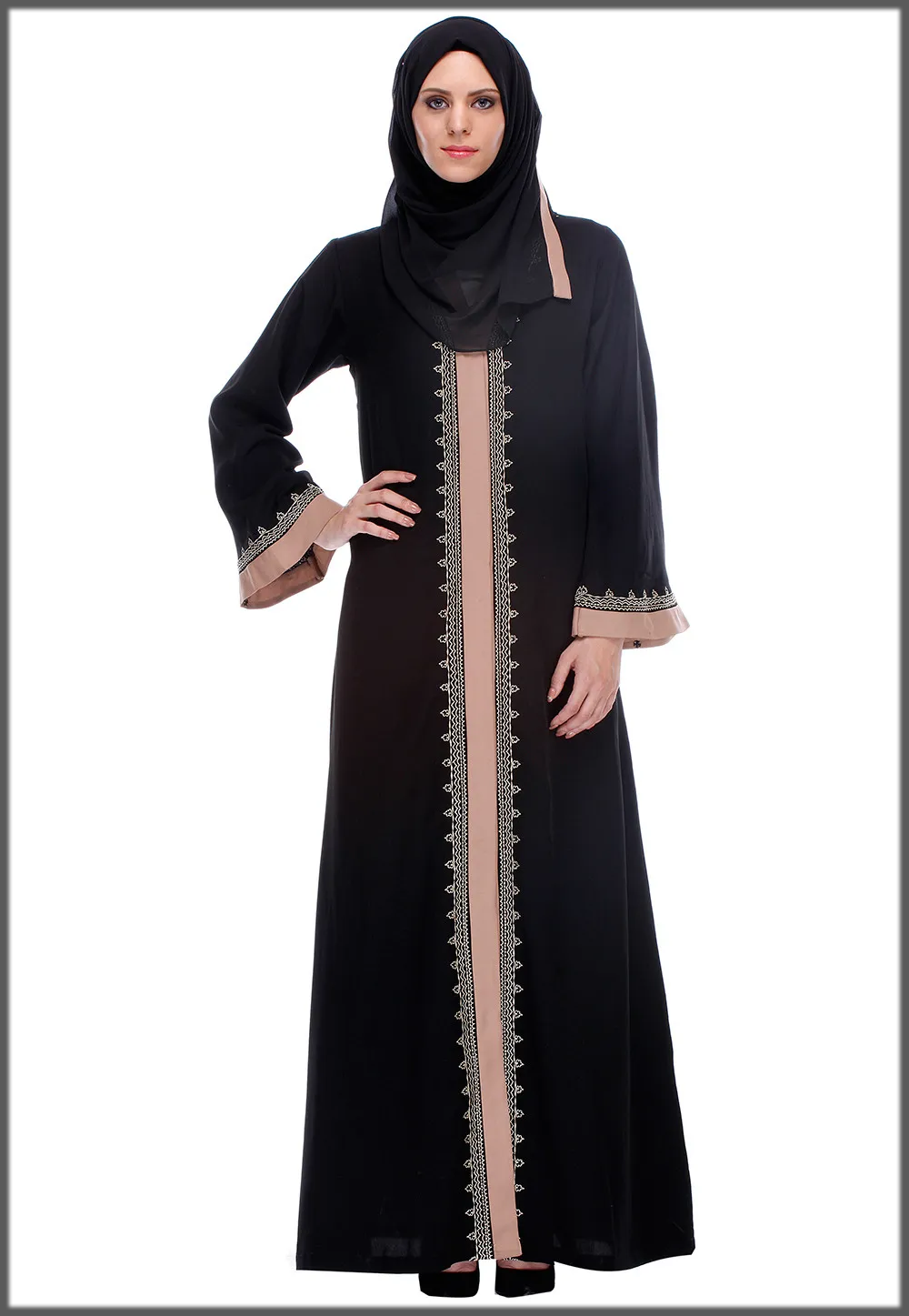 Casual Open Abaya Designs for Girls

Young girls who prefer to wear a gown while going to college and university prefer casual styles of the abaya. The abaya having an open-front is comfortable. Therefore, women wear casual gowns while going out.
Priston Brown Simple Abaya
Always be simple and elegant but be someone with a definitive style. Wear this mesmerizing abaya to elevate your fashion to the highest level. It is a perfect choice for casual wear. Therefore, this stunning abaya will give you an elegant look. Moreover, it is a unique abaya for summers made from Chinese georgette. It has bell sleeves, and button-down style looks perfect.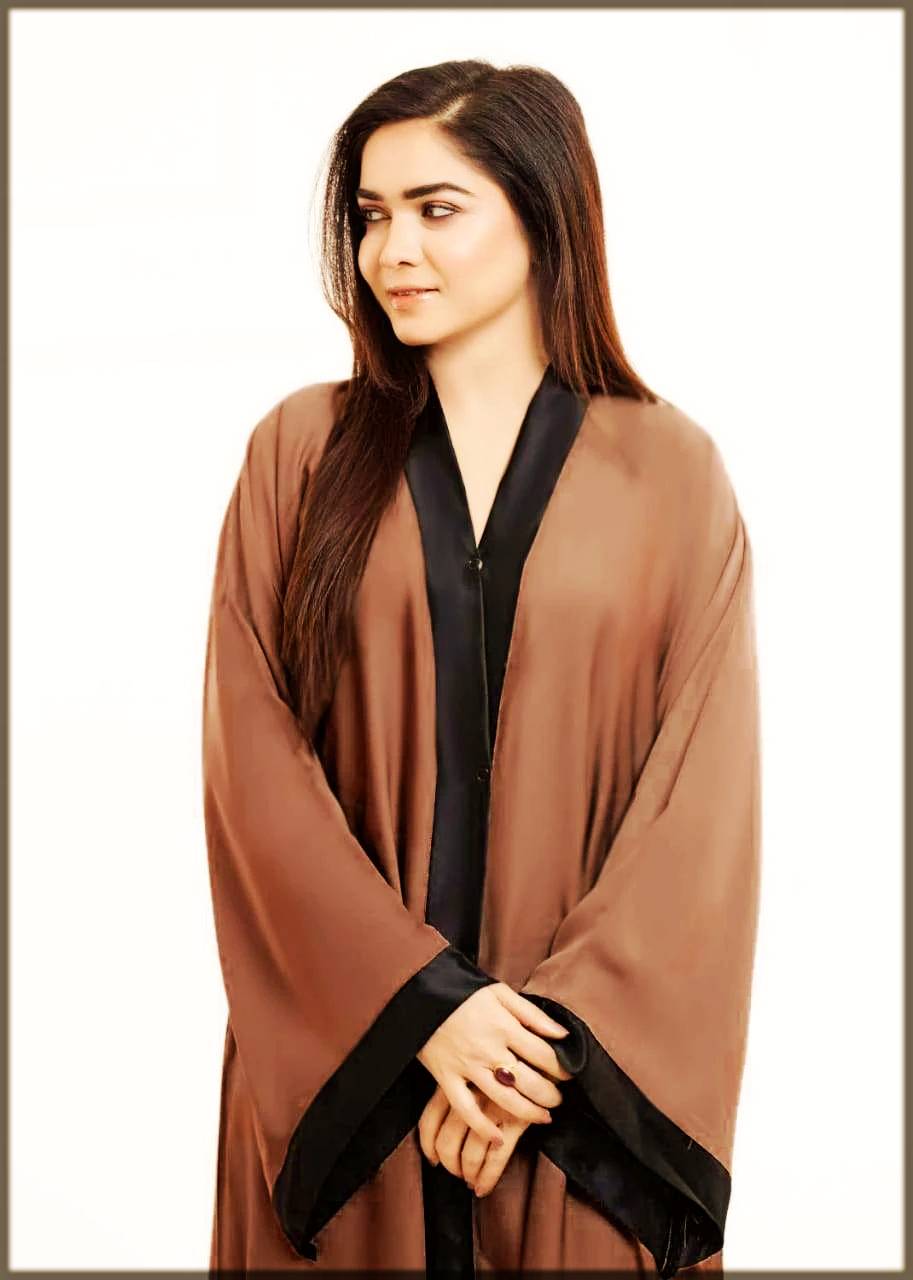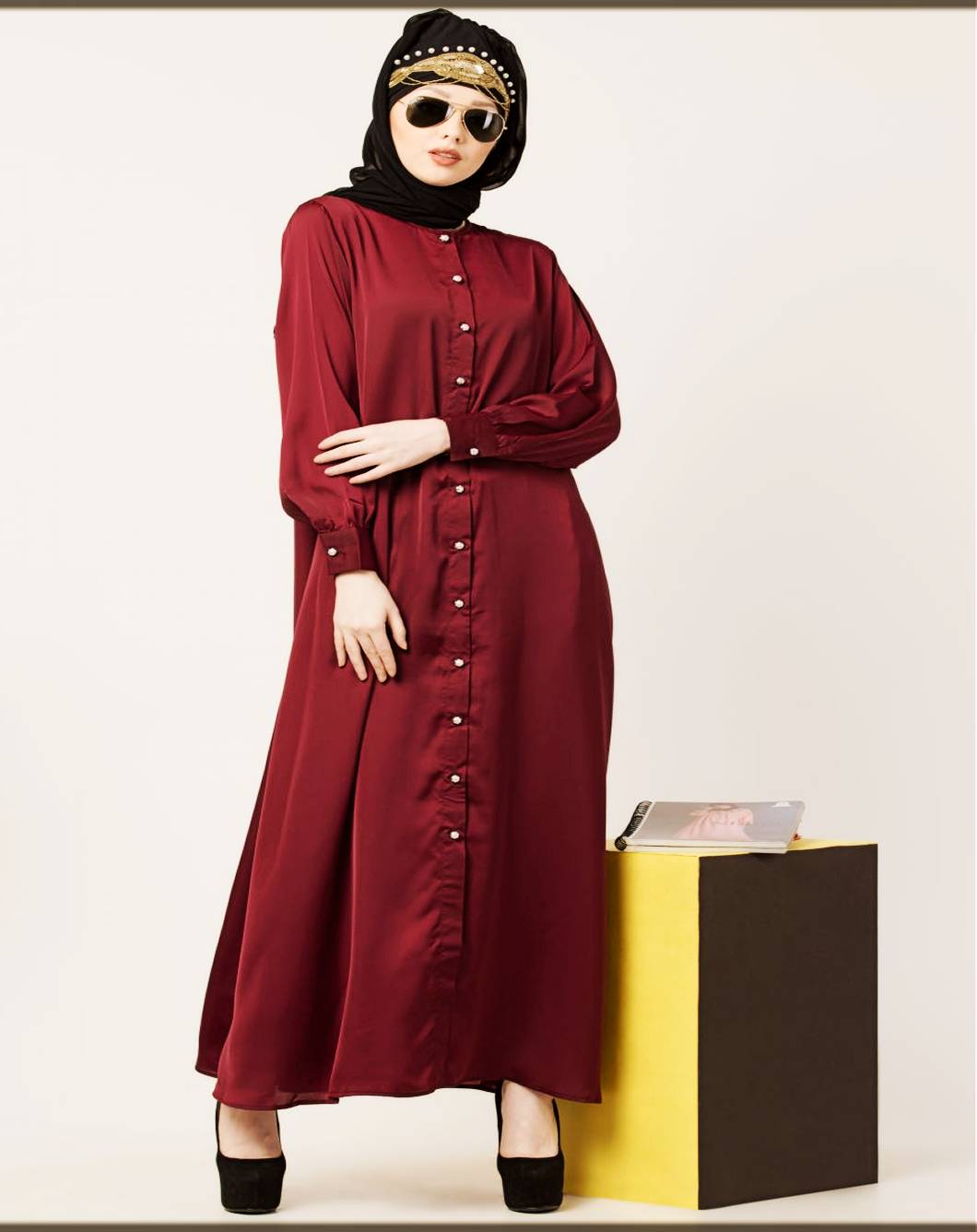 Style is a particular manner that every girl wants to follow. They always want to add flicker in their clothing. It is evident that women who wear abaya also want to look stylish. Therefore, they wear stylish open abayas. You can pair your abaya with a cute Turkish style hijab for a more attractive look.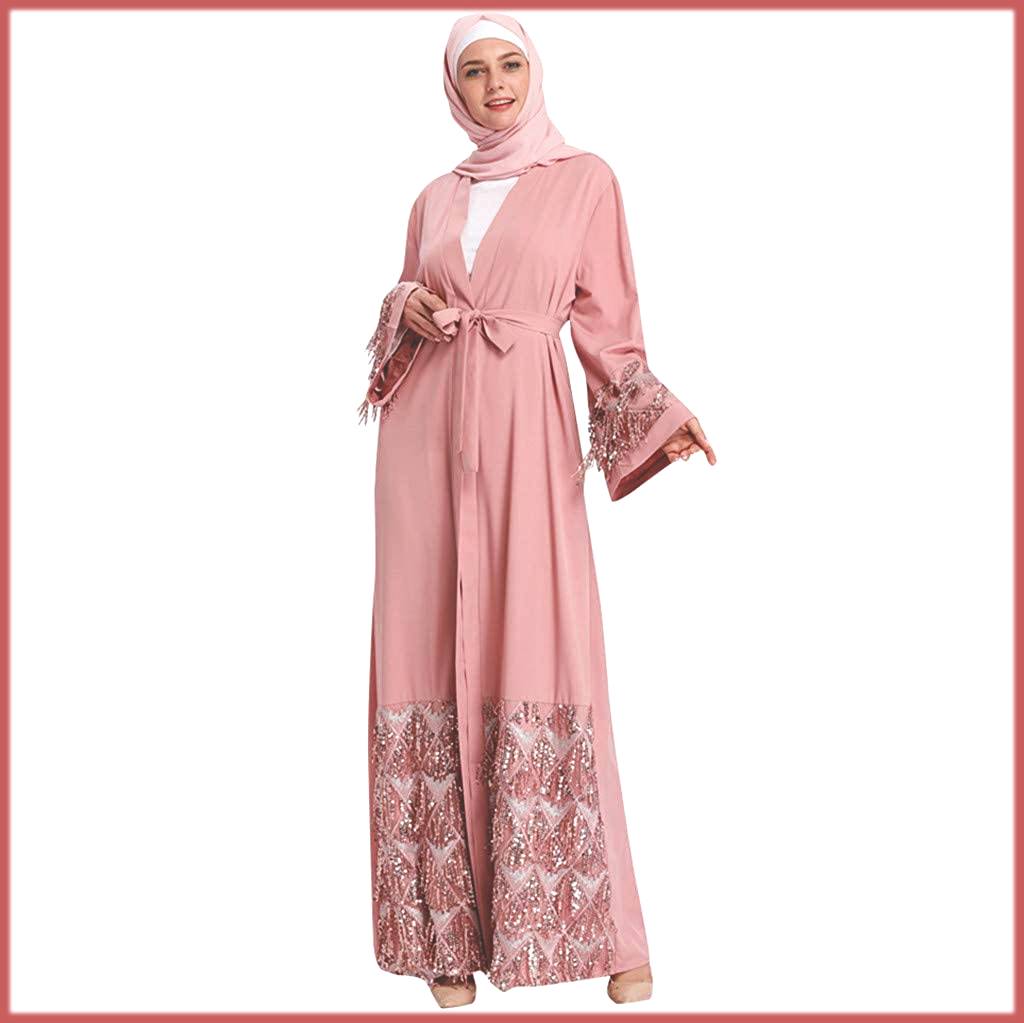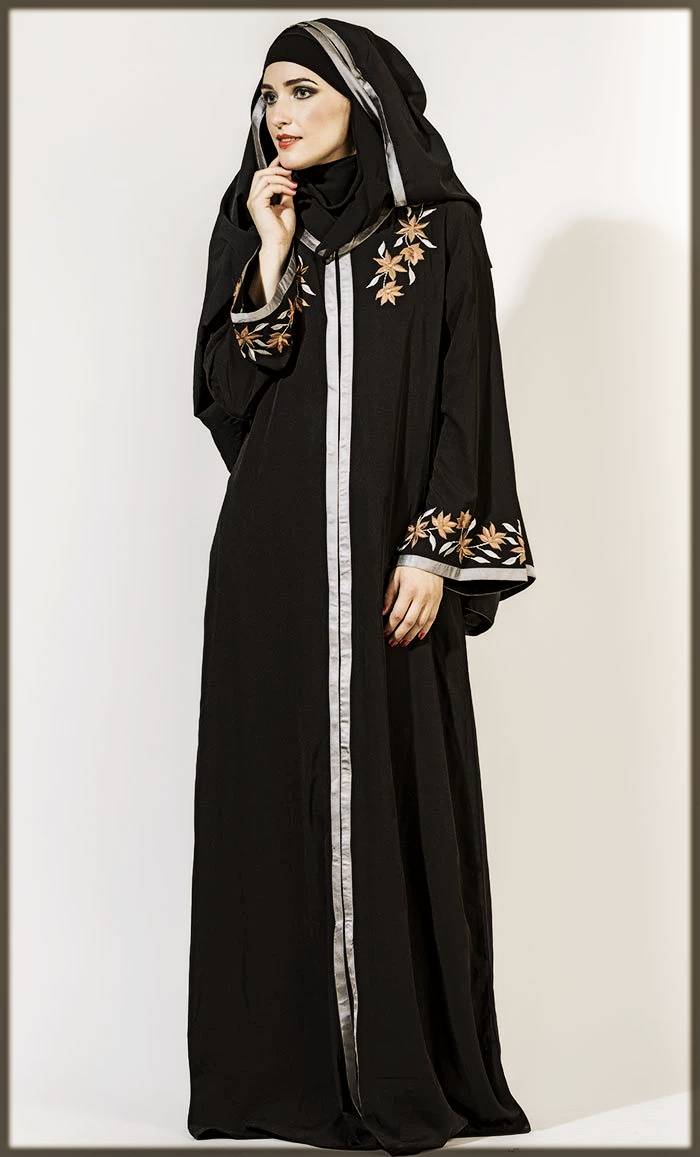 Trendy Styles of Turkish Abayas

Turkey has Christianity in an old custom. However, Islam is the most significant current religion in turkey, with 98% Muslim majority. It is obvious to conceal yourself from men if you are Muslim. Therefore, Turkish women always cover themselves while going out. However, they follow a different trend of obscuring. Turkish abayas are distinctive in Asian countries. Moreover, people of Muslim society prefer their abayas.
Coats are incredible in their fabric and style. Wearing an open abaya design in coat fabric adds much grace to the ultimate attire. The grey color has significant beauty, among other colors. Blue scarf, in contrast, looks intricate with grey.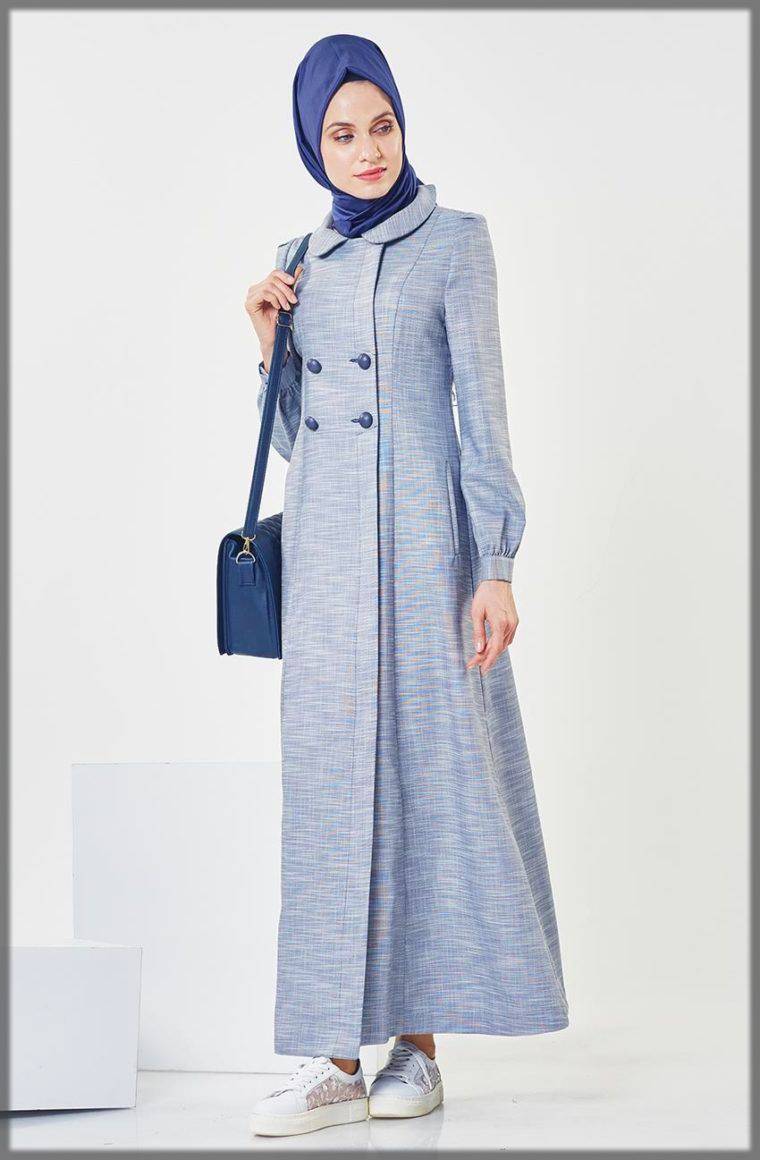 Silk and Chiffon Turkish Abayas
Chiffon and silk are standard fabrics for abaya. The fall in this fabric looks stunning. Therefore, girls prefer to wear them at formal gatherings. The Turkish style looks pretty in these fabrics.
Open Abaya Style with Lace
The lace is a beautiful open fabric of silk and other knitting thread in patterns. Mostly it is used for trimming the outline of dresses. However, to make abayas look more stylish, people use lace.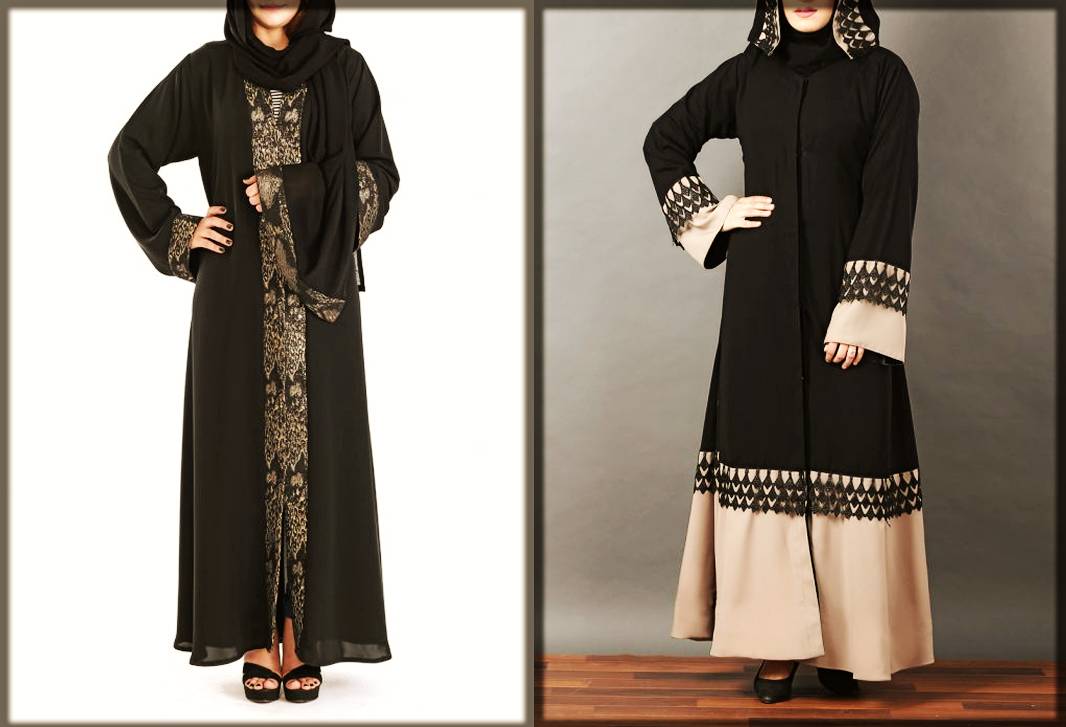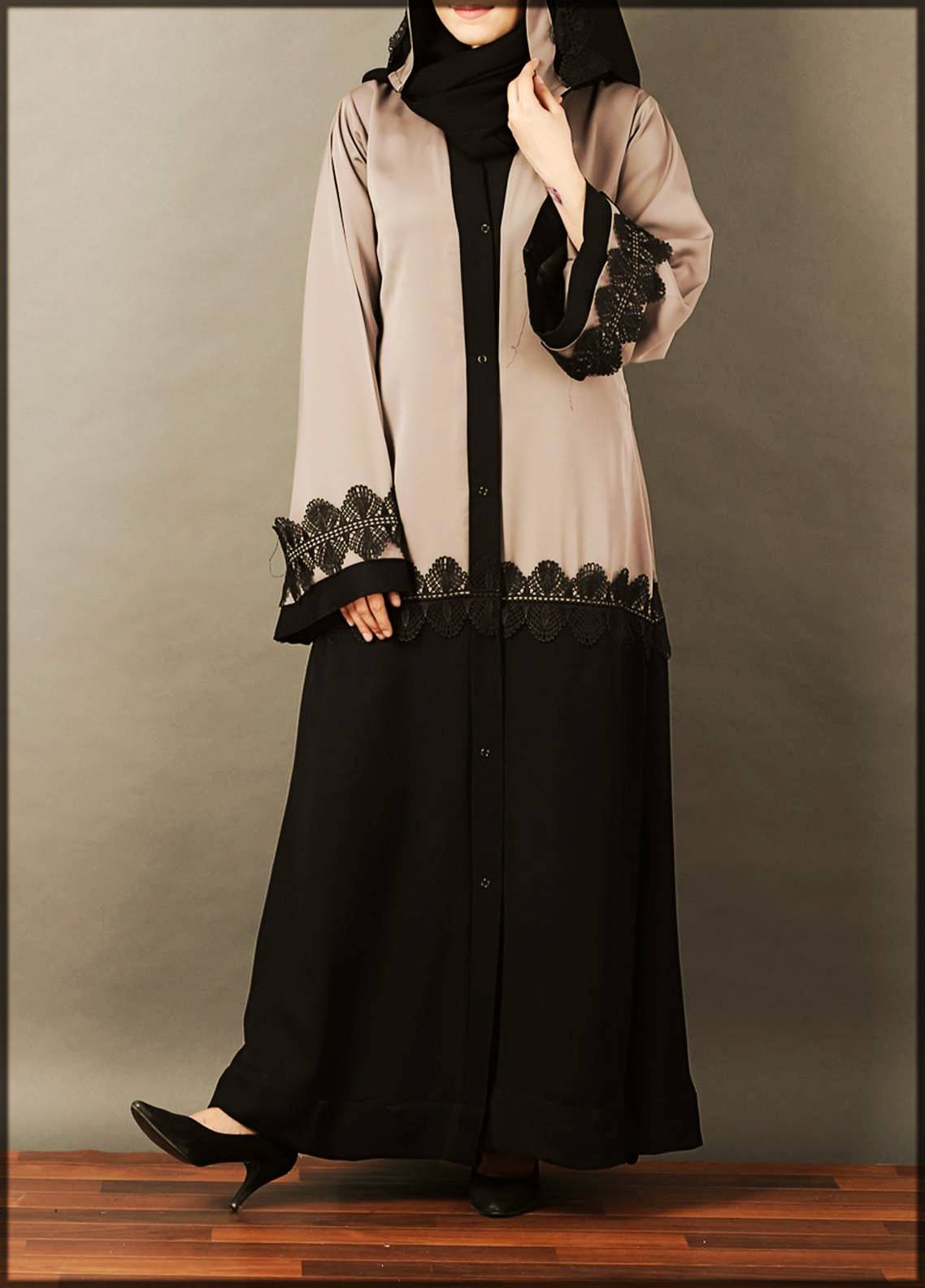 Embroidered Open Styles for Party wear
Formal gatherings are frequent in our country. Parda is a universal heritage of Muslim girls. Some of the girls who are strict about obscuring themselves prefer to cover themselves at parties too. Therefore, they demand to have special abayas of fancy designs to add some sparkle. However, formal embroidered abayas are also a fantastic choice to wear at formal gatherings.
Embroidered Party wear Abayas

Here are some majestic bronze abayas with incredible design on the front and back. Such a fantastic outfit delivers an aesthetic appearance. The abayas are made up of high-quality Korean georgette with embroidery. Moreover, the sophistication in its design adds more value to it.
Beautiful Star-Studded Open Abaya
Your style always looks classier when you wear star-studded abayas. The gorgeous hand detailed work on abayas brings a formal look to it. Therefore, wearing an abaya of such a fantastic pattern brings ethnic beauty to the attire. Moreover, its high-quality Korean stuff of georgette fabric looks impressive and unique.
Open Abaya Styles for Wedding wear
Weddings are a part of the cultural heritage of any country. However, in Muslim countries, there is a different trend in weddings. Most of the women prefer to cover themselves at weddings too. Similarly, the young girls who always wear gown want to wear at weddings also. Therefore, they always look for incredible and luxury abaya styles. Here is a beautiful collection for those who are looking for unique fancy abayas.
Lace Beaded Open Abaya for Wedding
Blue is a color of grace and beauty. It always looks royal whenever you pair it with black. The beautiful combination looks fantastic. Therefore, we are presenting you with a stunning blue gown attire with gorgeous lace on its sleeves and border. It has a V-shape having front black borders.
Moreover, the designs of lace and beads on sleeves and border produces exquisite outfit. It always comes up with a black scarf. Furthermore, shiny and delicate beads cover the overall front.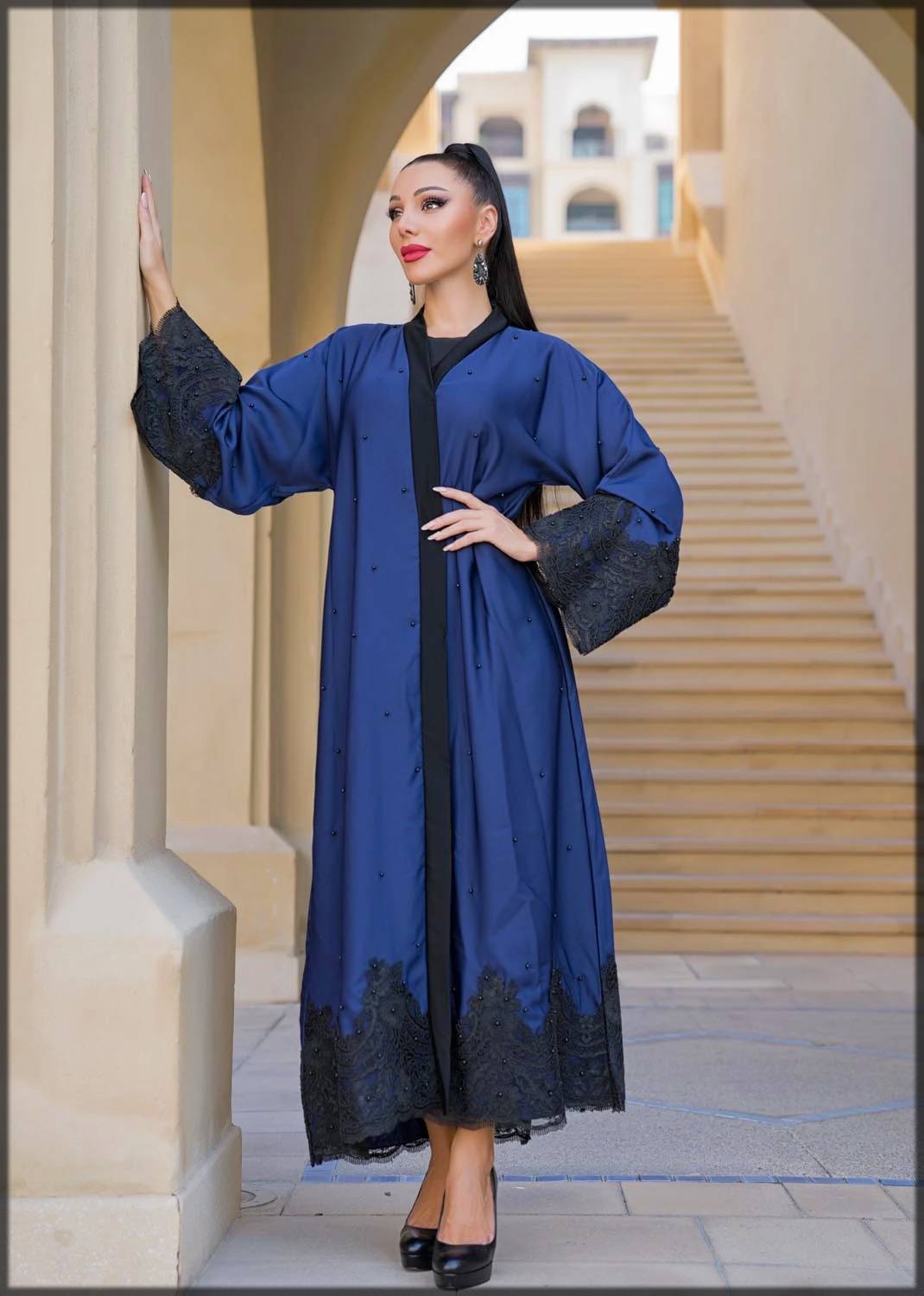 Abaya with Embellishments and Stone-work
Stone-work is a conventional art at weddings all over the world. Women of the Muslim society always consider Parda at weddings too. They want to look beautiful at weddings following it. Therefore, they want to wear a gown with stones and motifs. Here is a collection of embellished gowns for wedding wear.
Net Fabric Abayas for Wedding Events

Net is a premium fabric for clothing that people wear on special occasions. Therefore, women look for abaya in net fabric to wear at weddings. There are many styles of open abaya designs in net fabric. It always looks stunning and fantastic. Moreover, the printed net with floral patterns is also available and looks beautiful at weddings.
Wearing abaya is a symbol of being a Muslim. Therefore, it is a common trend in the Muslim World. There are several designs of the abaya, including open styles. These styles come up with a variety of models in different fabrics. Moreover, the distinction comes in different colors. Here we present you a substantial stunning collection of abayas for casual, formal, and wedding wear. Grab your favorites before its too late.