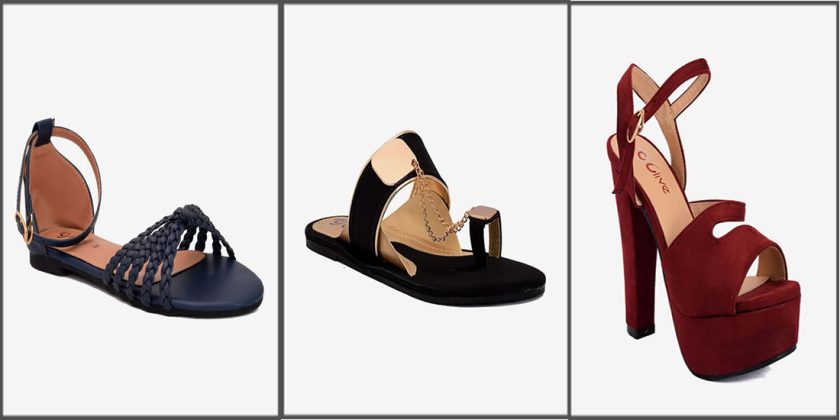 It's a famous saying that modern women are definitely style-conscious. Therefore, they pick modern and innovative designs to maintain their class. Consequently, I am glad that the Clive summer shoes collection brings dazzling and modest shoe styles for women at affordable prices. Indeed, you will love the exceptional comfort and best quality spring footwear below.
Clive shoes started its career with the name of fine shoes from the last fifty years. It was a renowned brand that was functional in the famous Shahalam market in Lahore. Undoubtedly, the brand focuses on high-quality products for women like other brands. Admittedly, it stands among the leading edge fashion specialist providing innovative styles.
The leading brand achieved excellence in customer service by providing outstanding facilities. The apparel collection includes a variety of footwear for both men and women. Plus, it has many accessories like perfumes, bags, wallets, etc. Also, it provides quality footwear for kids too. Here is a portfolio presenting women's spring footwear that offers a fantastic variety of chappals, slippers, wedges, khussas, and heels.
Latest Clive Shoes Summer Collection for Women [New Designs]
Undoubtedly, men and women are equally conscious of their outlooks and personality. People always judge the beauty of a woman by the choice of her shoes. Therefore, wearing the proper footwear is crucial for a woman. Undoubtedly, your clothes, footwear, and jewelry play a vital role in your entire personality that people always remember.
So, do you want to be recognized as a modest and pleasant woman? If so, then you can avail the opportunity here. Below is a fantastic portfolio presenting dramatic and impressive footwear for women. Indeed, these easy-goping styles with beautiful summer colors will gain attractive looks. So, please take a while to explore the following blog for brand-new summer styles.
Fancy Slippers for Daily Wear
Do you want to look increasingly attractive in summer? Well, an intelligent choice of clothes and footwear always gains gorgeous looks. Especially, women who are very much style and fashion-conscious shall opt for a different style each time. One must coordinate contrasting footwear that goes well with the dress for a whole dazzling and dramatic look.
Here are some versatile flat slippers that can add glam to your vibes. Whatever the event or occasion is, you can feel much comfortable with the following footwear. Plus, the variety of hues allow you to pick the one that comes precisely in contrast to your outfit. Also, you can apply a subtle nude nail color on your feet to bring a striking and attractive look. For more slippers, explore the Unze London summer shoe collection.
Casual Chappals by Clive Shoes Summer Collection
Wherever you go, you always need an exquisite pair of chappal in the summers. The scorching season won't let anyone wear tight and warm shoes. Instead, everyone wants to have a classy and comfortable spring style. Here is a brilliant assortment for you below.
Extract some time to view the exquisite casual chappals by clive shoe summer collection here. Undoubtedly, the smooth and quality texture will never spoil your mid-years season. Plus, you can explore more likewise styles from the latest Stylo summer collection.
Comfortable Footwear for Old-Age Women
Aged women can not wear chappals, slippers, and flat casual sandals. Instead, they need comfortable footwear with a soft sole. Plus, women also search for soft sole footwear that can hold their feet tightly and firmly in place. Here is a classic collection for them below.
Discover impressive, chic, and comfortable shoes from the latest Clive's summer collection. The portfolio showcases easy-going shoes in basic shades for women. However, you can explore more likewise styles from Insignia's summer collection.
Easy-Going Flat Sandals for Teens
Do you want to hold your feet tightly in place? The casual slippers and chappals may bring you a smart look, but they won't give a firm grip. It would help if you had a stylish yet comfortable style that can enhance your look and provide you with comfort. Therefore, we are bringing you an exquisite portfolio of flat and strapped sandals in various designs.
Take a flash at the image gallery below. The versatile variety is ready to add glam to your spring look. Undoubtedly, your blissful spring can not be joyous without a stylish pair of shoes. So, you need to coordinate a contrasting sandal from the following assortment. Pick similar jazzier styles from the latest Metro shoes summer collection and enjoy your spring.
Fancy Flat Sandals by Clive Shoes Summer Collection
Well, a concerted effort to preserve the cultural heritage is vital. Many people love to wear traditional clothes with coordinating footwear to revive their cultural heritage. Therefore, certain clothing brands craft sensational designs for their lovely customers. Also, the shoemakers come up with ethnic Peshawari styles and sandals for women.
Here we have a very stylish and colorful spring assortment for you. Although, spring demands to wear bright clothes and shoes to enhance its charm. I can assure you that the following ethnic sandals will make your event much delightful and enchanted. So, head towards Clive's nearest store and pick your desired traditional footwear before it gets late. Ndure summer shoes are also worth buying.
Life isn't perfect, but your outlook can be if you choose wise footwear for yourself. Yes, true style comes from within if you wear and carry a dress and shoes correctly. Plus, simplicity is the key, not of ultimate sophistication. So, always dress up tastefully to be remembered.
Undoubtedly, people will never forget your ethnic grace and traditional look. For instance, you can check out the following khussa collection. You can wear a stylish design below with any of your spring outfits. Plus, it is a vital design to wear with a fancy bridal dress too.
Clive Wedge Shoes Summer Collection
Women always look for a dramatic style that looks progressively exquisite. Plus, they seek a design that brings ease and style simultaneously. Being style-conscious isn't a sin. Instead, it appeals positively if you are conscious about your everyday looks.
I hope the following wedges collection will let you stand dominantly among the public in spring. The dazzling heels and strapped wedges look stylish when combined with a formal dress. So, you can go for the following styles for any spring event and have fun. For more Wedges, explore Ecs summer shoes.
Summer Heels Collection for Girls

How is it possible that your season goes out without a pair of heels? Undoubtedly, a woman can never slay without a perfect matching heel. To all the women who have been waiting anxiously for heels, here is a brilliant collection for them. So, the wait is finally over with impressive and comfortable summer heels for women by the leading brand.
Take a look at the portfolio below. You can explore a variety of fascinating heels for your upcoming summer events. The collection offers modest styles with contemporary designs. Indeed, each design has its own sensational impact. You can pick up the one that coordinates with your attire. Have a blast and enjoy the spring with the following heels.
Fancy Clive Shoes Summer Collection
Glam heels can always bring you an instant dazzling look. Well, they are a little uncomfortable due to the pointed edges and straps. But, I can assure you that wearing fancy heels will uplift your look. You will stand exquisitely among the public around.
Take a while to discover the pointed heels below. The incredible designs and high-quality footwear is ready to add sparkle to your spring looks. Head over to the nearest retail outlet of Clive to pick your desired heels and enjoy your events to the fullest.
Classic Sandals Heels for Ladies
Pakistani culture is over-flooded with engagements, parties, and weddings, etc. No one wants to repeat their clothes and shoes on every different occasion. Instead, everyone tries to look different and appealing. In such circumstances, one must go for an affordable style. Clive's collection presents you with reasonable sandals heels to wear on any occasion.For more heels, visit the Starlet heels collection.
As the summer season is just around the bend, Everyone desires to pick new and astonishing styles in the changing environment for a different look. So, we present you with some spring footwear styles for a memorable season. The latest Clive collection is a brilliant mix of impressive footwear. You can make your spring much blissful with the pleasant styles above. So, walk on the runway of this world with the magical slippers, sandals, and chappals above. Indeed, you will never regret your choice if you pick a pair from the collection above. Please give it a thought!