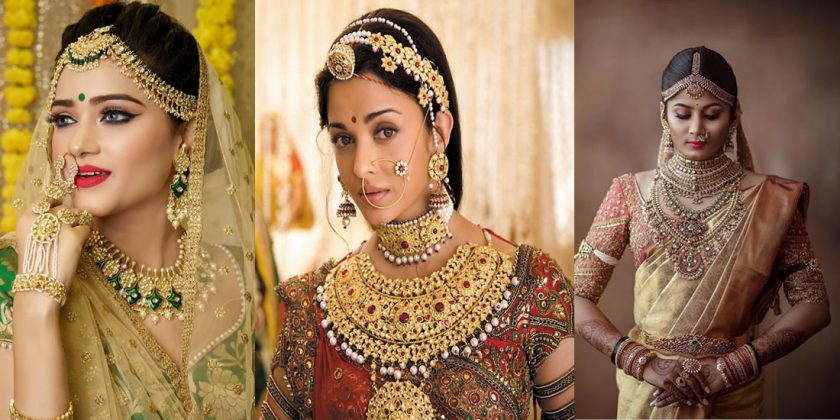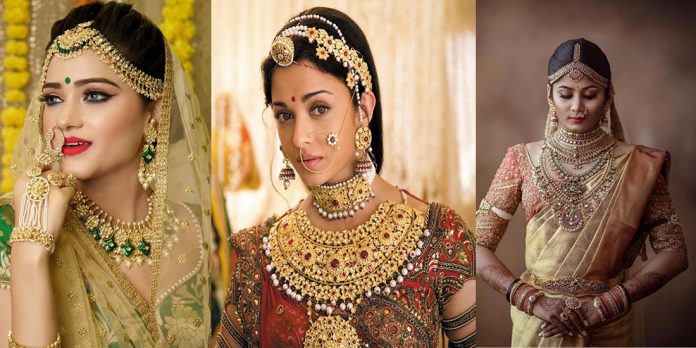 Jewelry is an essential accessory if you are a bride. Also, it beautifies your entire bridal look and brings out a gleam. Here is a ravishing collection of the Latest Indian Bridal Jewelry for all the gorgeous future brides who are up for looking beautiful jewelry for their wedding.
You can buy the latest jewelry online from the full range of Indian imitation sets of famous jewelers. Also, you can explore the collection online and get the desired products from the nearest retail outlets.
The artistically crafted jewelry looks fantastic and completes the overall bridal look. Also, the pleasure of crafting unique diamonds and gemstones meets the demands of customers and preferences is a great satisfaction.


Latest Indian Bridal Jewelry Designs for All Wedding Events

The accessories are either artificial or made up of pure gold or diamonds. It depends on people whatever they want to buy and what is their budget. Also, the high cost of authentic diamonds and gold may force people to switch to artificial styles. Typically, the metals in crafting fashion jewelry include:
Pristine silver

Pewter


Platinum
These metals reveal enthusiasm and a luxurious appearance. So, women who like to wear artificial accessories go for these. However, bridal jewelry includes:
Earrings

Maatha Patti

Mang Tikka
Nose Rings

Jhoomar

Anklets

Necklace or Long Maala

Bracelets and Bangles

Rings
For satisfying the formal needs of women, artificial jewelry is blended with gemstones and a little bit of gold. However, if you are looking for original treasure, go for the original diamond and gold for such exquisite beauty.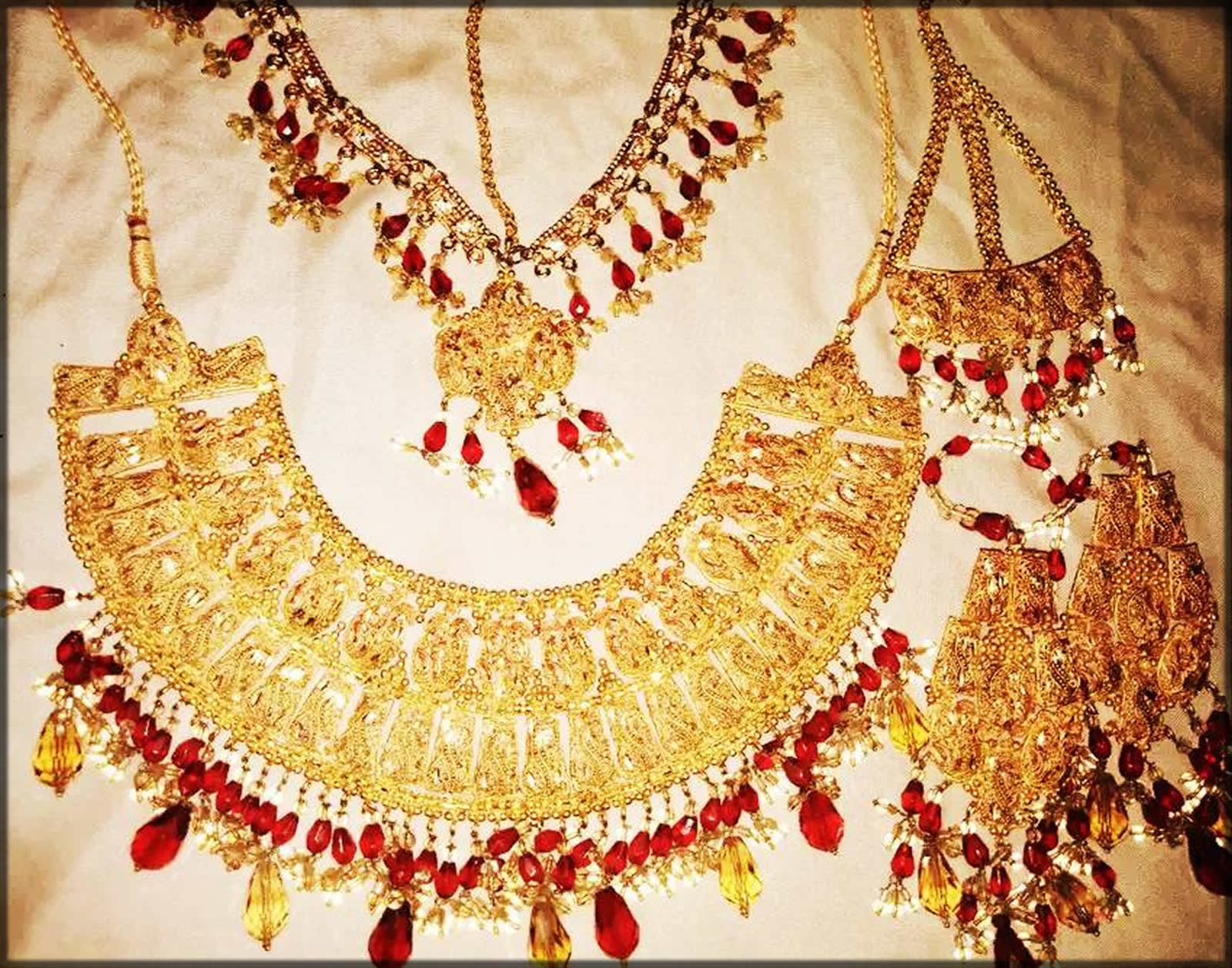 Astonishing Head Gear Indian Bridal Jewelry Designs

The head accessories are always unique and traditional. Usually, all of the bridesmaids wear head jewelry for getting a complete look. The pieces include:
Maatha Patti
Maang Tikka
Jhoomar

 Stylish Maatha Patti for Bride
Do you want to have a cherishing look as a bride? Check out the matha Patti for accentuating your look. Also, it will help if you have a customized matha Patti according to your ensembles.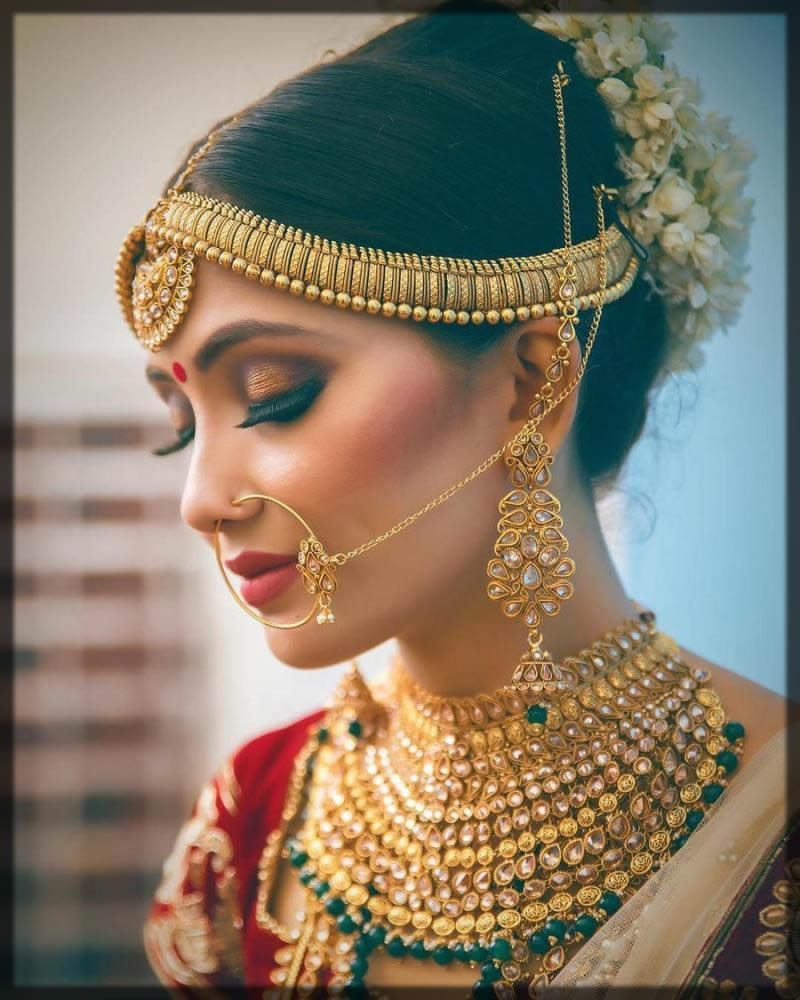 Some women think that maang tikka is an essential accessory for the bride. Also, they believe that it will bring a delicate look to the bride. Wearing a distinctive maang tikka will minimize the heavy bridal look. Well, you should have a maang tikka in accordance with the size of your forehead.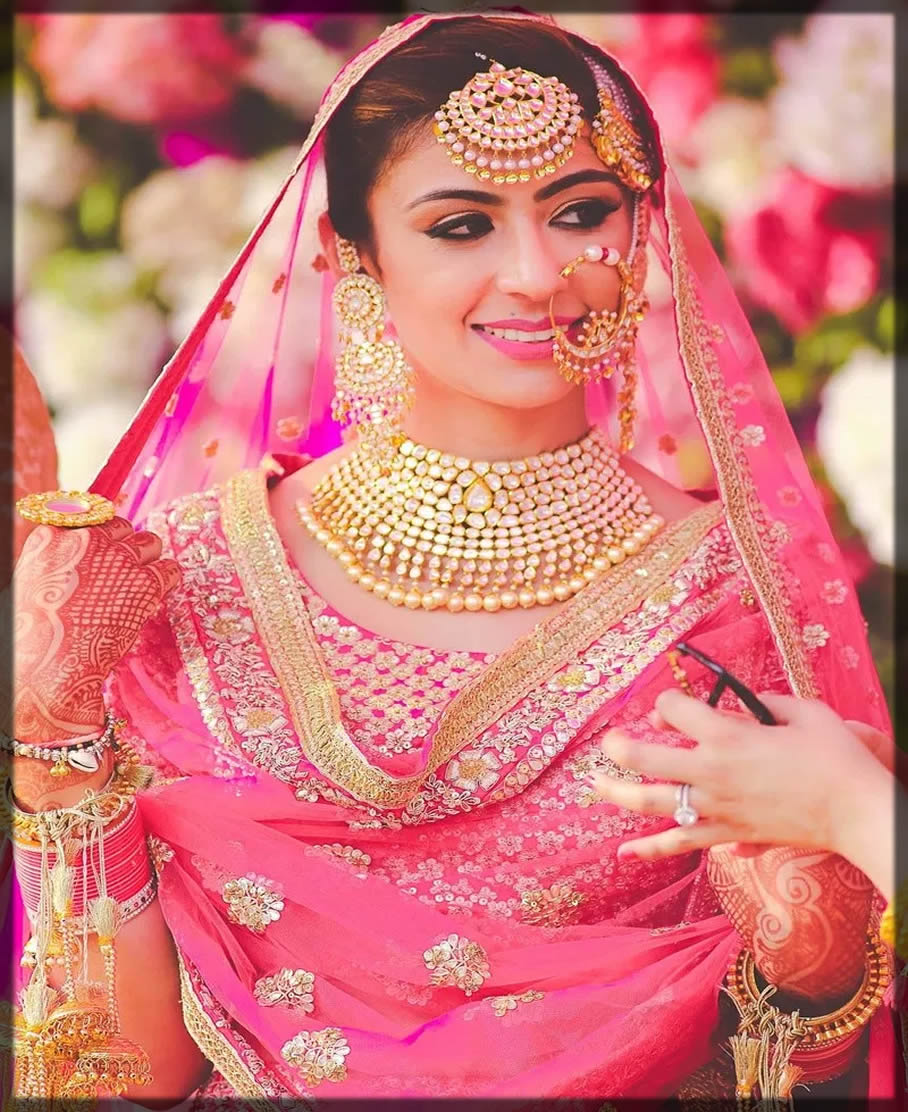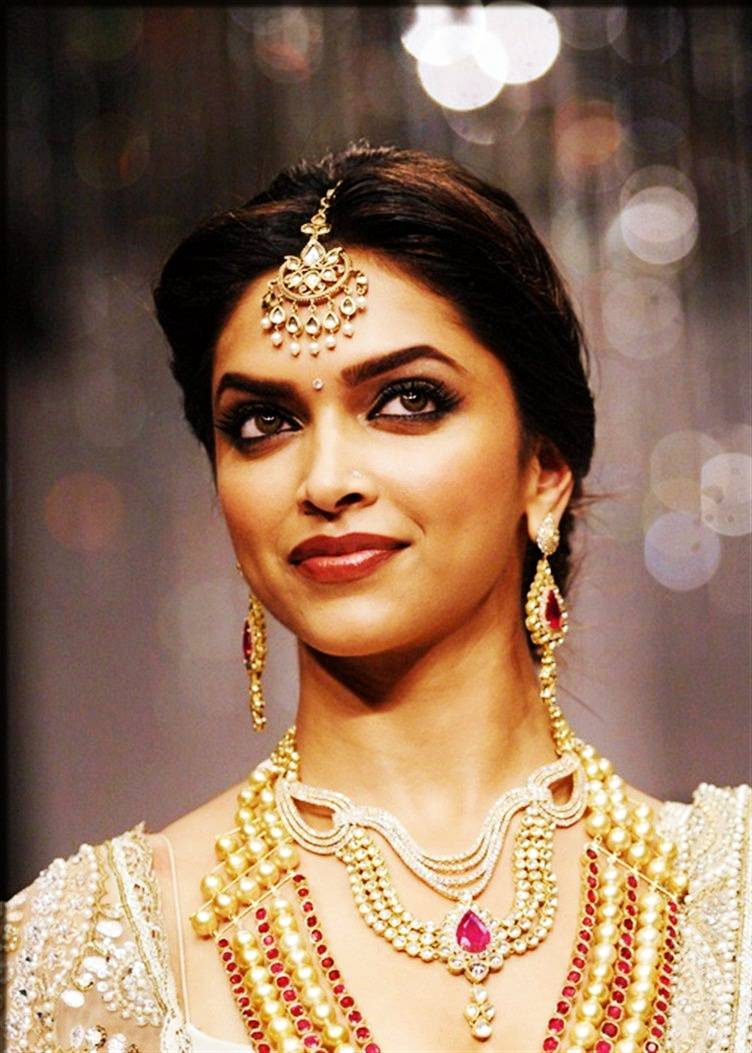 Here is a stunning bride showcasing beautiful jhoomar. There are beautiful red stones perfectly embedded inside. Also, it comes with a delicate maang tikka. Wearing a piece of exquisite jewelry looks dazzling on your wedding day.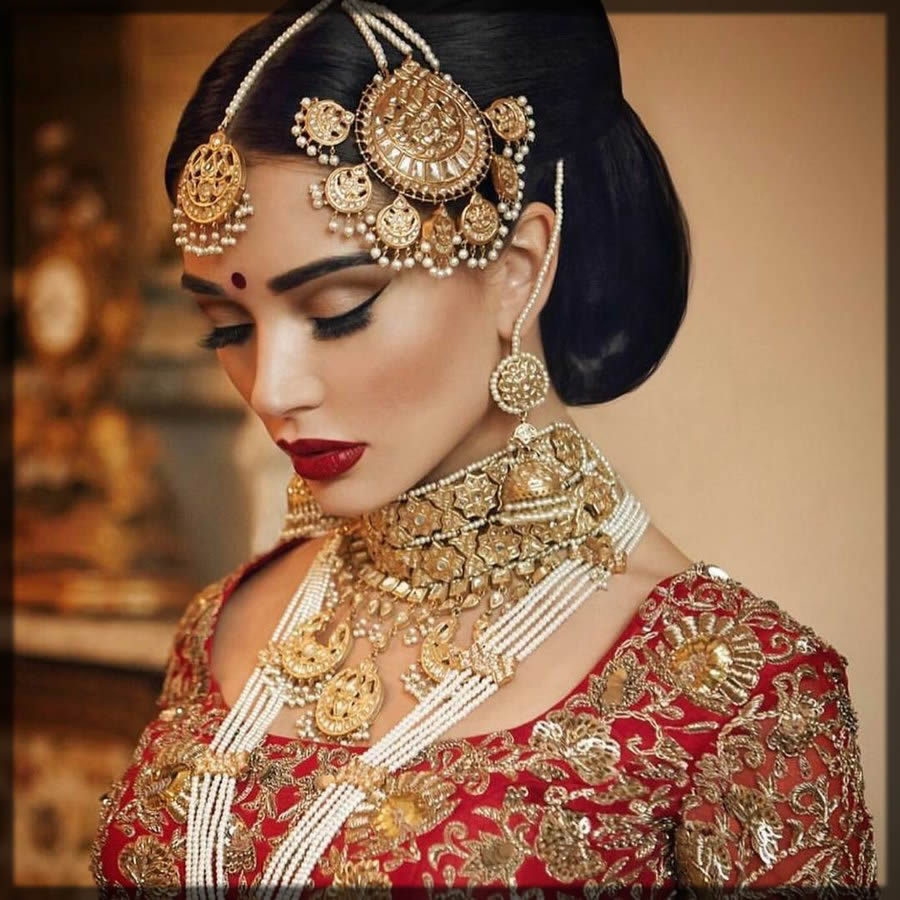 Layered Neck Pieces of Indian Bridal Jewelry
Dressing up well will always draw consideration to you. Similarly, if you are wearing accurate neck jewelry, it will look more delicate. The main pieces of neck jewelry include:
Choker

Necklace

Maala

Delicate Choker for Bride
Do you want to try something unique at your wedding? Let's discover an elegant yet delicate choker for the upcoming brides. The choker sticks to your neck tightly, giving a classic look. Also, it will add a graceful look if your bridal dress is heavily embroidered with the artwork. So, let's go for the stylish emerald and pearl beaded chokers for a pretty look.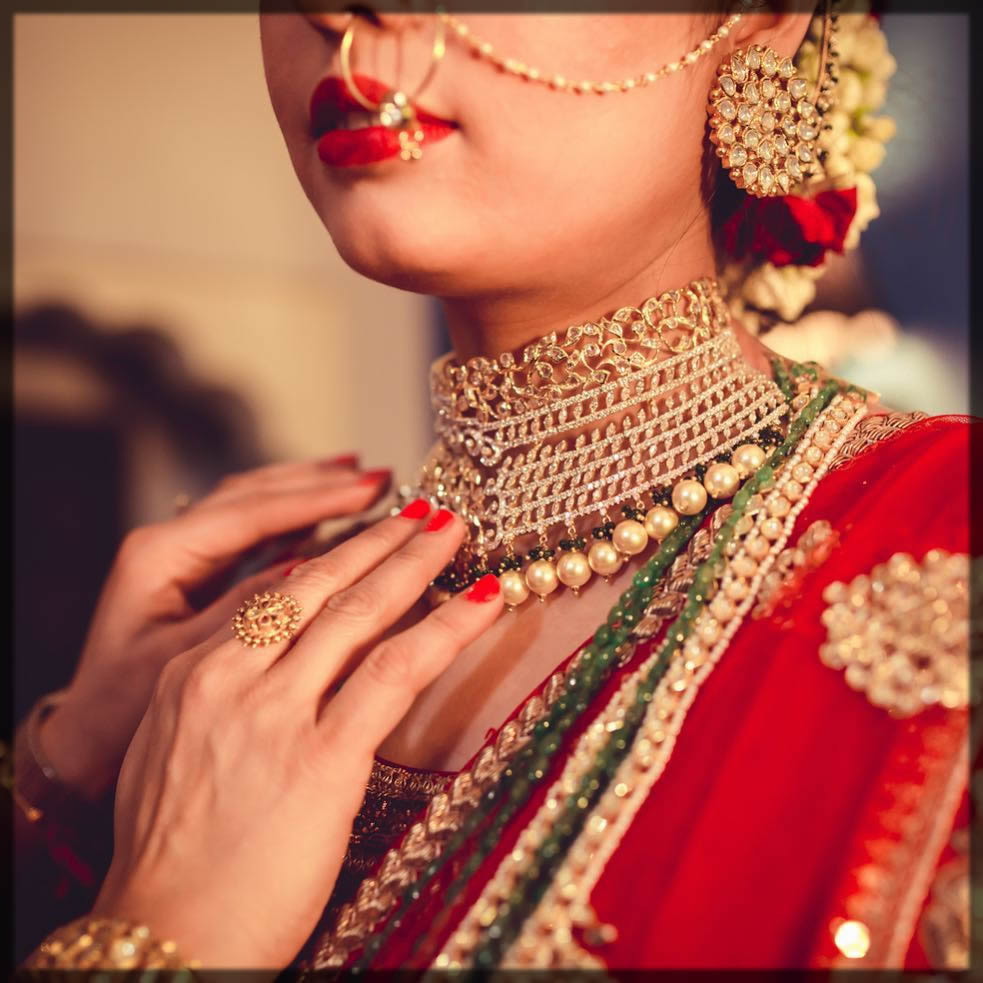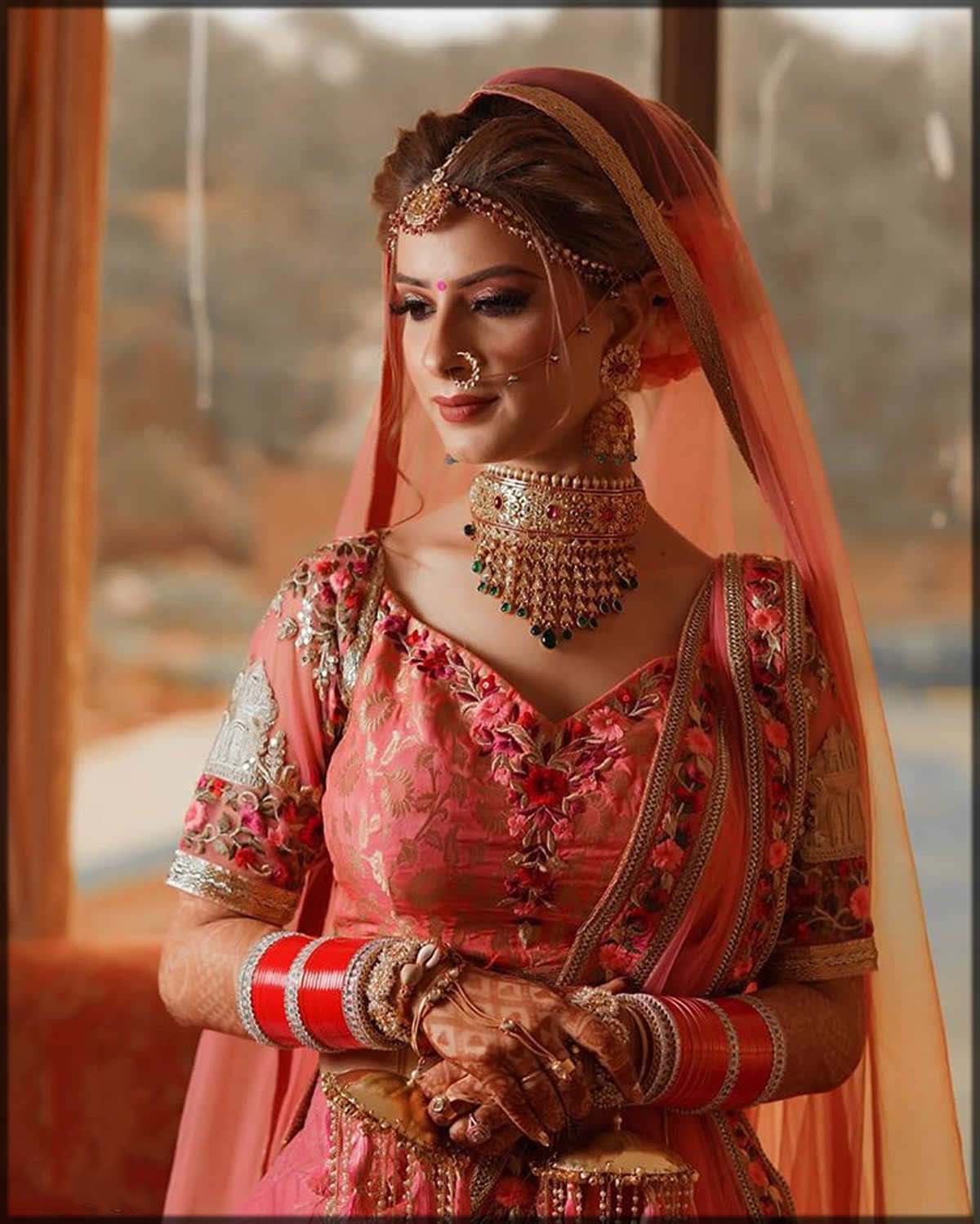 Captivating Heavy Bridal Necklace 
The striking necklaces are always in trend. Do you have a simple reception dress? No worries at all now as we have a stunning heavy chain for you. Also, wearing a heavy necklace with a simple dress maximizes the beauty of the bride.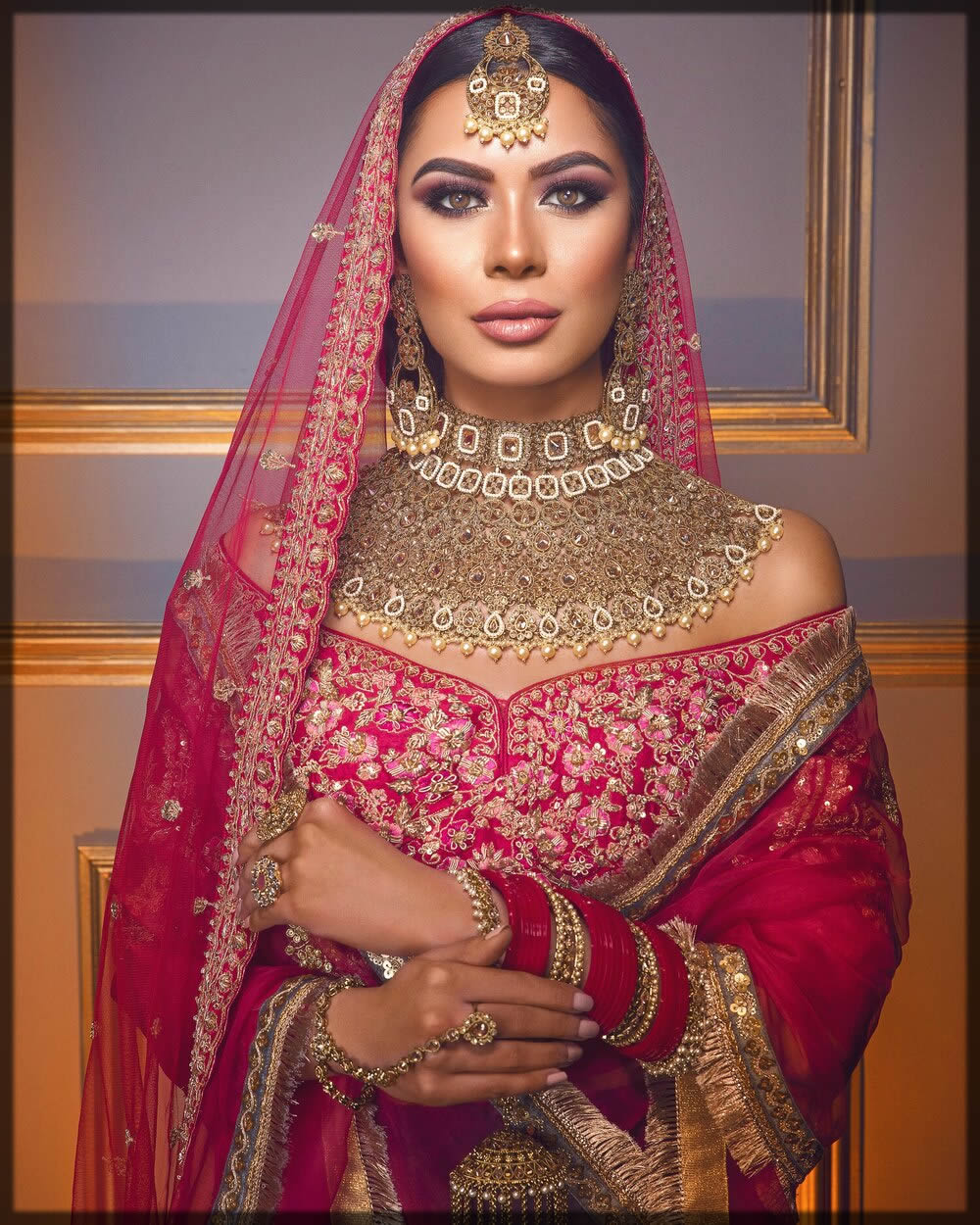 Are you up for a piece of unique neck jewelry? Check out the impressive maala styles below. Usually, they are long in hanging as compared to simple necklace styles. However, the perfectly decorated heavy maala accentuates the bride.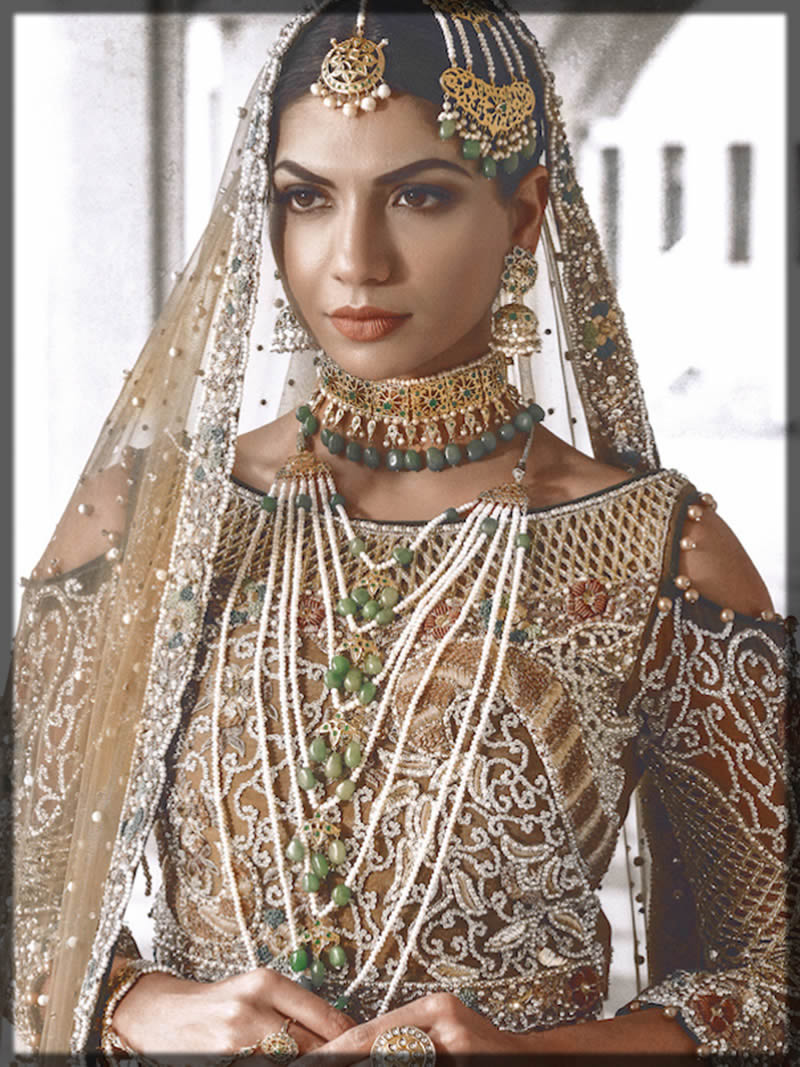 Unique Indian Bridal Jewelry Trends for Earrings
It is an essential part of jewelry for casual and formal wear too. However, shoulder-duster earrings are in fashion nowadays. Are you looking for such elongated earrings? Do not miss our following designs and trendy earrings. These may be:
Shoulder Earrings
Lotus Style Earrings
Chaandbali Style Earrings

Elegant Tiered Shoulder Earrings
Nowadays, shoulder earrings are in the latest trend. Every young girl wants to opt for the latest styles. Therefore, she always prefers to wear designs that are up in fashion. Below are some dazzling shoulder earrings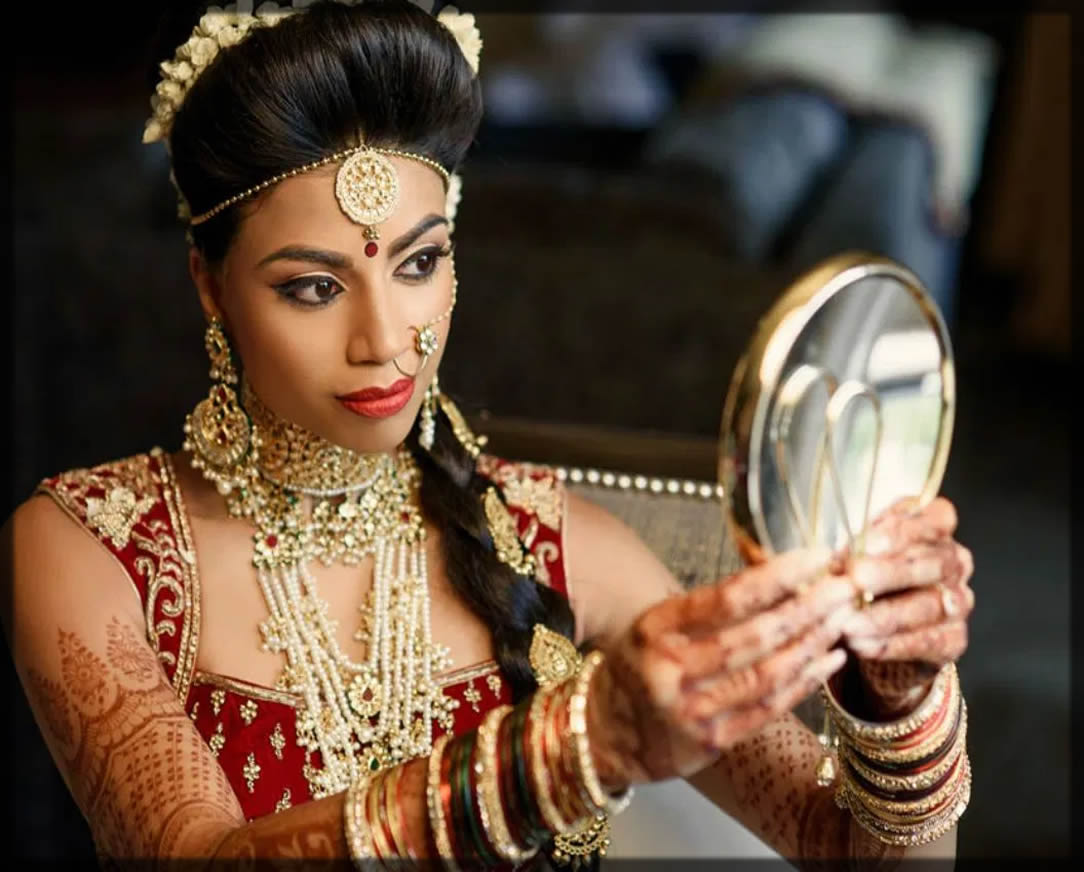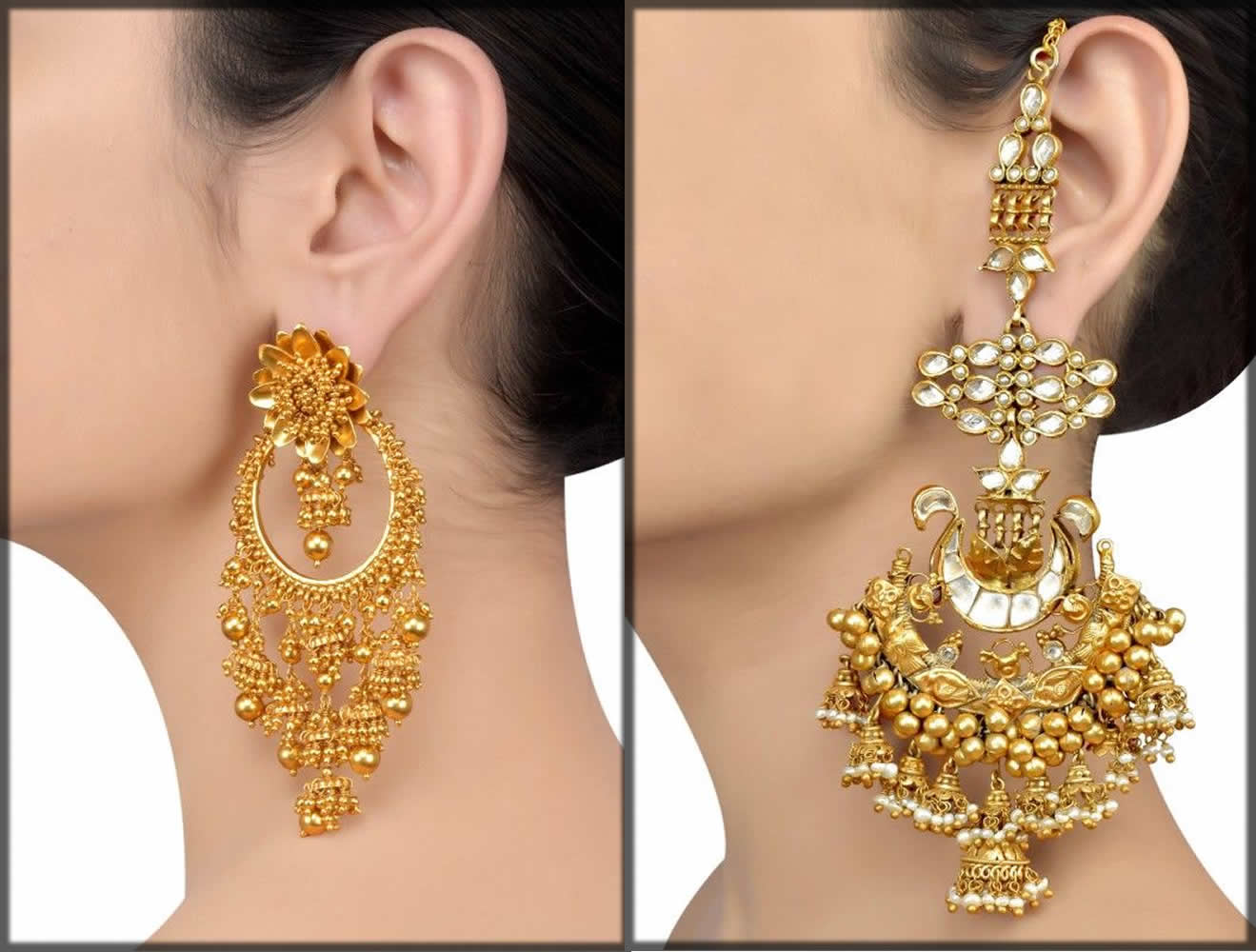 Beautiful Lotus Style Earrings
Adorn the beautiful lotus style earrings here. The lotus styles are given the name on their symbolic status. Moreover, the floral designs are most common in these styles. The beautiful colored jewels are paired nicely with the overall set.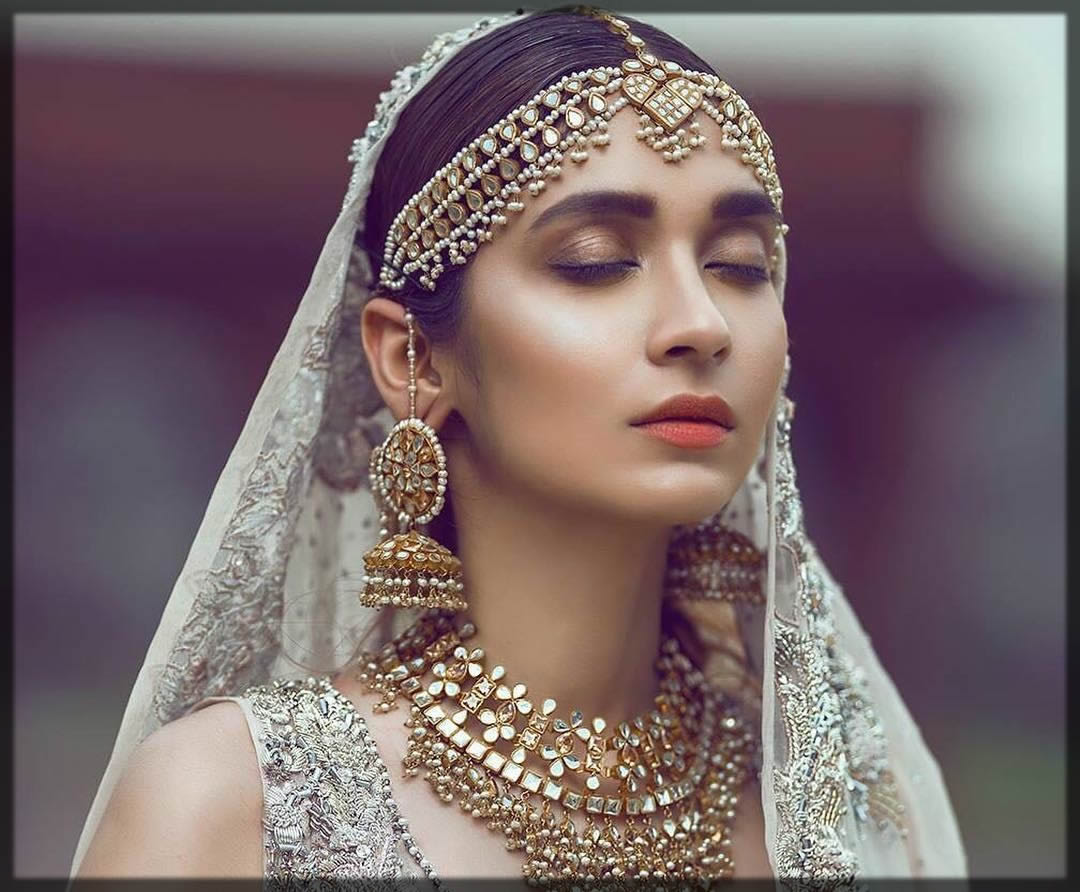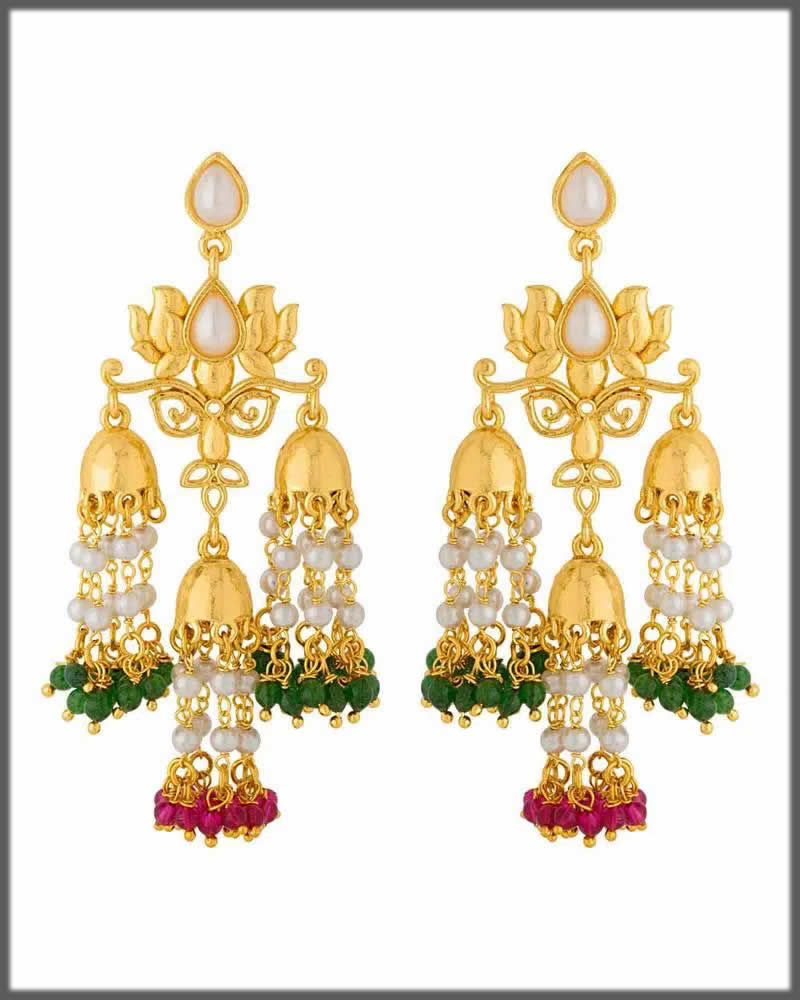 Impressive Chaandbali Style Earrings
These are the most beautiful earrings with an oversize circumference. The shape resembles the delicate maang tikka. Therefore, they are known as Chaand Bali. Such styles never go out of trend. Hence, they are always high in demand.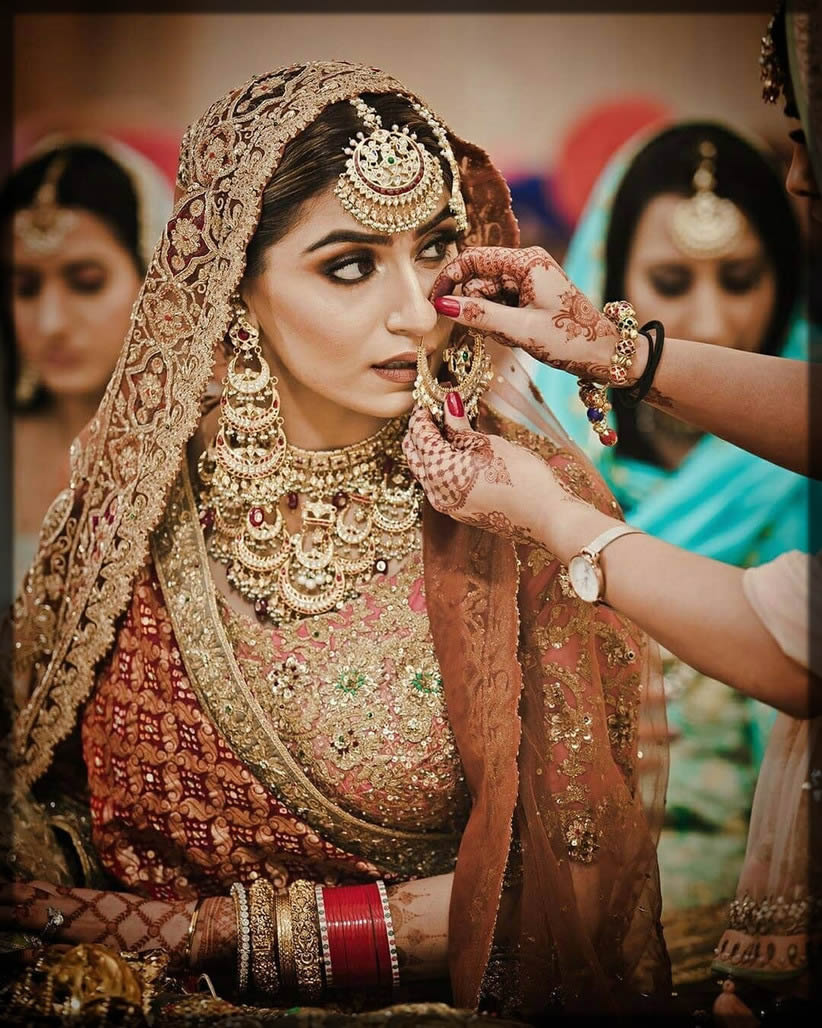 Trendy Nose Ring Styles in Indian Bridal Jewelry

Heavy Nath is in great trend nowadays. Indian brides always go for a bold jewelry size. Also, the greater volume of jewelry brings a fashionable look to the bride. Here is a collection of the latest Nath's with wonderful designs.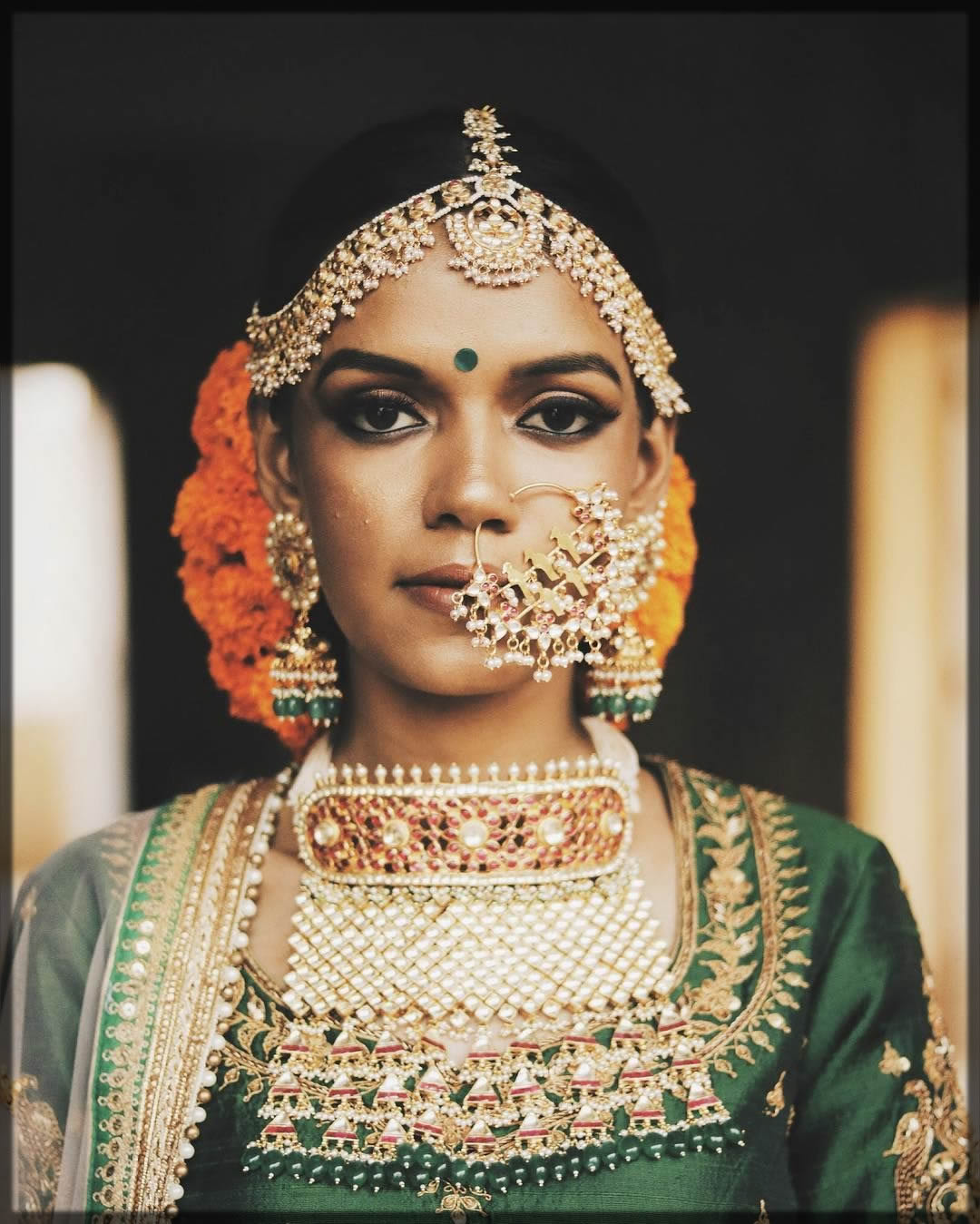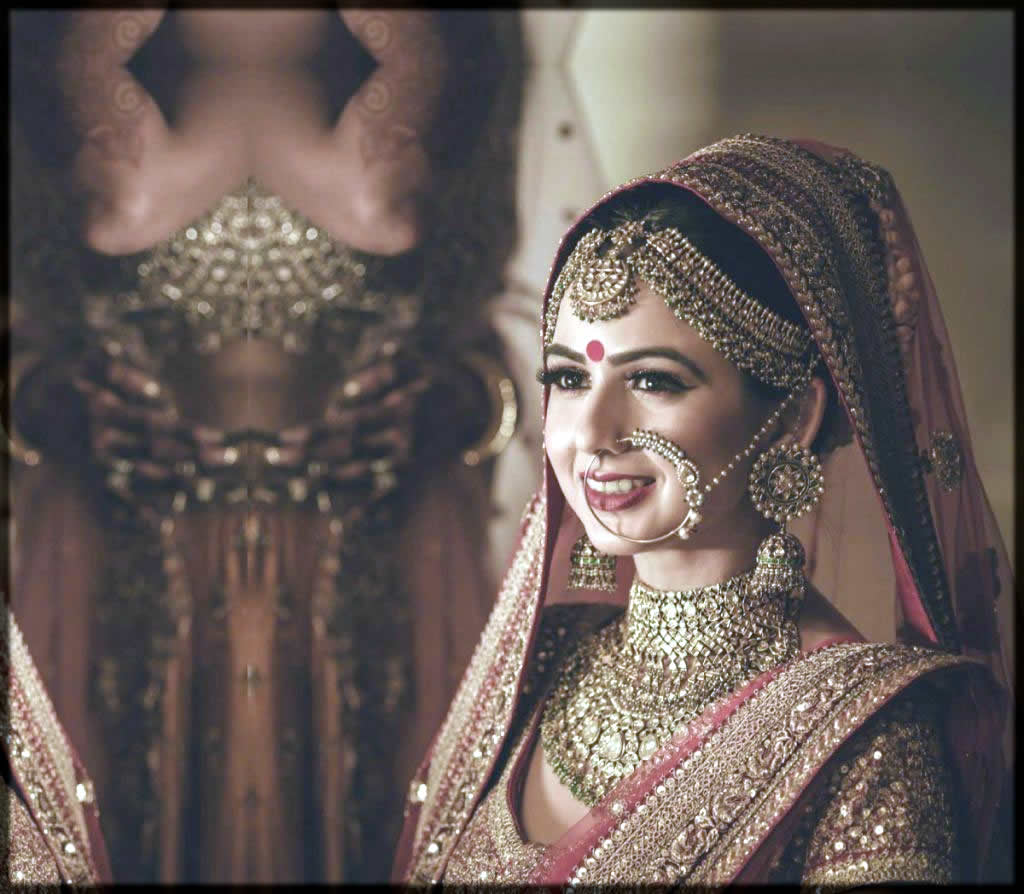 Indian Bridal Jewelry for Decorating your Hands
A bride looks incomplete without wearing intricate hand jewelry. It prettifies the hands of the bride. Also, it enhances the overall enchanted looks of the bride. The hand jewelry usually consists of:
Bangles

Cuffs and Bracelets

Cocktail Rings

The Voguish Bangle Stack
The bangles stack is readily available in the market. So, go and mix and match the pile with your bridal attire. Wearing such colorful and intricate bangles look sophisticated. Also, these are available in all sizes according to your wrist.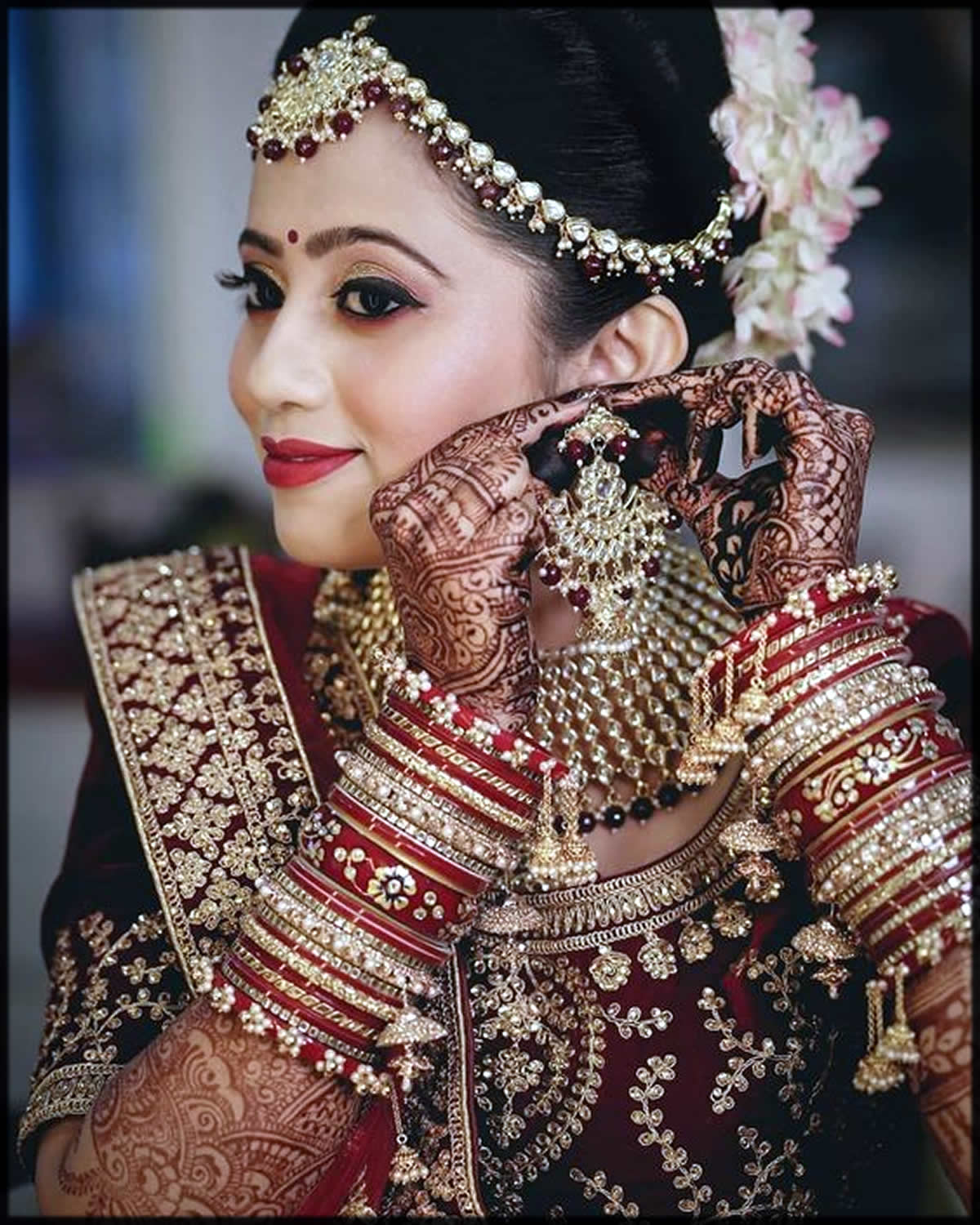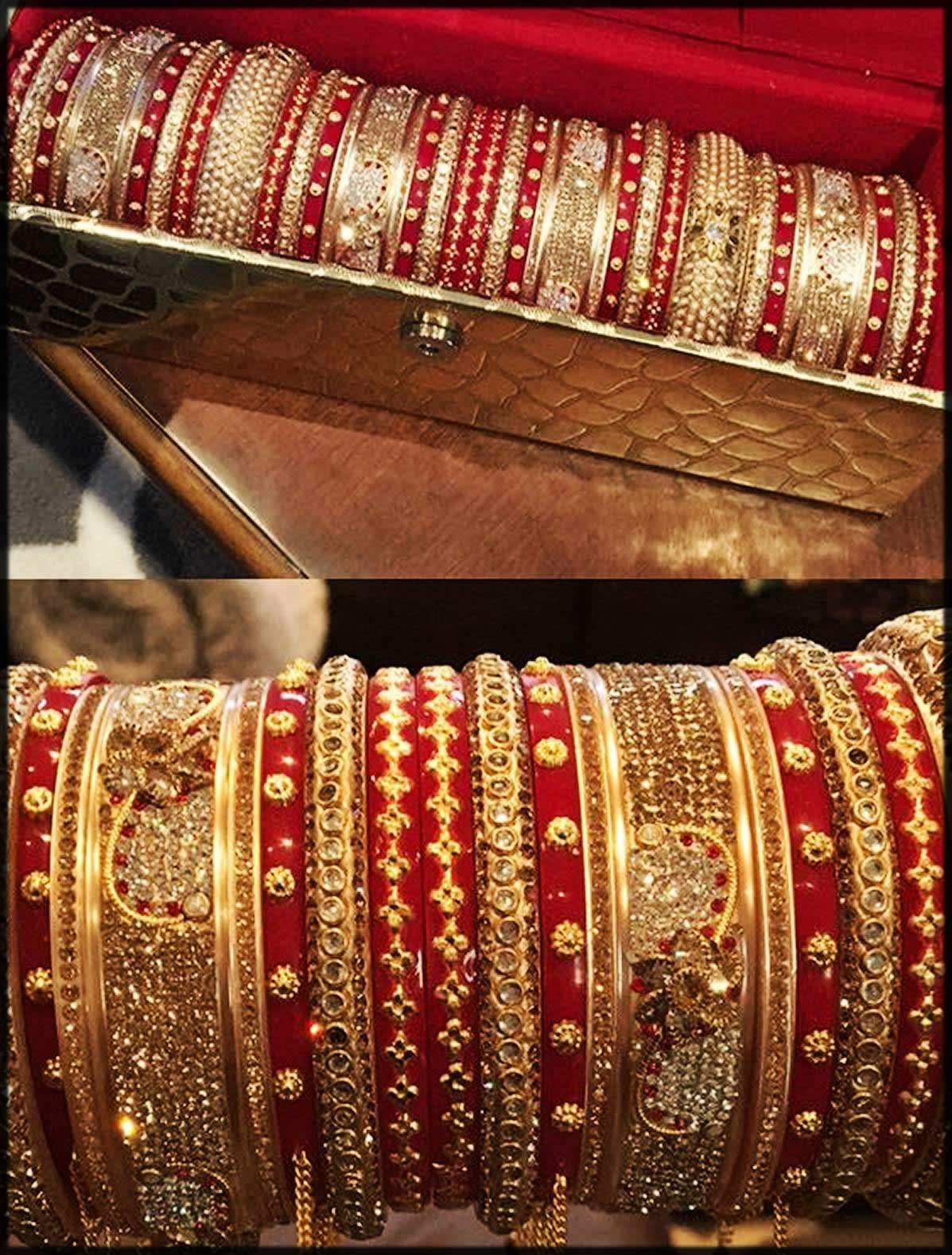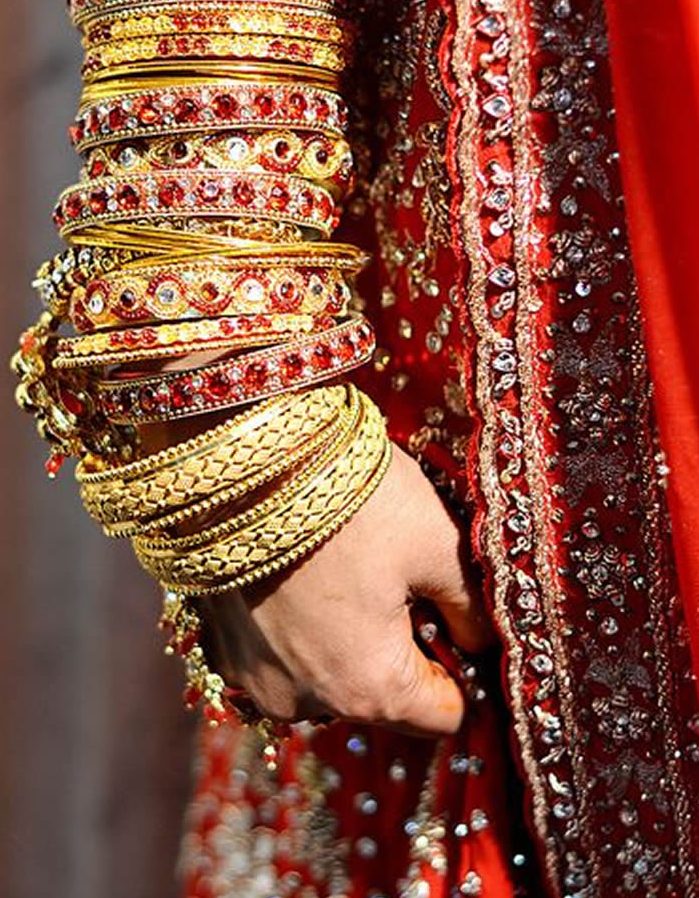 Contemporary Cuffs and Bracelets
Wanna have intricate jewelry instead of typical bangles? Check out the stunning cuffs and bracelets below. The fitted cuffs bring an ultra-modern look to the bride. Also, the diamond and platinum-coated designs are available in the market.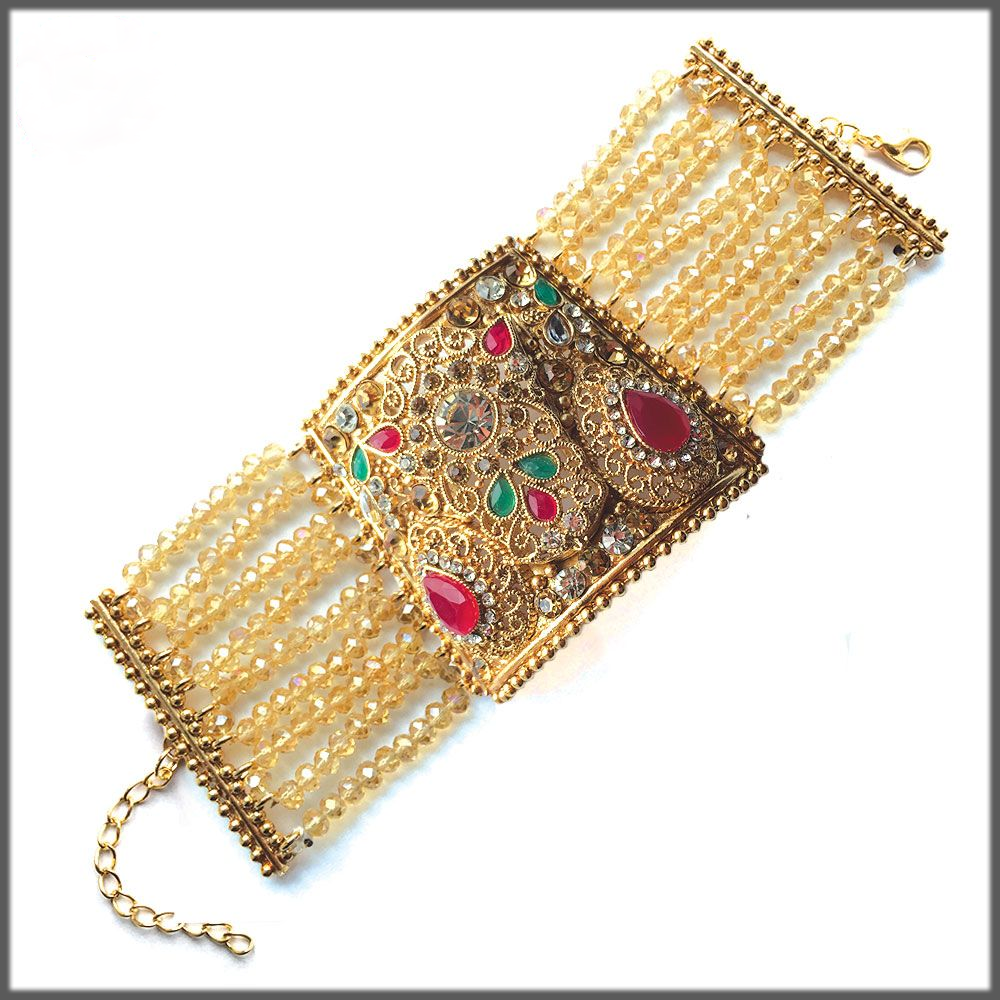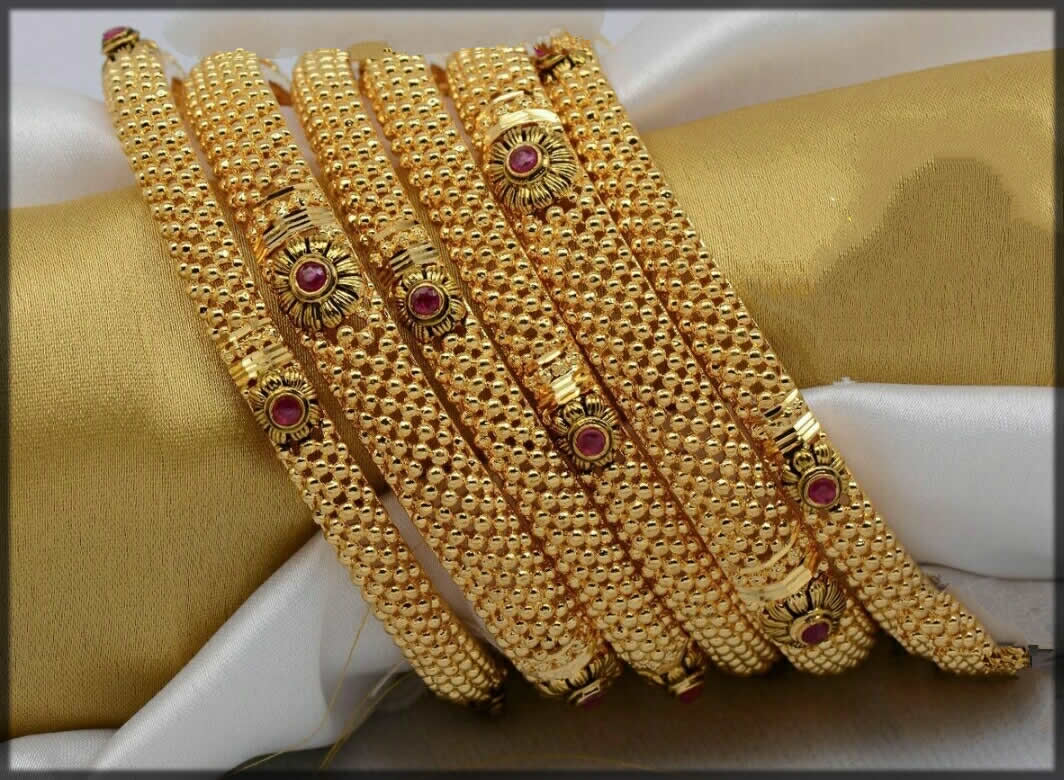 Do you want to enhance your wardrobe? Then try the latest collection of bridal rings. Also, they will bring a great look if you wear them at parties. However, the bridal rings slightly vary for other casual and party wear rings. The colored stones and rubies are attached to them to give them a polished look.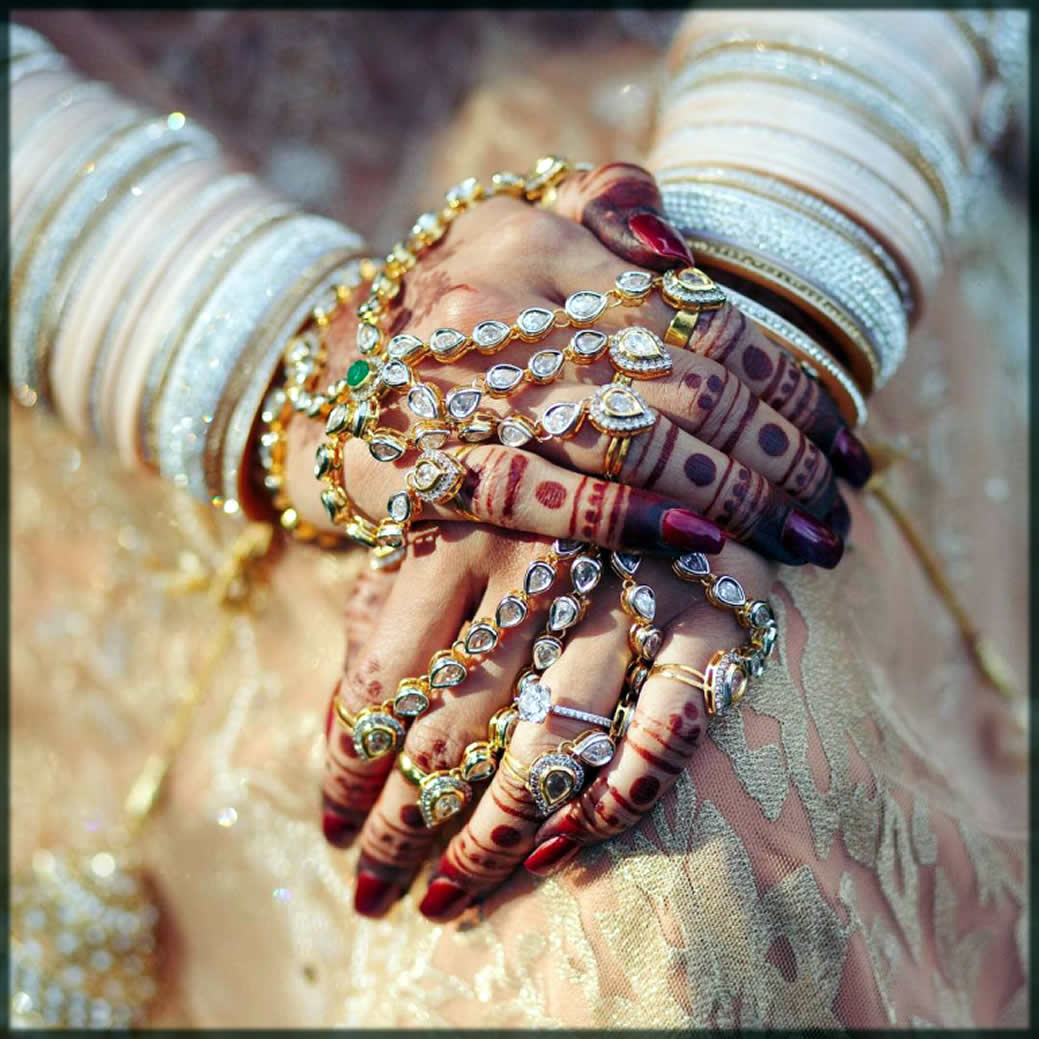 Fascinating Bridal Kamar Band

Wanna adorn your bridal look? Follow the trend of wearing a waist belt with an Anarkali style outfit. It brings a distinctive look. Also, it aids in holding dupatta in place. Moreover, you can quickly greet and meet the guests if you wear a waist belt. Here are some stunning styles from the latest Indian bridal jewelry for you to follow. You can also explore bridal dupatta setting styles here.



Enticing Anklets for Brides
We have a variety of heavy and light anklets for you. For a bride, it is conscious to wear captivating jewelry. So, go to the market yourself and get the desired jewelry that you like. Have a look at the following anklets collection: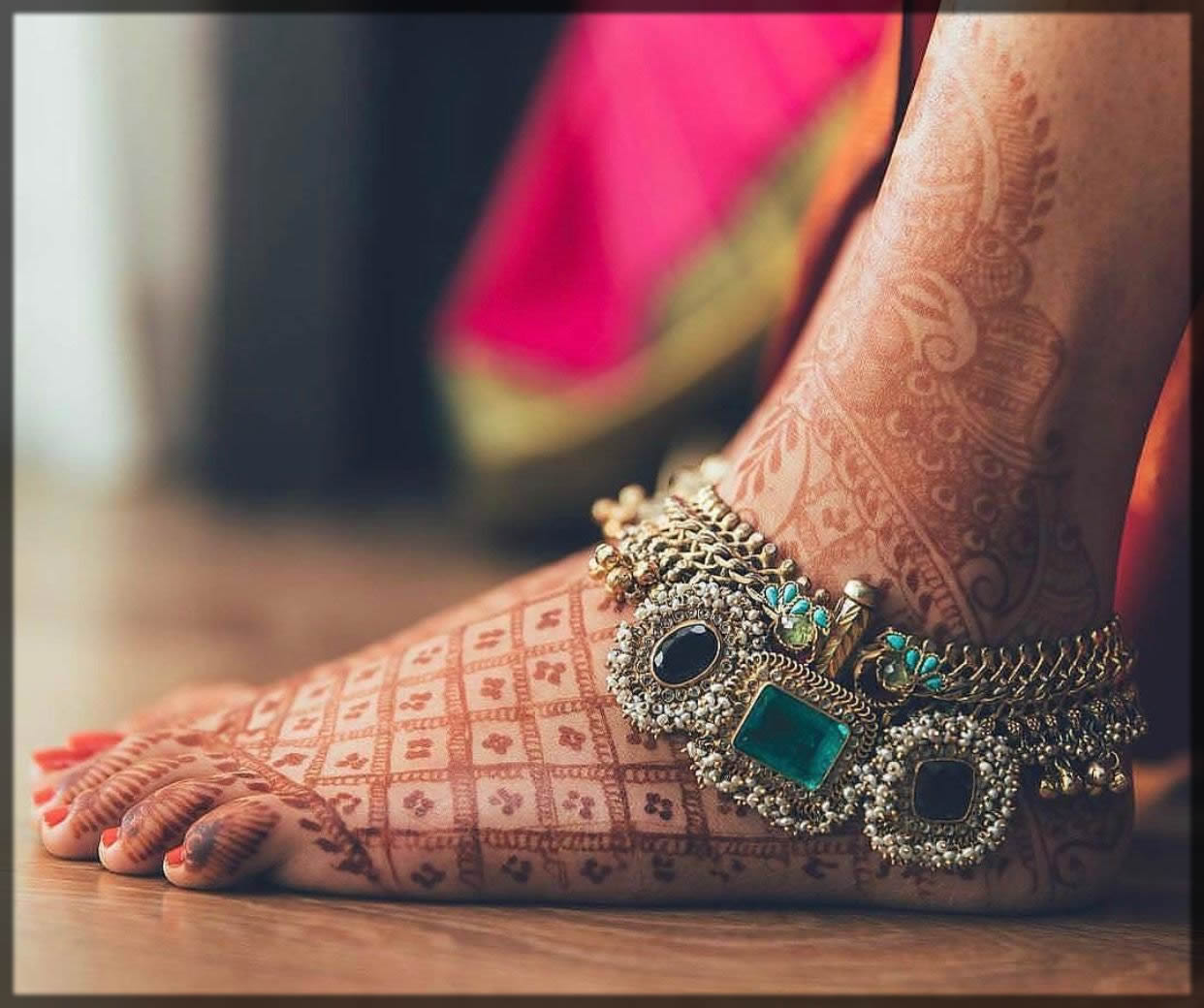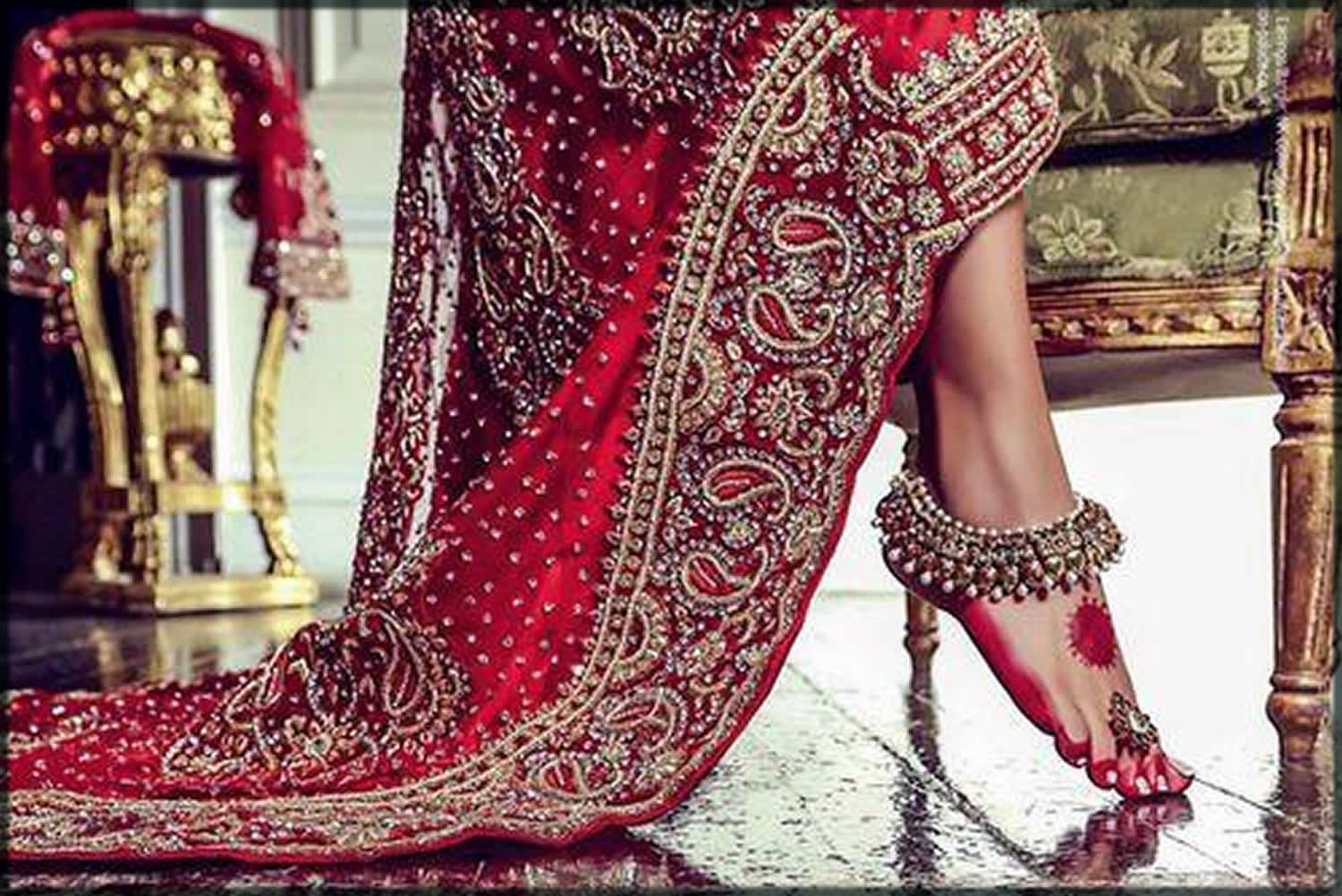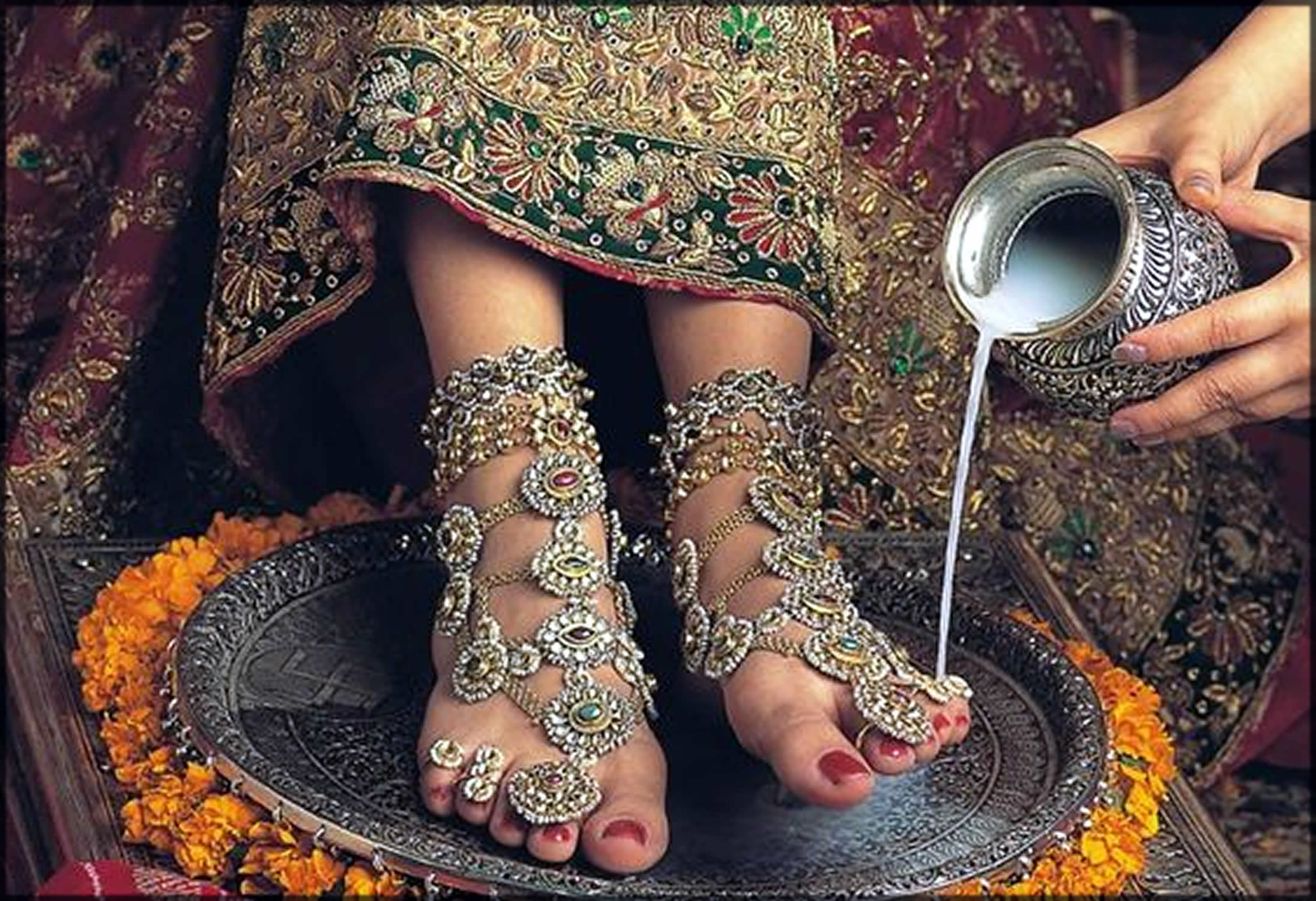 So, here is a collection to adorn your look by the latest Indian bridal jewelry collection. The collection contains a variety of designs for all your body parts. Also, the imitation provides you the facility to shop for the products online. Let's make your outfit memorable by overviewing the above collection. I hope you will like the styles.