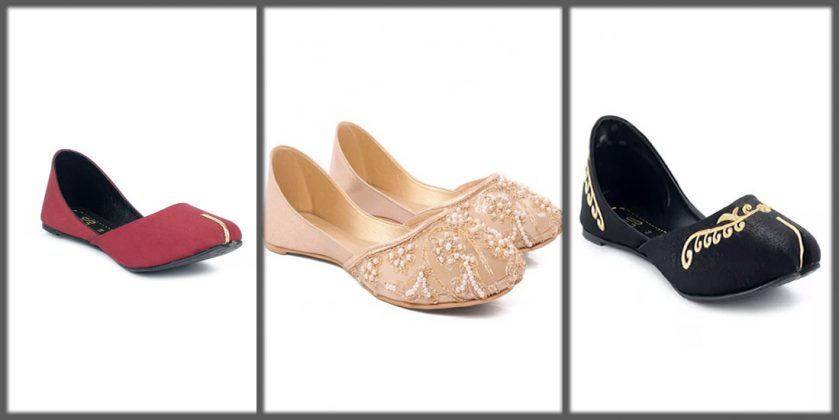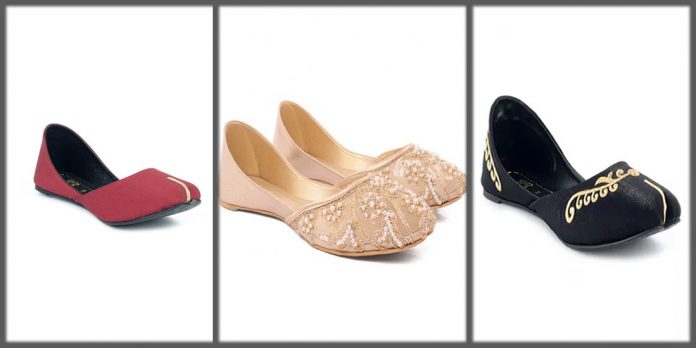 Footwear is significant to transform your personality in the way you want. People who love to change their looks always try different styles every time. Plus, some girls like to admire traditional outfits that can show ethnicity and charm in their personality. Therefore, we are bringing you the khussa shoes for ladies by the top and notable brands in this article.
Sometimes, you need an easy-going pair of shoes to walk over the grains of sand. If you are not looking for footwear to climb the mountains, go for traditional styles. Undoubtedly, the chic and ethnic designs always enhance your beauty. The incredible and cultural khussas will add appeal to your character wholly and bring stunning looks.
Do you want to look wildly beautiful and attractive? If so, then try a unique style that is different from your everyday look. Go ahead to explore the exquisite khussa shoes in the following article. Each design has its own charm and grace. Combine your outfit with contrasting traditional footwear and enjoy your lovely looks.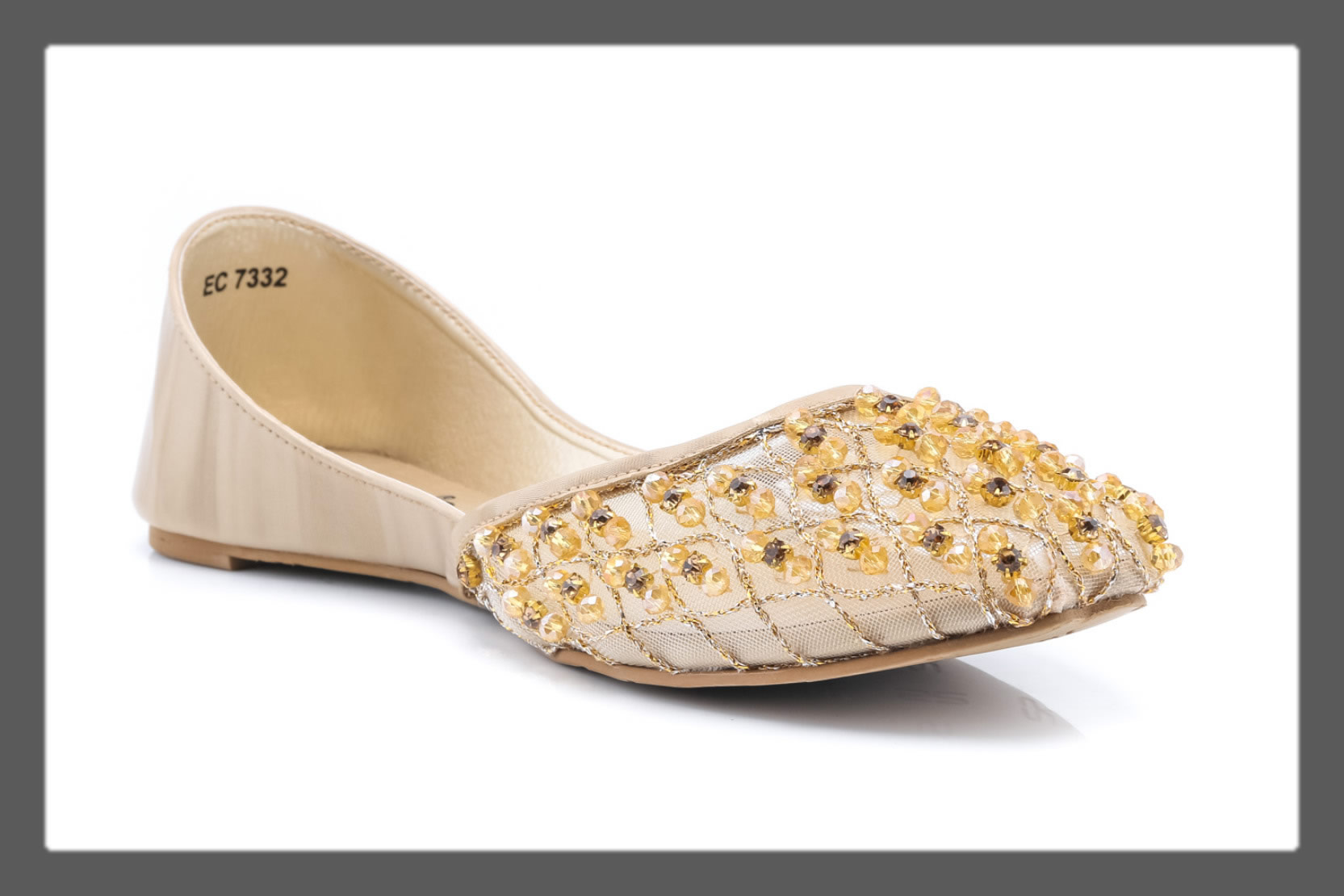 Latest Pakistani Khussa Shoes for Women with Prices

Women always care about their outfits to reflect grace and positivity. Admittedly, the clothes and shoes you wear will always draw an impact on your personality. Therefore, always go for a style that shows much courage and grace. Khussa is traditional footwear that reflects your love and cultural heritage. Therefore, women who are looking for a cultural pair of shoes can take advantage of our article on khussa shoes below. Further, the prices of shoes are also mentioned for your ease.
There must be a touch of culture in your style in proportion to fashion and modesty. Undoubtedly, modesty is the crown of a woman. The girls who look for a humble collection of dresses always combine a likewise pair of shoes. You can never complete your entire look without a nice pair of footwear. So, if you are wearing a traditional dress, please combine the stunning khussa to complete your vibe from the following trendy assortment:
Stylo.
Borjan.
ECS.
Insignia.
Unze London.
Clive.
Moreover, you can also explore the complete variety of shoes collection by different brands here.
1- Stylo Khussa Shoes for Ladies

Stylo stands among the notable brands in the fashion industry of Pakistan. The brand primarily focused on snappy footwear for both men and women. But, the visionary owners struggled to expand their business horizontally and vertically. Therefore, the diversification leads to a variety of bags, clutches, and clothing collections for women.
Apart from formal, casual, heels, and other shoe styles, Stylo comes with a separate ethnic section for ladies. It offers a stylish variety of simple and decorative khussa shoes for women. Plus, the glittery and snappy designs are encouraging enough to propel the public to buy them. Of course, you can buy any contrasting khussa that relates to your attire. You can see a modern variety of footwear from the Stylo eid collection too but here is an ethnic khussa collection below. So, head over to the nearest store to buy your favorite design.
2- Stylish Borjan Khussa Collection

I have a firm belief that the right kind of footwear can amaze the world. Women are fond of fashion and want to slay differently. Plus, everyone seeks the newest trends to stand exquisitely among the people. In such circumstances, Borjan stepped into the market with the influential variety for both men and women. The brand was primarily famous for footwear, but it emerged itself as an exemplary brand with a variety of accessories.
The leading brand is offering a flair of fashion to women with stunning khussa shoes. Plus, exceptional products are available at relatively high prices. You might have seen the Borjan shoes eid collection before that offers a mesmerizing and comfortable variety according to the season. Still, many of you might be looking for traditional footwear. Below is your desired elegant and cultural collection of sparkling khussa shoes.
3- ECS Khussa Shoes for Ladies

Undoubtedly, every brand strives hard to meet the desires of its customers. There is no substitute for satisfaction until you get it. The mission of ECS is to commit their selves to honor the trust of people. Therefore, it struggles to bring ethnic and satisfactory designs for the people. You can see a lot of variety from the ECS shoes eid collection that offers remarkable and easy-going footwear for women with the latest designs.
Additionally, it is offering a traditional assortment for women who love to wear khussa shoes. Below is an ethnic collection for ladies. Indeed, the innovative designs of premium quality will meet your demands. Moreover, the delightful patterns and artwork will add appeal to your character and enhance your looks. The technological advances and market dynamics came up with a versatile portfolio for you to rock your events.
4- Insignia Shoes Khussa Collection

Insignia is a spirited brand that is famous for its high-quality shoes. Undoubtedly, the high-end fashion retailers are working day and night to bring the glamorous assortment to the public. The famous and notable brand is contributing to the vogue industry since 2011. But, in less time, it has won the hearts of people through the tasteful variety. For the demonstration of styles, you can see the Insignia shoes summer collection.
With struggle and quality, the brand was able to offer proficiency to bring elegance to your style. Plus, a sumptuous collection of snappy designs are quite attractive and decent to wear. Women look for such chic designs to double their looks. Particularly, the khussa shoes look perfect with gharara dresses and other likewise designs. Head over to Insignia's nearest retail store or buy online your favorite and most attractive khussa.
5- Unze London Khussa Collection

Unze London is by far the most prestigious shoe brand in the industry of Pakistan. It has 31 years of excellence with premium quality for men and women. Undoubtedly, it won the hearts of people for the tireless efforts and updated designs. Additionally, the captivating and innovative ideas have bought much courage to propel the public. Here is a traditional and ethnic khussa collection by the leading brand for its loyal customers.
If you want to conquer the world, you must choose your footwear wisely. Undoubtedly, people will remember and recognize you with the shoes you are wearing. For much traditional love, combine your ethnic attire with the dramatic khussa. Each style has an exquisite beauty with enough charm that will double your grace. So, stop overthinking and give a pause to the flaunting innovative khussa designs below. Also, you can explore the Unze London summer collection for more styles to conquer the world.
6- Ethnic Clive Shoes Khussa Collection

Clive is a famous brand in an industry that offers highly sustainable products to its customers. Initially, it was known as fine shoes in the famous Shah Alam market of Lahore. It has an exquisite variety of footwear for women. The influential designs with high quality always satisfy the women. Therefore, also check out the Clive shoes eid collection for festive footwear.
Below is a dramatic yet stunning khussa shoes for ladies. I know that style-conscious women always choose a different style wisely. Undoubtedly, you will never regret your choice if you choose a classic design from the variety below. Please give a thought to the following variety and let us know about your positive feedback.
The certified shoe addicts will never buy a usual pair of shoes. Therefore, we have a splendid assortment of dazzling khussa shoes for you. I hope the breathtaking dramatic styles with innovative ideas will glam up your looks. Additionally, you can combine a nice pair with your contrasting dress color. Indeed, the snappy and formal shoes will complete your overall vibe.