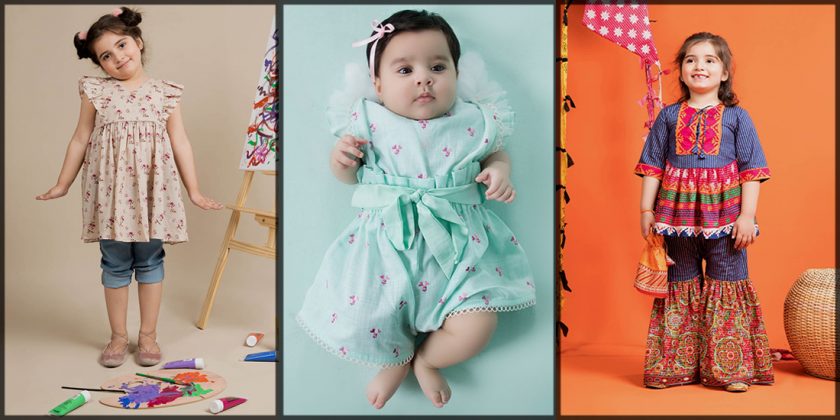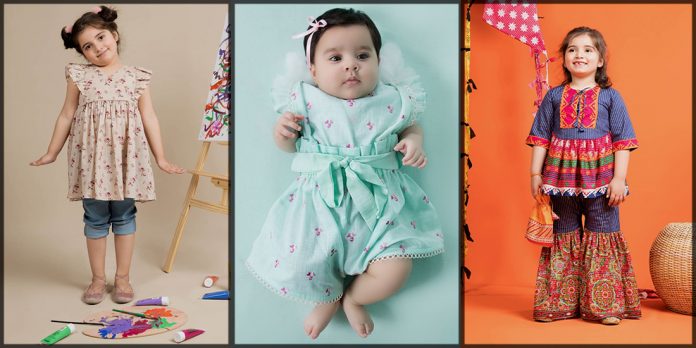 In this era of fashion, not only women and men are running towards fashion, but these days kids should also look fashionable and stylish. Kayseria kids summer collection is recently launched, bringing the latest pattern clothes for the kids to look more like a cutie pie.
Every dress in this catalog is beautifully adorned with the sweet touch of embroidery and prints, so the baby girls look more pretty and adorable. According to kidswear, they present all dresses in bright hues like black, white, yellow, pink, purple, orange, and peach. Further, they used the floral prints, stars, cute animal prints, and toys to make the kid's collection more impressive.
Frill frocks, shirts Capri, kurta jeans, and many other trendy dress designs are included in this collection. These dresses are available at all outlets of Kayseria. Further, you can get your little angle's dress at your doorstep by ordering online. Read this blog to check the latest variety of Kayseria kid's collection along with their prices.
Latest Kayseria Kids Ladli Collection for Summer Season

Kayseria, the most notable brand of Pakistan, is considered as one of the top brands of Pakistan. Every season, Kayseria offers unique pattern clothes for women and young girls. It's the reason it is becoming the most favorite brand of people. Kayseria also offers the Ladli collection every season. Because they know, kids also need to refresh their look. They likewise offer newborn, toddlers, and young girls outfits in unique designs and themes in the Kayseria summer catalog.
They use pure lawn fabric in making their kids summer attires because it is considered the comfiest and reliable texture which will not cause any rash. You also need to shield your child in summer because the sun's hot rays will hurt your baby girl's hence you need to pick comfy clothes for your little one. In this regard, the Kayseria kids summer collection is the best because it used the cozy lawn and cotton texture to make the kid's clothes more reliable and secure.
1- Digitally Printed Collection for Newborn Baby Girls



Comfort is always evident in the Kayseria newborn collection. They likewise add a bit of cuteness and playful colors to make the attires more classy and lovely. Kayseria used the extra soft lawn fabric for making the newborn baby girl's attires. Baby girls look more cute and pretty in the printed attires.
Hence, Kayseria offers the printed outfits in unique shades. Further, they offer frocks and kurta designs for newborn baby girls. If you are worried about your little girl's summer outfit and want to make your baby more attractive and adorable. Then without any fear, feel free and visit the Kayseria store. Further, never forget to add some hair accessories like a hairband, a pretty hairpin, or even a cute bracelet.
2- Printed and Embroidered Lawn Dresses for Infants & Toddlers 
Pay your extra attention while choosing the right outfit for your infant or toddler daughter. During the hot days of summer, your little one needs the comfy attires so she feels comfortable and happily plays with her toys. Look at the following printed and embroidered dresses that are made with pure fabric and pretty floral themes. For your toddler girls, you can choose the following styles:
All these stunning combos will surely update your little angle's look and make it appear more pretty and appealing. 
Some Pro Tips:
Pair the comfy clothes with matching footwear to give complete comfort to your junior.

Make them wear some hair accessories and secure them well so that they can not take that off.

Pick the right dress that fits well and if it is a little loose then it will be more comfortable for her.

3- Kayseria Kids Summer Collection for 2 to 5 Years Teen Girls



The 2 to 5 years old baby girl dresses by Kayseria are just fabulous, as you can see below. They used all bright hues to make the kid's collection more cute and amazing. Further, they used the cotton and lawn slub texture to make its catalog more comfortable and soft. In its collection, you will get single or two-piece suits. All these chic suits are very soft and comfortable. Remember to pair these attires with comfy footwear and lightweight adornments.
4- Kayseria Kids Summer Collection for Young Girls
The dressing of your daughter represents your fashion sense. Look at the following magnificent teen dresses by Kayseria that are specially designed for those youngsters who like to wear classy attires to look more pretty and appealing. Kayseria nicely furnished its young clothes catalog with vibrant tones and classy themes. You can pair these attires with sandals or khussa as per your choice and need. This season, Kayseria offers the following style for teens:
Angrakha Frock with Tights

Frill Frock with Capri

Knee-length Shirt with Capri
5- Some More Outfits Inspiration from Kayseria Kids Summer Collection
Look at the complete catalog of Kayseria kid's summer collection that contains the most classy attires for newborns, and young girls. All these dresses are made with pure fabric that keeps your baby girl safe and secure from the blistering season of summer without getting any rash.
If you want to keep your little angle look casual, pair the frock or kurta with Capri or trousers. While in contrast, if you want to modify your girl look and make it appear stylish and chic, pair the classy printed kurta or frock with the jeans. Always remember to buy some little and cute accessories for your baby girl to make her look more pretty and adorable.
This blog will help you choose classy summer dresses for your little one. Your little angle also needs to modify their look because they deserve it. Hence, don't forget to buy comfy clothes for your young girl. Visit the Kayseria store as soon as possible to get the classy attire for your cutie pie, and she will also love it for sure! Comment down your reviews regarding the collection so that we can understand your preferences.