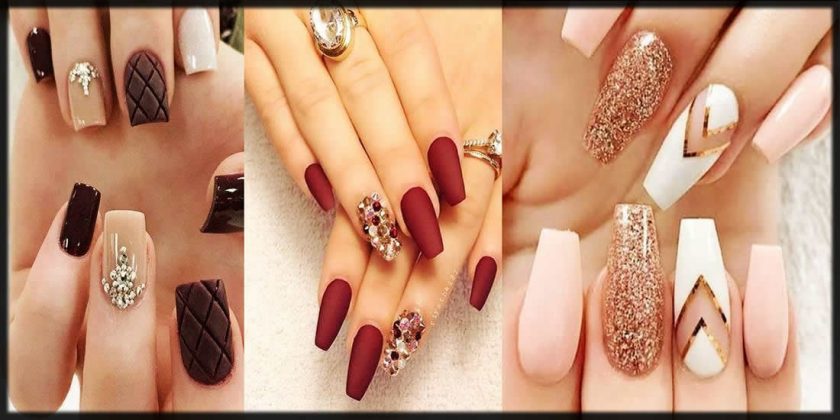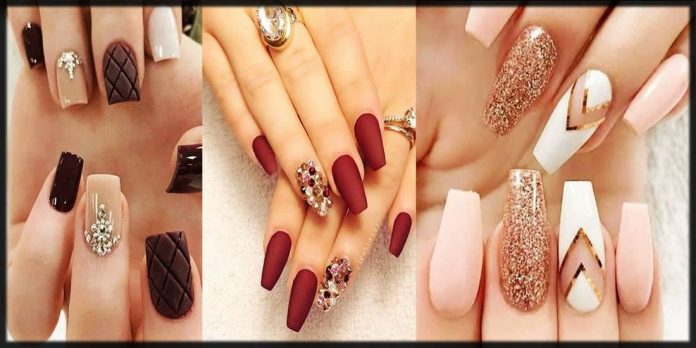 There are hundreds of trends hitting the market every day. Among all the fashion styles, nail art has its significance. There are specific salon centers across the world, providing different services. Those who cannot visit the salon regularly, check our ways of doing nail art at home.
Being a girl, it is apparent that you look for stylish designs. Also, applying a nail polish brings a polished look in your whole personality. It will make your overall look much exciting and persuasive. You can easily do this at home with simple tools.
In the article below, you will get exciting ways to decorate your nails. Also, appealing nail art will add a constant vibe to your entire looks. Explore fantastic ideas here if you cannot visit salons. These ideas will provide you feminine glances.

10 Easy Ways to Do Nail Art at Home by Yourself

Do you spend a couple of hours browsing easy nail art designs? Are you looking for styles that can create flawless nails? So, this article will help you a lot to discover the easiest designs for your nails. Surely, you are at the right place for exploring trendy styles. All that you need to make creative nails include:
Different shades of nail polish
A toothbrush or a paintbrush
Some cotton swabs
A nail polish remover
Plastic wrap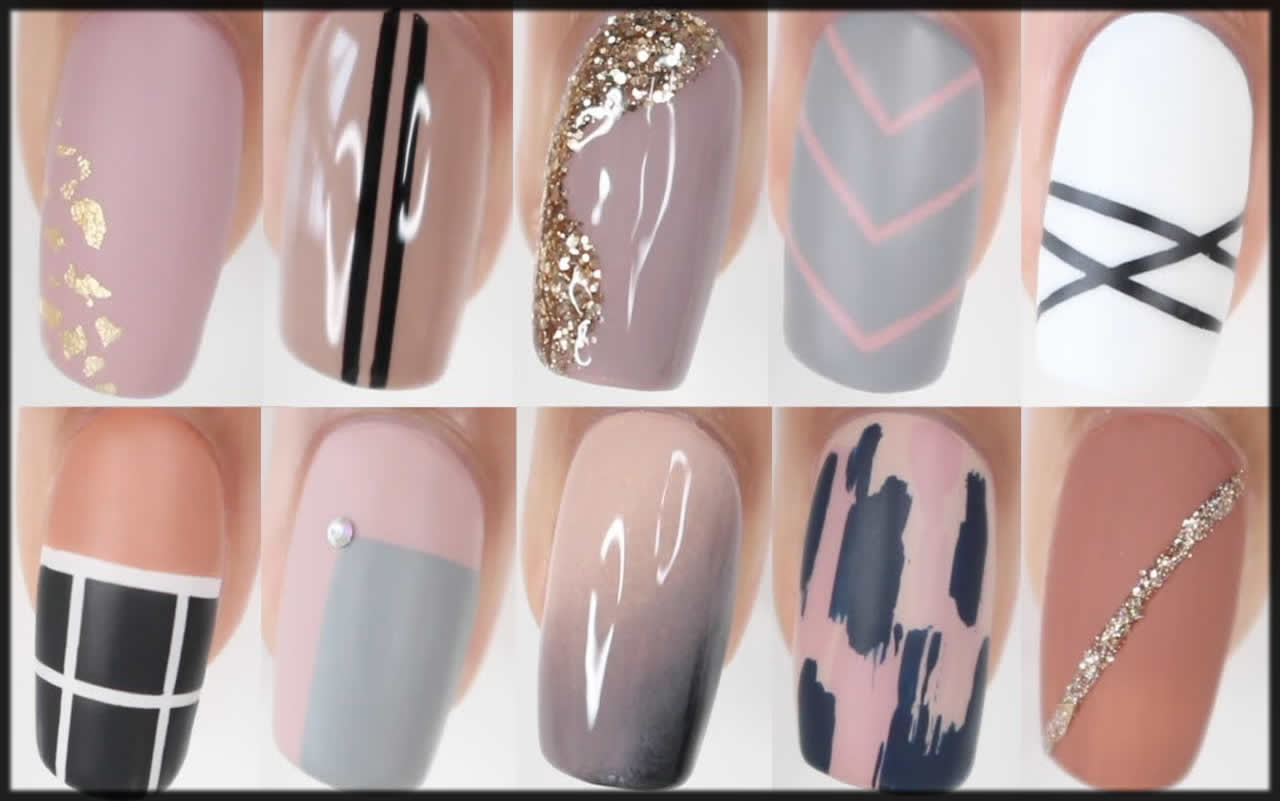 There may be a couple of ways to decorate your nails. However, here we have the easy styles for you in case you can not visit salons. These are:
Simple french manicure
Basic Floral Nails
Ombre Nail style
Dual Tone Nail designs
Kitty Cat Design
Chaand Tara Style
The Polka Dots Style
Rainbow designs
Heart Styles Art
Simple Stripe Style
DIY Ideas for Nail Art at Home for Beginners

Are you looking for easy decoration styles for your nails? Here are some easy techniques that will make your hands and nails flawless. So, take a deep breath and have a tour of our following image gallery along with the techniques for nail art.
1. Simple French Manicure
Women think that being simple looks elegant. So, here is a delicate yet sophisticated nail art for them that one can easily do.
Materials Required:
White nail polish
A rubber band and
Lacquer
Step by Step Instructions:
1. At first, you have to apply a single coat of lacquer. It will give a shiny look.
2. Now hold the band at a certain distance from the edge of your nail.

3. Determine the length of your nail through this rubber band.
4. Seal the manicure by applying a coat of lacquer again.
5. Finally, give an impressive finishing with white shade on the edges of the nails.
2. Basic Floral Nail Art at Home

Floral nail style is the easiest among all home designs. Especially if you love the beauty of flowers, then this choice will be the best. Making floral designs is a great way to welcome the Spring season. Women always love about this design is how intricate it looks as opposed to the natural way in which you can create it.
Materials Required:
A base color nail polish

Two tones of floral colors

A thin brush

Clear nail enamel
Step by Step Instructions:
Create a base by applying double coats of the base nail polish. Also, you can try shades of turquoise and peach for a colorful background.

Next, slightly dip the thin brush in one of the two shades to create a flower 

Moreover, use the other color to feature the floral design. Also, it adds a little glamour. 

Well, you can add details like green leaves and red rose flower centers.

Finally, seal in the design by applying a clear coat at the top.
3. Ombre Nail Art at Home

Ombre or simple gradient nails progressively emerge as a common trend. However, they created quite a buzz a while ago. If you're looking for ombre home designs that look quite fresh out of a professional Mani-pedi store, then this is where you start. Plus, it will be a great versatility if you pick different colors every time. 
Materials Required:
You will need a light shade of peach nail polish. If not available, then go for a nude color. 
A plastic sheet

Few toothpicks

A simple, concise sponge

Some cotton mops
Step by Step Instructions:
First, apply a base coat of the desired shade to your nails.

Well, pour the nude shade and peach colors on the plastic sheet

Now, blend them with the help of toothpicks.

After blending, dab your sponge in the solution and apply it gently to your nails.

Afterward, clean the dirty areas of your fingers with a cotton swab and remover.

Finally, apply the instant coat to your nails.
4. Dual Tone Nail Art at Home

Don't have long nails? Still, want to have chic and classy nail styles? Surely, you are in the right place. This classy style can be worn at any event. So, let's make an effortlessly fashionable style at home for an elegant look.
Materials Required:
The desired two shades of nail enamel. 

A simple scotch tape

The transparent shade of polish
Step by Step Instructions:
Start your design by applying double coats of black and sea green nail polish as the base for your nails.

Afterward, let it dry completely.

Now, cut the strips of the scotch tape. Further, stick them diagonally and rub them down to eradicate any air pockets.

Apply a layer of the second shade to the uncovered areas of your nails.

Well, to get a neat line, pull off the tape in the direction of your nails.

Finally, paint a finishing layer of clear polish to seal and protect your nails.
5. Kitty Cat Nail Design

Once, the famous American poet wrote, "Cats have all the admiration and endless sleep." This only means that cats are the spirit animals. So, Kitty cat nail design is a great way to express your love for the cats. Do you want to try this minimalistic design? Follow the step by step instructions below:
Materials Required:
A transparent nail enamel

Pink colors

A thin nail brush
Step by Step Instructions:
At first, you have to apply a base coat using clear nail polish. After doing this, let it dry wholly.

Now, paint two triangles on either side of the nails.

Well, to create the cat's face, you have to draw a half-moon. 

In the same manner, draw the two dots for making the eyes of a cat with a different shade. 

Finally, add a perfect finishing by applying a top coat of clear nail polish to seal in the design.
6. Chaand Tara Style
Let's discover the unique style of nail design here. It is among the coolest and trendy styles. Also, you can try these trendy and best designs at any event. It will look perfect according to the styles that you draw. Here are some instructions that you have to follow if you want to draw the Chand-Tara style. This design is also suitable for Christmas nail art.
Materials Required:
The enamel shades that you want to apply.
Gems or stickers of moon and stars (easily available at the market)
A simple gel
Step by Step Instructions:
Apply the shades neatly.
Now, stick the gems or stickers on your nails with the help of the gel.
Let it dry completely.
Apply the gel at the end for better results
7. The Polka Dots

Don't you have a nail art kit? If so, then try the most refreshing and most unadorned polka dot style here. Let's break out some colorful spunk of amazing design here with bright enamels.
Materials Required:
All the colorful shades.

A thin brush

Clear nail polish
Step by Step Instructions:
First, create a base by the application of a double coat of any shade.

Draw the dots of your favorite colors by dipping the brush. 

Apply the dots gently.

Repeat the second step by changing your shades.

Finally, you have to put the clear nail polish for a neat look.
8. Rainbow Designs
Rainbow manicure is very colorful, bright, and eye-catching. If you want to do rainbow art at home, we will show you different techniques that will allow you to decorate your hands and securely have a new manicure. You can create a rainbow quickly with rainbow colors. Also, it is the most straightforward and natural technique which is suitable for everyone. This is one of the most popular and simple techniques for applying nail polish. The coating turns out beautiful, with a smooth transition color.

Materials Required:
Rainbow-colored nail paints


A piece of a sponge

Bowl and water

A bit of cardboard

Cotton buds

Nail removal.
Step by Step Instructions:
Add some water in the bowl. Let the water settle.

Drop all the rainbow shades in water. You will see a VIBGOYR pattern.

Blend the shades with the help of toothpicks.

Gently dip your fingers in the solution. Now, let the colors stick to your nails.

Finally, let it dry and apply clear nail polish for a perfect look.
9. Heart Shapes

Do you want your heart to drop from your sleeve onto your hands with an exciting nail design? It is a distinctive design that is most suitable for Valentine's day or winter nail art.

Materials Required:
White and red shades.

A toothpick

A clear nail enamel
Step by Step Instructions:
At first, make a base by applying thin layers of shades.

Use a toothpick to apply three dots.

Connect the dots to erect the shape of a heart.

Now, create multiple hearts by repeating the step.


Moreover, add a detailed outline of hearts.

F

inally, apply clear nail polish for a fine look.
10. Simple Stripe Style

It is the easiest style if you do not have tools. However, it only requires a fan brush for stripes. Also, get a similar result by pinching the vase of bristles.
Materials Required:
Base color

Stripes color

A simple fan brush

Transparent polish
Step by Step Instructions:
Firstly, apply a base color.

Afterward, add the brush in paint color.

Now, you have to make horizontal lines gently. 

Finally, add a coat of clear nail polish.
The alluring nail art fashion is very easy to do at home. Besides some complexity, the exciting designs engage you to have them. Also, most of the girls consider themselves incomplete without applying nail enamel. So, if there are no salons around your place, then create chic styles with a little effort here.