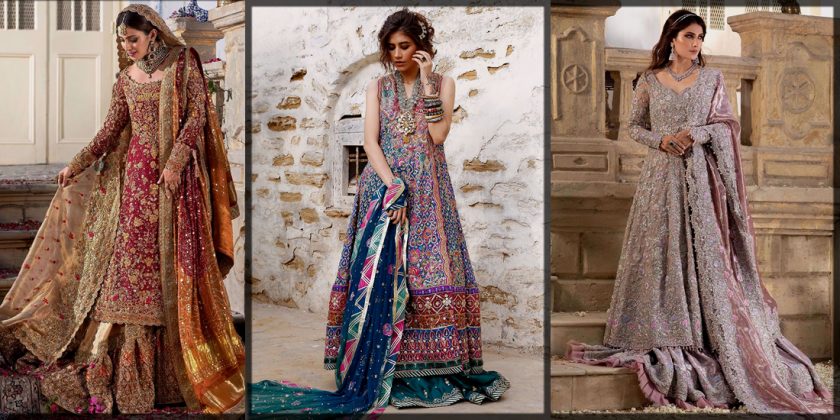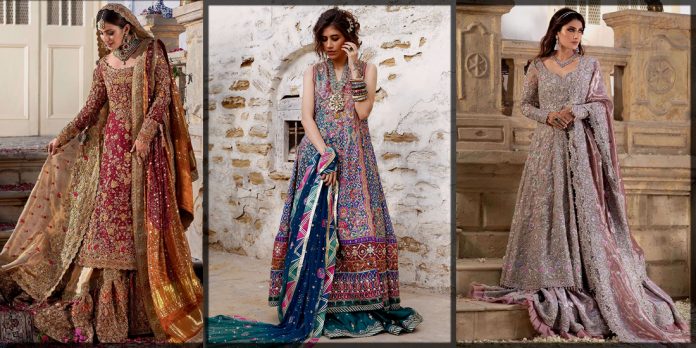 The most awaited and anticipated Farah Talib Aziz bridal collection is out now. It contains gorgeous and stunning bridal dresses for engagements, nikkah, mehndi, barat, and walima brides. All these dresses are created with high-quality fabric that admittedly keeps you relaxed and peaceful.
Marriage is the most momentous day for the ladies hence everyone wants to make their wedding day more memorable and breathtaking by wearing luxurious and unique crafted attire. In the latest FTA bridal couture, you will get the trendy and newest pattern bridal clothes that indeed help you out to make your bridal look extra splendid. 
This season, the Farah Talib Aziz brand has collaborated with famous television actresses "Ayeza Khan" and "Syra Yousuf" to promote the brand. Like many other designers, it also offers an online order facility for the comfort and satisfaction of its clients. Let's explore the latest bridal collection by Farah Talib Aziz and grab any outfit according to your liking to make your significant day glamourous.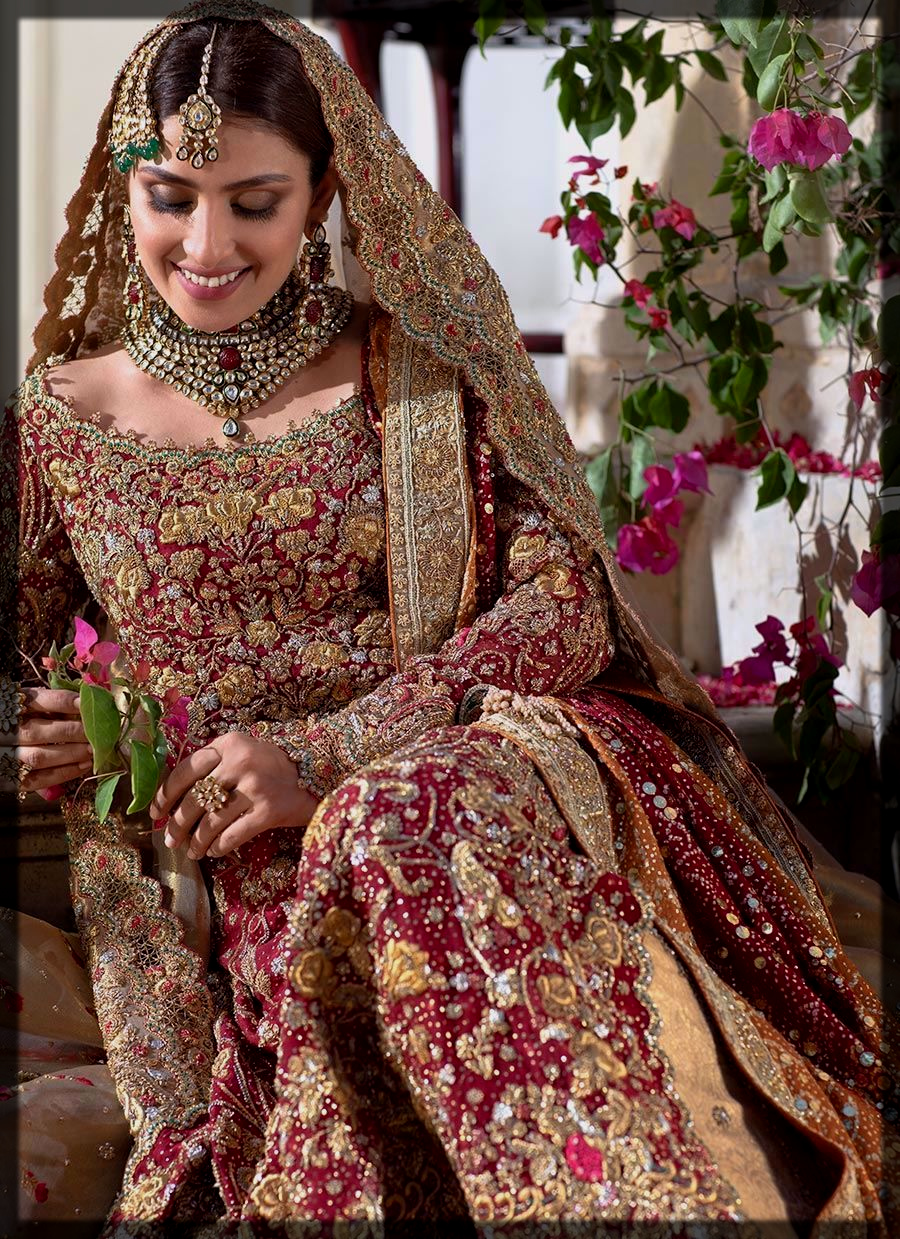 Farah Talib Aziz Background..!!
Pakistan's premier fashion brand was established in 1952. By providing unique innovation and creativity attires for the crowd, they earn a strong position in the fashion industry in just a few years. The primary aim of this brand is to serve its customers with high-quality products. Each season it offers the luxe pret, luxe silk pret, wedding wear, and bridals collection for women of all ages.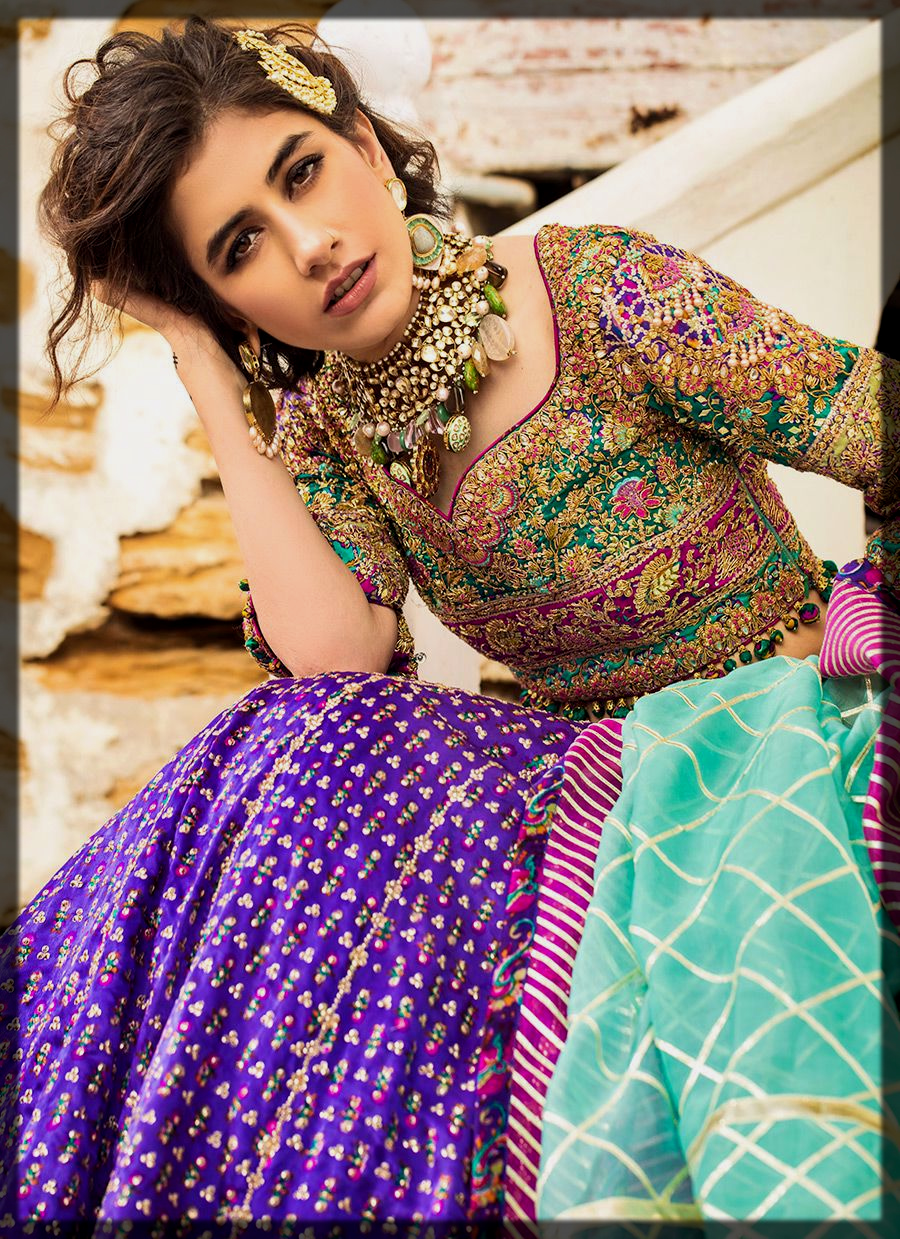 Latest and Classical Farah Talib Aziz Bridal Collection
Farah Talib Aziz is the only brand that offers traditional yet classical attires for the ladies' big day. The latest bridal dresses by FTA are beautifully embroidered with kora, dabka, sequin, stones, and mirror artwork. Further, they used the excellent color combination for making their bridal attires more awe-inspiring and dazzling.
You can carry these elegant attires with classical adornments to make your bridal look extra beautiful and alluring. For adding more shine and attraction to your bridal look, pair your adorable outfit with impressive makeup and a trendy hairstyle.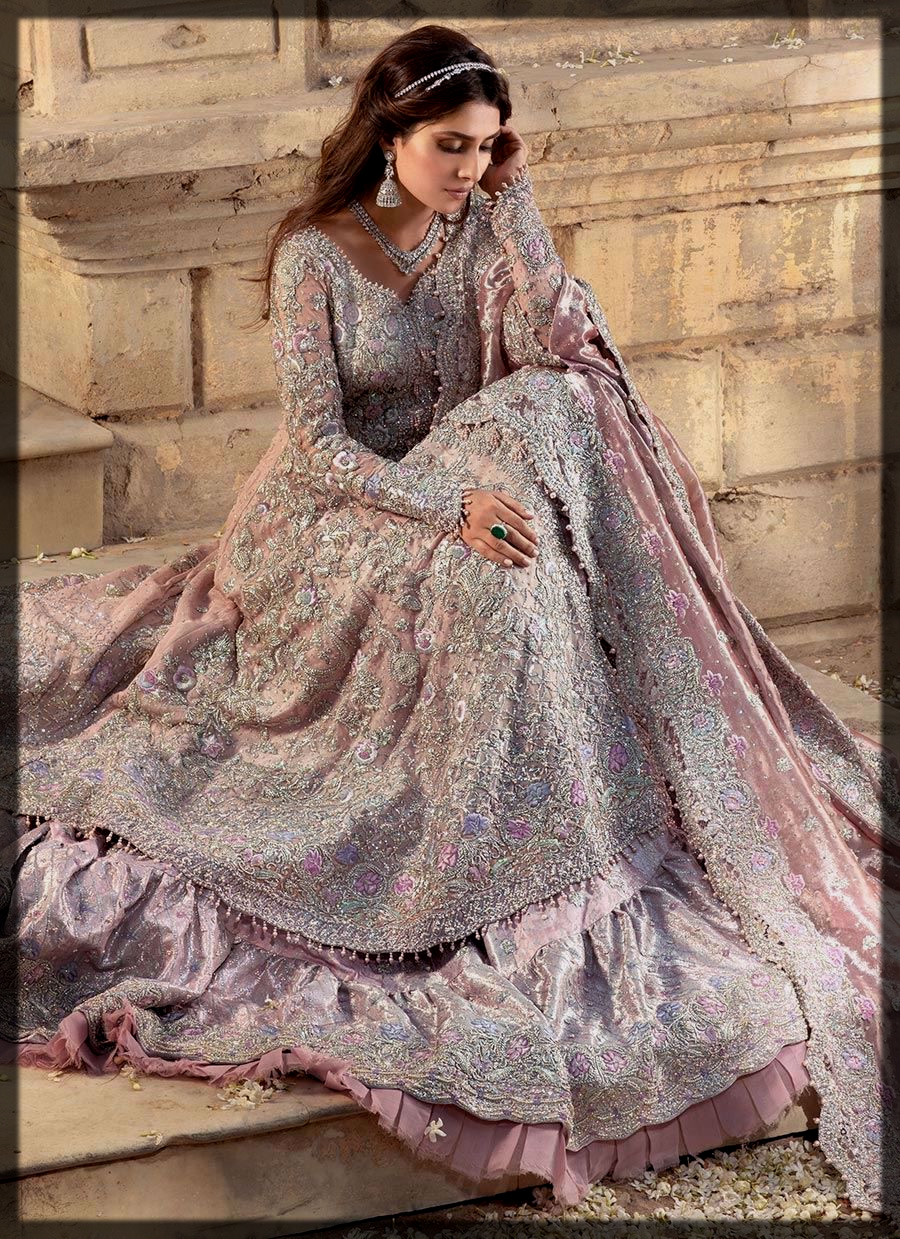 1- Impressive Engagement Dresses for Bridal
Engagement is the pre-wedding event that connected the two people. In the past, women prefer to wear the simple shalwar kameez on the engagement. But now everyone likes to wear a heavily embellished dress to make their look luxurious and appealing.
You will find a wide and rich variety of bridal engagement dresses in the latest collection of FTA. All these apparel are made with pure fabric that likewise keeps you fresh and calm so that you can freely enjoy all the most immeasurable moments of your life.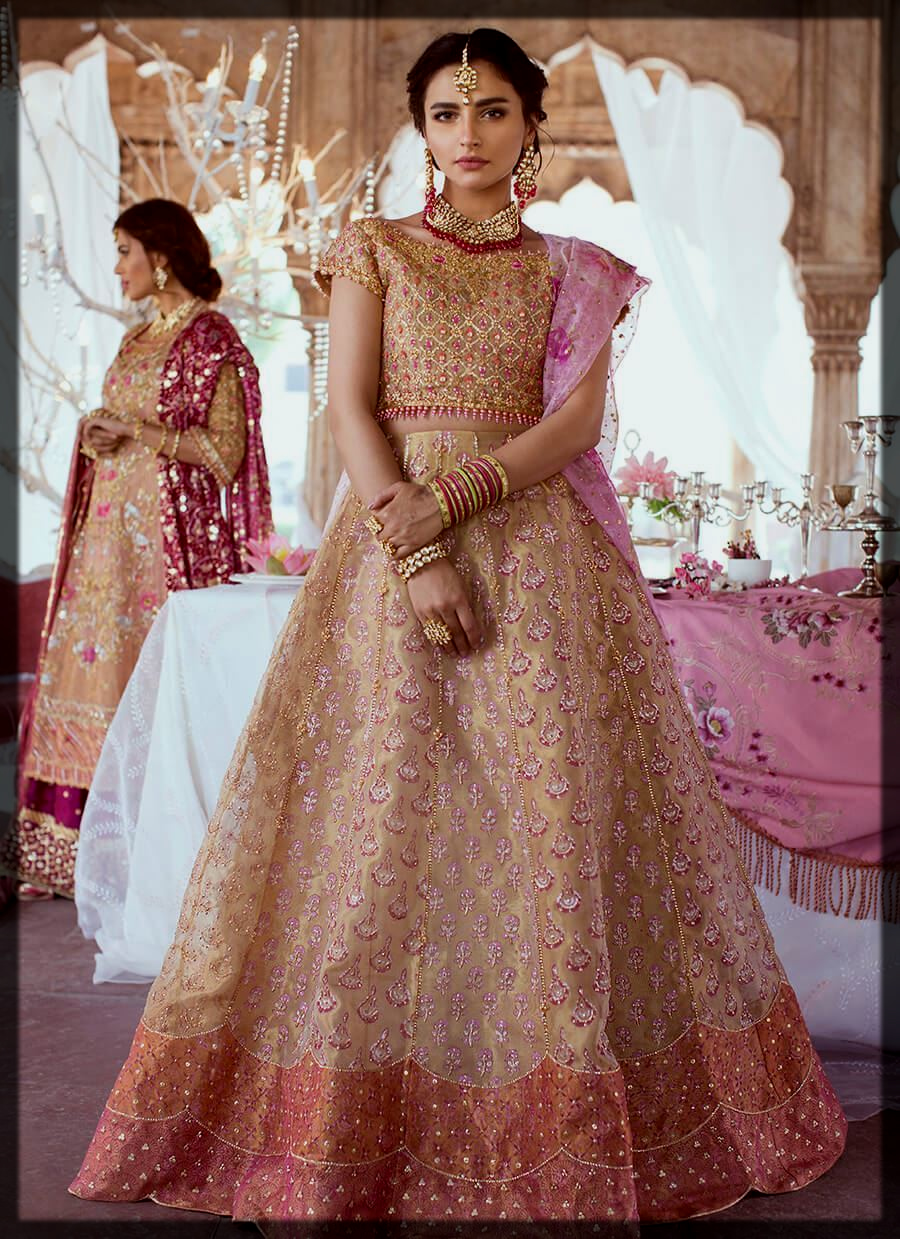 Aqua Blue Kalidaar Maxi with a Sumptuous Pale Lavender Dupatta
Bridal Maxi is the most comfortable clothing type that each bride likes to wear. The beautiful Aqua blue kalidaar maxi is adorned with silver ornaments and pearls. It is paired with the same color lehenga and pale lavender dupatta, which is lavishly embellished.
You can likewise carry this stunning outfit as your nikkah dress to get a decent yet graceful look. With your aqua blue maxi, try to apply the brownish makeup, wear beaded accessories, and wear the high heel shoes to make all of your breathtaking and dazzling looks. Furthermore, keep your hair open by adding some curls to get a modest look.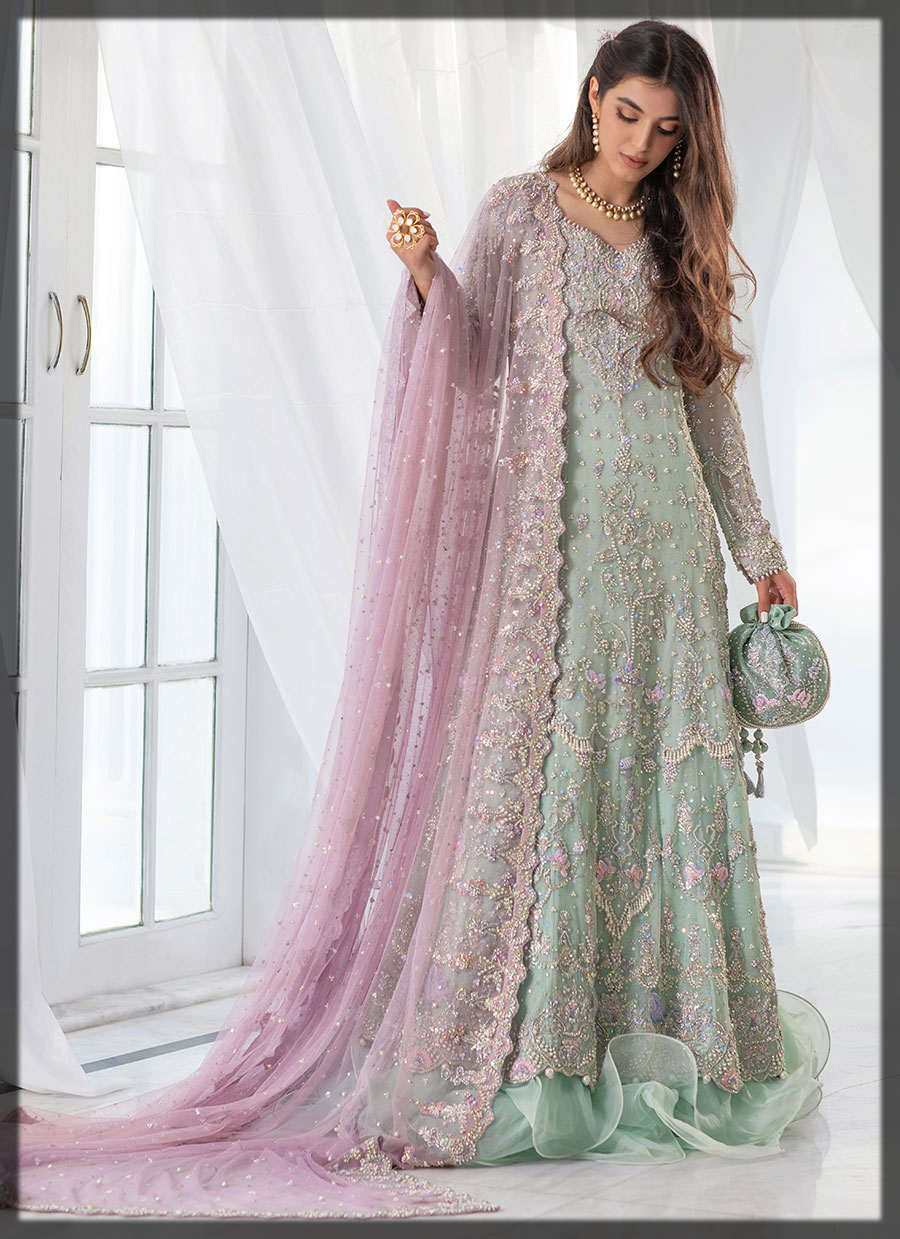 Fully Embroidered Lavender Peplum with Three-Layered Tissue Lehnga
Suppose you want to try something new and different at your Engagements. At that point, try this fully embroidered lavender peplum paired with three-layered tissue lehnga that indeed improves your look and makes it more smart and modest. This beautiful and striking bridal outfit is combined with the net dupatta that adds more refinement and attraction to this outfit. If you want to get this type of look, then all you need is to :
Wear the three-step necklaces and long hoops

Tie your hair in a bun style

Apply the striking makeup

Wear the lavender hues block heel shoes.
And your pretty and magnificent look is completed: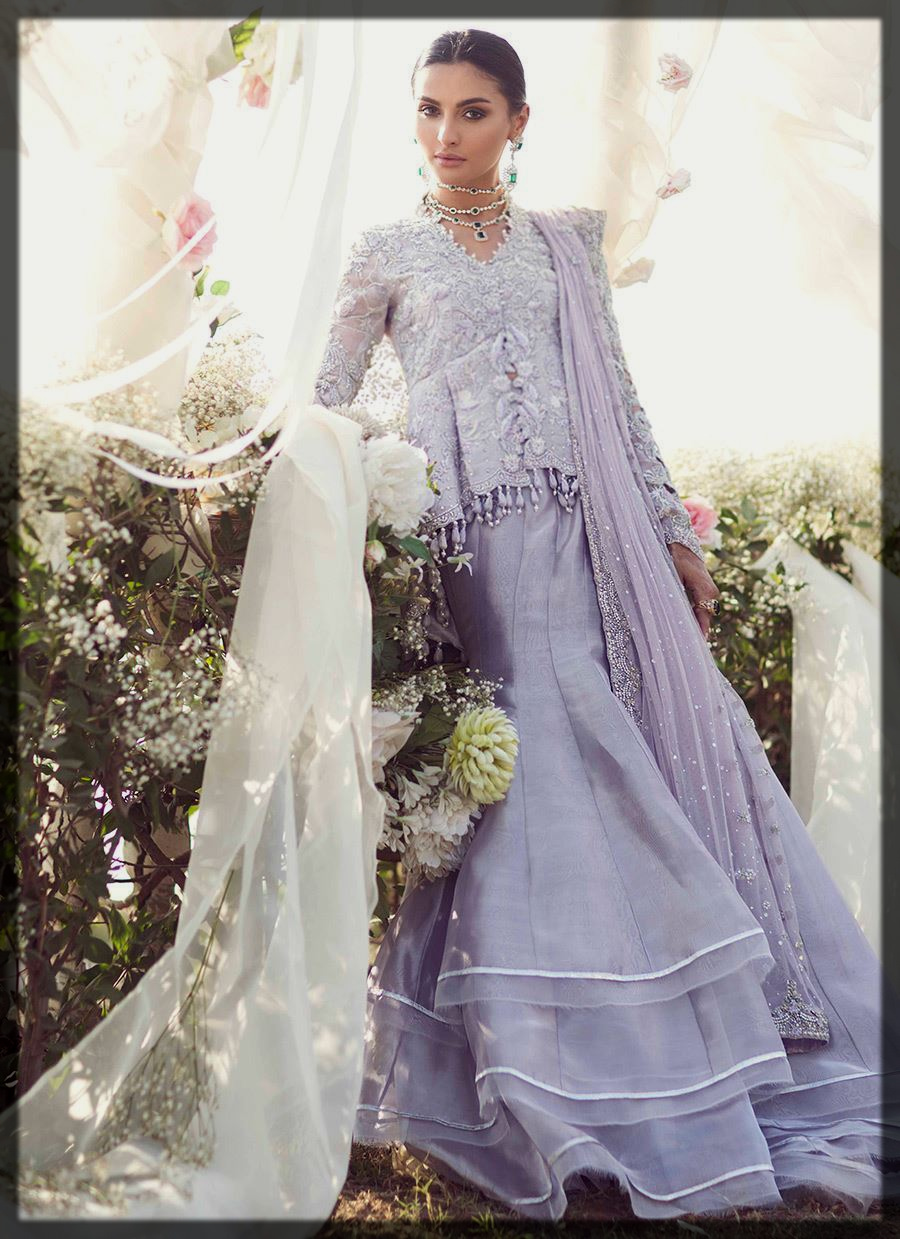 2- Farah Talib Aziz Nikkah Dresses
Nikkah is the most spacious event of the girl's life that changes their life in just a few seconds. So many of us want to start our new beginning by wearing dazzling outfits to make our day unforgettable. According to this concern, all designers must include the nikkah attires in their bridal catalog.
In the FTA bridal collection, you likewise get nude shaded attires for your nikkah day. Because on nikkah, all of us like to wear lightweight and nude-shaded attires to get a decent and adorable look. All these dazzling attires are prepared with pearls, beaded, sequins, and kora embellishments. Look down and select the best dress for your big day.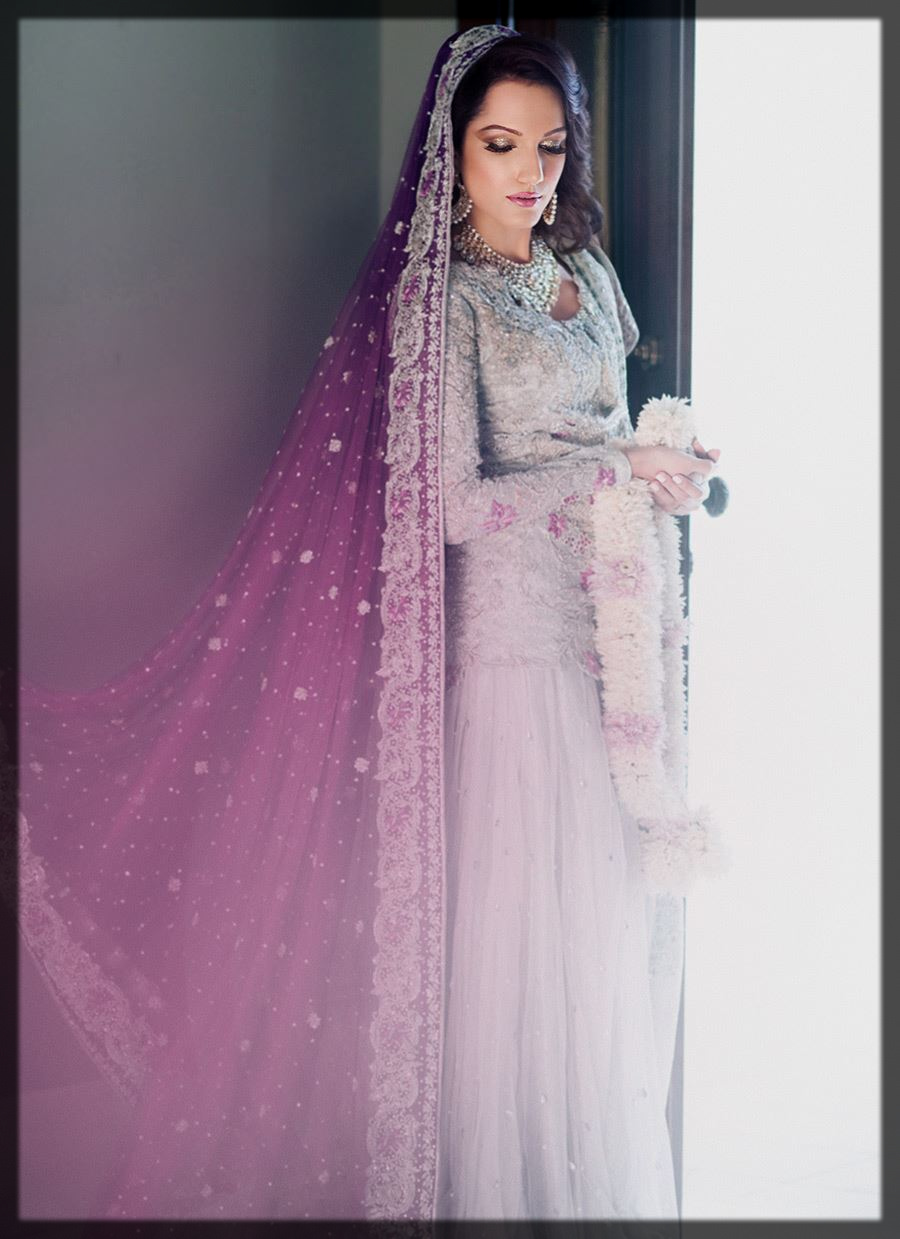 Fully Embellished Pristine Long Shirt with a Block Pint Organza Dupatta and Pants
Nikkah is the most remarkable and memorable event for all ladies of the hour. So all of us want to begin our new journey with the most contemporary and appealing outfit to make our special day unforgettable. On nikkah, most ladies prefer the nude shaded attires to get a decent and graceful look.
Suppose you want to get the traditional yet classical look on your nikkah day. Then pick this long pristine shirt that is adorned with pearls, beads, and sequins embellished with a touch of pastel colors. The pretty block print organza dupatta and complementary pants make this outfit extra breathtaking and alluring. Grab this outfit for your nikkah day and make you look prettiest. Saira Shakira's bridal collection also contains a wide variety of bridal dresses, check it also.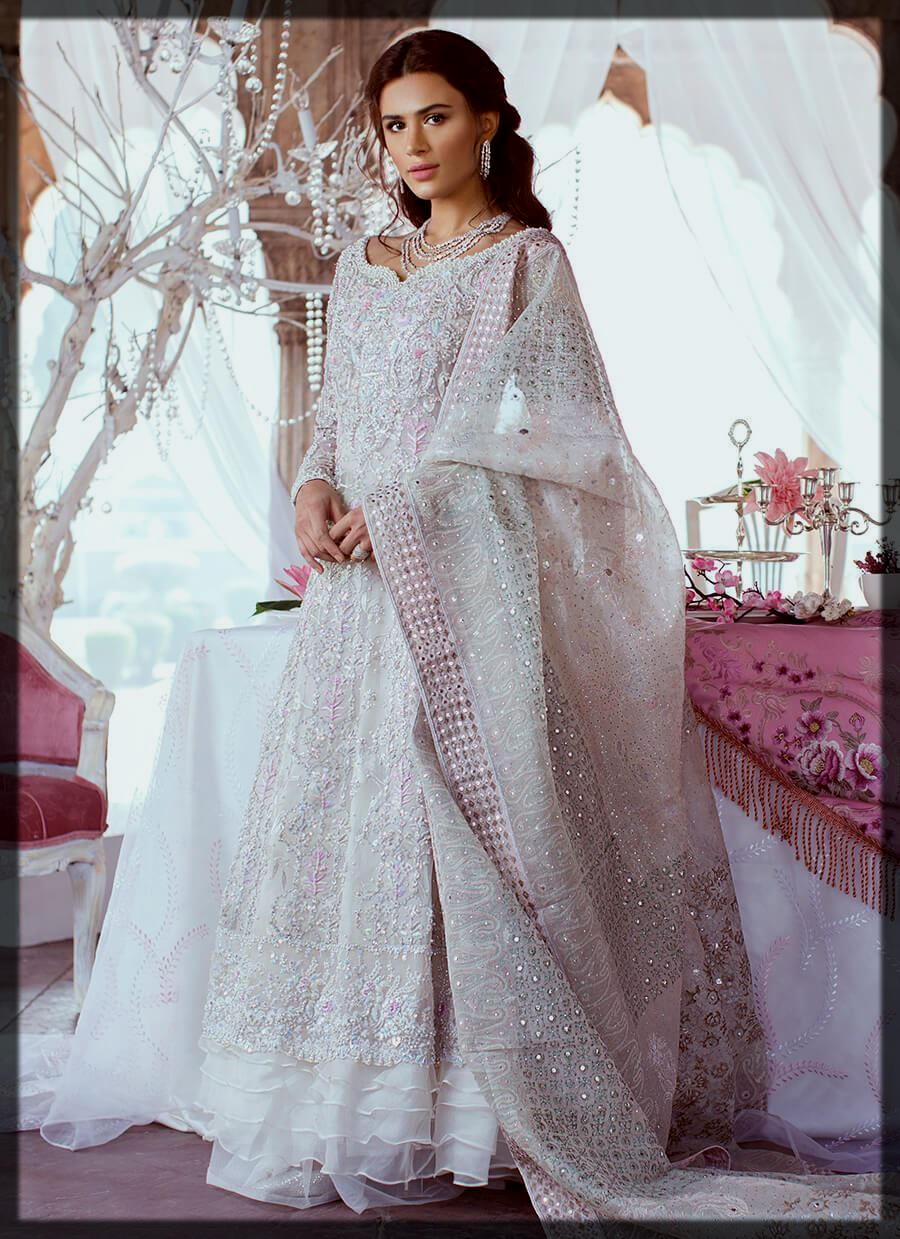 Blush Petunia Gown Adorned by 3D Flowers With Silver Border Net Dupatta
Blush petunia is the most adoring and lovely hues that really append more sparkle and shine to your look. This blush petunias gown is an excellent choice for your nikkah to look more than a princess or fairy. This beautiful gown is worked with 3D flowers that make this gown extra dazzling. Further, the neckline and sleeve edges are adorned with pearls.
Grab this outfit from the Farah Talib Aziz store and make all of your jazzier and striking looks. Combine this heavily illustrated blush petunias gown with decent and lightweight adornments to catch the awe-inspiring and cute glimpse. Moreover, knot your hair in any twisted hairstyle and apply pinkish makeup to make your bridal look splendid and appealing.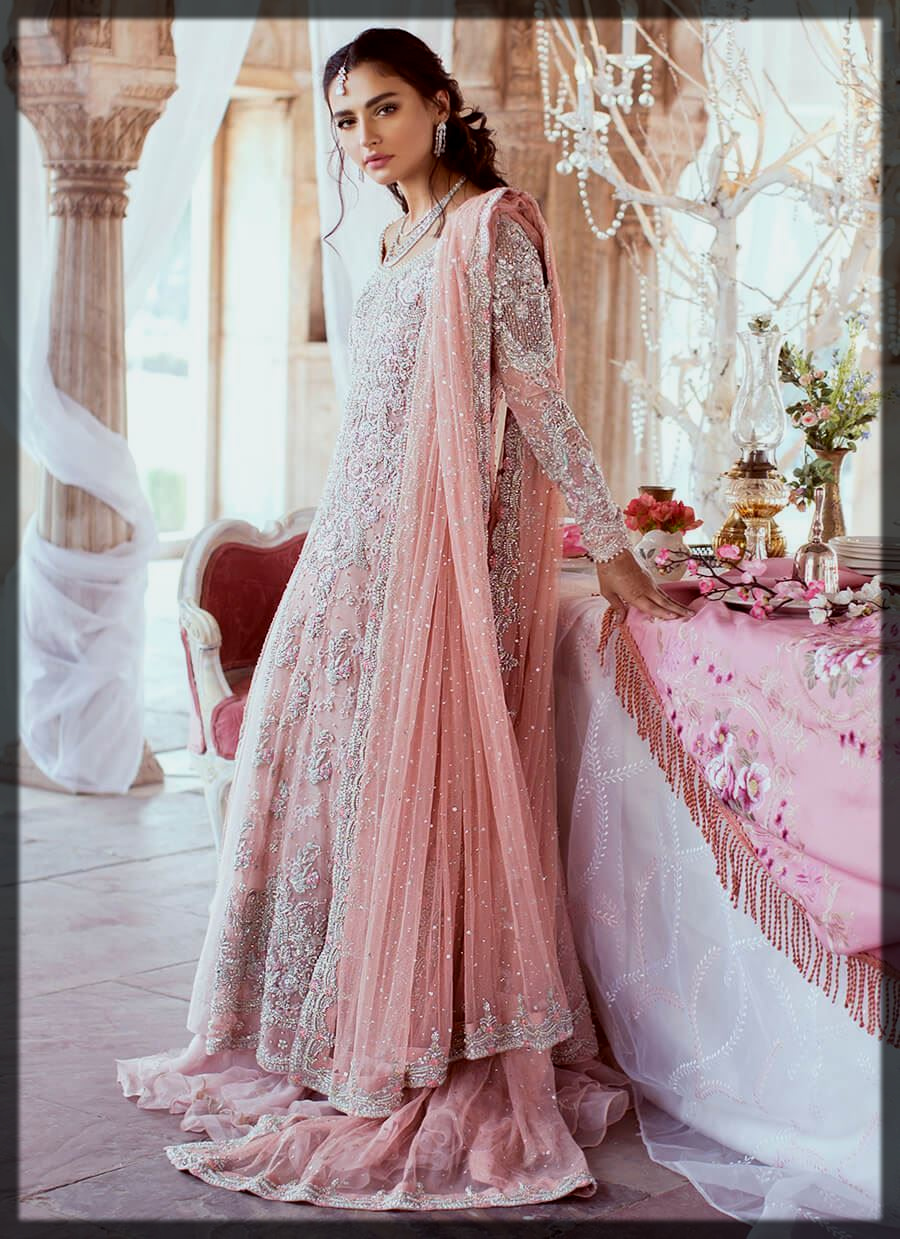 3- Colorful Mehndi Attires for Brides
Mehndi is the most joyful and colorful event, So add more values and sparkle to your look by wearing the dazzling outfit. If you want to make your wedding event memorable, then go for appealing yet graceful attire because the outfit is the only way to enhance your personality.
Mehndi is considered a colorful event. Therefore brides like to wear fresh and striking hues attire to make their look splendid and charming. Here you will get the fantastic bridal mehndi dresses that are made with the best color combinations.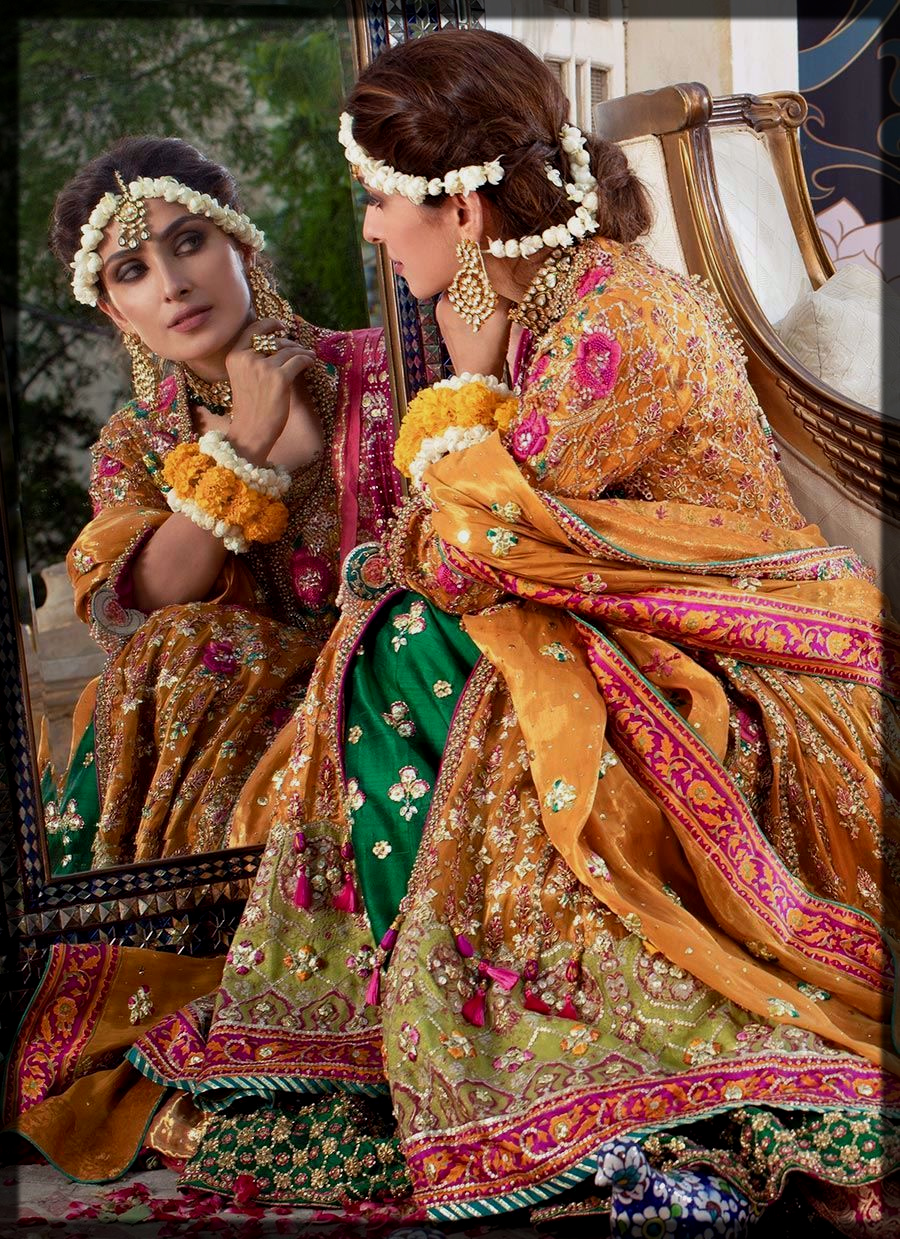 Royal Purple Angarkha Kalidaar Flared Frock with Kiwi Green Dupatta and Golden Lehenga
For your mehndi, always go for the bright and fresh hues to add more charm and shine to your mehndi night. The below royal purple angrakha kalidar frock is the best choice to wear to make your look splendid and charming. The dress is heavily embellished with sheesha and gota artwork. Farah Talib utilizes the best color combinations like pinks, green, blue, and golden to make this pretty angrakha frock for the brides.
It is paired with the kiwi green and gold dupatta that is likewise adorned with a colorful border. One of the best and most charming outfit for the mehndi night. With this classical outfit, skip the necklace and only wear the traditional hoops to make your mehndi look extra smart and dazzling.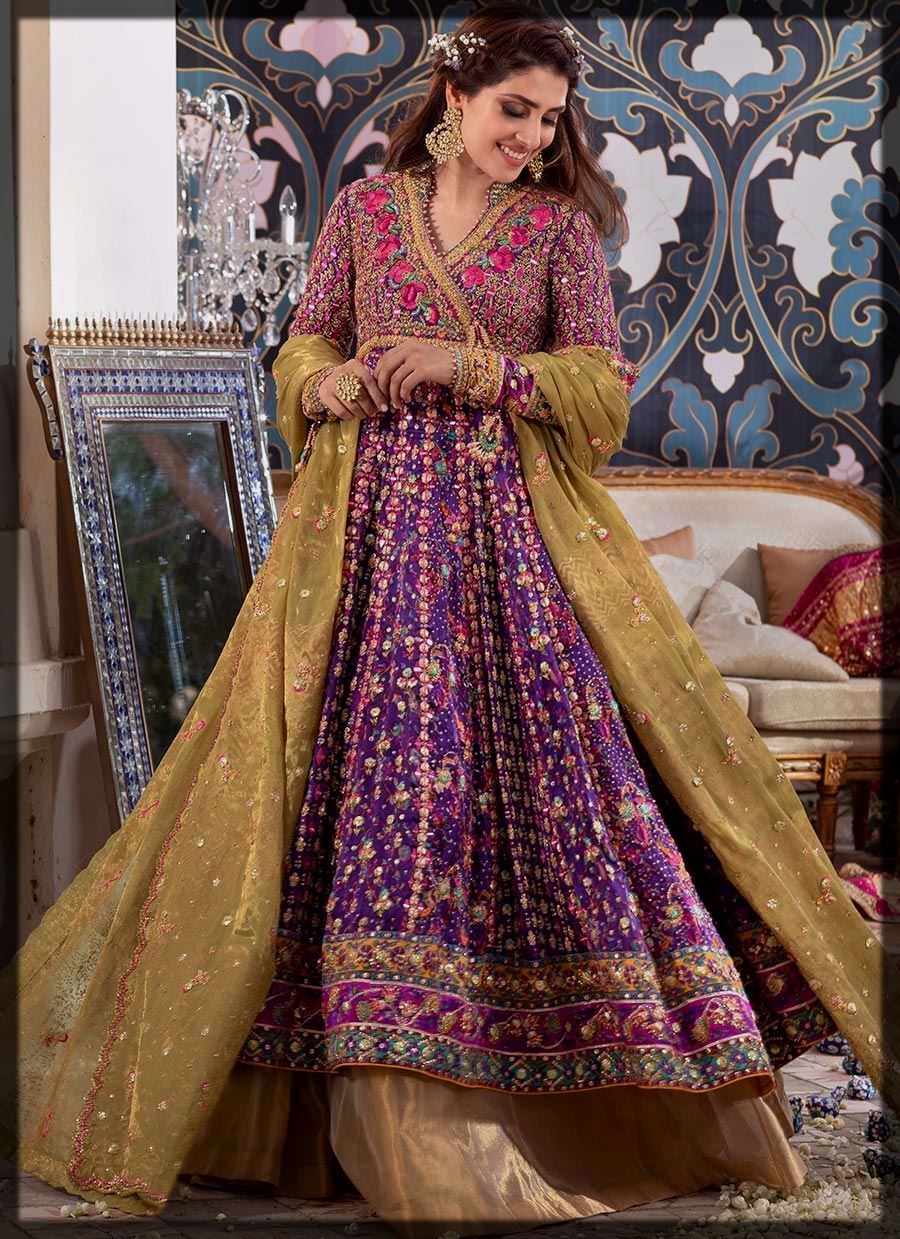 Colorful Farha Talib Aziz Bridal Outfit for Mehndi Night

The bride and groom are considered the prominent personalities at the wedding events. So it's necessary for both to dress up well. Hence, everyone prefers designer clothes because they are most trustworthy. You can grab this outfit from FTA to make your mehndi look dashing.
With this colorful mehndi outfit, try to keep your makeup minimal to get the jazzier look. Furthermore, wear the lightweight accessories and apply the Tikki mehndi designs on the back of both hands to make your look captivating. For more impressive and modest bridal attires, explore the latest and luxurious bridal dresses by HSY.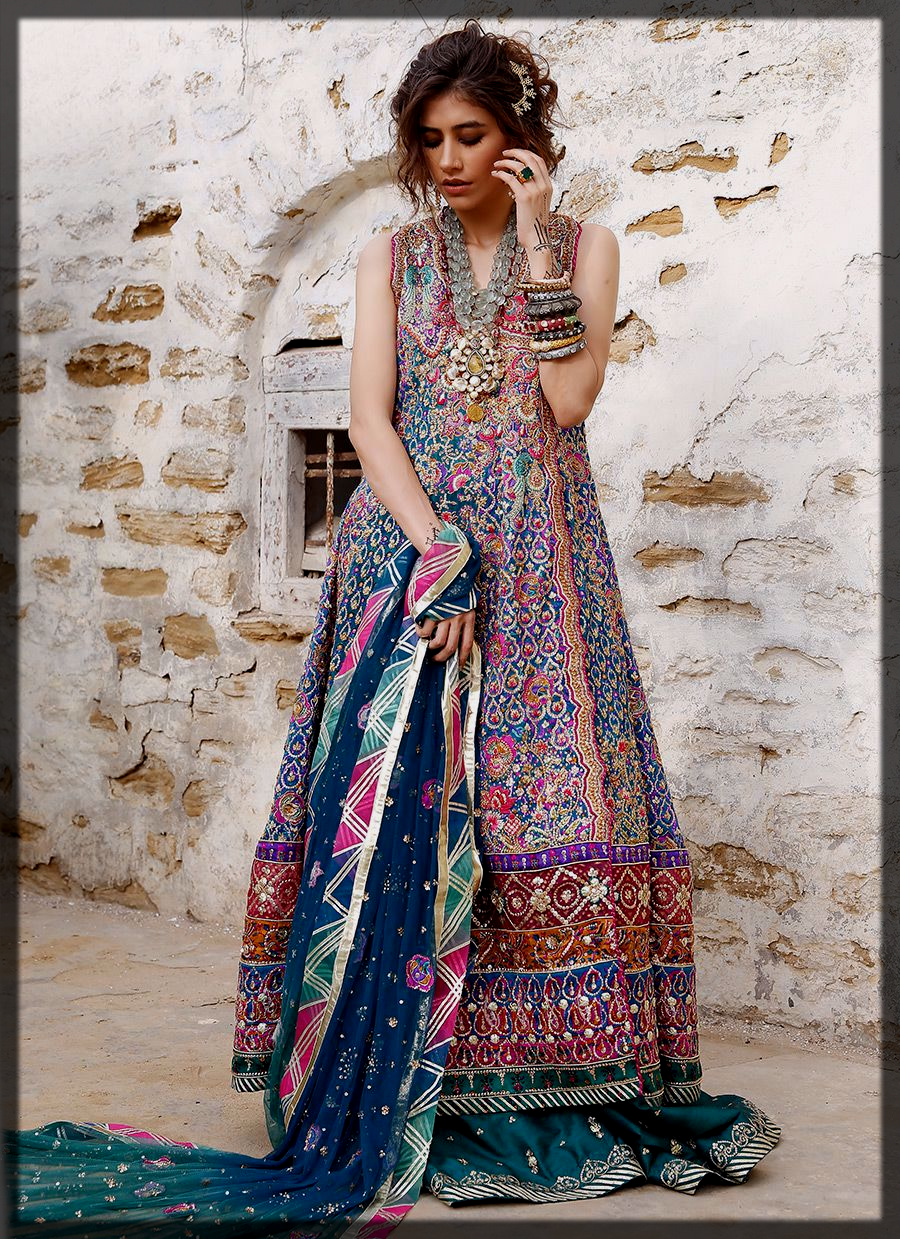 4- Farah Talib Aziz Bridal Barat Dresses
On barat, ladies prefer dark-shaded attire like purple, red, maroon, and dark pink. So taking this trend in mind, FTA prepared the barat attires utilizing dark yet fresh hues. Plus, the kora, mirror, dabka, motifs, 3D flowers, and pearls elaborations are appropriating in making these bridal barat dresses.
All you require is to pair your outfit with bold makeup and traditional matching accessories to make all of your breathtaking and heavenly looks. Further, combine your luxury barat suit with impressive footwear. Because the footwear also plays a vital role to catch the splendid and smart look.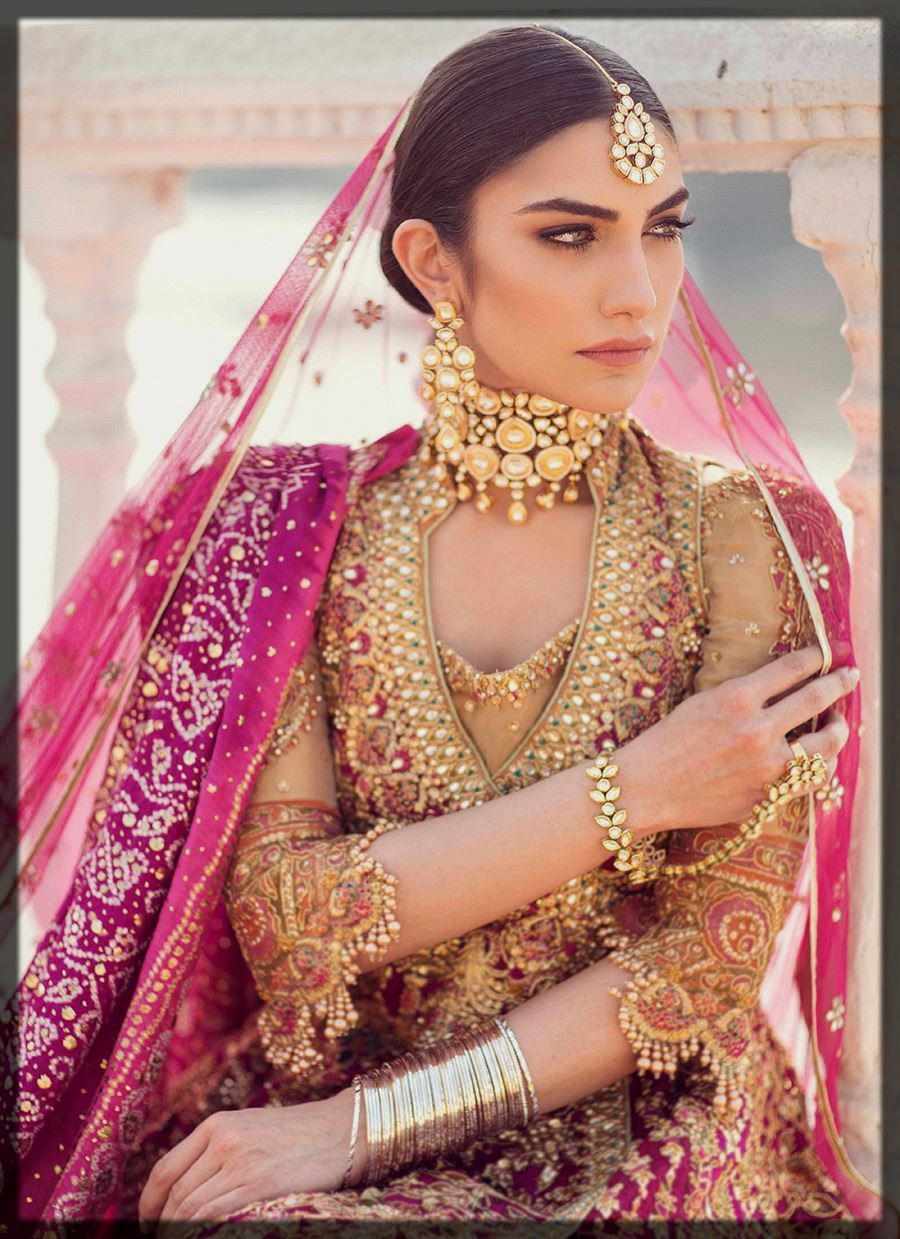 Gota and Zardozi Work Kalidaar Frock for Barat Brides
Gota and zari work are in demand these days. Therefore, FTA offers a wide variety of gota and zari work dresses for brides. If you also want to make your look striking on your wedding day by wearing the gota and zari work cloth. At that point, the below kalidar from is the most convenient for your barat day.
You can likewise wear this outfit at your mehndi or mayun ceremony if you like. For making your look super look, pair this dazzling outfit with nude shaded makeup and beaded accessories. Further, tie your hair in a high bun style to get the classical look.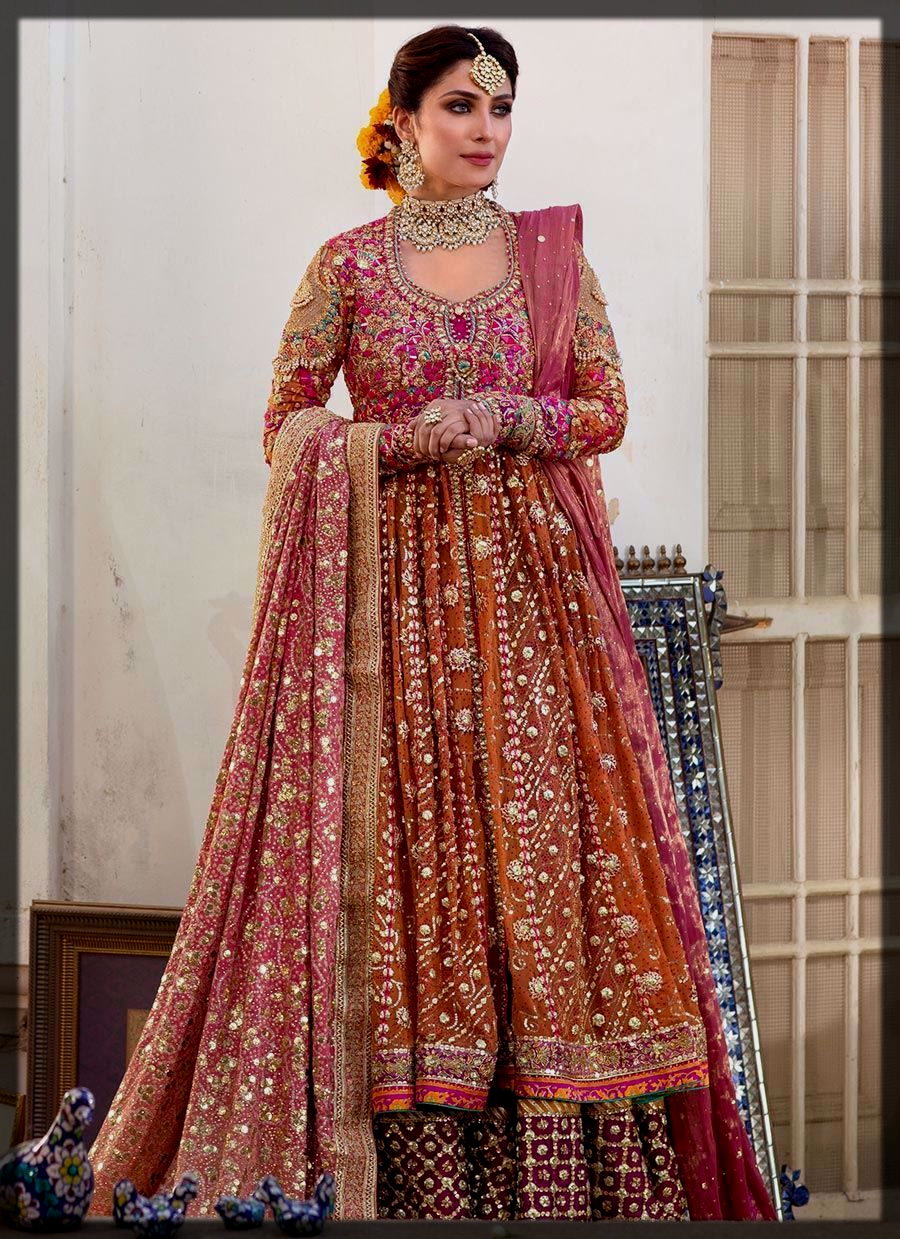 Heavily Embellished Long Shirt in Red Hues with Golden Farshi Gharara
Shalwar Kameez is the traditional outfit of the Pakistani brides. So if you want to get the classic look on your big day, you can try this outfit. The long red shirt is fully embellished with the gota and dabka work. It is paired with the farshi golden gharara that is likewise adorned with the kora and dabka work.
The heavily embroidered dupatta with the 3D flower makes this outfit awe-inspiring. You can likewise consume this outfit at your nikkah ceremony to get the legendary look on your most specious day. For more similar apparel, visit the Zara Shahjahan bridal barat dresses.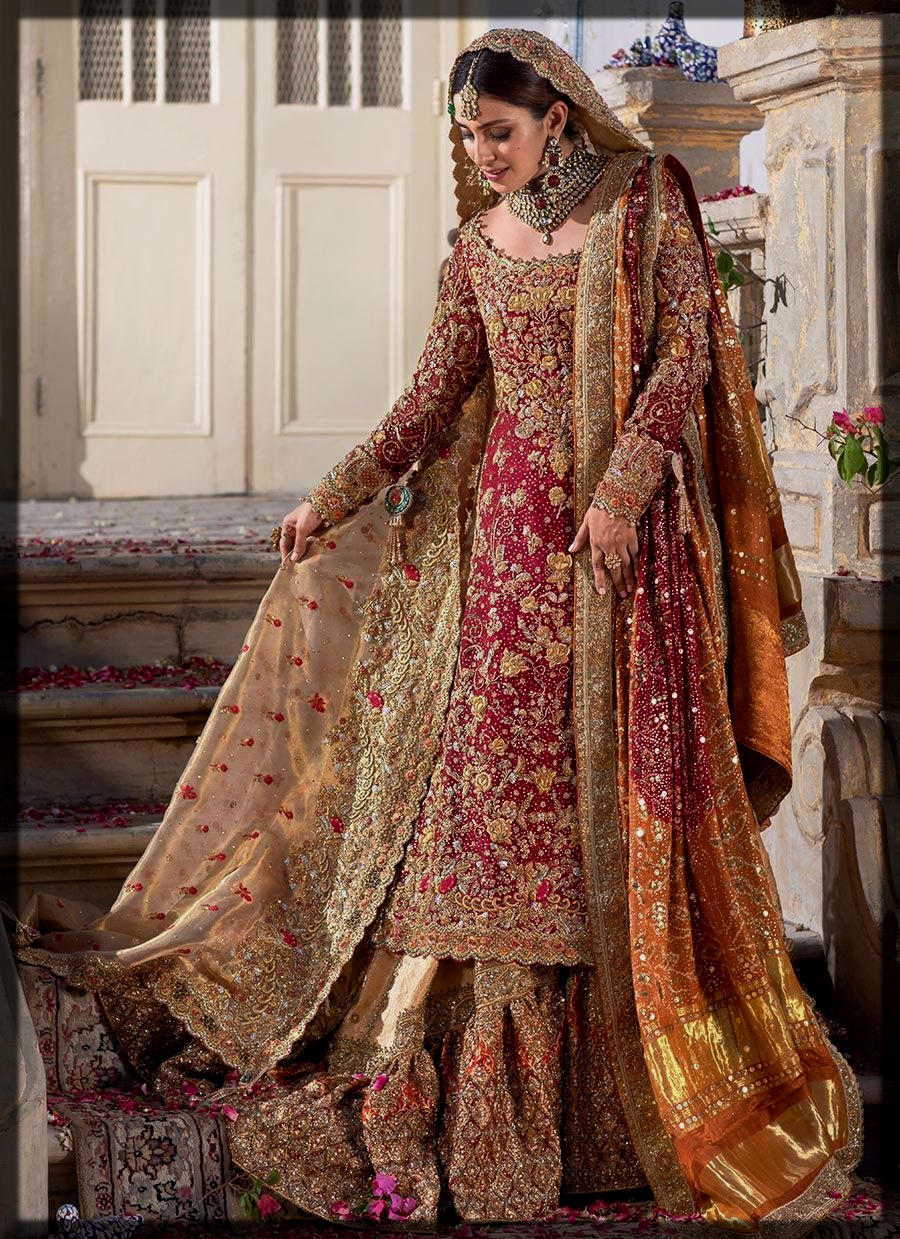 5- Walima Collection by Farah Talib Aziz
The walima ensembles by Farah Talib are likewise incredible and unique. It contains nude yet light-shaded attires. These dresses are decently, and lightweight adorned according to the inclination. The dabka and sequin ornaments make these bridal walima attires more awe-inspiring and dazzling. You can likewise wear these dresses at your nikkah and engagement ceremony if you like.
Combine these light-shaded attires with bold makeup to grab the outstanding and luxurious look. Plus, keep your hair open for a modest look or tie them in a bun style for a decent look.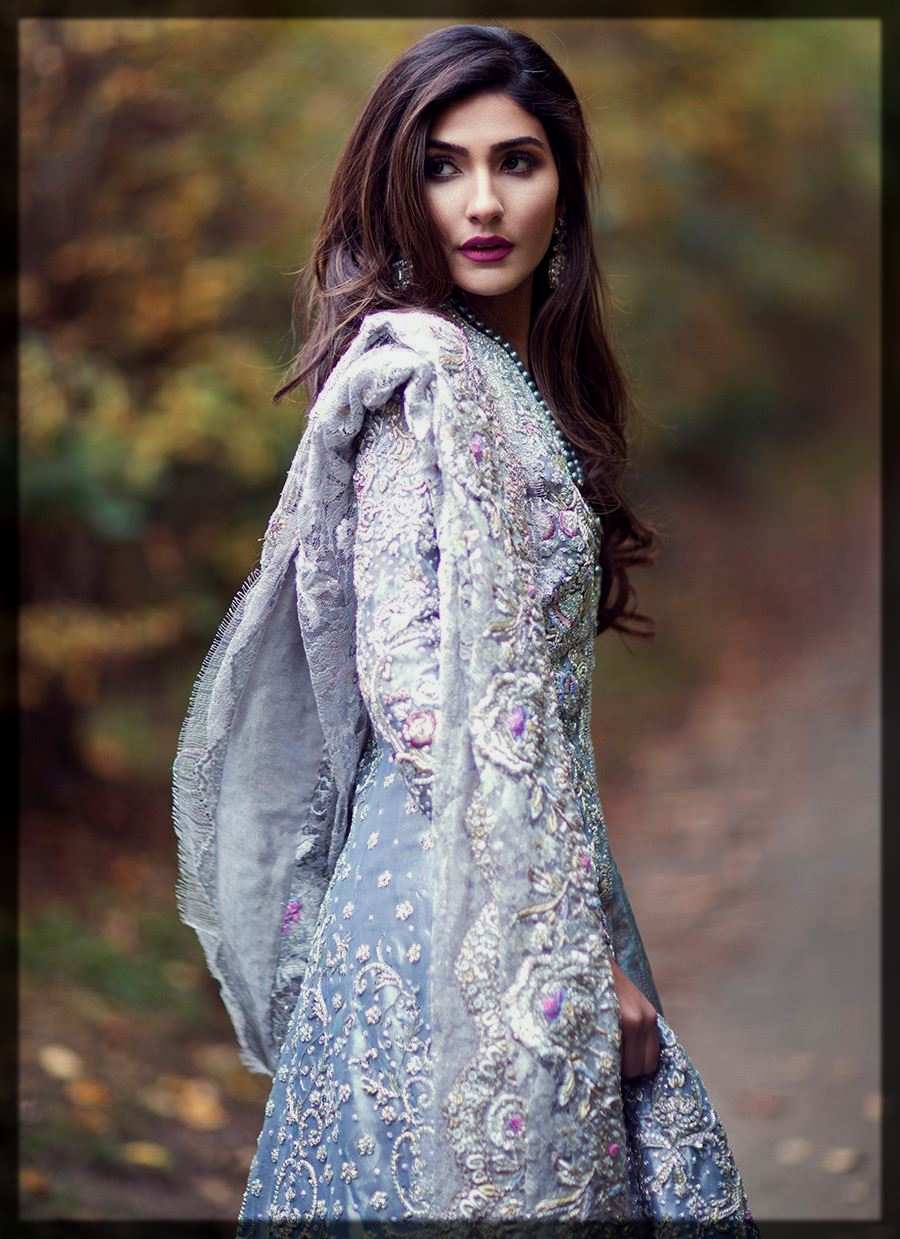 Dazzling Blush Pink Kalidaar Shirt With Farshi Lengha for Walima Brides
Blush pink is the most striking and excellent hues for the walima brides that indeed make their look splendid and jazzier. The coming up next blush pink is ideal for those ladies who like to wear the heavily embellished dress on walima too. Because on walima mostly prefer the lightweight dress.
This blush pink maxi is beautifully adorned with silver and pink artwork. Further, the pink and purple 3D flowers add more beauty to this outfit. You can also carry this fantastic dress for your nikkah ceremony to make your look captivating and engaging.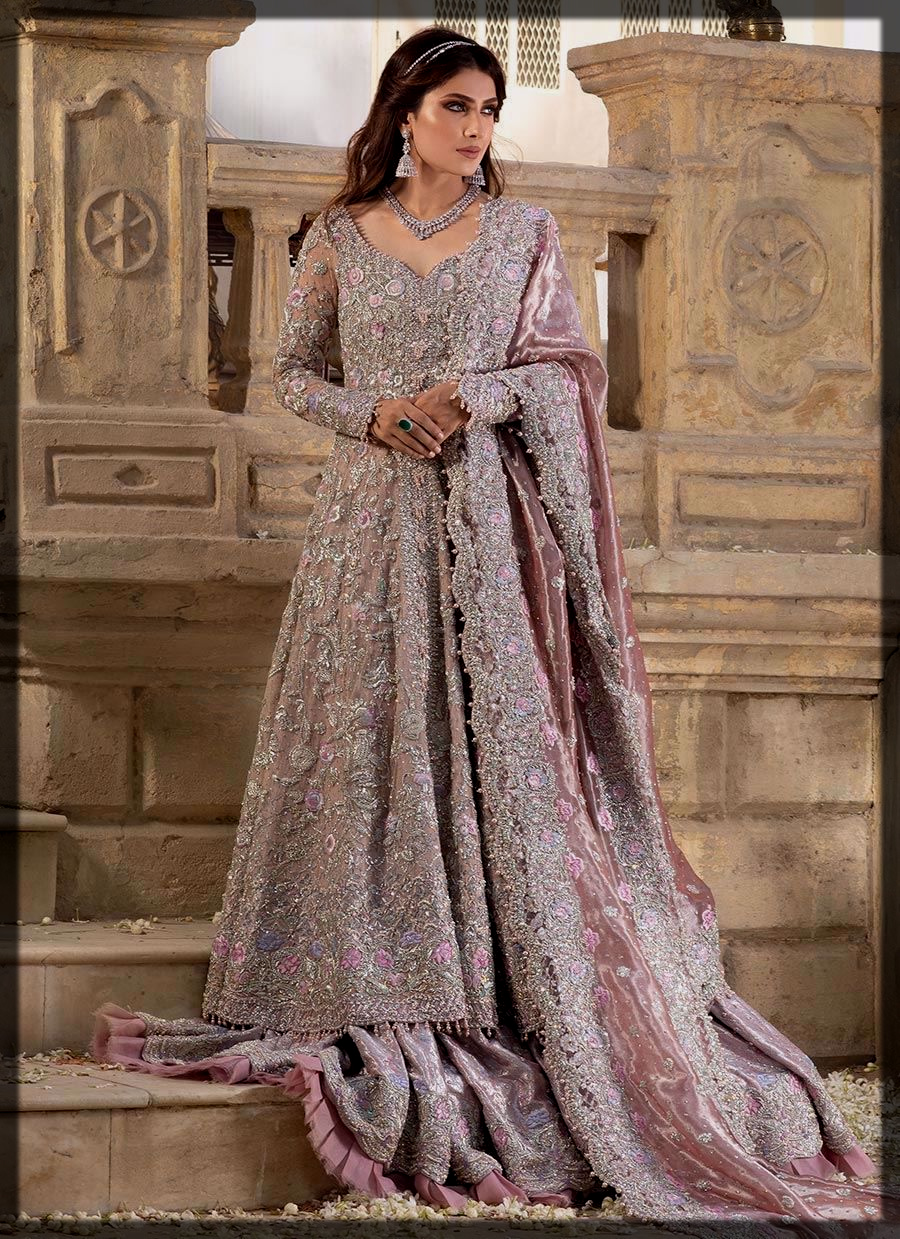 Lovely Front Open Zari Net Shirt with Tissue Lehenga and Tea Pink Dupatta
No one can beat the FTA in novelty and style. You will find all types and styles of dresses in the FTA store. I mean, just look at this beautiful front-open bride shirt that is beautifying with the zari artwork. It is paired with the tissue lehenga and pink tea dupatta. Grab this outfit for the walima event and make all of your polished and gorgeous looks. The latest Asima Jofa bridal collection is out now that contains the fantastic dresses for bridals, check it also.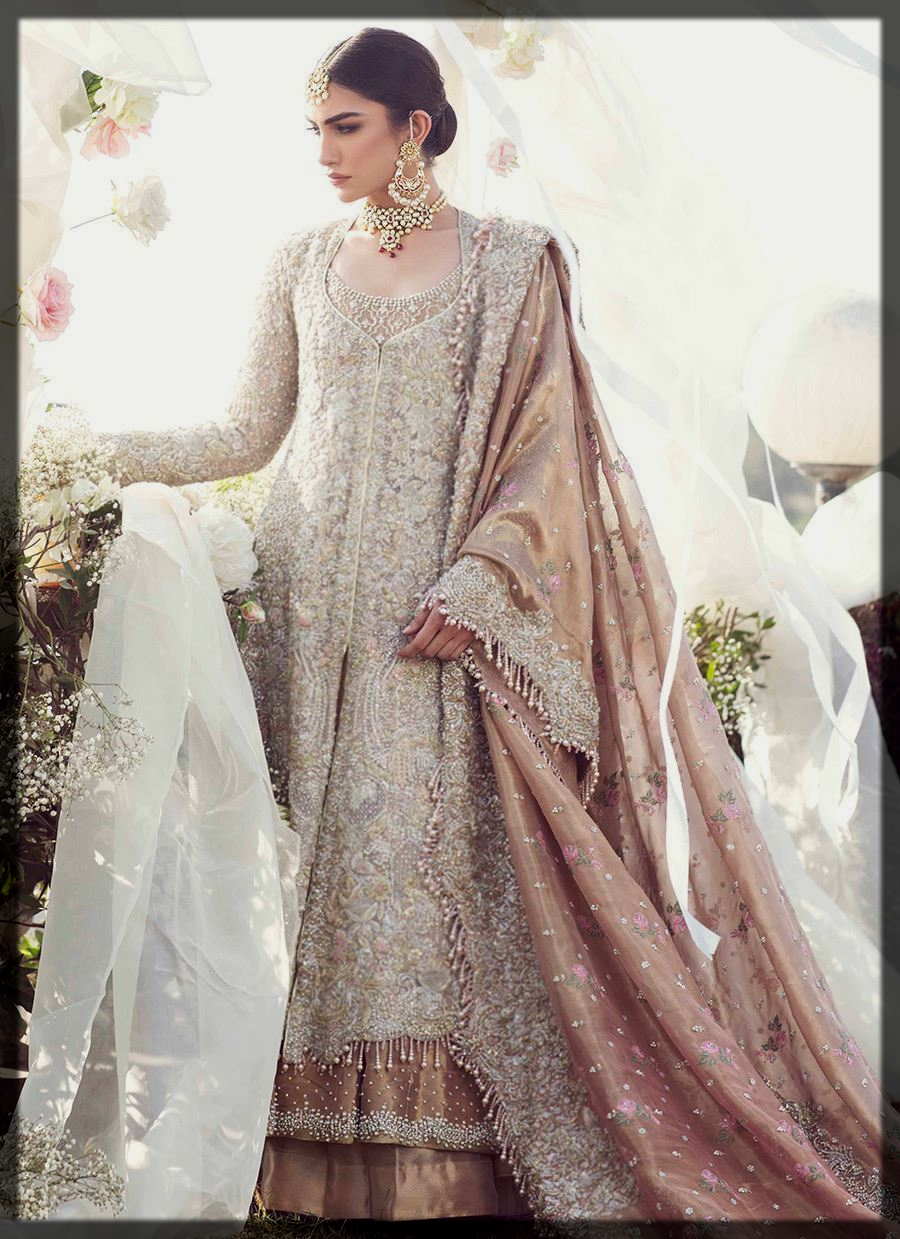 Farah Talib Aziz Bridal Dresses- More Collection..!!!
Now have a look at the complete bridal collection by Farah Talib Aziz that indeed make your bridal look more awe-inspiring and dazzling. If you want to grab the decent yet graceful look, at that point, you need to hold the following tips in your mind:
With your dark-shaded outfit, apply the bronzer makeup to get the classical look.

While if you are going to wear a light-shaded outfit, then go for bold makeup to astonish your look.

For a modest look, wear the high heel shoes, while for a decent and graceful look, wear fancy sandals.

With a light embellished dress, wear the heavy adornments, while on the other side, wear the light accessories with your heavily furnished dress to get an impressive look. 
All these fantastic and luxurious dresses by FTA indeed make your bridal look more sparkling and gorgeous. Pick any outfit from the FTA store and prettify yourself well for your specious day. All you need is to pick the right outfit according to your skin tone, body structure, and event type to make you look gorgeous and engaging.